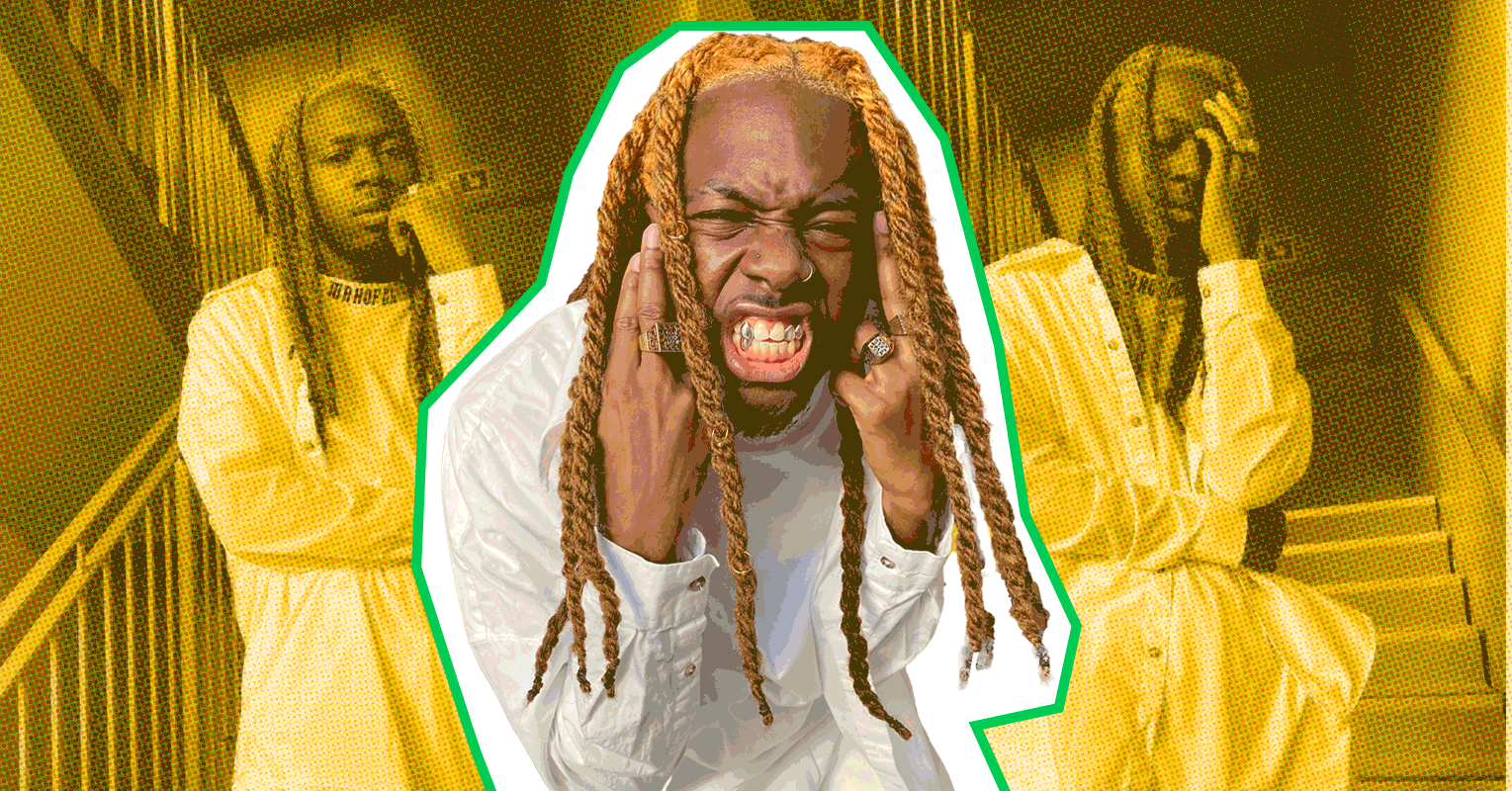 As part of the United Kingdom's Black History Month, EnVi shone a light on Black British talent. In an EnVi exclusive, we chatted with singer-songwriter and performer Jeffrey the Kidd over Zoom on his throwback inspirations, studio time with NCT's Kun, and his journey as an artist. With a career spanning pop/R&B duo Misunderstood, competing on The X Factor 2018 live shows and writing for SHINee and WayV, he is now working on his first solo project.
"Music Is the Forefront, the Center of Everything."
Music was embedded in Jeffrey Okyere-Twumasi's everyday life from a young age. "Music is the forefront, the center of everything," he shared. The singer's parents always had music playing. He recalled, "You wake up in the morning, there's music. Go to bed, there's music." At the core of this was Michael Jackson, who is at "the beginning, middle and end" of the songwriter's love for music. Listing Michael Jackson's Moonwalker (1988), "Billie Jean," and "Bad" as some of his favorite performances, a love of dance naturally came alongside music. Music video broadcasters MTV and The Box and chart shows Top of the Pops and cd:uk ignited this passion for performing. "I would watch music videos from Backstreet Boys or anything Destiny's Child and learn the routines by just watching," he shared.
Like singing and dancing, songwriting also came at an early age. Jeffrey wrote his first self-composed song, "Walking," at seven or eight years old. "It was awful!" he cringed, covering his face with his hands. "It just started from me writing in gibberish, because that's how it always starts," he revealed. The noughties trend of "female version" and "male version" remixes and responses to songs inspired Jeffrey's early writing. He would make up songs with the radio during car journeys. "Any song that would come on, I would literally just, if I didn't know the words, I'd make up my own words, and make a new version of that particular song," he remembered.
With early memories of doing talent shows and "literally singing the house down," Jeffrey went on to study at The BRIT School, a performing arts school whose alumni include Adele, Leona Lewis, and Amy Winehouse. Attending school with the other half of Misunderstood, Sevn Dayz, the duo had a 14-year journey together including The X Factor live shows, performing at the Miss World final in 2019 and working with musical legend Nile Rodgers. However, the two artists decided to embark on their own individual paths earlier this year. Although they are no longer Misunderstood, Jeffrey and Sevn Dayz continue to write together, and both attended an SM Entertainment writing camp this August.
History in the Making
Jeffrey often thinks about visuals and performances during his songwriting process, and films like Sister Act Two and the scores of old Disney cartoons such as Peter Pan, Cinderella, and Jungle Book were an early source of inspiration. To this day, the songwriter enjoys "how the music actually works with the movement of what a lot of the characters do."
Sounds from the nineties and noughties were a core part of Jeffrey's childhood and continue to be an anchor for him as an artist. "Nineties music throwbacks, they're literally in my blood," he stated, gesturing towards his chest. He explores this love of nostalgia on his TikTok account, reimagining songs from the nineties and noughties, and uncovering samples in popular songs. Hearing samples quickly is something Jeff is known for among his friends. "I was like, 'You know what? I'm gonna keep on doing this,' because I actually enjoy seeing people's reactions and seeing what people think."
Discussing his influences from Black and mixed-race British artists, he listed girl group Cleopatra, pop star Jamelia, vocalist Beverley Knight, and "Return of the Mack" singer Mark Morrison as childhood favorites. In particular, Craig David has influenced Jeffrey's tone of voice when singing. Speaking of current Black British creatives, he declared, "There's just something in the water here that is unmatched." When it comes to the current UK music scene, the singer is a fan of rappers Dave and Stormzy, and singer-songwriters Jvck James, Bellah, Tamera and Mahalia.
The conversation also covered changes from the noughties to the current generation. "I just feel like there's something different," Jeffrey said. "There was always this thing of being ashamed to say where you're from," he added, linking the surge of Afrobeats to changing views on identity and heritage in the UK's African diaspora. "I've not seen so much diversity and just, you know, representation," he confessed, describing online content on hairstyles, fashion, food and literature
Songwriting Secrets
Jeffrey's K-pop origin story began a decade ago, when his cousin told him about the group EXO. "I was like, 'What the hell is this? Well, this is crazy!'" he thought, as he watched the choreography and expensive-looking music videos of the group. Ten years later, he started writing for K-pop acts under EXO's label, like SuperM and WayV. "I actually got into K-pop by accident," he confessed, telling the story of the first K-pop song he wrote.
"Dangerous Woman" was written by Jeffrey and Sevn while they were in Misunderstood. "We wanted to make an answer back to the Ariana Grande song, "Dangerous Woman," he revealed. An unreleased a cappella version of their song went viral, and the duo had considered singing it on The X Factor's 2018 live shows. A few years later, the song was sent to South Korea by producing powerhouse and Jeffrey's publishers, LDN Noise. To Jeffrey's surprise, "Dangerous Woman" was performed on Jimmy Kimmel Live! in February 2020 by SuperM, before its release in Super One. "I'm hearing this song being sung in Korean, which I'm like, 'What. Is. Going on?'" He reenacted his surprise listening to his work reinterpreted into a K-pop song for the first time. "Hearing how they understand what you've done is so creative, with all the harmonies and the runs, because they copy every single thing," he explained, gesturing with his hands.
While this summer was Jeffrey's first Seoul writing camp, SHINee's "Kiss Kiss" was created during a 2020 LA trip. This was another pre-existing idea which was transformed into a K-pop song. Sevn had initially made part of the song for Misunderstood, but the song did not match the duo's style at the time. The final version came from a brief for a funky song, and was inspired by retro-style hits, Doja Cat's "Say So" and Dua Lipa's "Don't Start Now." "Even though we had nothing apart from 'I just want your kiss,'" he said, singing the line. "There was no beat, no instrumental, and they literally made it around the ideas that we were coming up with," he continued. The SHINee B-side is now one of Jeffrey's favorite K-pop creations. "SHINee absolutely killed that one!" he proudly said.
Speaking about Black creatives behind the scenes in the K-pop industry, he disclosed, "The briefs that we get for the K-pop songs and stuff, the majority of them are from black artists." The songwriters may get briefed to create a sound inspired by artists like Big Sean or Nicki Minaj. "That's what helps create some of these raps, that you guys are hearing," he continued. "These riffs that you hear, they are from all these incredible black creatives."
Despite minor differences in song structure, such as raps and "the dramatic change" into pre-choruses and choruses, the songwriter felt the creative process is similar when writing inside and outside K-pop. "I'm a visual creator, like I just have to see it, and then that's when everything comes in," he shared, explaining how he thinks of a song being performed as he creates it. Relating K-pop to his own performance style, he described his appreciation of "the world of a performer." That's to say, K-pop's reminiscence of all-singing, all-dancing nineties and noughties pop music. "We're singing and dancing, and everything's so dramatic, and we've got big budget videos!" he exclaimed.
Making Miracles
These days, Jeffrey is a fan of international acts like BLACKPINK and WayV. Jeffrey recalled his experiences of writing WayV's "Miracle" and meeting members Kun and Ten at an SM songwriting camp this summer. He smiled, recalling Kun's initial shyness, possibly due to a language barrier. "[He'd] literally just be there in the corner," he said, imitating a withdrawn pose, "Just being like 'I like this song, I like this song.'" The pair hit it off, as Kun broke out of his shell. "I feel like we had the same energy," Jeffrey casually continued, "And he just messaged me now as well, because he's changed his hair color."
The songwriter also spoke about meeting Ten, whom Jeffrey described as "so funny" and "so dope." The NCT, WayV, and SuperM member came to the studio and showed him a dance rehearsal he had just filmed. "I was like, 'This guy is mad! Absolutely crazy!'" he said, eyes wide with amazement.
During his time in Seoul, Jeffrey worked with an international team of writers and producers, including Sevn, LDN Noise, Adrian McKinnon, Taet, Jeremy Tay Jasper, and Wilhelmina.
Exact details of what will come out of the writing camp are yet to be revealed, but the performer confided, raising a fist, "There's definitely going to be some more fire coming!"
Projects To Be Proud Of
Jeffrey's all-time favorite song he's written will likely be from his first solo project. "I'm still writing, and I'm loving everything that I'm creating right now, so, I'd say TBC," he teased. The vision for Jeffrey the soloist will combine the old and something new. "It's definitely going to be nostalgic, and R&B. I'd say that much," he revealed excitedly. "Truly a different side that I don't think a lot of people have got to see from me," he mentioned. As for Jeffrey's dream artists to work with, beyond the obvious choice for the long-term Beyoncé fan, other dream collaborations would be Bruno Mars and KAYTRANADA.
Reflecting on his life as a creative, Jeffrey spoke about Key of SHINee's "Proud." This was another idea formed with Sevn. "We wanted to speak about how proud our parents would be because obviously, we're doing all these incredible things," he revealed. With some similarity, in the final Gasoline version, Key talks about his mother's parenting diary. "In a world where a lot of people don't understand who you are," Jeffrey continued, "We were just like, 'Yo! I'm just so proud that, you know, I did all the stuff that I wanted to do and didn't care what other people had to say.'"
It's hard for Jeffrey to pick a specific moment he is proudest of as an artist so far. "I can't even put into words, especially now as I'm about to embark on my first solo project," he said. Jeffrey elaborated, as much as the music industry focuses on numbers, trending or reaching the highest levels of fame, this was not necessarily the most important thing for him. He takes pride in having the courage to take his creative visions from his head to reality. "What I'm most proud of is just doing everything that I've always wanted to do," he concluded.
To keep up with Jeffrey's next moves, you can find him on Instagram, TikTok, and Twitter.
Interested in more content from the creators of your favorite songs? Check out our interview with "Superhuman" and "View" writer Adrian McKinnon here!