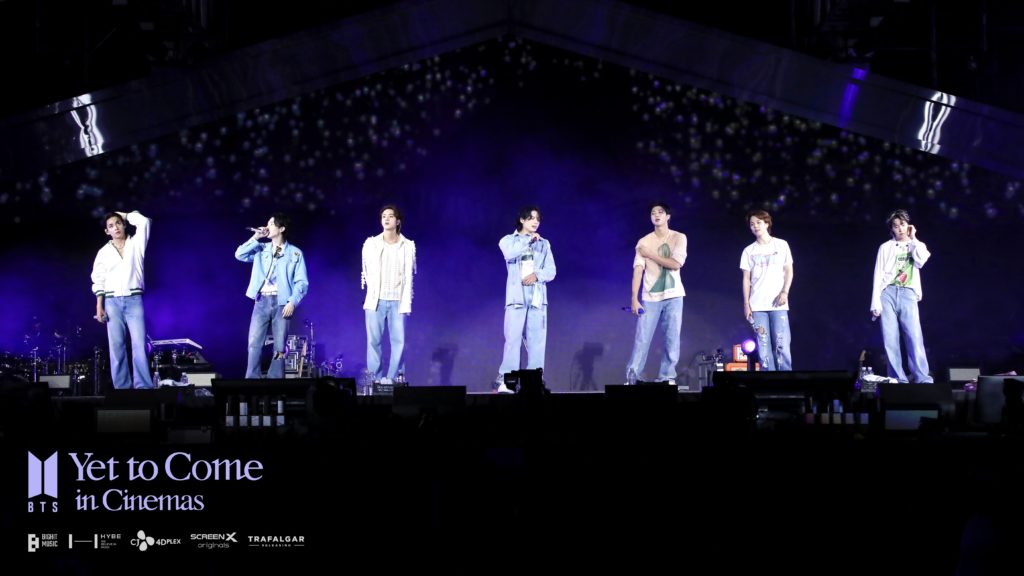 Releasing in February 2023, the new concert film, BTS: Yet To Come in Cinemas, will be in select theaters for BTS fans to experience the band's show stopping stages.
BTS and ARMY Together in Busan
In October 2022, the seven members of BTS — RM, Jin, SUGA, j-hope, Jimin, V, and Jung Kook—took to the stage in Busan, South Korea in front of a sold-out crowd. Performing songs spanning their nearly 10-year career from "IDOL" to "Run BTS," the pop icons gave an incredible performance. Captured on film,their concert "BTS 'Yet To Come' in Busan" is now re-edited to show global audiences the electrifying performances of BTS from their free concert in Busan.
The seven-member boy group came together for a free concert for fans, wanting to provide ARMY the opportunity to see the boy group perform all together before the eldest member, Jin, enlisted in December. Along with the fans attending in person at the actual show, 12,000 people watched live-streamed versions of the concert live in Busan, as well as an additional 49 million people globally watching the concert live-streamed online. For those who weren't able to watch along on the day of the concert, BTS: Yet To Come in Cinemas is a chance to experience BTS's Busan concert for the first time, and an opportunity for many to relive the magic of those performances.
BTS and ARMY Together in Theaters
Starting on Wednesday, February 1, 2023, fans can attend showings of BTS: Yet To Come in Cinemas for a limited time. On Saturday February 4, the showings will be dedicated to "Light Stick Screenings" where fans can celebrate and bring their BTS lightsticks to theaters to wave along during the movie.
Tickets for showings in over 110 countries and territories go on sale on January 10, 2023. Along with standard theater screenings, BTS: Yet To Come in Cinemas will also be shown in various special formats including the immersive 270-degree field of view of ScreenX; 4DX, where the effects reproduce the live atmosphere of the concert; and 4DX Screen, a combination of ScreenX and 4DX.
Buy tickets here starting on January 10!
Want more BTS? Check out Jung Kook of BTS performing "at the "Dreamers" at the FIF World Cup here!