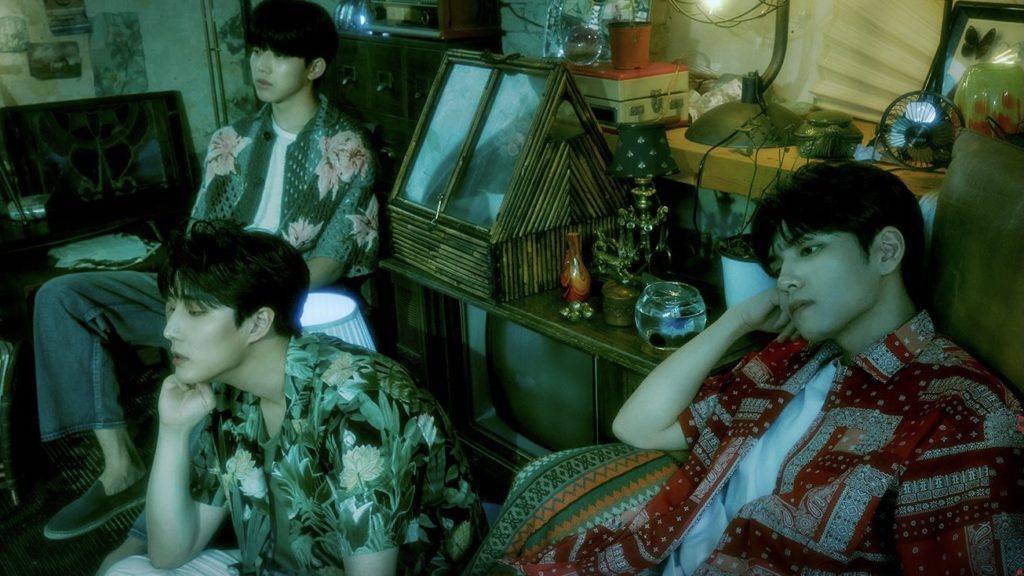 Day6 is back with their 2nd mini-album, Right Through Me. Released on July 5 at 6 PM KST, the 7-track mini-album features the subunit Even of Day, including members Young K, Wonpil, and Dowoon. 
With this mini-album, Day6 explored a more vintage sound. Right Through Me is Even of Day's first comeback since The Book of Us: Gluon – Nothing Can Tear Us Apart in 2020. Members Young K and Wonpil are lyrically credited for every song on the album, and Dowoon provided background vocals for several tracks as well. 
Album Breakdown
The mini-album begins with the song "We," a healing song detailing the hope that lies at the end of darkness. The electro, pumping beat of the song and soft vocals from Wonpil and Young K are enough to make anyone smile as the trio kick off the mini-album. Fit to be the title track or single, the song expressed a comforting message that there is still light at the end of the tunnel. With lyrics like "Sometimes we fall and then we rise / always repeating without an ending / while keep reminded of hope / the despair will go away," fans are reminded of the powerful lyricism of Day6 as they continue to depict struggles that others can relate to. 
https://twitter.com/k1minara/status/1412072170298114048?s=21
Following "We" is the title track "Right Through Me." The heartbreak song takes on a slower groove than the former tune and fits the aesthetics of the video. The subunit is immersed in a bleak green saturation throughout the music video. The cinematic picture, coupled with the jazz and hip-hop beat, sets the stage for a song overflowing with emotion and a tinge of anger for the ending relationship. On July 6, the trio released a live performance video of this song for fans to enjoy. 
From there, we are taken to a more encouraging and uplifting track, "WALK." Drummer Dowoon explained "[listening to the song] makes me feel wow, I really want [to] play live and sing well." His sentiment is only strengthened with the lyrics "'Cause it's always going to be great anyway / calm down man / keep walkin', keep walkin' / no matter how prepared / the unimaginable will come / do not worry about it / keep walkin', keep walkin' / go wherever you want." With the vibrant spring-like ambiance mixed with encouraging and uplifting lyrics, the fun melody contrasts the slower track that preceded it.
"all the things you wanted" juxtaposes the former song with a more retro vibe and feelings of regret. The heart-tugging song shows the sadness that accompanies missed timing. The lyrics look back on a past relationship, showing remorse for not doing more. The strong drums in the background complement the regretful and drawn-out vocals. Despite its lyrics of misery, the song is powerful and hard-hitting. In the final chorus, the members grace the piece with a softer falsetto before diving back into their dynamic, full vocal power. 
Contrary to its name, "from the ending of a tragedy" returns to a happier, upbeat, and hopeful sound. The song is highlighted and begins with Dowoon's drumming. Young K shared on his radio show Kiss the Radio that the song's instrumentals, lyrics, and melody are reminiscent of a theater play. Young K and Wonpil's harmonization top off the song to deliver its message of running from a tragedy to find happiness. 
"Home Alone" is a playful song with a youthful vibe. Its carefree lyrics reflect the encouraging meaning behind them – a promise of being fine even after a heartbreak. Following the vintage style of the album, the song's melody resembles the strut of a main character in a nostalgic coming-of-age film. With no regrets to spare, the track is an anthem of self-love and independence. 
To conclude the mini-album, "LOVE PARADE" radiates carefree and joyful excitement that can only be compared to being at a festival. The track bursts with color, and MyDays, Day6's loyal fanbase, interpreted the song to be in solidarity with the LGBTQ community. 
I thought LOVE PARADE might vaguely allude to Pride, but this is pretty blatant. 🌈 I love these fellas a whole bunch. pic.twitter.com/WMD4QcO1p1

— Jess🌙 (@wickedproper) July 5, 2021
With Dowoon's drumming, the song's beat can only be compared to that of a marching band and brings on the illusion of festivals with confetti everywhere. The lyrics "(love) What is love? / (love) although the shape is different, the name is the same / each other in different ways / (love) express it / (love) you just have to give it to me as it is / the festival has begun our love parade" only strengthened the happy vibes of the song. With this, "LOVE PARADE" brought the refreshing album to an end. 
Fan Reactions
The mini-album was well received by fans.  
Day6 never disappoints. This song has me crying in my room over I don't even know what. Favorite comeback of the day#Even_of_Day #RightThroughMe #DAY6_RightThroughMe pic.twitter.com/oia50YP9Q2

— ToastedBread // EXO DAY! (@sav_war_fare) July 5, 2021
THE LYRICS FOR THIS SONG IS SO COMFORTING AND SOOTHING YET KINDA SAD FEELS CRYING WHILE SMILING LISTENING TO THIS SONG#DAY6#DAY6_Even_of_Day#Right_Through_Me pic.twitter.com/tNLOaQanrg

— rin (@bobscrckercrumb) July 5, 2021
PAIN. JUST PAIN.

RIGHT THROUGH ME EOD#이오데_차트_뚫고_지나가요#DAY6_RightThroughMe #DAY6 pic.twitter.com/17cCGoIck5

— shen 𖧷 svt & nct qs! (@lovedhjs) July 5, 2021
Seungmin, from fellow JYP-label group Stray Kids, also shared his favorite tracks through a bubble message. 
SEUNGMIN ✉️ [5.07.21] 7:17PM KST

: Hyungs* are back!!!

: [BUBBLE STICKER]

: [LYRICS OF THE SONG] Right through me~

: Did you listen to the songs? I like track 4 and 5 ㅜ

[*day6] pic.twitter.com/AK1mkjGUVL

— 스키즈 (@levanterdiary) July 5, 2021
SUNMI also expressed her support for Even Of Day on her Instagram and Twitter. 
https://twitter.com/sikkeureo/status/1412014390551842816?s=20
데이식스 네가 원했던 것들 이거 들어주세요

— Miyayeah (@miyaohyeah) July 5, 2021
Enjoying It As Is 
In their Album Commentary Film, the members shared their hopes for the album and more on the process of completing it. Wonpil divulged, "In this album, I think we've touched on themes that we've found meaningful in our lives." With the song exploring themes of regret, melancholy, anger, happiness, and acceptance, it delivers on a wide range of immersive emotions.
Wonpil also added, "I wish [fans] don't take into mind how much effort we put into this. I want them to just enjoy it." Young K agreed, saying, "I just want the listeners to enjoy the music. If it could help them with what they're going through, that's even better." 
Listen to the full mini-album on Spotify and Apple Music, and follow Day6 and Even of Day on Instagram and Twitter for more!
Want to read more on Day6? Check out Day6 Entrances With The Book Of Us: Negentropy!
Thumbnail courtesy of JYP Entertainment.