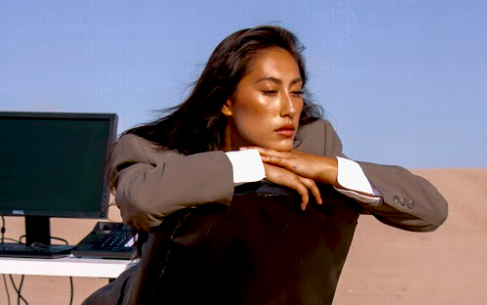 From Boulder, Colorado to Los Angeles, California, Louisa Meng is a Chinese-American photographer and creative director. She's marking her own path in the creative industry, creating art that illustrates the stories closest to her heart, while building a genuine connection with her audience. 
EARLY BEGINNINGS
Louisa always had an eye for art, and being on camera was something she enjoyed. Growing up with a father who loved shooting landscape photography, the influence of the camera was always around her, and she was the star in front of it. Wanting to pursue more art outside of her hometown, her interest in fashion led her to study marketing in Seattle,Washington. 
With a background in marketing and social media, she started off as a stylist developing her own projects and photoshoots centered around fashion–her first passion. Yet, it wasn't until she moved to Los Angeles two and half years ago, that she had the opportunity to pursue her creativity full-force. Realizing that she kept herself in a box without any creative control of her shoots, she decided it was time for a change. "I didn't show up to really bring the clothes, I showed up because I wanted to have a really strong influence on the creative direction and the final image. But I couldn't have that control as a stylist, even though I loved clothes." 
Taking control led her to photography–her true calling. With the confidence to pursue her own creative ideas, she was ready to connect with others and share her story. 
THE CREATIVE DIRECTOR: ORIGINS & THE STORY THAT'S TOLD
The Origins Series was a personal project of Louisa for her brand "NOT YOUR TYPE," a campaign she created with the vision to share her voice and story as an Asian-American woman with the world. "I wanna see women in the kind of art that when I was younger I wished I saw more of," she said, "and I didn't want to showcase Asian-American women, in a very caricature way, or doing what's seen as trendy or typical to see Asian-American women in fashion or photography." 
The visual narrative of each piece illustrates four strong and powerful Asian-American women representing the four elements–Earth, Fire, Water and Air, all shot at a secluded beach in Malibu, where all four elements coexist in perfect harmony. "I loved that being in one location we can pull each element in different ways. And I tied that in as elements are the origins that make up everything, and also ties back into me wanting to talk about my origins. Each model that I shot, we have a strong tie to our roots as being Asian." The shoot was a big breakthrough for Louisa, who used her voice to illustrate not just her story, but the story of every Asian-American woman, through their eyes.
Louisa shared the importance of telling your story the way you're experiencing it, rather than how you should be telling it. "I think we should find the courage to represent us in authenticity, because everyone has a different story, and if we can do our best to represent that in full authenticity, then it only gives more light to really what it means to be Asian-American." 
This was the inspiration behind her "NOT YOUR TYPE" campaign, where the origins of her story aren't limited to just one layer of herself. She's not just a photographer or stylist, and she's not afraid to be open about that. "You can be anything and everything that you want to be, and the more we advocate that and show up for that, then the more it'll be accepted." 
AN OPPORTUNITY OF A LIFETIME: DIRECTING MADISON BEER
An unexpected collaboration came to Louisa's doorstep when Amber Park, musician Madison Beer's creative director, offered her the chance to work with her on the shoot for Beer's album, Life Support. As a fan of Park's work, Louisa was thrilled for the opportunity given to her, and for her, working alongside an Asian-American woman who's also a creative director was noteworthy. "She's killing it. I haven't seen a lot of other Asian-American women really being put in creative director positions, or photography positions, working at that level." 
Being a freelance photographer, she's used to doing all of the work herself: from setting up the stage to editing her own shoots, she does it all. Alongside Park, Louisa had something she never really had before: the support of a full production team. "The most exciting part to me was working with Amber, and getting a whole production team that was about to support me." Louisa broke into a smile, and expressed how excited she was talking to her friends about the collaboration. 
Having the full trust of Amber and her team felt like a huge milestone for Louisa,  especially when she was initially brought in as a photographer, and then became the creative director. 
Life Support itself is an album that tells the story of a hero making it through the superficial world she lives in. Wanting to stay true to Madison's album concept and Amber's original creative process, Louisa decided to create a Seven Deadly Sins-inspired shoot, where each sin was reimagined in this superficial world.
 "I wanted to approach it as creatively as possible, because I felt like this wasn't just for her, it was for the album, so I wanted there to be some shots where it wasn't as obvious what we were seeing, but it was more-so just a vibe for the album. Every different set and every look that we did looked good together, but also had its own story." 
HEARTFELT CONNECTION
One thing that sets Louisa apart is her connection with her audience, and how relatable her story is, something she's always grateful for. Tearfully, she expressed feeling touched whenever her followers tell her how much they relate to her. "I feel so connected to them because I feel that I am them, I just want to share how it's been for me. I went through so much never knowing if I'm doing the right thing, never having someone tell me if I was doing it, if I was okay." 
The tears came as she shared a moment in her life where she felt alone, with no one to relate to her or what she wanted to do. "I remember being 15 and just feeling like I had no one to relate to and dreaming about the things I'm doing now. It didn't happen right away, it took me years." Louisa gushed, sharing how it took her years to have the confidence to feel at peace with herself. "Literally, took me years of me, you know, feeling like oh, it's too late. Because I'm this old now, and nothing's happened." 
Constantly having to fight for what you believe in is something everyone goes through – going against what's conventional, and trying to let your voice be heard is a tough battle. For Louisa, it took a long time for her dream to be realized, and yet, there's still so much for her to pursue. She expressed feeling a deeper connection with her audience because through their own stories she's able to see her younger self again. There's not enough words to describe the raw emotion seen in her eyes when she talked about this connection, other than how genuine it is. 
"I genuinely care about young people. I do want to be an influence and I do want to be a role model, because I know I worked for it. I know I have real experience and knowledge to share, so I'm ready to help people, you know," she shared with a laugh. 
ADVICE FOR YOUNG PEOPLE
If there's one thing most young people have in common, it's being unsure of the path they're taking, and whether or not it's the right one. Louisa shared her own uncertainty starting out, not knowing if the path she was on was the right one. "I was so unsure, I was constantly having anxiety that I was wasting my years away doing something that I didn't know if I wanted to do or not." She expressed that she worked incredibly hard to get herself out of that mind set, and stressed the importance of other young adults question themselves less, and instead look at their experiences as a stepping stone on the path towards their goals.
 "It's okay for us to not have it figured out, and almost embracing that with humility, and knowing you don't need to have the answers, is going to be the reason why you will be so open to things that you will get to where you'll need to go," Louisa shared. "With the exact tools, and experience will be the reason why you'll be successful down the road." 
THE TYONGF: TAEYONG AS A MUSE
Fans of NCT's leader, Taeyong, have been vocal in supporting Louisa and her work after they discovered she was a hidden Tyongf. "I think people don't realize how much of a Taeyong fan I am," Louisa gushed. "Like, people have no idea." She expressed being extremely grateful and honored for having Tyongfs accepting her and being a fan of her own work. "I want people to see me as an artist and as a professional too. But like…I love him. So it's just so cool that people are learning about that and supporting it in a very natural way." Her dream is to be able to shoot with Taeyong and any artists under SM Entertainment. For her, the K-pop industry's creative standards are incredible. From the production value to the insane creative freedom, it's a perfect blend of music, culture and commerce. It's the epitome of the kind of work that she wants to do. 
Louisa reiterates wanting to go to Seoul and other Asian countries to work with artists like Taeyong, who she describes as being a muse. She admires his passion, and the very thing that makes him special: his art. "He is such a muse. He is the definition of someone you would work with, and you would just create the most amazing art. Because he's there to create art, and that's what is so special about him." The smile she had while expressing her admiration for Taeyong is telling of the strong connection she has with Taeyong and his art.  
It's about being Asian and having the cultural background where humility is important, but it's also about the confidence and talent that Taeyong exudes. She praised him for his humility and his gentle nature, the way he genuinely cares for his fans, and the art he creates is admirable to her. "Super humble, huge, amazing role model, but then he's like a bad bitch. When I discovered that that person exists, I felt seen. I felt that it was possible to be all of those things, and be given a platform. And that's huge." 
LOOKING TOWARDS THE FUTURE
Aside from being a photographer and creative director, Louisa's always had an interest in graphic design, and through one of her projects–"Reimagining Series," she dipped into the art of it. The "Reimagining Series" was influenced by the idea of superheroes and giving each person their own character identity, the protagonist of the movie she created. "I've always loved superheroes, and I've always loved giving each person their own playing card. I loved those kinds of stories."
She loves these kinds of stories, where each person has their own persona-identity, something that has been an inspiration for her own work. This series was created with the vision that each woman she was shooting was the protagonist of their own movie, the superhero of the story that she's capturing. 
One of the goals she shared for this year is to create more physical prints of her work, rather than just share them through Instagram. She hopes to produce tangible and official copies of her work that people can have in their homes and share with their friends. It's something she looks forward to in the future. 
If you want to stay connected with Louisa, follow her on instagram and check out her portfolio!
Thumbnail courtesy of NOT YOUR TYPE/Louisa Meng.
Craving more creative spotlights? Check out our feature on Karen May!