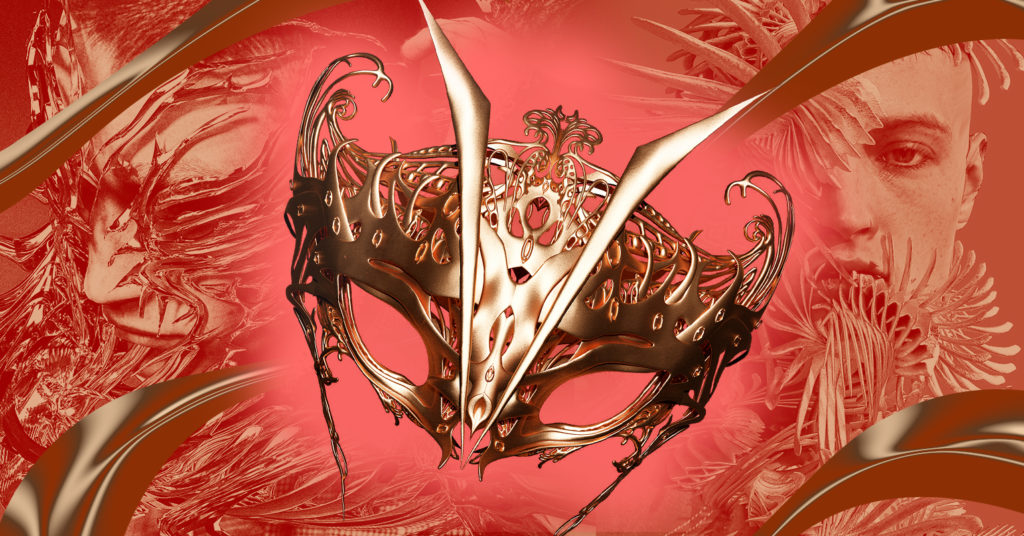 Pushing the limits of reality through cybercore and glitch-art works, Solwhi Park (otherwise known as VisualOcto) expands into a multidimensional world through his art. He experiments with skeletal design motifs and geometrics, which are defined by saturation, shape, and 3D renderings that mirror reality.
Park's unique style retains a basis on upcoming trends within the digital art community and speaks for innovation. Currently, the 21-year-old graphic designer is working freelance with notable clients including SM Entertainment, NeoShibuyaTV, Miller Draft, and Coloso Korea. He has gained a following for his distinctive artworks — including his contribution to the cover of WayV's fourth mini-album, Phantom.
EnVi conversed with Park on Zoom to discuss his beginnings in 3D art, working with SM Entertainment, and the design process for the Phantom cover itself.
Limitless Experiments with 3D Art
First pursuing art in 2017, Park began his digital art journey with programs such as Adobe Photoshop and Illustrator. He was mainly inspired by Olly Moss, a graphic designer based in the United Kingdom, and his designs for the Harry Potter series. During the time where Park was sourcing photographs for personal works, he quickly became influenced by the ordinary. "If there was a photo or base image, I really wanted to put my own story on it. You know, my style, I wanted to put all those elements into one and just inspire others," he explained.
Upon returning from his mandatory military service, Park began to experiment with 3D art in June of 2022. Though this digital art sub-genre had more of an underground scene, Park became curious about the evolving style's possibilities. He began his 3D art journey with YouTube tutorials and by taking inspiration from the world around him. "I just want to create artworks with the things I learned every day and experiment to change my style," he said. "I don't want to rely on just one style, so I think my work is much more experimental in that sense."
Getting in Contact with SM Entertainment
Park was first contacted via email by SM Entertainment in September of 2022. At the time, he was working on several projects, but this was anything but expected. "I got the email and I literally had no words because I felt amazing. At first, I thought it was some kind of scam that my friends were doing. But after seeing all the emails and business cards that the manager sent, I had no words," he explained. "My jaw dropped and I just went outside because I had a lot to think about. I told my parents about it and they were really surprised. I think it was kind of an amazing experience."
Met with fear and overwhelming emotions, Park felt a huge obligation to do well while taking on the project. He knew it was going to be a big project for his career. At the same time, Park also thought about what the cover would mean for both WayV and their fans. "I had to satisfy all the fans out there for NCT and WayV. It was kind of tough because I knew I had to carry that responsibility within me," he said.
To get a better understanding of WayV's visuals and background, Park did some research to see their previous album covers. By analyzing and replicating their visual effects, he worked hard to ensure that the cover would seamlessly fit into the group's aesthetics.
Avant-Garde Inspirations with Phantom
After deciding to move forward with the album cover design for WayV, Park's project quickly began. "The overall project took around two weeks because they gave me quick responses and feedback," he explained. Though the whole process progressed quickly, Park exerted his maximum efforts into the cover to ensure satisfaction for all parties.
According to his email from the company, the keyword for the album design was 'Phantom' with 18th century avant-garde style. Opera scenes were heavily referenced as the company forwarded images of the members wearing different masks. "The masks were actually physically made to 3D print and they gave me all of the references they wanted me to enter," he elaborated. The company had requested Park to integrate all masks worn by the members into one design.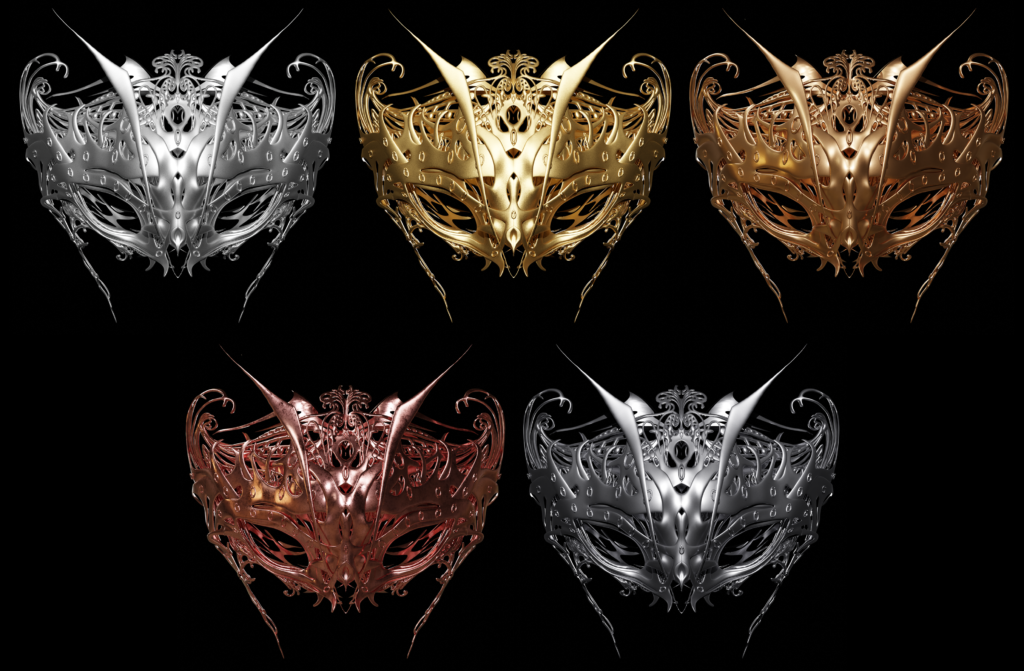 Given a specific color palette to work with, Park had to make individual artworks in different textures and hues. Since texture remained an important component to the album design, he made matte and metallic covers to fit these themes. Overall, Park was free to experiment and render the rough areas of the overall design.
Rendering Designs
Park's first drafts were more "grotesque" in comparison to the requested avant-garde style. Balancing his personal vision and the design references proved some difficulties, but he quickly adjusted to the feedback provided. "It was kind of hard at first, so I just created all my handmade assets for the mask. So I tweaked them and sculpted them. I basically made a rotating video of the basic image and sent them," he explained. "The total [Google] Drive [revisions] was 25 times so it was really rough because this was the biggest project I have ever done."
Each email had a PDF file with adjustments for Park to incorporate into his album design. As texture remained a large artistic element of the album design, feedback was extremely important for Park throughout his renderings. "They gave me all these clinical presentation PDFs so it was really helpful. The main theme was 'Phantom' and so at first I didn't understand all this stuff because I did not know that styling existed in the first place. They helped me a lot with adjusting to the style and just seeing what they wanted to do."
Incorporating the Signature 'V'
After facing the struggles of finding a balance between avant-garde and his own personal style and incorporating all masks into one design, Park had one final challenge. Every WayV release artwork to this date has highlighted their signature 'V' logo. This left him at a standstill in the entirety of the creative process. "I think this was the hardest part because I really wanted to create the mask, but adding the V to it was difficult," he mentioned.
"Adding a 'V' shape and separate fonts was something that was really hard to just manipulate combined with the compositing on these objects," Park explained. To solve this, he created a sketch of the shape in his notebook and adjusted it. "I just wanted to make it very sharp. Not bold or italic, but rather sharp on the edges to fit well with the mask and avant-garde style."
Looking back on his time conceptualizing WayV's album cover, Park has also adapted a new mindset in his creative endeavors. "The thing I've learned throughout this whole experience was to never be satisfied with the things I've created. I always try not to be satisfied with my work because I want to use that as my motivation to go further and learn more stuff," he said.
Receiving Support from WayZenNis
As Park slowly gained a wide following on social media for his works, there was surely more to come following the teaser release for WayV's fourth mini-album, Phantom. On November 23, 2022, the artist quoted the comeback announcement, tweeting "Artwork by me." Many WayZenNis (fans of WayV0 quickly discovered the tweet and thanked Park for his efforts. Taken aback by their support, he accumulated over 30,000 likes and 500 responses. Comments included questions about his artistic process and praises for the work itself.
Future Collaborations with K-pop Artists
Drawn to the artistic nature of the K-pop industry, Park expressed his love for the visualizers and concepts within it. "Whenever I see K-pop videos, I really just look forward to the visual effects, 3D materials and optics within them," he said. Moving forward, his goals are to finish college, continue freelancing, and to continue working alongside SM Entertainment. Following this project, Park's dream collaboration would be with a familiar SM group as well. "I always wanted to work with aespa because I love their music and songs. But especially their concept photos, their style comes from visualized aesthetics and I think it's really amazing."
Voir cette publication sur Instagram
Describing their style as "fresh," "abstract," and "grotesque," Park envisions elements of his art into aespa's overall concept. "I really want to create with aespa and manipulate my style with the concept to fit the members. I think it would be really amazing," he added.
Follow Solwhi Park on Instagram and Twitter to be updated with his creative ventures.
Want more on the artists behind K-pop albums? Be sure to check out our interview with Nua here!