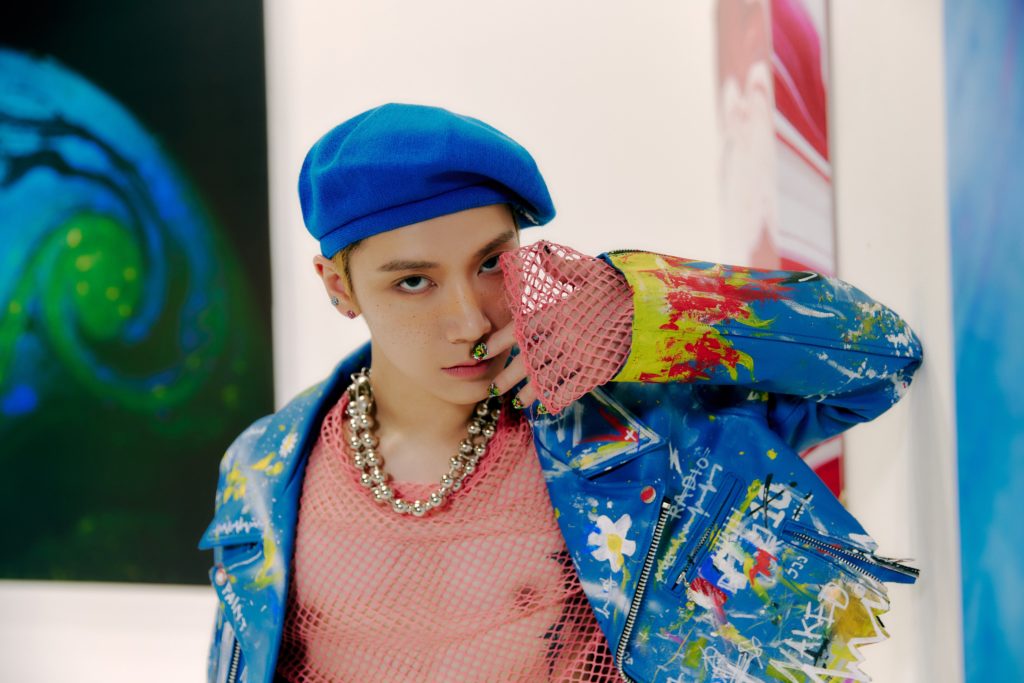 Dear Ten,
When I first saw you in "Baby Don't Stop" in March 2018, I was an outsider looking to find new music to enjoy. I now write this letter to you as a fan whose life you have changed in the short time span that I've known you. It's nearly time for "Paint Me Naked" to enthrall us all. I couldn't possibly put my excitement into words even if I wanted to. I'll try anyway.
Whether it's your honest artistry, your incredibly kind and affectionate personality, or your talent for being amazing at just about everything you do – it won't be hyperbolic at all for me to say that you have changed the trajectory of my life. When I became a 10vely in 2018, it was because you inspired me to be my best self at a time when I was at my absolute worst. I had gone through a major rough patch in life and was recovering from a life-threatening illness when I found you. In other words, I found you when I needed you the most.
It was either ironic or just the universe's way of showing me direction, but "New Heroes" was announced right after I became a 10vely. Back then, I needed a hero so badly, and there you were, ready to take all my troubles away.
It would be an underestimation of gross amounts for me to say that "New Heroes" did not get me through a lot of what I underwent in 2018. Whether it was mental or physical health issues, your music and YOU got me through it all. I used to repeat "I get high off my lows and stronger from the blows, so I keep on, keep on, keep on…" anytime I felt like giving up. In all honesty, I still do.
Sometimes, I ask myself this. "Would Ten give up in a situation like this?" and I instantly have my answer. You never give up. You work hard, you always give your best in whatever you do, and you hold on to everything you believe in – even if nobody else does. You are everything a role model should be, and more. And I'm so eternally grateful to you for being who you are.
The past three years (and five months) being a 10vely have been phenomenal. You give me the motivation to pursue my dreams every time I lose hope. You remind me to be my authentic self even if the world may not like that about me all the time. Most of all, you've helped me reconnect with my art. A connection I'd lost a long time ago in the whirlwind of growing up. I feel inspired to create – writing, art, dance, design, everything whenever I see you perform or share your art and messages with us. Every inch of you is remarkable in every way and I hope you see yourself the same way too.
I was convinced I had lost my ability to dance after getting sick, but it was after becoming your fan that I found it in me to not give up on my love for dancing either. I may not be able to go back to dancing the way I used to prior to the illness but watching you dance and doing it for my own self still gives me as much joy as it did a few years ago.
You are a beacon of hope and happiness to me. I find light in you when I have none left in myself.
When "Paint Me Naked" was announced last week, I jumped off my bed and danced a little. I instantly played "New Heroes" on loop for an hour too. I tweeted about everything that made me giddy with excitement regarding your new solo station. The last week that we've been getting teasers for your song has been the most joyous week I have had in a while. The highlight always being those doodled concept photos you'd post on your Instagram after the official ones were released.
I constantly pray for you to find happiness and success in everything you do because I don't know anyone who deserves it more. You left your home at such a young age to follow your dreams and every single project you have done with NCT, WayV, and solo just further proves your all-rounder capabilities. I'm thrilled to see you get all the opportunities you deserve, and I will be right here supporting you in all of that.
While I wait excitedly with other 10velys for "Paint Me Naked" I hope you are taking care of yourself and enjoying every minute of what you do. Thank you for everything, Ten. Thank you for giving me the honor of being a 10vely in this lifetime. Thank you for giving me a home in this fandom where I find inspiration and where I have made so many friends who are also as creative and incredible as you are. 
Here's to many more years of you creating and sharing your passions with us.
You're truly a star, Ten. Keep shining as bright as you always do.
Forever your well-wisher and a 10vely,
Arushi
For more letters like this, check out Chyenne Tatum's letter to Mark Lee!
Thumbnail Courtesy of SM Entertainment.