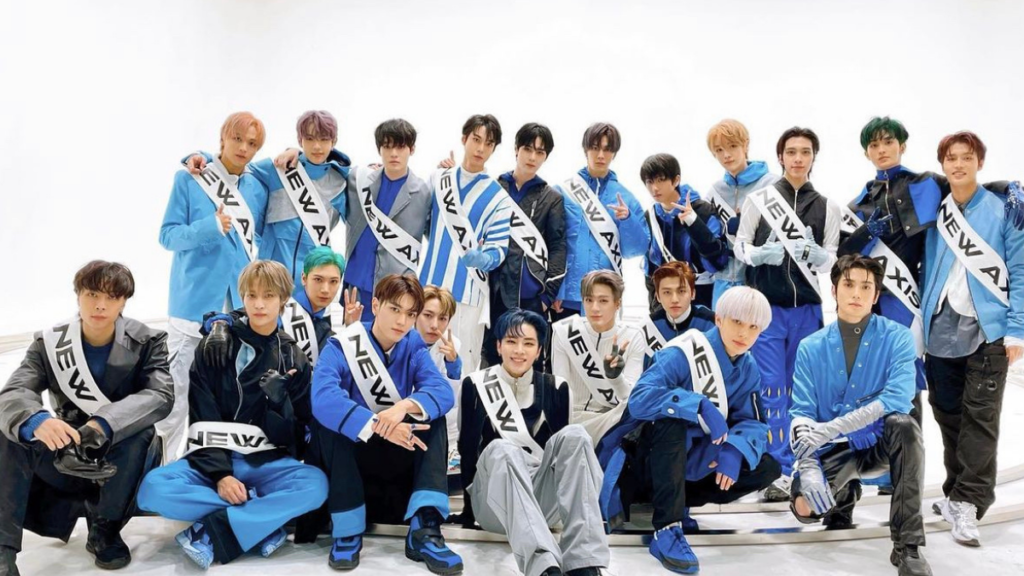 K-pop supergroup NCT closed off the 2021 year with the anticipated release of their third album, Universe. The album featured songs from each of the collective's sub-units, which include NCT U, NCT 127, NCT Dream, and WayV.
NCT U's "OK!" in particular has been under the spotlight after receiving a great deal of love from fans. The track features YangYang, Yuta, Jeno, Ten, Taeyong, Mark, and Hendery. Several of the members on this song are rappers with Yuta and Ten supplying the vocals. This lineup made for the ideal combination of silky vocals and intoxicating rap verses. 
Each member brought in their own individual talent with every line they recorded, giving the track a distinctive NCT feel that caught the ears of many listeners. That combined with its' hype and upbeat tempo, the song is in perfect harmony with the K-R&B/Hip-Hop genre that NCTzens can't get enough of.
Beloved by Ncity
"OK!" didn't fail to gain attention quickly and hit the charts at full speed. Within the first few days of the song's release, it charted #73 on the Worldwide iTunes song chart and #46 on Spotify's K-pop Global Chart. Due to the amount of conversation surrounding the song and the OK! challenge on Twitter, the song also debuted at #20 on the #HotTrendingSongs Billboard Chart just this month.
It is the 3rd most played song from Universe on Spotify (only after the album's double lead singles) and is #7 on NCT U's top songs on Apple Music.
At the end of 2021, only a few days after the album was released to the public, "OK!" was ranked on the Los Angeles Time's '100 Best Songs of 2021' list.
How OK! Came to Be
One of the writers of this track was Tay Jasper, aka Jeremy Tay Jasper, who's an American singer, producer, and entrepreneur. He's taken part in writing some of K-pop's most cherished works and has unquestionably established himself as a talented artist. From SuperM's "Jopping" to EXO's "Ko Ko Bop," his artistry and success are undeniable.
"The original session for this song took place in Seoul. I usually host a few camps a year where I invite a few of my favorite producers and songwriters to work with me at a one-week camp in Seoul. If you've ever heard of or been to one of our camps you would know the energy is always high," Jasper told EnVi.
"We are all encouraging each other, having the time of our lives! At this particular camp, SM was looking for something edgy. For a lot of the songs at this camp, we were really trying to be different. This camp produced songs like '90's love' [by NCT U] and 'Savage' by Aespa!"
As soon as Maurice Moore and Kenzie received a track from Timothy "Bos" Bullock that they believed would fit the vibe, it was time to get working. When Maurice and Kenzie started on the track, everyone on the team was thrilled to see what they would come up with. Once their parts were wrapped up, they finally showed him what they built.
"I was blown away. The vibe was super bouncy and cool. A few months later, SM reached out about the song and wanted to finish it, which is where I came in. They wanted to add more rap sections and also a bridge which I wrote from home."
When asked about the vibe around creating the song, Jasper expressed, "I really tried to put myself in the dance club. The beat has such a cool bounce. I wanted to be sure to match that energy."
The members without a doubt matched Jasper's energy in their own delivery of the song. Regardless of the fact that the song isn't the title track for Universe nor did it receive a music video, he's glad that the fans enjoyed it anyway.
"I'm super grateful to know that the music I make is well received. I always love writing for NCT because I can be super playful with the style and always know that they will deliver. I put a lot of effort into each song really hoping that it will have a positive impact on the listeners."
NCTzens Unite
The treasured song brought NCTzens together through the #NCT_OK challenge. The trend is to hold up your fingers in the shape of the universal ok sign and then transition into a new clip once the beat drops. Many of the videos under the hashtag involve before and after makeup looks.
The face behind this challenge is Phari (valentinesjae on TikTok). On the same day that Universe was released, she tweeted that she wanted to film a video to the song immediately after hearing "OK!"
"I remember skimming through the album to find the ones [songs] that immediately caught my ear and when I heard that first beat, I knew it was gonna be my most played song," she told EnVi.
"It wasn't until I saw a tweet on the timeline that said someone should start a trend to the song and a mutual, Chanel, and her mutual had posted videos to the tag #nct_ok, that I finally filmed my idea. I also have a slight following on TikTok so I wanted to help them get the tag going."
The actual idea of transitioning through a hole made with your fingers had already been a thing, however, in order to reuse the transition to fit the song, Phari decided on changing the hand motions into an ok sign. It was simple enough that she knew anyone would be able to learn it.
"At first, a few of my mutual followers were doing it here and there. So I [thought] 'ok this is gonna go around with just a few of us' but then as I was stalking the [hash]tag, I saw that more people were doing the transition."
Phari continued, "Overall it was exciting to just see people being confident and enjoying the song. Also, a lot of the people who were filming videos were Black or POC and it was exciting to have a K-pop trend that was dominated by us."
Not long after it became popular, NCT members started to join in on the tag including Jeno, YangYang, Mark, and Taeyong. On New Year's Day, Jeno's video was posted onto NCT's TikTok profile, and shortly after, Phari began to receive notifications on her phone.
"It was 4AM and my phone was being blown up so I honestly thought I was getting canceled or something, but everyone was telling me to look at NCT's TikTok and there it was. I was in shock!"
"I honestly want to thank Chanel and her mutual for coming up with the #NCT_OK hashtag because I definitely wouldn't have created a tag and just posted it. I think tags are a good way to get things trending so they helped a lot. Also, I was just amazed by the beauty and confidence of NCTzens," Phari concluded.
NCT and their team weren't the only ones to see the challenge take off, Tay Jasper also saw the trend floating around social media and plans to join in the fun alongside the fans.
"I have seen the challenge. I think it's really cool. Especially to see the boys making videos as well. I love to see how creative the NCT fans can get. Stay on the lookout, I might be joining the challenge soon," Jasper relayed.

The impact of "OK!" has been completely fan-driven simply out of pure love for the song and has influenced NCTzens all over the world. The fandom came together through a TikTok trend, which ultimately led NCT to join in on the challenge and exemplifies how in tune artists and fans can be through music. From the song's contagious energy to its unique lyrics, this track has continued to keep fans talking.
Want more on trends in Ncity? Check out our coverage of Taeyong's "ZOO" challenge!