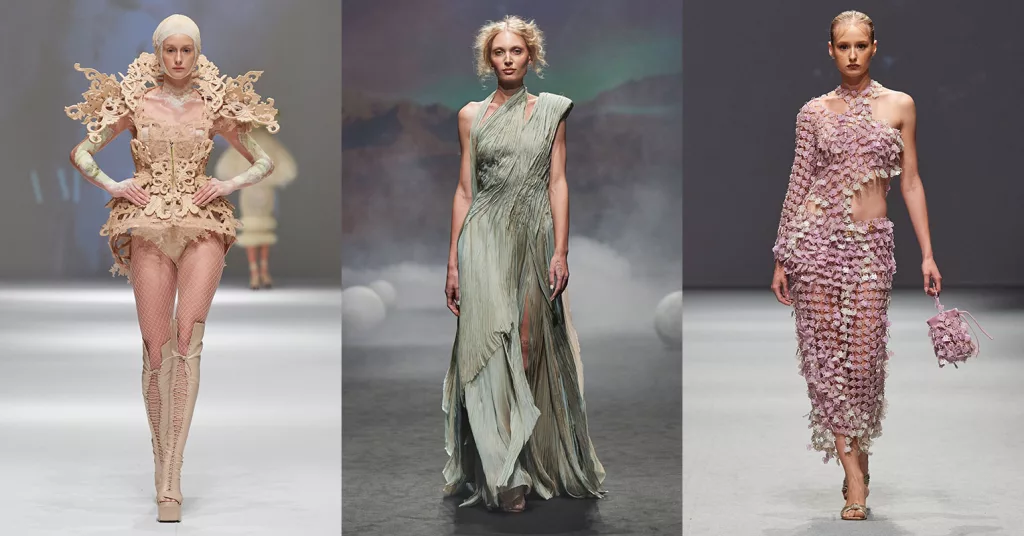 The first edition of Dubai Fashion Week (DFW) took place between March 10 and March 15, 2023. Curated by the Dubai Design District (d3) and the Arab Fashion Council, the event followed the world's major Fashion Weeks, looking to further cement the Emirate's position as a fashion capital. With an exciting lineup of fashion shows, parties, and masterclasses, DFW left plenty of memorable moments, as well as designers and brands to look forward to in the future. Below, EnVi recaps the highlights of Dubai Fashion Week's successful debut.
Amato Couture's Retrospective
The brainchild of Filipino designer Furne One and Pakistani textile expert Rashid Ali, Amato Couture is one of Dubai's most celebrated brands. With a history that spans more than 20 years, the brand chose to present a selection of carefully curated designs from its archives. Lavish fabrics, materials, and embellishments were the highlight of the runway, showcasing the craftsmanship and dream-like, avant-garde universe that Amato Couture has grown to be recognized for. "I want to celebrate my artistry as well as the artists that work behind the scenes. Our city thrives on fashion because of the people that work tirelessly to cut, stitch, and embellish the dress. These are skilled workers who have a passion for arts and crafts," Furne One told Vogue Arabia about his show at DFW's inaugural day.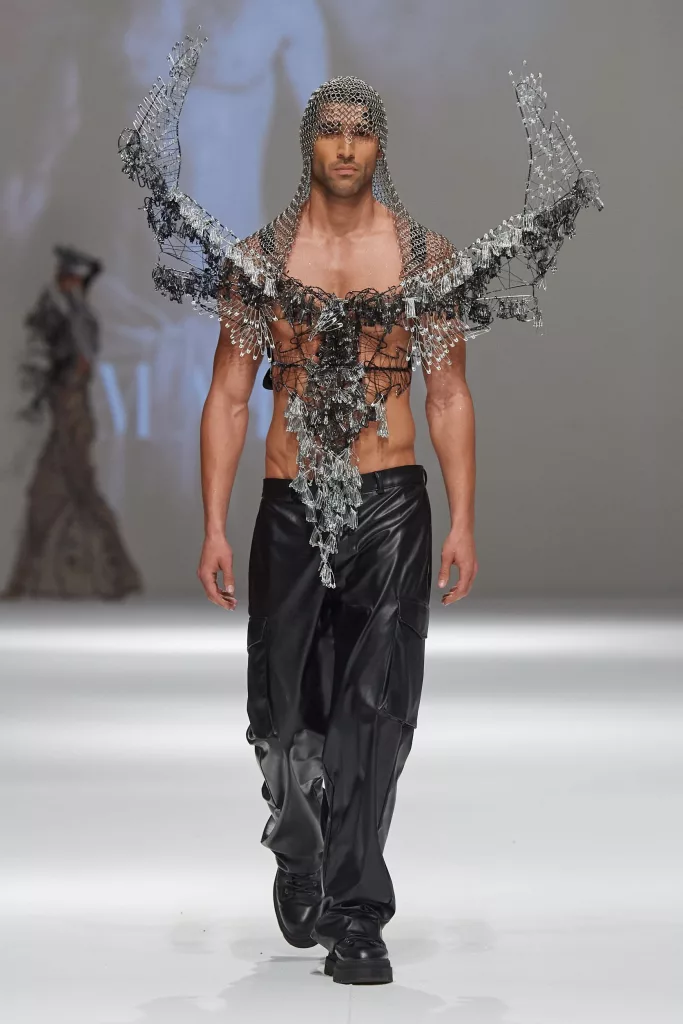 Anomalous Goes Hot (Wheels)
Bridging the world of fashion and toy design, the Dubai-based fashion brand Anomalous joined forces with Hot Wheels for a one-of-a-kind capsule collection. The runway played on the racer aesthetic — bikercore — that thrived in 2022 and mixed racing-infused pieces with Anomalous' signature patterns. Bomber jackets, patchwork, and a dose of Y2K served to reintroduce formal wear with a playful touch courtesy of Hot Wheels.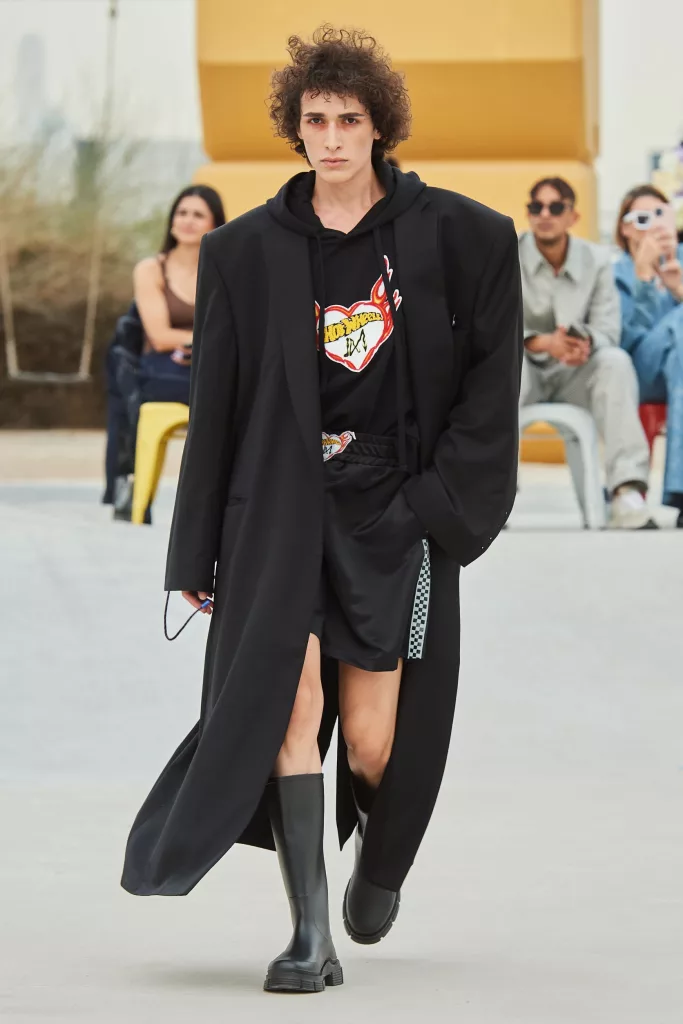 Emergency Room's Sweet Home
The Beirut-based brand Emergency Room has placed sustainability and technique at the core of its work. Celebrating its 5th anniversary, the Lebanese label presented an innovative collection titled "Home Sweet Home." With several renditions of "I Want To Know What Love Is" playing in the background, Emergency Room showcased a lineup of upcycled denim, knits, and evening wear created through the exploration of "the complex and multifaceted concept of home." Loyal to the brand's ethos, the runway featured shirts made from deadstock fabric and macramé designs made of upcycled ties.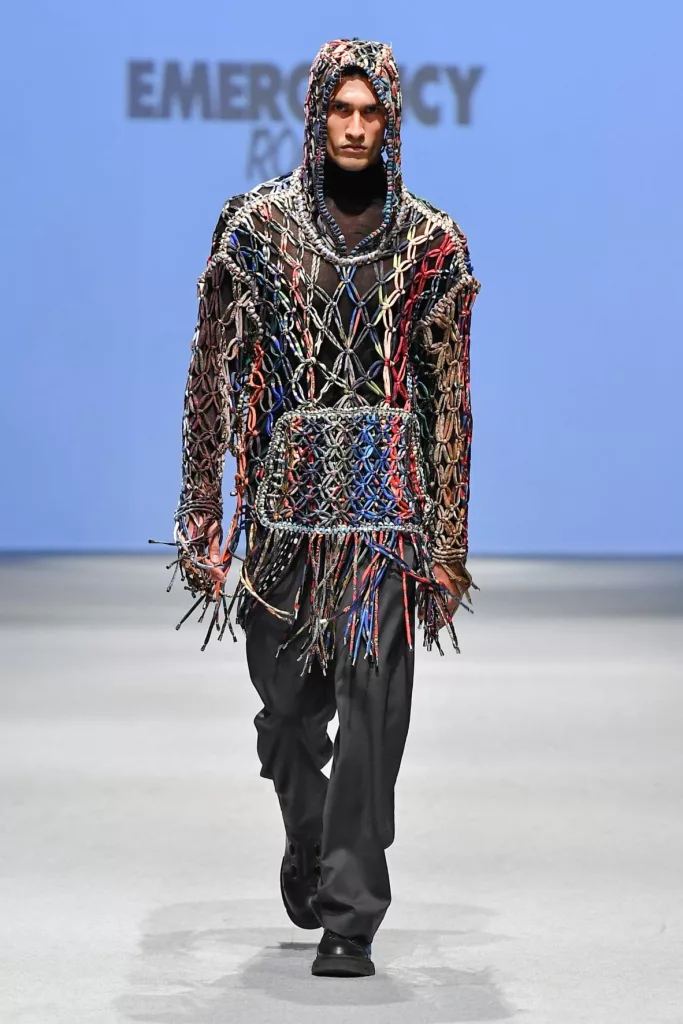 PIPATCHARA's Enchanting Macramé
Helmed by the Thai designer Pipatchara Kaeojinda, the fashion and accessories brand PIPATCHARA has been committed to promoting sustainability and slow fashion since its launch. For its first showing at Dubai Fashion Week, the label took its signature macramé designs to the next level and delivered gorgeous pieces inspired by the "sensations of nature experienced during vacations." Aptly titled "Sensation Spectrum," the collection featured see-through dresses, jewelry, and accessories in a color palette of grey, navy, silver, black, olive green, light purple, white, and light pink.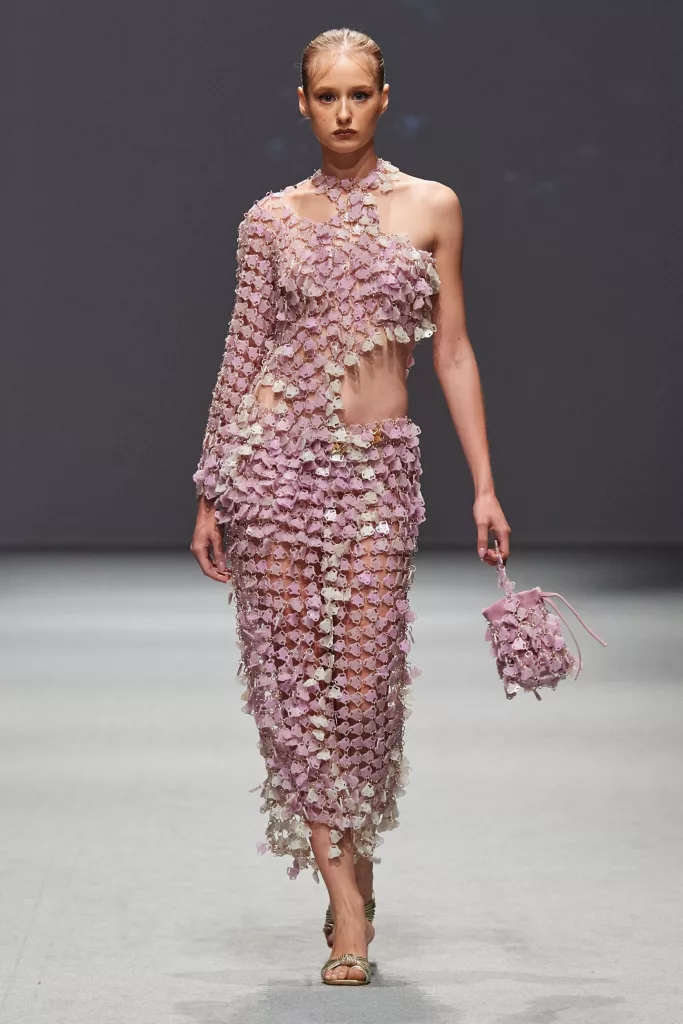 Lama Jouni's Sultry Designs
One of the Middle East's most prominent designers, Lama Jouni is reinventing fashion essentials with chic, sultry designs. For its Fall Winter 2023 collection, her eponymous brand presented a glamorous and sophisticated selection of figure-hugging clothing that ranged from cut-out dresses to crop top and skirt ensembles. Black was the predominant color of the collection, although white and pink made a few appearances on the catwalk.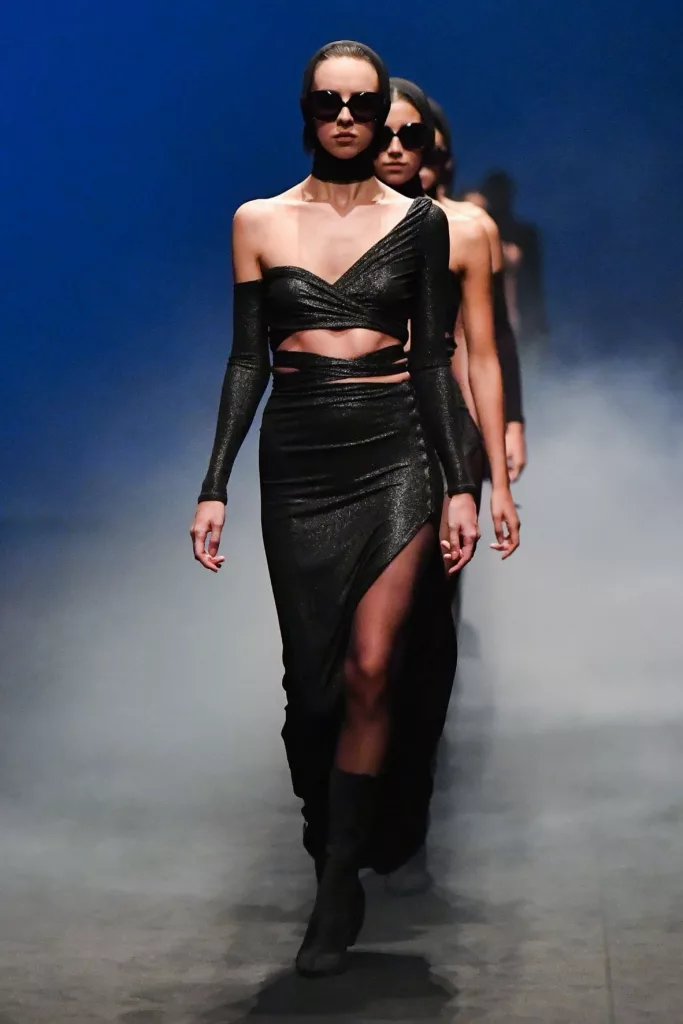 BLSSD's Prêt-à-Gratitude
The Dubai and Beirut-based fashion brand BLSSD has built its work around an approach dubbed "Pret A Gratitude." Embracing practicality, gratitude, and purposeful fashion, BLSSD's latest collection addressed a thought-provoking question: "What are you not?" The runway featured a variety of fabrics, from vegan leather to mesh, in a mostly monochromatic palette accentuated with pops of pastel colors. The brand also departed from its signature soft and transparent tulle skirts, adding an edge with street and urban-styled codes such as bold graphics and accessories like bucket hats.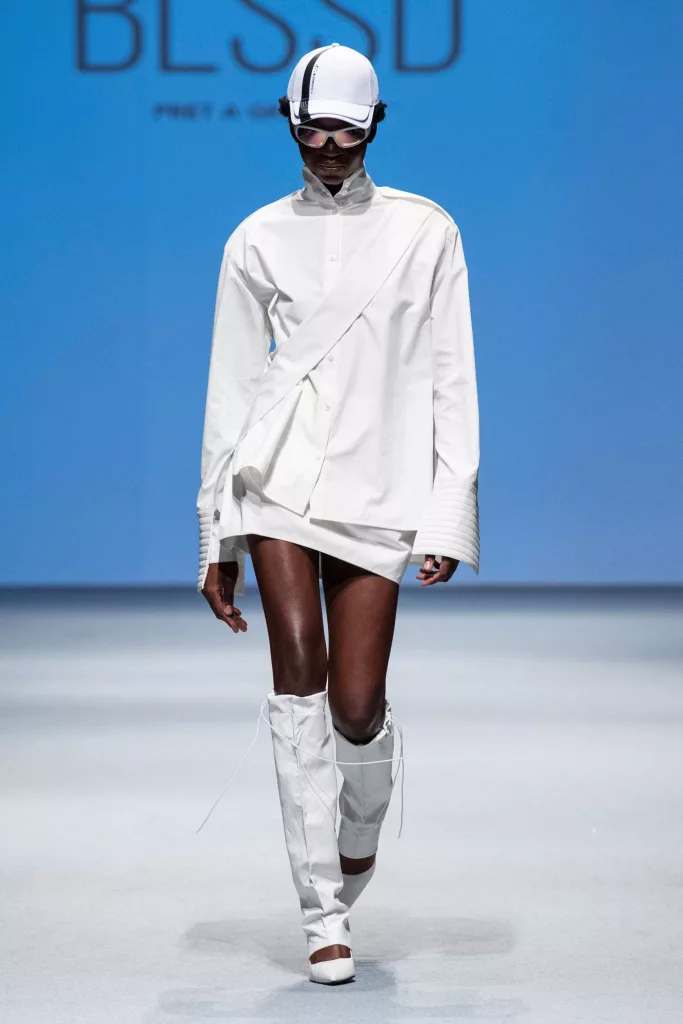 Michael Cinco's Homage To The Duomo di Milano
Known for his regal couture designs, the Dubai-based Filipino designer Michael Cinco could not miss out on Dubai's first Fashion Week. Inspired by the architecture of the Duomo di Milano, the creative showcased a co-ed collection that heavily relied on tailoring and couture techniques. Swarovski crystals, patterns, and fringes adorned the boldest pieces, while the toned-downed designs displayed the elegance of sharp lines and muted colors. Explaining the inspiration, the brand shared, "The Duomo di Milano represents beauty, elegance, and grace, with its stunning architecture serving as a boundless inspiration. The cathedral's intricate carvings, delicate lacework, and towering arches offer numerous possibilities for a collection seeking to encapsulate its essence."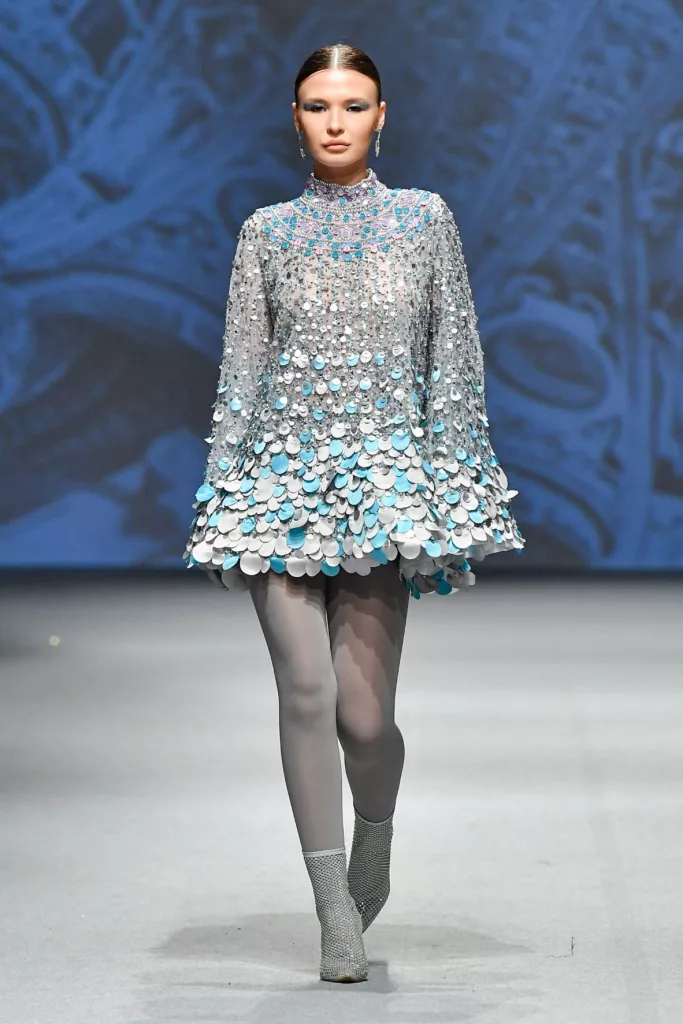 Marmar Halim's Hawma'a
The Egyptian semi-couture designer, Marmar Halim has become a household name, dressing stars such as the Oscar winner Youn Yuh Jung. For his latest runway, the designer found musing in nature and the complexities of the desert. Titled "Hawma'a" (desert in Arabic), the collection featured maxi gowns in draped silhouettes and manipulated fabrics such as taffeta, velvet, and chiffon. The rich color palette included shades of gray, magenta, and gold, as well as white, brown, and black, channeling the elegance and glamour present in every Marmar Halim collection. Talking about her participation at DFW, the designer told Vogue Arabia, "I am very proud that an Arab country is finally part of the international calendar. It's time to show that regional Arab designers are as creative and capable as renowned fashion houses. I am honored to be part of the history that is being made."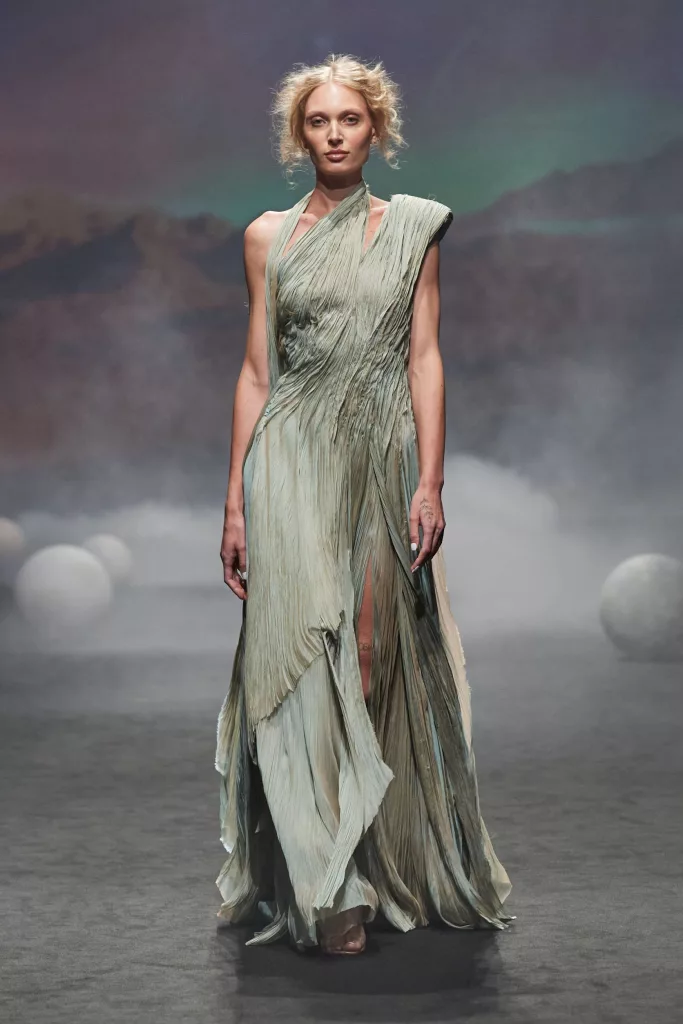 Interested in more fashion content? Read everything about Alexander McQueen's latest collection at Paris Fashion Week here.