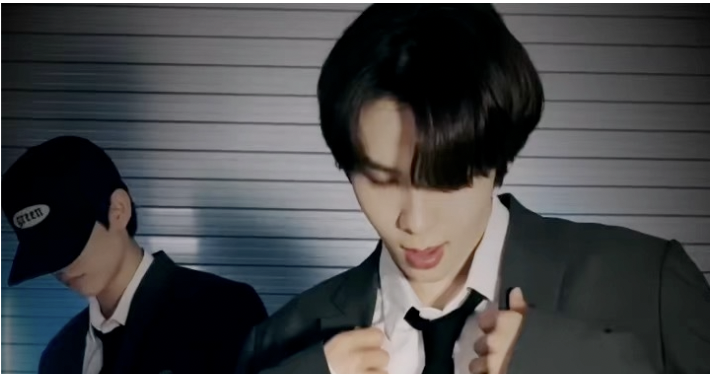 On August 2, NCTzens were sent into a frenzy with the release of a dance video featuring NCT's Shotaro and a mysterious dancer. The pair sparked speculation all over NCity, dancing to EXO's "Growl" on SM Entertainment's PinkBlood social media pages and garnering hundreds of thousands of plays in a matter of hours. Fans of the band suspect that the mysterious dancer could be a new NCT member, though nothing has been officially confirmed.
NCTzens put on their detective caps immediately, even pointing out a brand new logo on the jackets seen in the video, furthering speculation that a new unit is set to make their debut very soon.
View this post on Instagram
Earlier this year, SM Entertainment launched Instagram and TikTok accounts featuring the PinkBlood name. The name itself is a homage to the entertainment company's symbolic color, pink. The account has since featured a plethora of K-pop idols under the company, reacting to fan content and participating in fan-made challenges themselves. 
Fans' Reactions
Curious fans around the world took to Twitter to share their excitement and hilarious tweets over the new dancer! Here are some of the best reactions:
Detective nctzens we need your help https://t.co/bJiIPsgkg5

— txophy ⚜ (@enzeetyy) August 2, 2021
"new member?" "NCT J IS COMING???" "NEW JAPANESE MEMBER?"

— ً mi amor (@wyjzn) August 2, 2021
The chemistry of the new guy and shotaro ?? pic.twitter.com/1wuPBCwPXj

— shotaro bot ? (@tarocakey) August 2, 2021
my tl : nct new member ??? pic.twitter.com/XmW1fb6v1M

— zei (@i96jw) August 2, 2021
mark's bday live, xiaojun play v, shotaro growl cover with rumored nct new member… pic.twitter.com/xrl3d4b74O

— nicole | mark day (@itsjuntastic) August 2, 2021
HELLAUR THE CAP SAYS GREEN AND THE NCT COLOR IS NEO CHAMPAGNE PEARL HES DEFINITELY A NEW NCT MEMBER TRUST ME pic.twitter.com/2Da3DonNt7

— anum (@yv3sz) August 2, 2021
in ncity every unknown member is called Matthew until further notice. It's like a place-holding name

— less active MARK DAY!!! (@CENTERlTUS) August 2, 2021
DetectiveZens Decoding the Mystery
NCTzens, who were burning with curiosity, vocalized their theories and suspicions on Twitter.
no something is brewing in nct with pinkblood recently cause they're always dressed and on some form of a set what's going on??? also the recent radio silence coupled with content from mostly a while back??? something is afoot

— A somebody ?(w/Hollyzen allegations)a not nobody (@0tter_TaroMilkT) August 2, 2021
New logo, new member, new unit? ?? pic.twitter.com/cUppmBWhfc

— shotaro bot ? (@tarocakey) August 2, 2021
– he looks young
– his shoes are the same as Y from Tokyo
– why is he not showing his face
– since when does shotaro and nct need backup dancers
– in conclusion, he's definitely a trainee

Nct new member? Smnbg? ?
pic.twitter.com/uyqEwMZ5h7

— hualian fans kwangya (@SR21BOT) August 2, 2021
nct 2021 new member place your bets pic.twitter.com/HQ84NLZWA5

— carms | mark day! ? (@NE0HYUCKS) August 2, 2021
Please be true, be the new member and add him to the new unit. NCT Japan is coming. https://t.co/KiSeZ3U89C

— Mel (@MechanMel) August 2, 2021
Though little to no information has been released about the mysterious person featured in the video, NCTzens are bursting with excitement over a potential new member!
Want to read more about Shotaro and his dance? Check out our coverage of his "Wake Up" dance performance!
Thumbnail courtesy of SM Entertainment