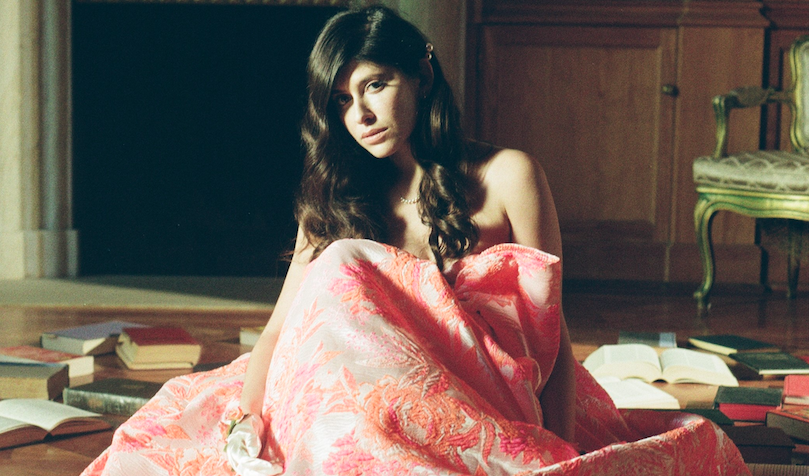 By Ivana E. Morales | @Iv_Morales
Ella Isaacson presents herself with an open heart, oscillating between vulnerability and conviction. "Thank God for the hard lessons," she chants as she removes a burgundy-tinted cloth from her body, a symbolic catharsis in the music video for "Hard Lessons," one of her latest productions. Rain-soaked, with a gaze embellished in light eyeshadows, the pop starlet is the center of it all, a storyteller whose hypnotic voice unravels her most formidable battles.
This song acts as a memoir, but also as a memorandum. Isaacson penned down triumphs, heartbreaks, and mistakes that have found her along the way. "You have to be grateful for the path that you are on," she told EnVi over a Zoom call from her apartment in Los Angeles. "I try to look at it as, if I am in a place where some things not so great are happening, there is a lesson on that, and probably there is something I am going to learn, and I am going to be better for it."
The Genesis
Isaacson started weaving her artistry from a young age and had musical theatre and choir as her first loves. Listening to her older sister sing while growing up in New York, she found a happiness that made her want to sing as well. It was almost like a calling. "I knew I loved music," she said. "I did not know if I knew what or how I wanted to do it, but I knew I wanted to be a singer."
Familiarized with performing thanks to her vocal lessons, Isaacson also recognized she could participate in the process of making music. At age 13, tenacious and already with eyes on the future, she took her notebook to write her first track ever. "I think for me at such an early age, it was so satisfying and sort of married these two things I love, which was creating and also singing," she said. "I got to feed both parts of me and be part of that process, so I was like 'this is what I want to do,'."
Later in life, moving to Los Angeles seemed like the right step to take. Isaacson entered the electronic world of music and released different songs using "Ryder" as her stage name, but she said she started to drift away from her true personality. Her management then wanted to control her physical look, which led to fatigue, and eventually, a desire to break free. "I had come to a point where I was just feeling lost, and I had this opportunity to go abroad to work in London and Sweden. I needed to step away from being in LA and see something different."
During her transformative European trip, Isaacson got in touch with acclaimed record producers Tor Erik Hermansen and Mikkel S. Eriksen, the Grammy-winning Norwegian duo known as Stargate. Both men provided her guidance in reshaping her sound. Isaacson said she landed in a place that made her feel confident about choosing a new direction.
"It was the first time I had people around me who really wanted me to blossom in front of them," she admitted. "It wasn't about being cool or trying to be the most interesting version of anything. It was really just trying to make great music that I felt really good about."
Self-Discovery
In December 2019, Isaacson completed her metamorphosis. Using social media to communicate with fans, the singer wrote a heartfelt letter announcing her resurgence under a new persona faithful to her identity as an artist. It was not an easy transition, but it was necessary to continue her maturing career. "Ella Isaacson is a derivative of my name and the style and everything that I am," she explained. "When I was Ryder, I felt like I was playing a character, and they [Stargate] saw all the potential in me, the best version of who I already was."
Isaacson stepped into the studio with her co-writer Benjamin Samama and Stargate to create "Naked," her first standalone single fronted by her new stage name. This song is an electro-laced pop experience where Isaacson transports listeners to an intimate space. "I like it better when we lie here naked / I like it better lights off, so high we're blind," she sings during the chorus accompanied solely by an unpretentious electric guitar, "Yeah yeah, forget the world tonight / Yeah yeah, just you and I." However, the crown jewel is the stunning post-chorus, where she performs a kaleidoscopic joy of layered harmonies, showcasing her striking vocals.
While "Naked" peers into authenticity in a world ruled by the digital age, "Hard Lessons" ruminates about converting past experiences into emotional gasoline to strengthen yourself. Both tracks emanate Isaacson's most genuine and raw songwriting, especially because they are based on her personal memories. She explained that her growth is an ongoing endeavor, and now her music is a testament to it.
"For the first time everything feels natural," she said. "It's funny how that gets portrayed to people. The more I sit and marinate in other people's opinions and thoughts, the less freedom I have to be me."
In the ensuing months after the release of "Naked," Isaacson added "Expectations" to her musical repertoire, an enchanting duet with singer-songwriter Gallant. Emerging from a wave of inspiration while sitting in her car, "Expectations" is an honest tête-à-tête between a couple who pour their hearts out before parting ways, but the meaning goes beyond that. "I thought about my expectations, family expectations, love expectations, world expectations. It is such a big topic, so I just started writing tons and tons of poetry and brought it to Cody [Tarpley] and Ben [Samama] and said: 'This is something I really want to talk about.'"
When the first version of "Expectations" materialized, Isaacson felt that something was missing, another perspective to fill the void. That's when Gallant's silvery voice came to mind. "He has a really sweet, sensitive voice, and I just said, 'Is it crazy if I want to have Gallant on the song?'"
Stargate proceeded to contact the Maryland-born pop star, who gladly agreed to collaborate with Isaacson. To further the linkage, Gallant gave the finishing stroke to the song by writing his own verse. It's noteworthy that he recorded his part separately, which aided the message of the duet because "in a relationship, two people are looking at things totally differently."
"You can acknowledge the other person's side, which the song does, but I like that his version was not influenced by me at all," Isaacson said. "It is not overdone or over perfected, it is just two people saying how they feel about the topic."
Crafting "Black Mamba"
Isaacson's mantras are uniqueness, perfection and tenacity, always striving to construct a great concept, and not being afraid of stepping outside the box. "I am a music maker," she affirmed. "I am an artist and a storyteller, and I like to craft all different types of stories and characters." 
True to her nature as a risk-taker, Isaacson took a "leap of faith" (as she likes to call it) and, in the fall of 2019, traveled to Seoul, South Korea. This sudden decision came after producer Samuel T. Gerongco saw her potential during a session with Dinah Jane (from Fifth Harmony) and invited her to partake in a songwriting camp hosted by K-pop juggernaut SM Entertainment. She had two days to make up her mind.
"I just felt like I had to go," she said. "Expect the unexpected, but I knew what I was being asked to do: Traveling across the world to do something I love. What a blessing."
Isaacson mentioned she already had a grasp of K-pop writing thanks to Swedish music producer Andreas Öberg (SuperM, EXO, WayV, Everglow, THE BOYZ) who always told her about the magnetism behind the Korean music industry. "That's his passion," she said. "He was like 'I want you to write a K-pop song with me' and I did a couple of sessions with him. I was lucky that my first experience of learning how to write this music was through Andreas."
One hour after landing in Seoul, the restless singer went directly to the SM Entertainment Studio Center ready to work. More often than not, K-pop hits are born during those intense collaborative camps that bring together some of the best creatives in the music industry.  "They have rooms set up, and every day, you go and work with different people," Isaacson said. "Everybody switches rooms. One day you are with these few people, and the next day you are with someone else."
During a dynamic recording session, Isaacson joined hands with Canadian singer NIIVA and music producer Omega, who has worked with popular acts such as Ke$ha, Chloe x Halle, Iggy Azalea and ITZY. Uncanny chemistry emerged between the newly-formed team, and they were immediately primed to complete the task given to them by the label: creating a song for a girl group. 
Reminiscing when Omega played the boisterous instrumental he had prepared, Isaacson said that blazing emotions invaded the room. "We heard that amazing track and it felt so inspirational," she recalled. "Things like 'girl power,' 'ferocious,' 'domination,' were coming to my mind. I wanted these girls to be like Poison Ivy and take over."
In this collective effort, the group made a list of deadly creatures that could reflect the spirit of the record. When "Black Mamba" came up, Isaacson said it caught their attention not only because it is powerful but also because it ushered clever ways to work with the syllables. "I was like, 'Oh my god! I love Black Mamba! You know, we could do like, 'ma ma ma mamba.' We could play with all these sounds with Mamba,'" she said.
The initial writing and lyrics took a day to complete. With an adventurous frame of mind, Isaacson said they wanted to deliver something "poptastic." She also emphasized that the creative process revolved around teamwork and trusting each other's ideas. "We took vocal passes, and we tried different things," she said. "Then we go through it as a group, and we cut and paste, and we adjust, and we change things melodically." 
Fast forward a year later, on November 17, 2020, SM's long-awaited new girl group æspa debuted with the explosive "Black Mamba." The quartet, consisting of Karina, Giselle, Winter and NingNing, broke into the K-pop sphere with an innovative concept that includes virtual worlds and avatars, introduced in the enthralling music video. The young idols also fuelled the record with vocal prowess, living up to expectations. "K-pop calls for harmonies everywhere," Isaacson said. "When æspa sings, they are like candy, it feels like listening to whip cream on your ears."
Isaacson said the morning of the release of "Black Mamba," her co-writers were texting her, but she had no idea what to expect. "They sent me the video, and I think I was screaming," she said laughing. "I was like 'Oh my God! This is so cool!' I loved it. I was so into it, I was just like, 'Yes! Yes!' and they sounded beautiful on it. They [æspa] really brought it to life, and all of them are stunning."
A Women's Renaissance
Isaacson's enthusiasm and energy while working on "Black Mamba" could easily mirror her outlook about women's empowerment. In the music industry, she said, bridging the gap between traditional gender roles is imperative to propel the conversation of equality. Furthermore, the growth process should be about developing an environment where "gender is embraced, not erased."
"There has been so much pressure on so many women to erase their femininity to be able to succeed, and I have to act like a man," Isaacson said. "I hope that there is room for a narrative where women can be exactly as they are and still win."
In March 2021, a study conducted by Professor Stacy L. Smith, founder of the USC Annenberg Inclusion Initiative, revealed that women in the music industry have yet to reach a juncture where equity and representation are truly perceivable. Percentages show that women in creative roles were not as prominent in 2020 Billboard's Hot 100 chart, with only 12.6 % being songwriters and another 2.6% acting as producers. Isaacson, who has been revamping her engineering skills and running her own sessions from home, said she has been lucky to come across men who have supported her, yet, sorority remains essential to improve the situation. 
"As much as we want everybody to embrace us and lift us, we have to lift each other," she said. "We have to go to our female co-writer and offer her an opportunity, because how can we ask other people to offer us an opportunity if we are not offering it to other people?"
Hopeful that positive changes are happening, Isaacson said the music industry could also set a precedent. "I think our job is to be open-minded, and we can set an example for other industries where things are a lil' bit tighter and old school," she said. 
Ella Isaacson's trajectory encircles halcyon days, bravery, and challenges, but she is still rising. Every moment of her life translates into poetry and music, and this year will be a platform to continue expanding her brilliance. "We are going to have a lot of singles, a lot of visuals," she said. "I am really excited to get out to the world and show the vision of me as an artist and what I want to express through my music and these visuals."
Keep up with Ella and her work on her Twitter and her Instagram!  
Thumbnail courtesy of Work of Art Management.
Curious about more of our artist spotlights? Check out our feature on Rusur!