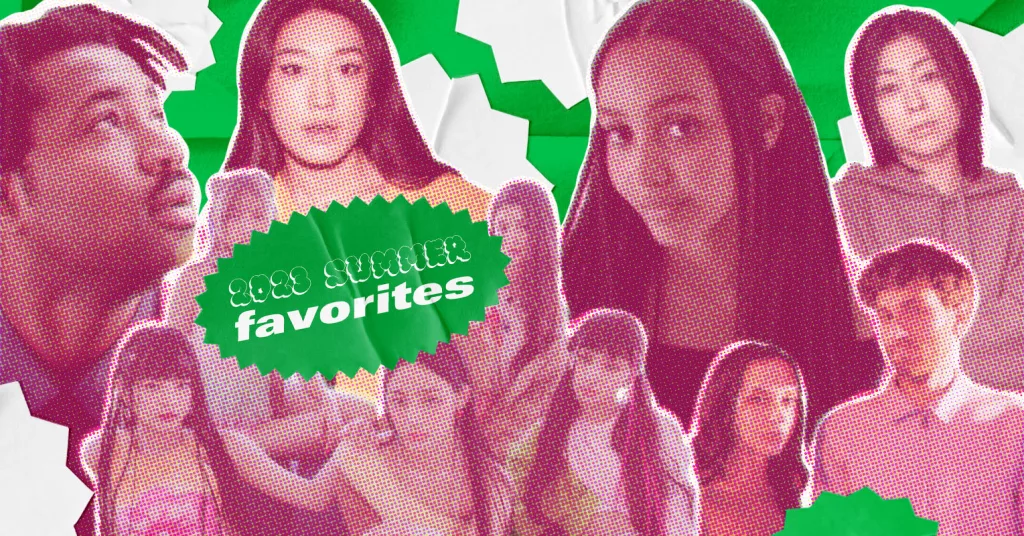 Summer is officially in full swing, and it deserves the perfect soundtrack! In our new music series, EnVi Rotation, we are providing you with thematic playlists guaranteed to keep you good company on every occasion. Whether you're in the mood to party or to relax this summer, look no further: Amid the sizzling season, EnVi is sharing with you a round-up of our summer must-listens, highlighting new and older releases that make up our seasonal rotation. From NewJeans and Peggy Gou to KAYTRAMINÉ and Amaarae, EnVi's music recommendations are here to cater to your summer's every moment (and make it better)!
B.I – "Die for love (feat. Jessi)"
Every summer needs some EDM, so we are kicking off with B.I's quintessential summer house banger, "Die for love." The opener to the rapper's third full-length project, TO DIE FOR, comes as a more-than-satisfactory successor to his breakout single "BTBT" (feat. Soulja Boy & DeVita). (Those familiar with last year's widely acclaimed summer hit with a dancehall influence will also recognize the clever reference by Jessi here!) TO DIE FOR is joined by predecessor COSMOS (2021) for its second half, establishing its existence as part of a collective concept record. And it is exactly that overall thematic essence which "Die for love" summarizes: Hot-blooded, reckless, youthful love, dying for which would even be considered a "cool way to go." Clad in rhythmic chanting and complete with a touch of playful, jazzy piano, "Die for love" flawlessly embodies the energy of a carefree summer.
Peggy Gou – "(It Goes Like) Nanana"
Peggy Gou is no stranger to summer hits. 2021's hit "Nabi" (with HYUKOH lead singer, OHHYUK), the ethereal "I Go," as well as her refreshing, 2022 remix of Kylie Minogue's classic "Can't Get You out of My Head" solidified the South Korea-born DJ and producer as a name to watch in the international EDM scene. "(It Goes Like) Nanana" enters our playlist to make sure the party mood isn't missing from summer 2023 either! With its immersive, dance-oriented production, and a massively sticky hook, the single is perfectly equipped to break replay buttons.
NewJeans – "Super Shy"
It's no secret; NewJeans keep taking the world by storm! The rookie girl group under ADOR and their set of Y2K-infused smash hits, "Attention" and "Hype Boy," dominated summer 2022, setting them up as top players in the current K-pop scene. Following the direction paved by last December's percussion-driven, Baltimore club-fusion "Ditto" — although certainly much less melancholic — "Super Shy" dives further into 2-step rhythmic patterns with a UK garage flair. NewJeans' vocal mix retains the signature minimal softness which provides their releases with a refreshing touch, as well as the melodic simplicity that continues hitting the mark with catchiness. Notably co-written by R&B experimentalist Erika de Casier (also featured in our playlist with the club mix of her song "Intimate" off 2019's Essentials), "Super Shy" oozes girly whimsy guaranteed to make your day bright as sunshine.
PinkPantheress – "Angel"
Greta Gerwig's Barbie has undeniably become one of the most talked-about events of the summer. The exciting unveiling of singles leading up to the official soundtrack release alongside the movie's theatrical release on July 21 has certainly kept us good company amid the anticipation! Of course, the album's roster (including Charli XCX and FIFTY FIFTY among others) couldn't miss the easily recognizable, candy-toned voice of PinkPantheress, whose signature Y2K-evocative, sample-heavy, and caffeine shot-like UK garage scored major virality during the pandemic. "Angel" balances between the producer's signature playfulness and a bittersweet melancholy, complete with an Irish jig-inspired interlude which earns the track a spot among the most eccentric cuts in her catalog.
Magdalena Bay – "Dawning of the Season"
Fans of aespa may recognize this pick, as it is also one of NINGNING's! The idol has shared her personal taste in music with fans on various different occasions. From Rosalía to Shygirl and Mariah Carey, a staple in Ningning's rotation is the Miami-originated duo Magdalena Bay, who deliver "synth pop straight from the simulation." "Dawning of the Season," indeed, makes for the perfect poolside soundtrack, as seen in a recent Instagram story of NINGNING's. With a laidback feel, minimal melodic lines, and a clear '80s influence in its production, the track provides our summer playlist with a delightfully relaxing moment.
KAYTRAMINÉ – "Rebuke"
The joining of KAYTRANADA and Aminé's forces for a full-length collaborative project is undoubtedly among the biggest music events of the year. Setting the tone for the summer with its release on May 19, the duo's self-titled album has landed multiple hits in our seasonal rotation. The single "Rebuke" is a standout cut on the record, featuring KAYTRANADA's R&B rendition of a nostalgic sample from 1979's "Tudo Que Você Podia Ser" by Lô Borges. It is exactly this bittersweet tone to the instrumental that flawlessly complements the melancholic moodiness of Aminé's bars and gentle singing. Clocking in just under the two-minute mark, the laidback track is the heartfelt interlude needed to console our lovelorn moments this summer.
Amaarae – "Wasted Eyes"
Multiple arrows already point to Amaarae's sophomore album, Fountain Baby, ending up on year-end lists as one of 2023's best, despite it being recently released. Sensuality and danger become one in the Ghanaian American songstress' futurist Afropop universe. In "Wasted Eyes," gunshots disguised as percussion blend with leading Japanese instrumentals, as the artist delivers "I can't be your lover / Too many things to lose." The main sample is extracted from Japanese folk song "Battaki" by the late Umeko Ando, with the music video paying homage to Japanese culture, a big source of inspiration for Amaarae.
Sampha – "Spirit 2.0"
The release of "Spirit 2.0" caused a "Wake up babe!" moment for fans of Sampha on June 28, as the single marked the grand return of the Mercury Prize-winning singer and producer with original material. Six years after his 2017 debut, Process (regarded as an exceptional, experimental work in contemporary R&B), Sampha's soundscape remains deeply atmospheric. Dreamy electronic notes paired alongside strings and sparse harmonies — quite like "drifting into open sky" — surround the song's meditative themes of the importance of connection, the beauty in life's mundanity, and the acknowledgement of vulnerability. Also worth noting are Sampha's collaborators here, ranging from producer El Guincho (Rosalía, Björk, FKA twigs), composer Owen Pallet, and jazz composer and drummer Yussef Dayes, to vocals from Ibeyi's Lisa Kaindé Diaz and an outro softly sang in Korean by Yaeji (also featured in our playlist with her song "Happy" from spring-released With A Hammer).
Hikaru Utada – "Never Let Go"
Hikaru Utada flourishes in Japanese and American music scenes alike. The singer-songwriter's album BADモード (English: BAD MODE), released in early 2022, marked the first time Utada committed to a full-length project featuring versions of multiple songs in both of their native tongues. Our pick, however, goes back to 1999 with a standout cut from her beloved J-pop debut, First Love. "Never Let Go" samples the iconic guitar riff from Sting's "Shape Of My Heart," crafting an emotive, 808-led R&B expression about unyielding love. The rediscovery of "Never Let Go," of course, can be credited to XG's recent "[XG VOX #5]" cover video, where member Juria put her own spin on the song through a nostalgic remix with Craig David's "Rise & Fall," which also utilizes the famous Sting sample.
JANNABI – "pony"
What better way to wrap up than with the ultimate ending credits song? The latest single from JANNABI further honors the Korean band's signature coming-of-age film score soundscape niche through a delightful showcase of the nostalgic, psychedelic rock elements prominently featured in their catalog. In partnership with Hyundai Motor, the "pony" music video takes vocalist Choi Junghoon for a drive down memory lane, as an homage to generational interconnectedness aided by music. "There she goes / To find a better day" he sings, referring to none other than his mother, a main character in her own right. Throughout the clip, her flashback-style storyline intertwines with the frontman's in a tender illustration of past, present, and the memories that bind us together.
Follow EnVi on Spotify and check out the full playlist here:
Interested in more music recommendations from EnVi? Check out our list of 10 Songs To Ease Gen Z's Growing Pains here.