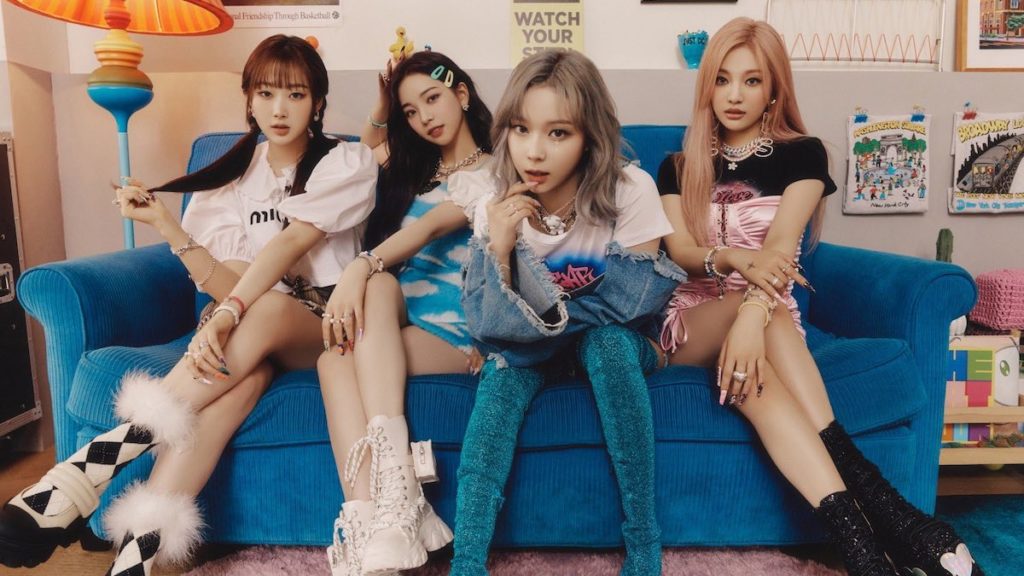 On November 17 2020, four-member girl group aespa–consisting of members Karina, Winter, Giselle, and Ningning–made their debut with the single "Black Mamba." Since then, the quartet has taken their career to the next level with Billboard rankings, sold-out showcases, and fashion ambassadorships. To celebrate the second anniversary of the global superstars, EnVi selected five shining moments in aespa's career thus far.
The Success of "Next Level"
aespa soared to stardom with their second title track "Next Level" in May 2021. The catchy lyrics and addictive dance moves captured attention from fans and K-pop idols alike, with Taeyeon and Chenle and Jisung of NCT DREAM participating in the "Next Level challenge" on TikTok. The song brags an extensive list of achievements from "Song of the Year" at the 2022 Korean Music Awards, "Record of the Year" at the 2021 Melon Music Awards, and a No. 2 debut on the Worldwide iTunes Song Chart, to name a few. Reflecting on the success of "Next Level" with SM's founder Lee Sooman during SM Congress 2021, aespa's leader Karina revealed that "it felt surreal."
Performing at Coachella
In 2021, aespa made their American performance debut during Macy's Thanksgiving Day Parade. They have since performed on Good Morning America, The Kelly Clarkson Show, and The Nick Cannon Show. However, their largest audience to date was at the main stage of Coachella in April 2022. The group became the third K-pop girl group to perform at the popular American music festival. This, of course, came with a lot of pressure, but the girls rocked the stage and entranced the audience with their live vocals and high-energy dance routines throughout their five-song set. On Twitter, aespa shared: "We heard your cheers for the first time. It was a valuable experience and a big motivation for us to grow," showing that Coachella was a meaningful occasion for the group.
Showcase SYNK in LA
Once again proving their global popularity, aespa announced in June 2022 that they would be returning to the United States for their first showcase tour. With tickets quickly selling out, they added a second date and performed to 10,000 fans. To celebrate aespa's showcase and their latest album Girls, EnVi hosted a fan celebration with Warner Records, which the girls expressed their gratitude for. The showcase was meaningful for aespa and their fans, MY, who had journeyed alongside the group since their debut. aespa participated in various activities from "MY Random Play Dance" and "The Playlist Game," performed their viral hits, and debuted the first performance of their b-side "Illusion."
Speaking at the United Nations Political Forum
Utilizing your platform to inspire others can have a significant impact when you have such a large following. aespa spoke at the United Nations' High-Level Political Forum on July 5 about the importance of sustainable development. Unique to aespa is their ae universe; their concept focuses on the shift between the real world and a virtual reality. Giselle, who led the speech, stated, "If our own reality is not sustainable, it would become difficult to sustain the possibilities of the virtual world." This represented an important recognition from the group that they would use their musical universe to promote sustainability.
Attending Paris Fashion Week
Although they are predominantly known for dominating the K-pop music scene, aespa have also made their mark in the fashion industry. In February 2021, the group was announced as Givency's global brand ambassadors. They made their front row debut at Paris Fashion Week during Givenchy's 2023 S/S Show and their understated yet stylish looks impressed the crowd. aespa's popularity was truly showcased as their appearance at the event stopped traffic, proving that they deserve their title as the "leaders of the fourth generation."
A League of Their Own
Considering aespa's meteoric impact across the globe, it is remarkable that they are only celebrating their second anniversary as a group. These five shining moments are a mere glimpse into their success since their 2020 debut. Achieving new milestones, aespa released their sophomore mini album on July 8 this year, which debuted at No.3 on the Billboard 200 Albums Chart and surpassed 1.4 million sales in the first week alone. In an interview with Audacy Music, aespa shared that their goal is to keep breaking their own records. This is a fitting aim for the group, as they are creating their own path with their unique sound and ae counterparts, keeping fans intrigued for their future endeavors.
Congratulations on your second anniversary, aespa!
Want more aespa? Check out our coverage of their sophomore mini-album Girls here!