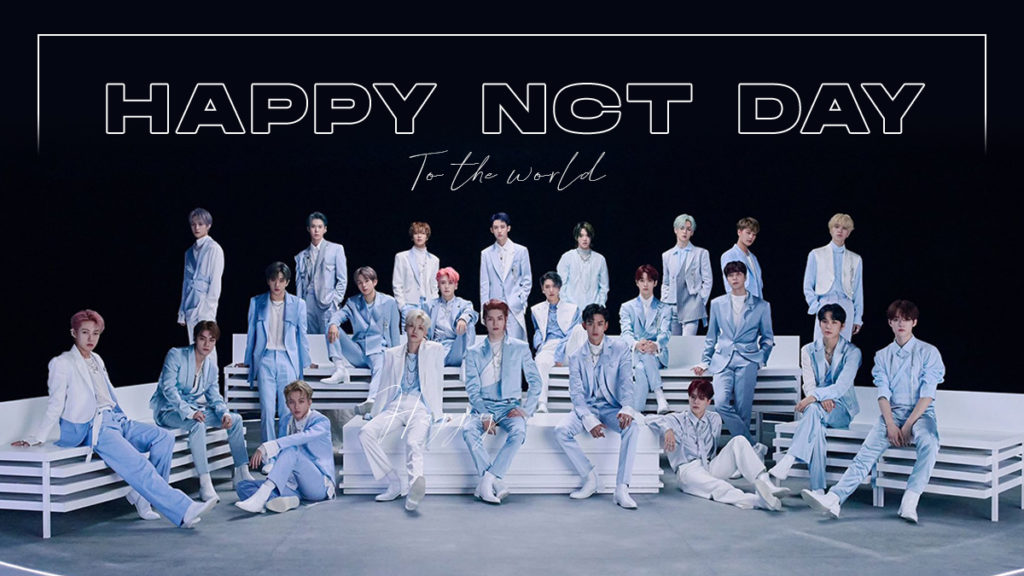 By Team EnVi | @ncity_mag
From five members to 23, NCT has seen an abundance of growth over the past years, and not just in the number of people! We have seen them grow as both artists and performers. For some members, we have even seen their maturity into adulthood! Today marks NCT's fifth anniversary with the first NCT U tracks "Without You" and "The 7th Sense." To celebrate, Team EnVi compiled a list of some of our favorite NCT performances!
SMRookies
"Hide & Freak" at SMRookies Show in Bangkok – Before NCT became known to the world as NCT, the members had already built bonds and friendships during their time as SM Rookie trainees. In February 2016, the group held a showcase in Bangkok for their growing Thai fanbase and performed covers and original songs. One performance, in particular, had fans buzzing on social media when the videos surfaced online. Ten, Johnny, Yuta, Jaehyun, and ex-trainee Hansol performed an original dance to Somo's song, "Hide and Freak," and the sexiness on stage was just too hot to handle.
SMRookies perform "Hide & Freak"
SMRookies "Open the Door" and "Super Moon" – Taeyong left fans with their jaws open after seeing "Open the Door" live. With its fast-paced lyrics and unique sound, his rap showed his confidence and immense talent all in one short song. After "Open the Door," Johnny and Jaehyun joined him on stage for "Super Moon," a solely choreographed performance. Originally, the dance had Hansol, but was seen performed with Jaehyun in Shanghai. 
NCT U
"Without You"  – Kun, Taeil, Jaehyun, and Doyoung came together to perform the NCT U track at the Top Chinese Music Awards. The quartet rocked the show with their stable vocals, cementing their legacy as SM singers.
"The 7th Sense" – Mark, Ten, Doyoung, Jaehyun, and Taeyong performed their debut song at the Top Chinese Music Awards after "Without You." They executed the intense choreography with charisma. Winwin made a surprise debut on the stage mid-performance to show off his unique acrobatic and dancing abilities during the dance break. This track and choreography set the bar for years to come!
NCT U performs "Without You" + "The 7th Sense"
"Make A Wish" Encore on MCOUNTDOWN – NCT U got a few music show wins with the addicting hit song "Make A Wish." This stage was not their win with this unit, but it was their first encore! The "From Home" unit joined them on stage for their celebration. It was heartwarming to see both units singing and dancing along to the song with huge smiles! This performance was also noticeable for Jaehyun singing some of the English version lyrics! 
"From Home (Rearranged Ver.)" at MAMA 2020 – If there was a stage that could capture the entire NCT journey, it would be their "From Home" performance at MAMA 2020. Each NCT U vocalist showed off their strong R&B vocals and stage presence. During the climax of the song, the background image changed to real footage of all members' work throughout the years. To top it off, the rest of NCT's foreign members joined the stage to sing for an emotional final chorus. 
"I Wanna Be A Celeb" (Celeb Five) Cover on Show! Music Core – This was a performance by Taeyong, Doyoung, Jungwoo, Johnny, Yuta, and Haechan on August 11, 2018. Among fans, this has been described as the unofficial NCT U debut of the latter three. NCT covered "I Wanna Be a Celeb" by Celeb Five, a South Korean girl group made up of five comedians. Aside from the choreography, many fans were impressed by NCT's facial expressions during the performance. 
NCT U performs "I Wanna Be a Celeb"
"Black on Black" at 2018 SBS Gayo Daejeon – As the culmination of the first large group project with all the current members of NCT at the time, this massive end-of-year stage was filled with charisma. A compilation of NCT U songs, ending with "Black on Black," was an amazing display of their talent and power. The structure of blocks highlighting each member showed how NCT wasn't complete without a single member.
Class + Misfit at KBS Song Festival – From standing on tables to throwing chairs, NCT showed their rebellious side with this performance of "Misfit." Taeyong and the newly debuted Sungchan opened the performance with strong raps before the other members performed the track, all acting like misfits. This performance was memorable for the members' edgy take on school uniforms. 
NCT 127
"Regular" (featuring Mickey Mouse) – This performance can be noted as one of the most unexpected collaborations NCT has had so far. Nevertheless, there is an inexplicable charm of this ABC-aired "Regular" performance featuring Mickey Mouse. NCT—and Mickey—ceaselessly showed off their dance skills on the stage for everyone to enjoy. Paired with NCT's powerful vocals and rap, this performance remains iconic in NCity. 
"Cherry Bomb" in 1.5x Speed – At the 24th Korean Culture & Entertainment Arts Awards, NCT 127 were set to perform their hit single "Cherry Bomb." What a surprise it was to the members and fans when a mishap with the audio caused the song to play at 1.5x speed. Although flustered at first, with a few of the members glancing at each other in confusion, they showed true professionalism by dancing through the entire song flawlessly. NCTzens in the crowd even frantically fan chanted at 1.5x speed making it a memorable and hilarious stage. 
NCT 127 Performs "Cherry Bomb" at 1.5x speed
"Touch" – Cute Version – NCT 127 leveled up this bubbly track with a sweet live performance on Inkigayo. In coordinated outfits and accessories, the group lit up the stage with their playful choreography and smiles. To top it off, Taeyong wore a sprout-like ponytail that led to a fun interaction when Mark played with his hair. 
"Baby Don't Like It" at the Neo City Tour – NCT 127 takes performing arts to a new level, defying space and dimensions in this unforgettable performance. They performed this song at the Neo City World Tour in 2019, where they danced in an elaborate set with a jungle gym. The members weaved through the bars and gaps throughout the sultry performance. With this song written by Mark and Taeyong, the group showcased singing, rapping, and sexy performing abilities.
"Reverse 7th Sense" at the 2016 MAMA's – NCT 127 did their spin on NCT U's debut track "The 7th Sense" at their rookie MAMA show, and the execution of dancing such a complicated choreo backward with such precision at such a young age cemented just how amazing they were.
"Whiplash" at the KCON 2018 in NY – NCT has a knack for not performing some of the b-side tracks that the fans most desperately seek a live stage for. Upon the release of NCT 127'S Cherry Bomb, NCTzens had unanimously added "Whiplash" to the ever-growing list, especially considering the risqué lyrics. That being said, you could imagine everyone's surprise when Taeyong, Mark, and Jaehyun performed the song during KCON 2018 in New York. 
NCT 127's First Music Show Win – "Cherry Bomb" was a pivotal song in NCT 127's career and both fans and the members were overjoyed when they snagged their first music show award at MCOUNTDOWN. Their excitement was obvious in their encore stage as they ran around the stage and waved to fans, and continuously bowed in gratitude. Taeyong was so emotional he was seen shedding tears as they performed their iconic split leg dance move. 
NCT 127's First Music Show Win
"Simon Says" on Puff Idol – NCT 127 participated in a video for Puff Idol to promote "Simon Says" in 2018. In one part of the video, they had to dance to "Simon Says" perfectly without reacting, but they were unaware that a questionable sounding flute cover would be playing. They seemed relaxed and enjoyed themselves, since they always brought energy to their performances and this one was no exception.
NCT Dream
7Dream's "My First and Last" Dance Practice – In a highly requested stage from fans, NCT Dream performed "My First and Last" with all 7 members for their Dream Show Concert. Jaemin had unfortunately been previously excluded from this comeback when he went on hiatus due to an injury. Seeing the stage fill up with all the members at last to the song that got them their first music show win was truly heartwarming. 
NCT Dream performs "My First and Last" as 7
"Best Friend" at THE DREAM SHOW – Ever wonder what others see when you are with your best friend? You don't have to after watching NCT DREAM perform "Best Friend." Chenle broke out the piano, setting the joyful atmosphere while the other five members playfully imitated him. When Chenle joined the others on the bench, they all sang the refreshingly sweet song with fun gestures. 
"Chewing Gum" Hoverboard Version – With a mix of the original choreography and neat hoverboard moves, NCT Dream showed off their true potential with the "Chewing Gum" performance on hoverboards. Their debut track was a fun piece that highlighted their youth. Add hoverboards? There is nothing more Gen Z than that.
The First Music Show Win – NCT Dream became the first NCT unit to grab a music show win on SBS's The Show with their upbeat single, "My First and Last." The members were shocked and elated—with some even shedding tears—during their congratulatory encore stage. The fact they had only debuted six months ago was truly a feat for the group. It's a moment fans can look back on with pride with how much they've grown since. 
NCT Dream's First Music Show Win
"Trigger The Fever" at FIFA U-20 World Cup Korea 2017 – NCT Dream's youthful energy and optimistic hope for the future earned them the title of honorary ambassadors for the FIFA U-20 World Cup 2017, hosted in South Korea. As ambassadors, the group released "Trigger The Fever," the official song of the World Cup that year. The song's motivational lyrics paired with NCT Dream's energetic choreography made their opening ceremony performance unforgettable and inspiring. 
Dream at 9th GAON CHART MUSIC AWARDS 2019 – Renjun, Jeno, Jaemin, Chenle, and Jisung gave their all at this performance of "Stronger" and "Boom." Jisung opened with a strong solo dance, which was followed by a trio dance with Jaemin and Jeno. Chenle and Renjun joined the stage as the duo danced just as well! The group united to give a powerful stage at the awards show. 
WayV
WayV's First Live Show From Dream Plan – Throughout this series, fans got to see the WayV members in all sorts of settings from chasing goats to acting. After completing these various tasks, the group was able to perform for the very first time as a group. In these heartfelt moments, their passion and dedication as artists were shown.  
WayV at MAMA 2019 – Attending the award show together for the first time, WayV delivered a strong stage for the audience. Showcasing their different abilities, they performed "Moonwalk" and "Take Off" with a special introduction and dance break for the occasion. The group also won the Best New Asian Artist Award, making it such a memorable night. 
WayV performs at MAMA 2019
"King of Hearts" at WayV: Beyond the Vision –  Lucas, Winwin, Yangyang and Hendery performed this track at their online concert in 2020. They playfully moved from the backstage area to the stage with the camera, where they all united. This unit of WayV really highlighted the rapline's abilities as artists. 
WayV TikTok Stage VOICE ON – Apart from the amazing performances and adorable Emoji challenge, WayV surprised their fans with revealing outfits. Reactions didn't stop coming after the first performance, "Bad Alive," when both Ten and YangYang unbuttoned their shirts.
WayV's "Turn Back Time" Performance MAMA 2020 – One of their most notable "Turn Back Time" performances, WayV shocked fans with their "Turn Back Time" stage at MAMA. Complete with a rain backdrop, the members were soaked from the rain while perfectly executing their performance. 
"Kick Back" 2021 Online Showcase – WayV began their Kick Back comeback with an online showcase performing songs from the EP including as "All For Love," "Action Figure," and "Kick Back." Their performance also included fan favorites such as "Bad Alive" and "Nectar."  It was a great showcase that felt like a mini concert with the stage set up and VCRs!
WayV performs "Kick Back" during their online showcase
"Let me love u" Performance for Zhejiang STV –  WayV performed their acoustic track "Let me love u" for Zhejiang TV in China. The members made cute gestures and pointing to ensure every fan in the audience felt loved! WayV's sentimental and fun side is just as incredible as their intense stages!
NCT Member Performances
Taeyong's "GTA 1" – Fans were surprised when Taeyong decided to perform a completely new solo song of his during SuperM's first tour in 2019. "GTA 1" is paired with extraordinary choreography that complements its lyrics, once again showcasing his creativeness and talent. From the beginning, where he's seen wearing a mask before taking it off, to the end where he's dragged off stage by the backup dancers, fans were not left disappointed. The difference between "GTA 1" and his first solo song "Long Flight" demonstrates how versatile he is as an artist. This performance reminded us that Taeyong can do any concept flawlessly, and will always add his magic to it. 
Taeyong performs "GTA"
Yangyang's "7 Rings" Cover – WayV often jokes about Yangyang's singing abilities, but we never really got to see it until Yangyang posted a short cover of Ariana Grande's "7 Rings." Yangyang showed off both his singing and rapping, effortlessly switching between the two. We need more vocals from Yangyang!
Xiaojun's English Cover of "For Life" by EXO – It is no secret that NCT admires and looks up to their seniors in EXO, so when Xiaojun posted his cover of the English version of "For Life," previously sung by EXO's D.O, both EXO-L and WayZenNi were amazed by his smooth vocal delivery and pure emotion. Now that D.O. is back from the military, hopefully a duet between the two singers will come naturally!
"Bad Smell" by Mark and Produced by Johnny – During the summer of 2020, Johnny hosted his first DJ set called Sunny Side Up and was accompanied by Mark as his hype man dancing off to the side. At the end of Johnny's set, Mark took the mic and center stage, and performed his original song, "Bad Smell." The addictive beat and clever lyrics, produced and written by Johnny and Mark, were enough to set NCTzens on fire and to this day, fans are asking for a part two of the incredibly fun Sunny Side Up duo. Mark has even gone on to perform "Bad Smell" live on Sketchbook, during promotions with SuperM.
"Bad Smell" by Mark, prod. Johnny
"Asteroid" by IMLAY ft. Yangyang – Yangyang surprised fans all around with his stellar vocals on a feature with IMLAY. Asteroid became a song loved by many, and was even performed live during the SMTOWN Live: Culture Humanity Online Concert—Yangyang is truly an ace!
Shotaro's "Hard Carry" Cover – Shotaro boasted his strong dancing ability and stage presence in his cover GOT7's "Hard Carry" with Hyunjin of Stray Kids, Juyeon of The Boyz, and Astro's Moonbin! Not only did he look good, but he sang well, too! At the performance's "killing part," the music paused and Shotaro got to say the iconic "Hard Carry, hey," line before the group began to dance again. 
Lucas' "Bass Go Boom" – This was the first time fans got to see a live Lucas solo performance, and it was just as enjoyable as everyone expected it would be. The colorful background effects behind him were unforgettable, as well as his smile that lit up the entire room as he danced to the music. The song itself was fun and charming (just like him!), something everyone in the audience could dance along to. You could tell how much he enjoyed himself on stage showing his skills, and we hope he gets to do it again!
Lucas performing "Bass Go Boom"
Kun's "How Do You Sleep?" Cover – With his charming and silky vocals, Kun delivered a beautiful cover of Sam Smith's "How Do You Sleep?" In the video, it is clear that he is a talented independent artist, given that he has credits for the piano performance, and background vocals. He recorded and mixed the song himself, as well. The cover was also uploaded on his SoundCloud, where he often posts for fans to hear his projects. His passion in music is always shown through his performances, whether they be solo or with other members. Kun enjoys showing his skills, and we love to watch and support! 
Doyoung's "Falling" Cover – Soothing our souls with a surprise cover dropped on the NCT YouTube channel, Doyoung gifted NCTzens a heartfelt cover of the Harry Styles track, "Falling." A minimalistic, stripped-down cover featuring just Doyoung and a piano backtrack, he wowed both NCTzens and the broader K-pop fandom with his signature honey vocals and raw emotion. Fingers crossed for these birthday twins to collaborate one day!
Ten on Hit The Stage –  Ten displayed his flexibility and powerful moves on Mnet's dance survival contest, which pairs K-pop idols with professional dance teams. His most notable performance was the uniform concept, which saw him play the role of a conductor. From his costume, choreography and even the music selection, Ten greatly impressed viewers and eventually won the match, gaining a lot of fans in the process. 
Ten on Hit The Stage
Want more NCT content? Check out our piece on Taeil's newest collaboration
here
!
Thumbnail by @_emptydisco. Image courtesy of SM Entertainment.