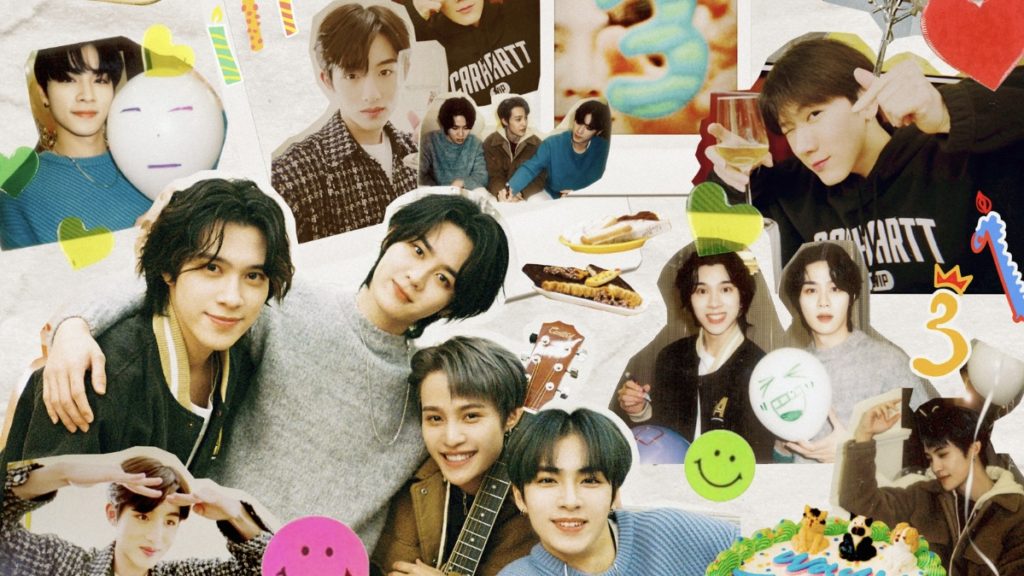 On January 17, WayV celebrated three years since their debut. Over the past few years, the group has shown its versatility as artists with back-to-back music releases while also giving fans a closer look at their creative side.
WayV officially debuted on January 17, 2019, with the Chinese version of the track, "Regular." This track was originally performed by NCT 127. Their first introduction as a unit "SEE THE V" came out on December 31, 2018, and became an iconic moment for the group.
WayVersary Live, Happy WayV Day!
This year, WayV hosted their third-anniversary party live "Happy WayVersary" on YouTube. Although all the members were not together, WayV proved that physical distance is not an obstacle in their family-like relationship. Due to Ten and WinWin activities in China and Lucas being on hiatus, Kun, Hendery, Xiaojun, and YangYang came together to celebrate with the fans, while Ten and WinWin joined briefly via phone call.
Early in the live, Ten and WinWin called to participate in the festivities. Heartwarmingly, the members expressed how much they missed each other. Ten spoke about preparing new dances that he found challenging and WinWin energetically talked to the members while on a break from his shoot for Ru Yue "The Shadow," a drama he started shooting in late October of 2021.
During the live stream, the group played quizzes, learned about fan-favorite tracks, talked about their favorite moments as WayV, and read letters from WayZenNi. Closing the live, the members asked fans to stay excited for what's coming, YangYang addressed international fans in English announcing, "we are gonna come back with something really really special. Just wait a little." The broadcast ended with a heartwarming exchange of "I Love You's" between WayV and WayZenNi. The members thanked fans and asked fans to take care of their health.
Celebrating Another Successful Year
With a little turn back time we will check some of the highlights of WayV's year.
Music Releases
Third Mini-Album, Kick Back: Starting the year strong in March of 2021, WayV released their third mini-album, Kick Back. The six-track EP was greatly received by fans that were eagerly waiting for their return after NCT 2020 activities. Kick Back sold over 90,000 copies on pre-orders alone showing significant growth from their previous releases.
Kun and Xiaojun's First Single Album: As the first official sub-unit of the group, Kun and Xiaojun came together for a single album with a total of three songs "Back To You," "Sleepless," and "Back To You (English Version)." The vocalists took fans on an emotional rollercoaster, with their voices amplifying the sentiment of each song.
Ten's "Paint Me Naked:" Last year was also the year for Ten's long-awaited third solo. The Thai artist dived into the song's creative process. Through that, fans got to learn more about who Ten is as an artist. "Paint Me Naked" although a very different track compared to his previous releases, the song became a welcome new addition for the artist's list of solos that hopefully will keep on growing.
Ten and YangYang Team Up For "Low Low:" The inseparable duo became the second official subunit of WayV. The upbeat, energetic track featured a colorful video and showcased the members' playful personalities which made "Low Low" a fan favorite.
Hendery's "WuKong:" With a stellar solo debut on WayV's YouTube series [PlayV], the rapper released "WuKong." It's an all-English track written by Hendery and arranged by Kun. "WuKong." It allowed fans to see more of Hendery's skills as a rapper, songwriter, and even composer.
Kun's "Action Figure" Remix: WayV's leader Kun is well-known for his passion for music. Among the handful of releases and tracks, he created and shared through his SoundCloud and [PlayV], his remix of their track "Action Figure" from Kick Back was a present for fans who were eagerly waiting for it.
Xiaojun's collaboration with Raiden for "Golden:" Xiaojun joined Raiden and pH-1 for the song, "Golden." The track was part of Raiden's first mini-album, Love Right Back. The song perfectly showcased Xiaojun's outstanding vocals. He even joined the DJ for SM Town's Live Concert 2022's after-party and clearly enjoyed the stage.
NCT 2022's "Miracle:" WayV has consistently delivered music and performances that have been loved by fans. In 2020, WeiZenNi were enchanted by "Nectar" and for 2021, the group came back strong with "Miracle." With this track, Kun, Ten, Hendery, Xiaojun, and YangYang showed a rich and fancy vibe on the track video.
With music and dance covers, new mixes for NCT 2021, plenty of stages, and even concerts, WayV had a busy year on the music releasing side.
Gifts for Fan's: WayV-Log, WayV-ariety, and More [PlayV]
WayV's love for their fans and vice versa is undeniable. The group's family-like dynamic and goofiness is a great mix for their content and is well-received by fans. Through their different vlogs and video content, fans got to see a highlight of each member's personality. Here is a round-up of some.
The Return Of Kun's Cloud: Coming back after a long break, Kun brought season two with more adventures and highlighted his many skills.
YangYang's Debut As Model For NYFW: YangYang's interest in the fashion industry is no strange topic for fans. Last year he debuted as a model for New York's Fashion Week in collaboration with Concept Korea and shared a vlog of the preparations.
Hendery's (Un)official Cantonese Classes: Macau-born Hendery became a professor to teach fans a little of his native language with his Five-Chapter program.
The Lonely MasterChef Xiao Recreating His Best Recipes: Effortlessly funny, Xiaojun brought his iconic recipes to the table. From the famous Oreo Cake to grilled squid, fans definitely enjoyed seeing Xiaojun take on a Chef character.
WayV's Glamping Full Of Struggles: Kun, Hendery, Xiaojun, and YangYang showed their chemistry, and had fun creating new memories from their two-day glamping experience.
Other Activities
The members also had very special moments outside of their group activities. Hendery, Xiaojun, and YangYang joined Wonder Girls Yubin for MBC's We Became A Family. Ten made a special appearance and performed a stage on Street Dance China. Kun became a host for Akdong Seoul. WinWin got several collaborations with high fashion brands.
Ten and WinWin also attended Shanghai Fashion Week as Sketches ambassadors and both members shined on the cover of Madame Figaro November's issue.
WinWin has been collecting fashion brands left and right. The charismatic artist working with luxury brands like LOEWE and Valentino and as a growing name in the fashion scene, it is safe to say that there is only more to come for WinWin.
As they celebrate three years,  WayV's wish for 2022 is to be able to meet their fans and perform in front of a crowd. After all, the group didn't have many opportunities to meet fans since early 2020 due to COVID-19. Since their debut, WayV has shown a lot of growth but the group promises to work even harder for the fans that are eagerly waiting for more music from them.
Want more WayV? Check out our "Which WayV Track Are You" quiz here!