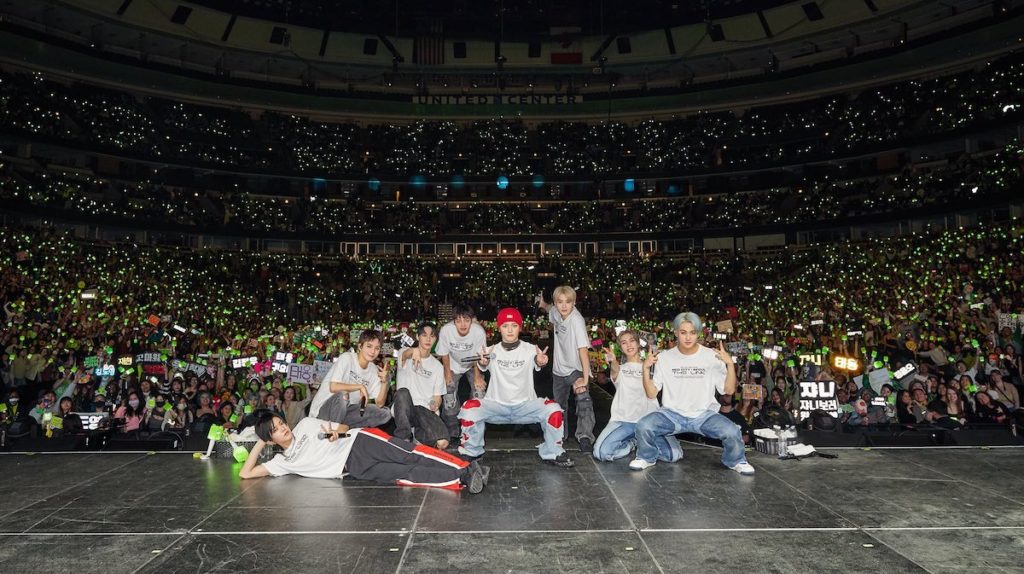 "JOHNNY! JOHNNY! JOHNNY!" Deafening cheers erupted when NCT 127 member, Johnny Suh's, face appeared on the jumbo screen of the United Center. In a once-in-a-lifetime moment, the Chicago native faced a sold-out crowd of 10,000 in his hometown arena for the first time. The K-pop group chose Chicago to kick off part two of the North American leg of their "NEO CITY: THE LINK" world tour on January 9, 2023.
The Show Must Go On
NCT 127–Taeil, Johnny, Taeyong, Yuta, Doyoung, Jaehyun, Jungwoo, Mark, and Haechan–are not strangers to performing in front of thousands of adoring fans. However, the eight members on stage voiced their nervousness about that night's concert. Although THE LINK tour has been ongoing for over a year with a locked-in set list, the Chicago stop boasted quite a few changes to the status quo.
Most notably, youngest member Haechan was missing due to health reasons. His voice still made an appearance as the group opted to not cover his parts and kept his standout vocals present in the backing track. His presence was missed, but the group did not miss a beat despite being down a member. Their stage formations rely on having all nine members, but the performing members made sure there were no holes in their intense choreography song after song.
Towards the end of the show, Mark expressed his wish to revisit Chicago to tour with Haechan. As NCTzens in the audience screamed at the top of their lungs in agreement, Mark looked taken aback and touched by the ear-piercing response. He followed up by assuring them that he would tell Haechan all about the crowd's energy and love.
NCT 127's leader Taeyong was also under the weather, leaving fans on the edge of their seats as to whether he would make the show or not. Always one to reassure the fans, he made sure to update that he was en route to Chicago with Instagram pictures on flight. He landed 12 hours before the concert was scheduled to start and thanked the crowd for their loving energy and excitement that helped quell his jet lag in his last commentary of the show.
Link Up
Johnny also brought that excitement to the same historic arena he watched Chicago Bulls games in as a kid. NCTzens packed into the United Center to welcome him home. In the spirit of being back in Johnny's hometown, Doyoung told fans that he wanted to see Johnny cry. Johnny accepted the challenge telling NCTzens they had "one hell of a task tonight."
The crowd definitely rose to the occasion. They sang every word to NCT 127 staples such as "Kick It," "Cherry Bomb," and "Highway to Heaven." Several times throughout the show, chants of "Johnny! Johnny!" rang through the venue and were egged on by the members.
The pride in the room was palpable as the group matched the fervor of the fans and gave each performance their all. Mark joked that Chicago wasn't as cold as he thought it would be and credited NCT 127's visit to making it hotter. Johnny especially brought the heat, performing his steamy shower solo choreography for the track, "Focus." This interlude boasted a minor change, noticeable to only those who have seen the show before, as Johnny changed into a black robe different from his usual purple. This led to all-new, sparkly, black outfits for the group for their performance of "Favorite (Vampire)." Every line Johnny sung ("just watching you never satisfied my soul") was shouted at top volume by NCTzens to show their support.
After an emotional video of NCT 127 narrating letters they wrote to their global fans, they immediately broke into fan-favorite song "Paradise." At this point of the setlist in the past 19 shows, the members would interact by throwing autographed balls into the audience. This has resulted in some pretty funny moments, such as Yuta hurling a ball straight at a fan's camera in Manila, but it has also brought up safety concerns. Fans usually crowd around the barricade and push closer to the stage to increase their chances of catching the momento. The group chose to put the safety of NCTzens first, so this segment has now been eliminated from the show. Instead, the members interacted with the crowd and each other by having Johnny and Jaehyun lead a freestyle dance section.
Following high-energy back-to-back performances of fan favorites like "Regular," "Touch," "Sticker," and their latest single, "2 Baddies," the concert started to wind down. With the last song of the night, "Promise You," the members also promised to return to Chicago for two nights sometime in the future. The fans threw flowers and plushies on the stage as the members dizzily rushed around trying to pick them all up.
There were no waterworks, but a misty-eyed Johnny did make sure to express how grateful he was to perform in Chicago until the very last second. He left the stage last, after the members pushed him from behind the closing jumbo screen doors, to take a lingering look around the neo-green dotted arena.
Hometown Hero
The age-old phrase "there's no place like home" continues to ring true for Johnny. In the ten years since he left the just-outside-of-Chicago suburb of Northbrook, Johnny has stood on stages in dozens of cities, and performed to singular crowds of over 50,000. But in his own words, "You guys made coming back home so great. Going around town, and seeing you guys, really makes me proud of being from this beautiful city."
The last time Johnny was home was in April 2019. Before the world turned upside down due to the global Covid-19 pandemic that prevented NCT 127 from embarking on their second world tour, "NEOCITY: The Awards" in 2020. His fellow group members also acknowledged the significance of their return to the city. "It's Johnny's hometown, which means it's our hometown," Jaehyun said to a rush of cheers and frantically waving neon green lights. 
Chicago was just as appreciative of NCT 127's return. The United Center gifted all nine members with customized rings engraved with "NCT 127 x Chicago" as well as Chicago Bulls' jerseys donning the number—you guessed it—127. 
Keeping to tradition, Johnny showcased his pride in his hometown by bringing his members to different experiences. The first stop was a ski resort, and if you're asking where there is to ski and snowboard right now in Chicago/Northern Illinois, you're not the only one. We'll find out more soon in Johnny's YouTube vlog series, JCC. Next, Johnny, Yuta, Mark, and Doyoung went sledding followed by a "delicious" lunch at Panera Bread food chain, which they couldn't stop speaking about. Mark made the entire arena laugh when he spoke so seriously about the chicken soup (in a bread bowl!) he had and recommended to everyone.
Member Jungwoo ventured off to tourist landmarks like Millenium Park to see the Cloud Gate statue affectionately dubbed "the bean," while Jaehyun stopped by some local museums to check out the art.
NCT 127 may be named for their base in Seoul, but the global group has a home in many places. Whether that be in Osaka, Japan, for Japanese member Yuta, or Vancouver, Canada for Mark, or Chicago for Johnny. Anytime they return home is an occasion to be celebrated by both fans and group.
You can pre-order NCT 127's new album Ay-Yo out January 30 here and stay connected with the rest of THE LINK world tour here!
Want more NCT? Check out how they dominated fashion in 2022 here!