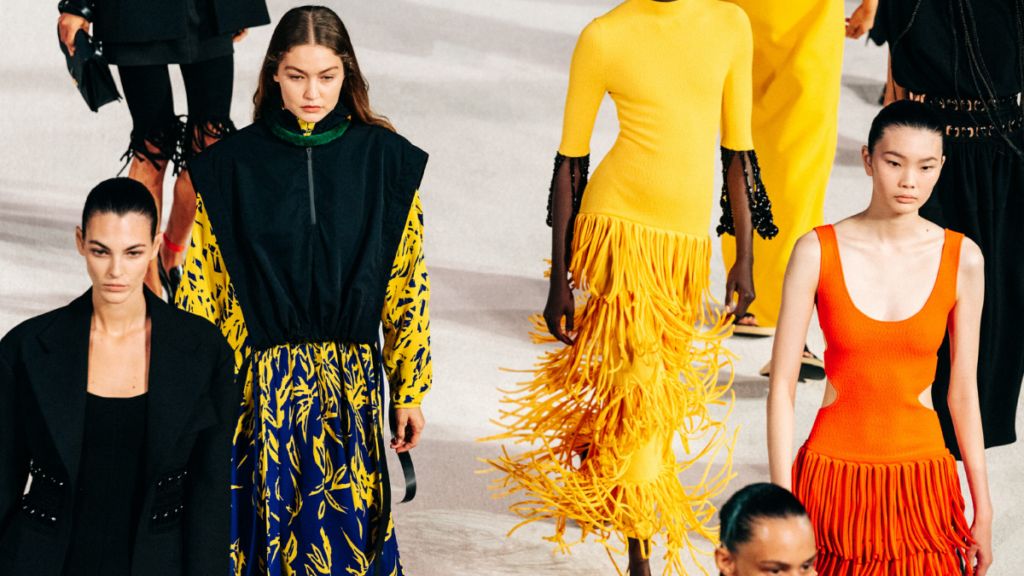 For many working in the fashion industry, receiving the title of "pioneer" would be one of the highest compliments. Adam Katz Sinding, however, is quick to reject the label when I quote a headline that dubbed him "the pioneer of street-style photography." Asked how he wishes to be introduced, Adam replies right off the bat, "I'm definitely no pioneer." In a straightforward tone, he sets the mood for an honest interview where we discuss his career, fashion, and pigeonholing people into categories.
This Is Not A F*cking Street Style Photographer
For those of us who religiously follow Fashion Week, Adam Katz Sinding is easily at the forefront of the skyrocketing popularity of style-street photography. Documenting fashion events for years, the American photographer has captured the spirit of the industry through candid, behind-the-scenes photos. Yet, Katz Sinding — formerly known as Le 21ème — doesn't hesitate before crediting earlier generations of lensmen. "There were a lot of people before me. I always say that I'm part of a third wave of street style [photography]. There's Bill Cunningham and obviously Japanese photographers who had been shooting photos on the streets for years and years before. And then, there's Scott Schuman (The Sartorialist), Tommy Ton, Phil Oh, Facehunter, and all these people who arrived as part of a second wave. I arrived a couple of years after that," he explains, setting the record straight.
As far as how he wants to be introduced, Adam has previously voiced his disfavor for the 'street-style photographer' tag that follows him everywhere. As much as this body of work has earned him part of the notoriety he enjoys today, the photographer also owns an impressive portfolio that many could only fantasize about. From backstage at fashion shows to campaigns for big brands and publishing books, Adam Katz Sinding has continuously proven he is in no way a "one-trick pony."
Regardless, when I mention that he's done enough not to worry about labels, he shakes his head. "You'd be surprised. People still look out for this one thing. It's pretty interesting." I am surprised indeed. At the moment we sit for this interview — over a Zoom call from opposite sides of the world — Adam is fresh off Paris Fashion Week and WWD Korea has announced he teamed up with Tom Ford and K-pop star Jaemin for a special issue. here's also a client list with over 200 fashion powerhouses — including Vogue — and a foreword by Virgil Abloh in his first publication, This Is Not A F*cking Street Style Book, to support my assumptions. But Adam is unaffected by the grand titles and headlines. "I understand why people label me as a street-style photographer, but I do a lot more than that. I would rather be introduced just as a photographer. Mostly working in fashion, but also interested in a lot of other things," he says. 
Documenting the Zeitgeist of Fashion
As the interview unrolls, Adam clarifies that he doesn't consider himself to be 'a creative' either. He prefers the word 'documentarian.' Probably because when he first dabbled into the world of photography he began by documenting his surroundings. "I started off just by taking photos of things I'd see on the streets, just taking pictures of everything, thinking photography was fun," he explains. The transition into street style happened after a former girlfriend introduced Adam to Scott Schuman, Tommy Ton and Garancedoré's work. "I lived in Seattle at that time and I thought it'd be quite a challenge to try to find these cool people on the street. And it was definitely quite a challenge, but I was up for it," he recounts. "It just grew from there. When I moved out to New York, it became easier to find well-dressed and interesting people on the street and then, here we are today."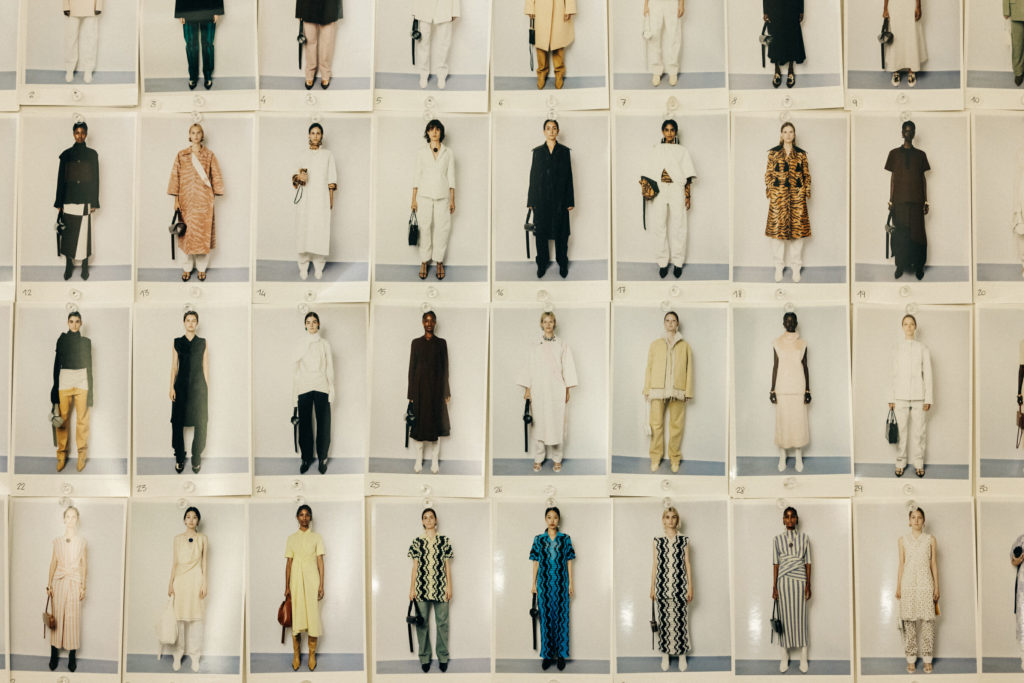 Capturing the zeitgeist of fashion, I am sure, requires a certain type of sensibility. Having witnessed the frenzy of Paris Fashion Week on a near-yearly basis, I still wonder how unfiltered moments can be captured so flawlessly. Against my better judgment, I ask the most cliched question I can think of. "During Fashion Week it all happens so fast. You don't have much time between shows and moving from one venue to the other. How do you discern between something that's worth taking a picture of and something that's not?" Adam is kind enough to answer, albeit he admits it is the number one question he gets in interviews. "I don't have an answer for it. And I know that it sounds kinda ridiculous, but I just react and I don't think about it too much. If I think about it too much, I am not going to take a photo. I have to just do it, as cliche as that sounds. That's the only way I really work. If I just react, then it happens more organically and more naturally."
Globetrotting
To document fashion, however, Adam has devoted a good part of his life to traveling and following the fashion circuit. The photographer acknowledges it is his favorite and least favorite part of Fashion Week. "It's great to be able to travel, but it's a lot. It's a lot of time away from home, it's expensive and it's stressful and alienating. But it is also an amazing experience," he reflects. Naturally, when the COVID-19 pandemic hit in full force in 2020, Adam was forced to stay home as the fashion circuit transitioned online. Though he confesses that it did not change his vision of photography, it has changed the way he regards traveling, "The last thing in the world I want to do, now that I am home, is travel more than I have to. Somebody said hey, let's go to Zanzibar. Fuck no! I'd rather stay in my living room," he jokes.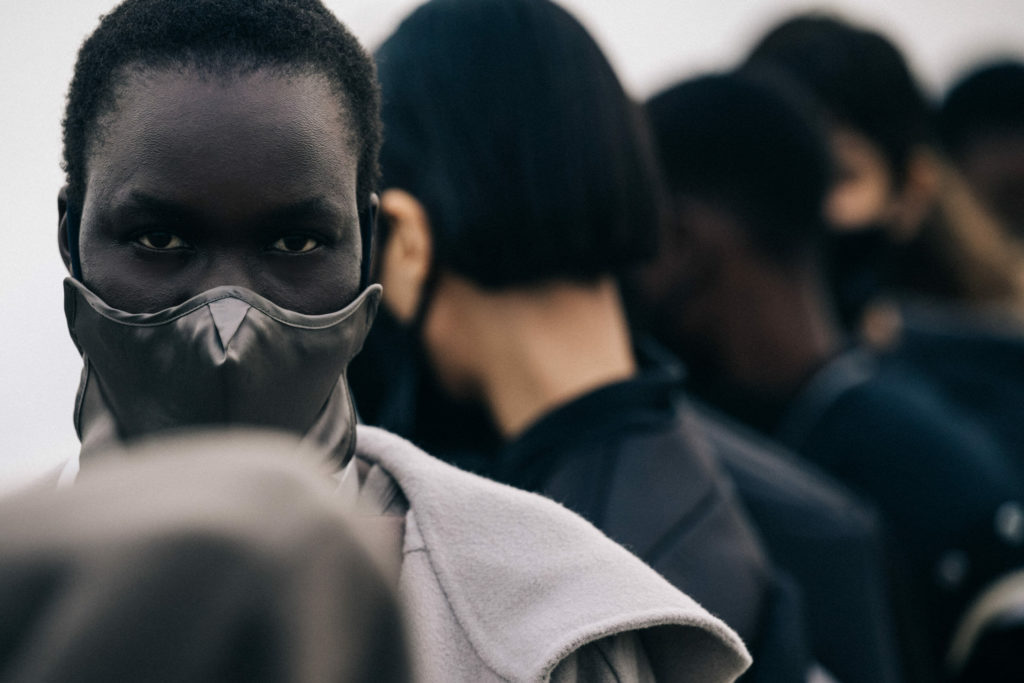 Nevertheless, as his job involves a great deal of globetrotting, Adam can name his favorite places around the planet without hesitation. "Paris definitely, for Fashion Week, Paris is, without a doubt, the best. Copenhagen, where I live, is very good for Fashion Week and also for everyday basic style around the city, people are very well dressed. Outside of fashion capitals, I think Georgia is one of my favorite places. I like Korea as well, Seoul."
The Charm of Seoul
Curious about the last pick, I ask Adam to elaborate. "I like the dichotomy between new and old, in Asia in general, but I've noticed it the most in Seoul. When you're walking on the street, it's a new-feeling city. The Korean War devastated that country and it is a relatively new economy, so they had to rebuild the city from scratch. Now, you have these big long street boulevards that are eight lanes wide. Obviously, not the way the city was originally laid out. And then you step off these streets and you step into the little alleys behind and they're grim, greasy and there are ladies trying to sell you all kinds of different foods. I like this mix of capitalism and village market vibe. You have the same thing in other parts of Asia, but I think I have explored it the most in Seoul. And I've never been to other cities, I've only been to Seoul, but I really want to go to Busan and travel more around Korea." A consummate lover of nature, Adam evidently appreciates the natural landscapes neighboring Seoul, as well. "In Seoul, you feel very close to nature, you have these insanely powerful mountains surrounding the city and nature is right there. Even if you're trapped in the city, you feel you can escape if you need to. It's a refreshing reminder that the city ends here and you can leave if you want to."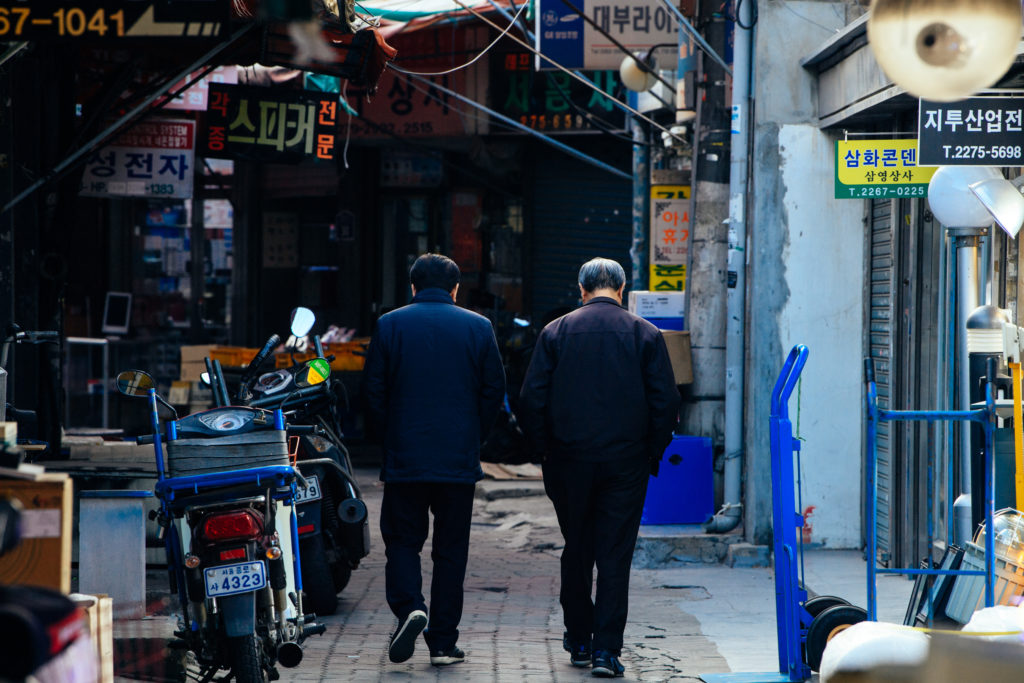 Past geography, the renowned photographer has also noticed unique dressing habits in Seoul. "There's a lot of money in Seoul, so people have all the right pieces and you see it all over the place. But one of the strangest things I've seen going to Fashion Week in Korea is couples that dress the same. So the girlfriend and boyfriend would wear the same thing, at the same time. I find it very interesting," he says, referring to matching culture. In regards to other Fashion Week trends, Adam adds, "And then, there's this idea of dressing up the children like adults. Which is very cute, but also a bit troubling. I don't think I agree with it, but it is adorable."
The State of Fashion and Dream Collaborations
Still on the topic of fashion, Adam and I dive into a conversation about the state of the industry. Despite growing disenchanted with certain aspects —like consumerism and a "hype" that makes him feel fashion has turned into merch— Adam still believes there are creatives to look forward to. "Thom Browne is one of the shows that I go to every season and my faith in fashion is reinstalled. It is just so incredible, aesthetic and so over-the-top." Adam continues to list, "I think Kiko Kostadinov, who has his own brand and is contributing with ASICS also has a very unique vision. I really like Schiaparelli as well. Then there's this Icelandic designer named Arnar Mār Jōnsson. My buddy Stephen (Mann) has his own brand too. It is called AFFIX, it's more utilitarian, but it is great."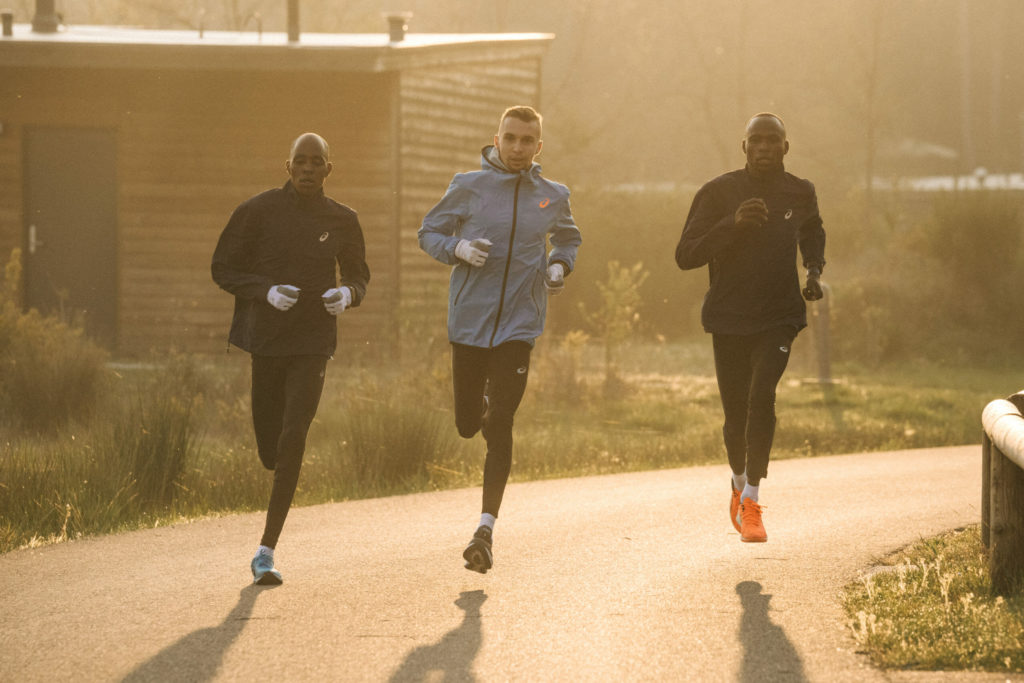 Unsurprisingly, when I ask Adam about his dream collaboration, he skips all the big names and replies with sincerity. "My real aspirations would be more towards the sportswear end of the industry, working with brands like Nike or cycling brands or smaller brands that are into sports. One of the things that I struggle with in fashion is that it's not the healthiest industry. It doesn't really breathe a healthy mental lifestyle, it definitely doesn't breathe a physical lifestyle, except for looking good. Whereas with activewear and sportswear, it's inspiring people to use their bodies, to push themselves, to get outside, maybe be happier." With this mindset, Adam worked with ASICS not long ago. He describes the experience as inspiring "I like their ethos even more than any of the other fashion brands with the mindfulness aspect. I think that is very important. I really like what they do. There was a lot of value to it, because athletes are inspiring to everybody.
Life in Lockdown
The previous question inevitably leads us to discuss Adam's hobbies — cycling and running — and how he's incorporated them into his projects. The photographer first explains, "I've been cycling for a long time. My first job ever was at a mountain bike shop when I was fifteen. I got really into cycling in my mid-20s, stopped when I moved to New York because cycling in New York is terrifying. And then, I picked it up again when I moved to Copenhagen. Though cycling takes up more of my time, I enjoy both cycling and running."
With two books published, "This Is Not A F*cking Street Style Book" and "Live From F*cking Everywhere" — which Adam keeps on his desk — I ask if he has any plans to combine his favorite sports and photography any time soon. "I did, actually. I did a little zine." The answer prompts him to stand up from the chair and move to another room. When Adam is back a few seconds later, he's proudly grabbing his most recent publication. "I did it last summer when I was stuck in Denmark. I worked with a store in Copenhagen called Norse Store and a creative agency in Berlin called BEINGHUNTED." Named "Life in Lockdown," the minizine is a compilation of photos taken between March and July of 2020 when Adam traveled around Denmark by bicycle. The foreword calls it a "reminder of personal situations" and it served to raise funds to support education on the matter of race and equality. Adam doesn't brag about the social purpose of it. Instead, he promises to keep a copy for the next time we happen to be both in Paris.
On Pigeonholing People Into Categories and Role Models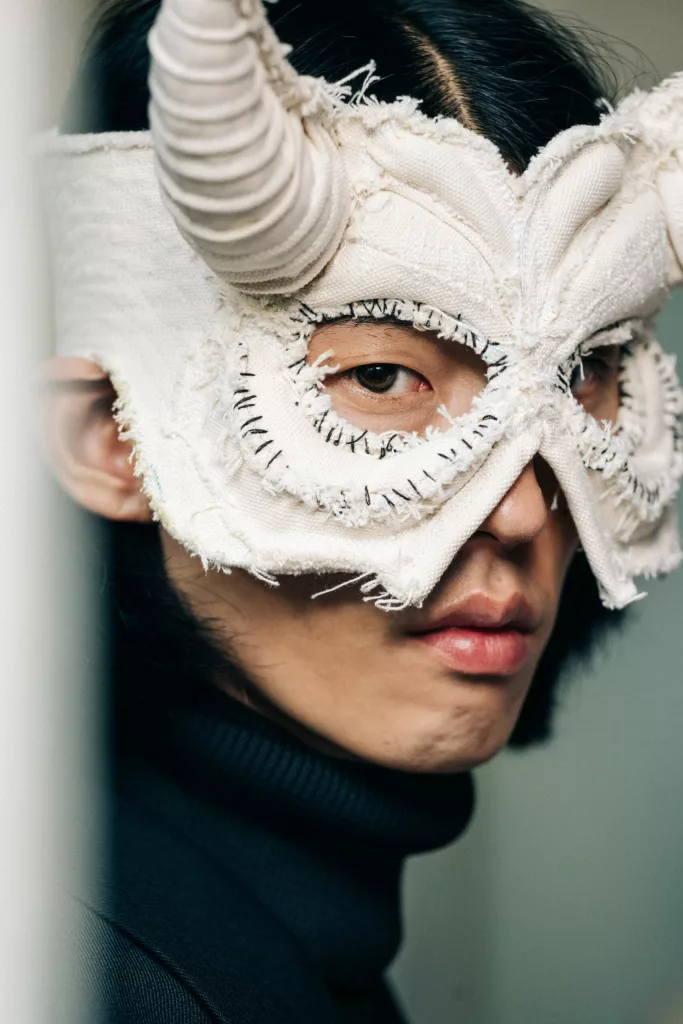 Toward the end of the interview, I offer Adam a space to talk about anything he considers important. He reflects briefly. "I think that the main thing I want to get out there is that I don't just do this one thing. I do many different things. I started this podcast, it's on Spotify, it's called 'So what else do you want to talk about?' The whole idea is that I've done so many interviews where they just ask the same questions over and over and I always give the same answers over and over and the problem that I have with that is that it further puts me into this brand of being one thing. As individuals, yes, we are our jobs, but we are a lot more than that, so the whole purpose of the podcast was to interview these people who are known for one thing and talk to them about something totally different. It's interesting there are some very important and intelligent people that I speak with on there — unfortunately, it's been canceled — but I did that in order to show, not just for myself but for the people that I've talked to, that there's a lot. There are many other layers to each one of us and I think that's the most important thing to remember. Yes, I am a photographer. Yes, I'm a cyclist. Yes, I am a runner, but I'm also a normal person, I do the same things that you do, that anybody does." 
He emphasizes, "Same with celebrities and people like that. We put people on this pedestal of being an actor, an athlete, or whatever but they do the same things everybody else does, they go buy groceries, they sweep their floors, they water their plants. I think it is important to remember the human aspect of everybody and remember that every one of these people that we put into a different category still does the exact same things that every one of us does. No matter what level, even celebrities look up to people as well. There's always somebody who is going to look up to somebody else. I think that's a sobering thing. With photography, I have my peers that I look up to, but there are other photographers that I have inspired as well. It is a very nice thing to remember that we're all eating, drinking, and breathing and that pretty much ties us all together."
For The Record
The Name: Adam Katz Sinding (not Adam Katz!)
The City: Hailing from the U.S, Adam is currently based in Copenhagen.
The Favorite Designers/Brands: Thom Browne, Kiko Kostadinov, ASICS, Schiaparelli, Arnar Mār Jōnsson, AFFIX. "I feel they don't really follow the hype wheel in the same way. They're into creating unique objects and products."
The Dream Collaboration: Sportswear brands. "But, of course working with somebody like Nicolas Ghesquière at Louis Vuitton would be a huge thing, or Phoebe Philo, Hedi Slimane."
The Fashion Takeaway: "Fashion is not supposed to be about hype, in my opinion, it should be something you could archive."
The Books: "This Is Not A F*cking Street Style Book" and "Live From F*cking Everywhere."
The Podcast: "So what else do you want to talk about?"
The Advice: "Take as many photos as possible, make as many mistakes as possible, don't quit when you make those mistakes. Figure out why you make those mistakes and how not to make those mistakes again."
Craving more interviews with fashion creatives? Check out our interview with Mexican fashion designer Jonathan Morales.