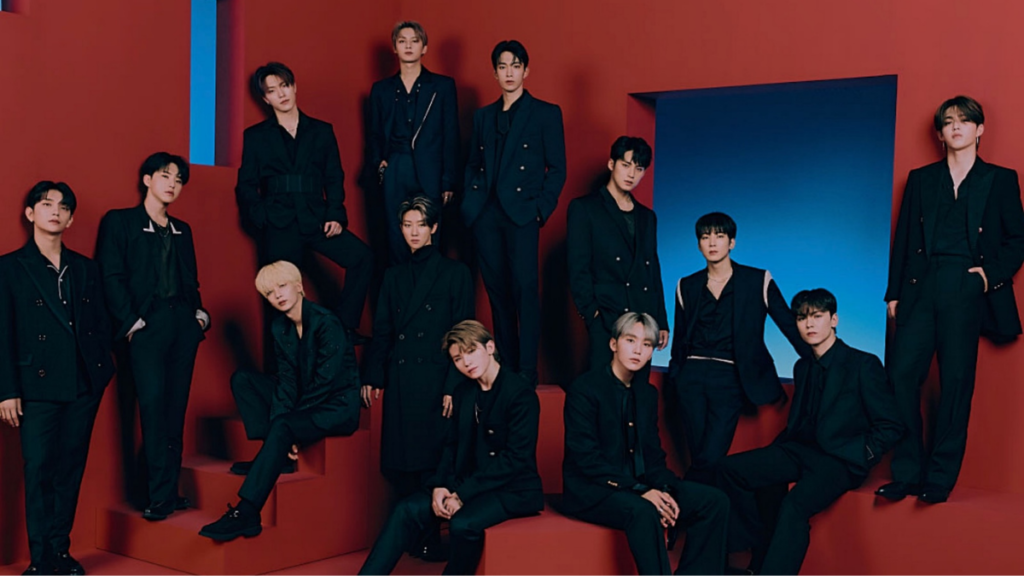 SEVENTEEN are back to profess their love for all things that come with being a part of the powerhouse boy group. The 13-member group hit movie theaters across the world on Wednesday, April 20, and Saturday, April 23, with their first concert film, SEVENTEEN POWER OF LOVE: THE MOVIE. The concert film doubled as a heartwarming gift to their fans, CARAT.
The Power of Love
It is no secret that SEVENTEEN deeply admires CARAT, but they went above and beyond to express their love and bond with their fans once more throughout the film. Following the release of their ninth mini album Attacca, the group held live-streamed concerts in November 2021. The setlists varied and were separated into two themes: love and power.
For the intimate, documentary-style concert film, SEVENTEEN chose to go with the "love" variation, as it was curated especially for CARAT to show them how loved they are. As a result, the setlist contained personal and saccharine tracks that summed up the endless bounds of love. Some of the iconic, affectionate songs within the film were "Crush," "Snap Shoot," "Home," and "Our dawn is hotter than day."
SEVENTEEN's Love Letter to CARAT
As if the SEVENTEEN boys could not get any sweeter, each member confessed what CARAT means to them. The result was a lot of sniffles and tears from others within the theater.
Some members sat with pensive looks on their faces while others lit up immediately. What they all had in common with one another's answers was their gratitude for CARAT being a part of their lives. Their personal declarations compared CARAT to their own rainbow, light, forever, reason for existence, and why they have grown as individuals throughout the years.
The heartfelt messages resonated with CARAT across the world as they watched the group open up their hearts on the big screen. SEVENTEEN reassured CARAT that their love for one another is entirely mutual and that each member values and cherishes the ever-growing love of their fans. From meaningful expressions to even being considered a member of the group, there is no questioning SEVENTEEN's admiration for CARAT.
Ready to "Rock With You"
SEVENTEEN made sure that the overall theme of love was expressed through each of their performances as well. The grand display of pre-recorded sets made it feel as if every seat in the theater had a front-row view to their concert.
The close-up shots of the members, overhead views of their dance formations, and seeing the group dance in sync with one another was an impressive experience–even if it was on a screen at a movie theater.
With 13 members, SEVENTEEN has three fixed units within the group: the vocal unit, performance unit, and hip-hop unit. Each unit was able to showcase their skills either as a unit or as soloists with special stages.
Performance Unit Takes The Stage
Unfortunately, the performance team–made up of members Hoshi, Jun, THE 8 and Dino–was missing two members during the pre-recorded concert, as Jun and THE 8 were taking a break to visit family. But that didn't stop them from surprising CARAT.
Jun and THE 8 each recorded their own parts for a special performance of "Network Love" that played as Joshua and Vernon performed the song together in real-time. It was a creative way to allow Jun and THE 8 to showcase their skills while also enjoying their time off.
With the absence of two of their unit members, Dino and Hoshi got their own solo stages. Dino stunned the audience with a performance of his track "Zero (Hero)" as he danced with the music and showcased the stability of his vocals. 
Meanwhile, the leader of the performance unit, Hoshi, kept CARAT on their toes as he performed "호랑이 (Tiger Power)" with fiercely cute choreography. The track is all about how Hoshi himself is a tiger, and how his personality encompasses the powerful cat so well.
Vocals For Days
SEVENTEEN's vocal unit consists of Woozi, who doubles as the subunit's leader, Jeonghan, Joshua, DK, and Seungkwan. The unit teamed up together and performed their tracks "Same dream, same mind, same night" and "Imperfect love."
Throughout the Q&A portion of the film, the vocal unit especially emphasized how well they work together as a team, and listeners can hear this in their unit songs. With warm-toned vocals, stable belting of lines, intricate vocal runs, and endless harmonization, the vocal team proves their power with the art they create together.
Sentimental Stories By Four
SEVENTEEN's hip-hop unit–comprising of S.Coups, Wonwoo, Mingyu and Vernon–has a unique take on songwriting. When asked about how the unit creates their unit tracks, the members explained that they come up with the topic and split off on their own to write their own verses. This method allows each member of the unit to express themselves creatively while also making the songs by the hip-hop team quite personal. 
Of course, with such an intimate and precious theme for the film, the hip-hop unit's tracks "IF I" and "I can't run away" were featured. Both tracks show a deeper side to the quartet as they rap and sing about the pains that come with love. From reminiscing about slowly losing someone they love to vowing to stay until the very end–even when all that remains are memories–the four men opened their hearts with their performance together.
The Power of CARAT
While SEVENTEEN's debut on the big screen is impressive, it is important not to forget about the power of CARAT. "SEVENTEEN POWER OF LOVE: THE MOVIE" was shown worldwide, and CARAT made sure to share their own snapshots to commemorate the memory.
The power of love brought CARAT together from many different cities, who all have different genders, sexual orientations, races, ethnicities, and beliefs, all to one place to share their love. Together at movie theaters across the world, multiple CARAT were celebrating their love for one another and SEVENTEEN as they laughed, sang, and cried together.
Perhaps that is one of the strongest and most impressive forms of love–the powerful love that comes from fans and is shared between them and those they support. One thing that is for sure is the undeniable love and bond shared between SEVENTEEN and CARAT.
On The Horizon
SEVENTEEN show no sign of stopping any time soon and are more determined than ever to reunite with CARAT. Recently, the group released a new ring ceremony video which means that a new era lies ahead for SEVENTEEN.
The beautiful ceremony honors the group's debut, how they have overcome many struggles, and celebrates their growth and success as a team. With each full album, the group receives a new set of rings—making this their latest set since 2019. SEVENTEEN's rings are a powerful symbol of their bond with one another as members and dedication and love for CARAT.
In fact, a new era does lie ahead. The group's fourth full-length album, "Face the Sun" is set to release on Friday, May 27.
Until its release, SEVENTEEN have given CARAT endless reminders of their love, whether by the release of their film or their latest English-single "Darl+ing." SEVENTEEN have opened up their hearts on the big screen and proven that the power of love between them and CARAT is unbreakable and unwavering.
Want more of SEVENTEEN? Check out our review of their latest single, "Darl+ing," here!