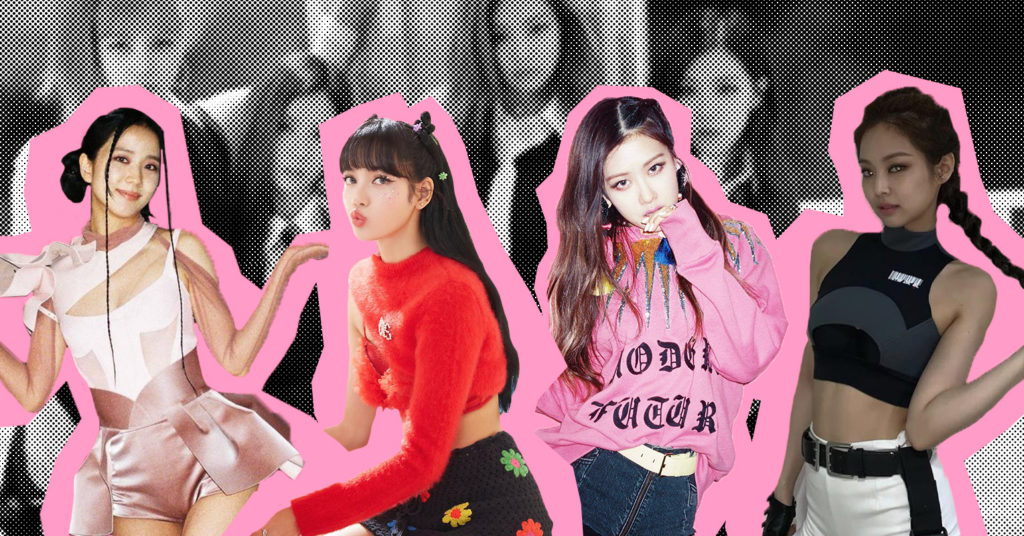 After a two-year break, the girls of BLACKPINK return as four for the release of their sophomore full-length album, BORN PINK. Following the pre-release single "Pink Venom" in August, which created high expectations for this new era, the quartet is set to come back in full force with "Shut Down." To celebrate their long-awaited comeback, EnVi takes a look at five of their most jaw-dropping fashion moments thus far.
Alien Superstars in "Pink Venom"
The two best words to describe the first set of teaser photos released for "Pink Venom" are 'extraterrestrial balletcore.' From pastel shades of pink to the mini-skirt panels, BLACKPINK channel the femininity and elegance characteristic of balletcore. One of the internet's favorite obsessions of 2022, balletcore incorporates visual elements from the art of ballet into day-to-day outfits.
The group's take on balletcore tackles the soft aesthetic from an edgier, more futuristic angle — hence, 'extraterrestrial' balletcore. The otherworldly feeling comes from the whimsical geometric cuts and various textures, courtesy of custom Mugler and La Cage, putting a BLACKPINK spin on an understated trend.
Colorful + Cozy Knitwear in "Ice Cream"
BLACKPINK went full-on bubblegum pop in the summer of 2020 with "Ice Cream" featuring Selena Gomez. To match the upbeat, girly tune, the four girls wore a series of vivid outfits on elaborate sets bursting with life. One set of outfits, highlighted in the teasers for the comeback, was head-to-toe knitwear from UK-based small business Fluffy.
Even with the shared knitwear theme, each member looked unique in their vibrant look. Lisa looked fierce in a red and black combo, Rose stayed true to her girl-next-door vibe with a matching green set featuring embroidered sunflowers, Jennie stunned in a hot pink cardigan and striped shorts, while Jisoo combined the best of everything in her multi-patterned rainbow ensemble.
Main Character Techwear in "Kill This Love"
Never ones to miss the opportunity to match badass lyrics with equally cool outfits, BLACKPINK boldly embraced techwear for "Kill This Love." The group has been known for their effortlessly chic vibe since their debut, but in 2019, they established a new BLACKPINK classic: the belts, garters, and neutral colors associated with techwear.
Standing amidst the rubble on a destroyed set with their sleek hairdos and leather straps, the members of BLACKPINK resembled video game character Lara Croft. Throughout the years, the multimillion sellers have revisited the military-inspired concept that they helped popularize with the help of pieces from Hyein Seo, Me Dic Al, and Heliot Emil.
Glitz and Glamour in "DDU-DU DDU-DU"
BLACKPINK showed a new, powerful side of themselves with "DDU-DU DDU-DU," an empowering anthem that had everyone showing off their finger guns. In their music video, the girls debuted a dressed-up and flashy set of looks that went all-in on the dazzling factor, featuring brands like Michael Kors.
Each member had their own sparkle, from Lisa's hot pink boots to Jisoo's black pailletted playsuit. To elevate their looks, stylists decorated the four girls with blinged-out accessories, like Jennie's silver belt and lace gloves and Rosé's choker and chain. The outfits were attention-grabbing and more mature than the group's previous looks, but still emanated the group's girlboss energy.
Updated Girl Crush in "As If It's Your Last"
Of course, a round-up of iconic BLACKPINK looks wouldn't be complete without explicitly mentioning their girl crush looks. For "As If It's Your Last," BLACKPINK experimented with a more cheery, feminine concept. Their uniform-inspired outfits recalled the edgy looks from their debut song, "BOOMBAYAH," affirming their mastery of the girl crush concept.
Everything about the song was a new venture for BLACKPINK — from their experimental, playful hairstyles to the uncharacteristically cute sets featured in the music video. While colorful UNIF pieces, skirts, and stockings gave the group a girly feel to match the song's bubbly sound, their bold platform heels and chokers, from brands like Gucci and JEWEL COUNTY, reminded everyone of BLACKPINK's fierce charisma.
Ready For Love
BLACKPINK is set to release their second full-length album, BORN PINK, on September 16. The eight-track record features pre-release single "Pink Venom" and promotional track "Ready for Love," first teased in BLACKPINK's Netflix documentary and released officially in July 2022, as well as six new songs. Teaser images for the new era tease both sporty, chic outfits as well as darker, techwear-inspired looks. As the girls of BLACKPINK enter a new stage in their careers, we are ready to love all the fashion moments they have prepared.
If you enjoyed this recap of five of BLACKPINK's most iconic looks, check out our piece on Girls' Generations' 15-Year Long Fashion Legacy here!