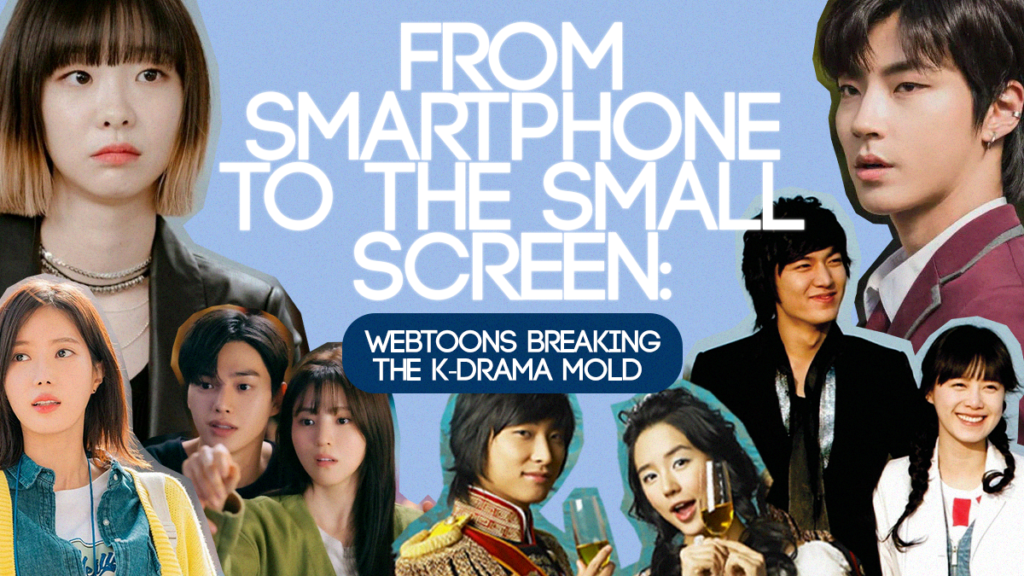 As K-dramas have grown in popularity worldwide, a handful of shows have become household names in the last year—think of Itaewon Class (2020), My ID is Gangnam Beauty (2018), or more recently, smash-hits like True Beauty (2020) and Nevertheless (2021). And though these shows all boast their own unique traits, one thing unites them all: they're each based on popular webtoons. 
The Webtoon Phenomenon
Originating in South Korea, a webtoon is a digital comic format that has grown in popularity worldwide because they're easily accessible on a smartphone. Unlike manhwa or manga, the webtoon, as its name implies, stays entirely online. It replaces the need to purchase issues as they are released by operating on a more frequent update schedule, like the installment of a TV show. Most early webtoons were visually pleasing but simple in their design – minimalistic backgrounds and primarily in black and white; these traits also helped contribute to the frequency of updates, as they required less detailed work. 
The Korean web portals Daum and Naver launched their webtoon services in the early 2000s, initially offering webtoon releases for free. Since then, many online publications have allowed access to their work for a small fee or have relied on advertising revenue to keep their work free for readers. The industry itself stays evolving, though – it was only in May of 2019 that a rating system was implemented for webtoons online. And now, with its growing global popularity, and the rise of the English-based WEBTOON platform, fans can keep up with their favourite webtoons from Korean artists, and even artists from around the world. Nowadays, webtoons have a significantly higher production quality, boasting new art styles and full-color panels.
Breaking the Mold
K-dramas based on webtoons are nothing new – earlier Korean dramas drew inspiration from Japanese mangas or Korean manhwas, like Full House (2004), Princess Hours (2006), and Boys Over Flowers (2009). High-performing shows like True Beauty and Nevertheless are just a few of the more recent productions drawing inspiration from webtoons, and there's no surprise why the end to the webtoon adaptation is nowhere in sight. Webtoons come with fleshed-out characters and plots, and loyal readerships that are itching to see their favorite characters come to life. There are dozens more set to release in the next year and a half.
At first glance, webtoons, especially those that popular K-dramas are based on, may fall in line with general assumptions about shoujo mangas or manhwas – full of clichés and tropes catering exclusively to teenage girls. While there's no shortage of that, nor any problem with slice-of-life romances, the webtoon world has more to offer than you might think. Just a quick glance at the genres hosted on WEBTOON, for example, reveals there are over a dozen to pick from, ranging from fantasy to thriller, supernatural to sports. This variety's also reflected in what's to come from the K-drama and web drama industry – we've picked a few webtoon adaptations that break from the expectations of cliché romance and slice-of-life to keep your eyes on in the future.
Crime Puzzle (2021)
Set to star Yoon Kye-Sang and Ko Ah-Sung, Crime Puzzle is a psychological thriller that tells the story of a famous criminal psychologist who confesses to an onslaught of killings, and his former girlfriend, who lost her father at the hands of her murderous boyfriend. Based on the webtoon of the same name, the thriller follows the former lovers as Ko Ah-Sung's character puts together the "puzzle" of the murders through a series of interviews she conducts at the prison. 
Yumi's Cells (September 2021)
At first glance, Yumi's Cells appears to be nothing short of simple. Based on the popular webtoon of the same name, it tells the story of an ordinary office worker. But there's a twist: it's told from the perspective of her brain cells. Setting Yumi's Cells apart from other adaptations on-air is its combination of 3-D cartoon animation for the anthropomorphic brain cells with live-action. Starring Kim Go Eun as Yumi, the series will also feature Ahn Bo Hyun, with appearances from GOT7's Jinyoung and SHINee's Minho.
Island (2021)
Warning: mature themes, graphic imagery, supernatural
Island follows wealthy and arrogant Won Mi-Ho, who is banished to Jeju Island by her father in equal parts drama and supernatural thriller. She lives an abruptly mundane life as a high school ethics teacher. However, her stay on the island takes a turn for the worse when she finds herself embroiled in a battle with the local ghosts, who aim to rid the world of humans. Not for the faint of heart, Island's art is graphic, gritty, and expressive. 
Delivery Knight (TBC)
If you love a good dystopian, this is for you – actor Kim Woobin is slated to star as the titular character in Netflix's adaptation of Delivery Knight, set in a futuristic Seoul where pollution has taken over, leaving the delivery of food and supplies the only way to survive. The webtoon itself is dark and edgy, and its narrative delivers a perfect blend of the mundane and exciting.
Tomorrow (2022)
Warning: mention of suicide
K-dramas have been known for not shying away from challenging subject matter – and Tomorrow is no exception. Expected to star SF9's Rowoon, Tomorrow follows the story of a young man who falls into a coma after an accident and ends up on the underworld's "Crisis Management Team." A group of guardian angels, the team's goal is to take care of humans with a high risk of suicide and will them to continue to live. 
These are only a handful of webtoon adaptations to look forward to – Netflix even has its own category for adaptations for easy perusing. While there's no shortage of K-dramas to binge-watch, the webtoon world has just as much to offer – we can't wait to see what adaptations come out of the K-drama industry next! 
Want more from ACT!ON? Check out the recap for an episode of Nevertheless here!
Images courtesy of Group8, MBC, StudioN, Beyond J, JTBC Studios. Graphic designed by Beca.