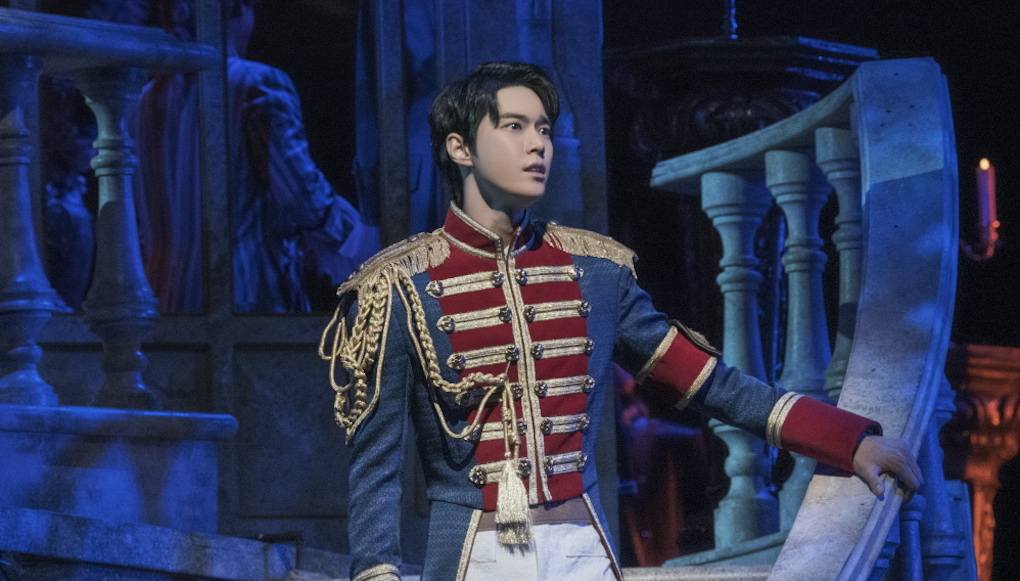 2021 has been one of the most successful years yet for NCT and its multicultural members. Vocalist and actor, Doyoung, has been no exception. After juggling various individual and group projects, he took on a new challenge in the musical Marie Antoinette. On his debut, Doyoung exceeded expectations by stepping into the role of Axel von Fersen. For the months to follow, the singer enchanted fans and lovers of theater with his passionate performance. With praises for his first-ever foray into the world of musicals, on September 29, Doyoung successfully wrapped up Marie Antoinette with a sold-out show. 
#DOYOUNG to put on his last show for 'Marie Antoinette' today!
Successfully wraps up his 1st musical, selling out all tickets + receiving praises for his acting!
"Thank you for supporting me and giving courage in taking on this new challenge"#NCT #NCT127#마리앙투아네트 pic.twitter.com/BoTnUnIbWk

— SMTOWN (@SMTOWNGLOBAL) September 29, 2021
About Marie
Marie Antoinette is the Korean adaptation of the namesake Japanese musical. The story portrays the "life and love" of Marie-Antoinette de Habsbourg-Lorraine, Queen of France. Produced by EMK Musical Company, it depicts Marie Antoinette as a misunderstood royal who navigates the events leading up to the French Revolution. The musical also features Hans Axel von Fersen, a Swedish Count who shares an ill-fated love story with Marie. Lee Seok-hoon (SG Wannabe), Lee Chang Sub (BTOB), Min Woo-hyuk, and Doyoung shared the role of the nobleman throughout the second season of the show. 
View this post on Instagram
Doyoung Exceeded Expectations
Kicking off his musical acting career in the skin of Count Axel von Fersen, Doyoung made his official debut on July 17. Previously he had offered a glimpse of his character in May. After raising expectations for months, Doyoung's first performance was received positively. Fans and journalists, who paid close attention to his debut, commended his acting skills and singing. "He showed outstanding singing skills, as well as calm facial expressions and stable body movements," a media outlet wrote. 
Clearly committed to the portrayal of Count Fersen, Doyoung delivered emotional performances, time after time. Despite making a spectacular debut, as the musical progressed, his continuous growth was noted by the audience. It earned him the compliments of media and theatergoers who on repeated occasions described how invested the actor was in his role. In particular, the scenes building up to Marie's execution gained attention for Doyoung's convincing portrayal of "sadness, anger, and desperation."
Receiving Love From The Cast
However, fans and journalists were not the only ones praising Doyoung in his first musical experience. On several occasions, the cast of Marie Antoinette voiced their appreciation for "Dorsen"—a play on the words Doyoung and Fersen that became popular to refer to the idol. The member of NCT not only flaunted the unique color of his voice but also his good personality. Shining through for his work ethic and manners, Doyoung's efforts did not go unnoticed. 
The actresses playing Marie Antoinette, Kim Sohyang, and Kim So-Hyun, shared how hardworking and polite Doyoung was while preparing for the musical. "Doyoung works really hard," Kim So-Hyun said in an earlier interview. She later echoed the same thoughts during a radio show, where she appeared alongside her co-star.
kim so hyun: i was surprised on 3 instances with doyoung;
first when he started singing i said "why is he so good at singing!!"
then when he acted, "why is he so good at acting!!"
then the third time i was completely shocked, " why is he working SO hard??" pic.twitter.com/UgXOijUSj2

— 유니🍓 (@dejunsdear) September 1, 2021
the praise doyoung has been getting from his marie antoinette castmates aren't just about his performance as a musical actor, but about how much of a good, respectful, and hardworking person he is ☹️

— 🎮 love theory out now! (@waenjivillain) September 25, 2021
Likewise, other actors have taken to social media to express their gratitude and praise Doyoung in different instances. Whether it was to thank his kindness or congratulate him for his performances, the actors involved in the musical never missed the chance to demonstrate the family-like bond of the cast. 
fighting to doyoung and the cast of marie antoinette!! pic.twitter.com/V3WIRjkFJe

— 🌱 (@plantsprout) June 23, 2021
View this post on Instagram
Especially loved by the child actors, Doyoung surely returned the feelings. When asked about his source of support for the preparation, the idol said "I think all of the sunbaenims and production staff, without excluding any single one of them, are my source of support." He added,  "I, who's performing in a musical for the first time, am very grateful that they taught me a lot of things and guided me." 
Doyoung's Support Squad
As it is expected from a close group of friends-slash-bandmates, the members of NCT also expressed their support for Doyoung's musical in different ways. Throughout the season, the members of the group attended Doyoung's shows. Some others, like Jaehyun, sent drinks to the cast of the musical. 
Doyoung mentioning jaehyun buying coffee for the cast of marie antoinette 😭😭😭 look how in awe doyoung was and how jaehyun tried to brush it off pic.twitter.com/syDBtDoNBX

— doyoung's wkorea²⁶ (@xoxoxodoie) August 24, 2021
Mark 💬

"I watched Do-Fersen this afternoon"
"For real, to be honest, he was incredible ㅋㅋㅋㅋㅋㅋ"
"He is our member but he was really incredible"
"But I really like the work itself ㅋㅋㅋㅋ I watched it with fun ㅋㅋㅋㅋㅋㅋㅋ"
"And I think I saw Czennies too"

— 링 (@nctdaoying) September 29, 2021
View this post on Instagram
Meanwhile, Doyoung's family proved their thoughtfulness by sending support to the entire cast of Marie Antoinette as well beautiful flower bouquets to his co-stars. "It's the first time I receive flowers from parents. How beautiful," Kim Sohyang gushed on an Instagram post, thanking Doyoung's family for the nice gesture.
Doyoung's parents sent a flower bouquet for Sophie Kim / Kim Sohyang (who plays Marie Antoinette for Doyoung's Fersen) today 🥺 The message card read, "the best musical actress! HyangMarie-nim thank you!" pic.twitter.com/BBenIIZwTv

— clair (@clairdelune48) July 17, 2021
Bidding Dorsen Goodbye
However, time flew by. On September 29 Doyoung bid goodbye to the character that has accompanied him for the past months. Prior to his last show, Doyoung said in an official statement, "I was really grateful to meet the audience through a musical. I was worried a lot when I started, but I think I was able to do it well because I met good seniors and directors." Doyoung, who has proven his potential as an actor through the musical, also took to Instagram to share his thoughts on wrapping up Marie Antoinette.
View this post on Instagram
Although it is a well-known fact that Doyoung is one of the best vocalists of his generation, the idol reminisced about the concerns ahead of his musical debut. "I still remember that moment where the worries I had since I decided on doing this musical, disappeared with the start of the performance, because of the gazes of the audience and Czennies." In his heartfelt post, he also thanked fans and expressed his love for the musical. "Thanks to you I was able to conclude the show safely. Thank you and thank you again. Although Dorsen is leaving, I will show you better sides. I loved you, Marie Antoinette," he wrote.
View this post on Instagram
In addition, Doyoung's co-stars dedicated sweet messages to Dorsen after his last performance. Actress Kim Sohyang posted a series of pictures showing her first and last meeting with Doyoung's character. Meanwhile, Kim So-Hyun shared a short message, "Thank you so much for all the time. I'll always cheer for you." 
View this post on Instagram
View this post on Instagram
Memories For Fans
While Doyoung's passionate performance surely will be etched on the minds of attendants to the musical for a long time, Marie Antoinette' has also left plenty of memories for fans. From social media posts to interviews and even a vlog, "Dorsen" has given content for fans to remember Doyong's successful musical debut forever. The friendships Doyoung has cultivated and cute interactions with his co-stars have also been immortalized through pictures and videos.
210930 Child Actor Jung Hyunjin's Mom's Instagram Post

🍯 Morning

After sleeping and waking up today
My Instagram was going crazy.😳
It's because Dorsen, who had his last show yesterday, uploaded a photo 😍

Today, Hyunjin only has 2 shows left (1/3)#DOYOUNG #도영 pic.twitter.com/Y3TlW6fANG

— 링 (@nctdaoying) September 30, 2021
View this post on Instagram
It is no surprise, then, that fans are feeling emotional about Doyoung wrapping up Marie Antoinette. To commemorate the occasion, many have written messages on Twitter, congratulating Doyoung for his successful venture in the world of theater. 
Dorsen, you are loved💞💞💞 thankyou all of marie antoinette cast for giving doyoung a new home, a new family in musical😭 pic.twitter.com/FO34Swf61G

— makgeolina (@makgeolina) September 29, 2021
Thankyou Marie Antoinette's teams for taking care of Doyoung on his musical debut🥺 i really love this family🥰❤️ #MarieAntoinette #ThankyouOurDorsen pic.twitter.com/SOxPIHDnre

— ⚜️sya • peaches🍑 (@cutiexnini) September 29, 2021
too many emotions going on right now i am really so so grateful towards the marie antoinette cast for showering doyoung with love and support for his first musical ☹️ i really hope that he and the cast would be able to work together again in a different musical ☹️❤️

— yc (@doietokki1) September 29, 2021
Looking ahead
Though he has wrapped up his musical activities, Doyoung is still booked and busy. The star is currently promoting NCT127's third full album. So far, STICKER has broken records and earned them six trophies on music shows. With the announcement of a repackaged album, an OST to be released soon and an upcoming TV appearance, fans of the artist should keep an eye on future updates.
Want to read more about Doyoung in the meantime? You can check out a breakdown of his style evolution here. 
Thumbnail courtesy of  SM Entertainment