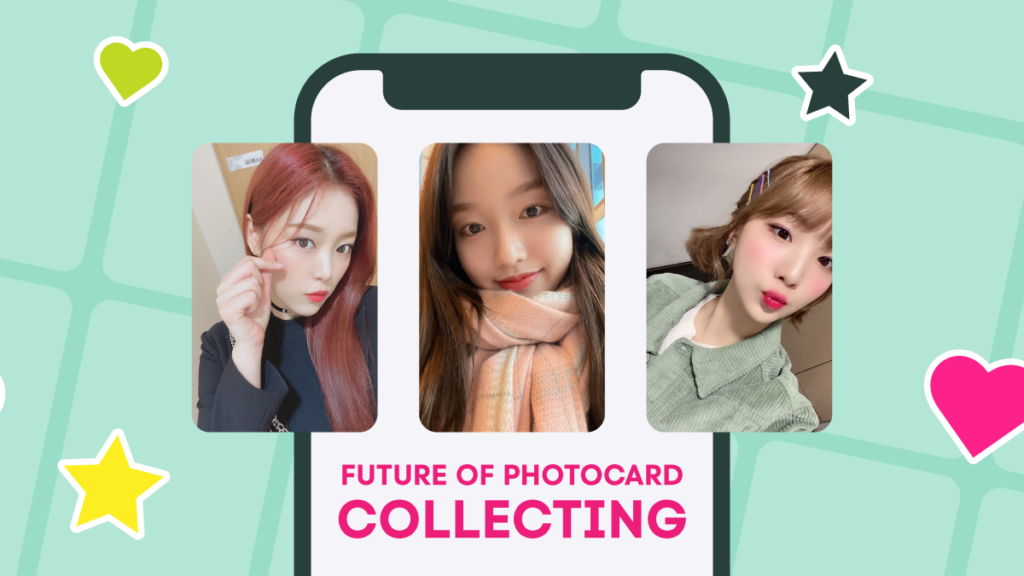 For Future of Music Month, EnVi's advertising team is featuring websites and apps which could transform the way fans buy, sell and trade merchandise.
This time, EnVi spoke to Harriet and Ryan about their app K-Collect, which aims to help collectors keep track of their photocard collections. Read on to find out how Harriet and Ryan came up with the app idea, how it aims to solve collectors' dilemmas, and their future goals for the app!
Starting off as Fans and Collectors
K-Collect was founded by two friends from the UK, who met through their love of TWICE. Harriet first fell for TWICE members when they were on the 2015 survival show Sixteen. As for Ryan, he discovered the group through their music videos on YouTube. Even though their tastes have changed over the years, they told EnVi "TWICE will always be our number one. They're the reason we met and how we both got into K-pop."
Ryan came up with the idea for K-Collect two years ago, when he was new to collecting, and found it difficult understanding photocard options for different albums. "[Ryan] thought about creating something that would help people like him find out what they needed to know about collecting," they told EnVi. K-Collect started off as a website, which was a simplified version of the current product. After meeting and discussing the idea, Harriet, who has been collecting photocards for five years, suggested they create an app. "We used a lot of my collecting knowledge/experience to grow it into something that would be useful for collectors," said Harriet.
In addition to the app, there is also a K-Collect store, which sells photocards and albums. "It has always been a goal of mine to open a K-pop shop and I am so grateful that K-Collect has allowed me that opportunity," Harriet told EnVi. The store currently delivers albums to the UK, and photocards are also shipped to the US and Canada. However, they have plans to expand worldwide.
How the App Works
After releasing an earlier version in 2020, the current version of the K-Collect app launched earlier this year on iOS and Android. According to Harriet and Ryan, the app allows users to save time, compared to looking for and adapting templates of photocards and other inclusions. "The ability to just open the app, search for any group and be able to look through their albums and photocards is something that the collecting community has needed for a long time," they said.
Harriet and Ryan explained, "You can see all inclusions of an album at the click of a button, picking and choosing which you would like to add to your collection!" Through the app, collectors can also visualize how far along they are in their collecting journey. "Our app shows you a percentage of how complete each collection is, which can really help put your collections into perspective," said the K-Collect founders.
Learnings as a Start-up App
According to the K-Collect founders, the most challenging aspect of developing the K-Collect community has been the development of the app itself, as it has mostly been Ryan working on the technical side. "Trying to build an app of this scale as a single developer, while studying for my Computer Science degree, has been a huge undertaking," revealed Ryan. However, Ryan and Harriet feel as if the challenges have paid off. "Seeing the app grow to what it is today has made everything worth it."
The K-Collect team has also expanded since the pair developed the app idea. "Our team is currently based all around the world, and we wouldn't be where we are today without them."
Future Plans 
In terms of future plans, Harriet and Ryan hope K-collect will become a staple for the K-pop collector community. "We want to be that go-to place for collectors, somewhere people can make friends and share their love for K-pop," they said.
Their goals for trades can be achieved through the upcoming "Marketplace" feature, for trading and selling photocards. "In the future, we will be introducing the "Marketplace," which will allow users to find trades and sales that are specific to their collection and location," Harriet and Ryan explained. The app creators intend for safe trades to be a core element of the K-Collect community. "We have a lot of ideas and protocols that will be in place to prevent scammers," they said, "as we know how prevalent it is in the community." They also plan to add in-app translations to cater to K-pop's global community.
As for their dreams for the K-pop industry itself, Harriet and Ryan revealed they "want to keep seeing the growth and success of K-pop groups," and hope K-Collect can be part of this. "We would also love to collaborate with artists in the long term to bring exclusive content and features to our app!" they shared.
Thank you for speaking to us, K-Collect! If you are interested in finding out more about the app, you can reach K-Collect on Twitter or Instagram.
Read more about Future of Music Month here.