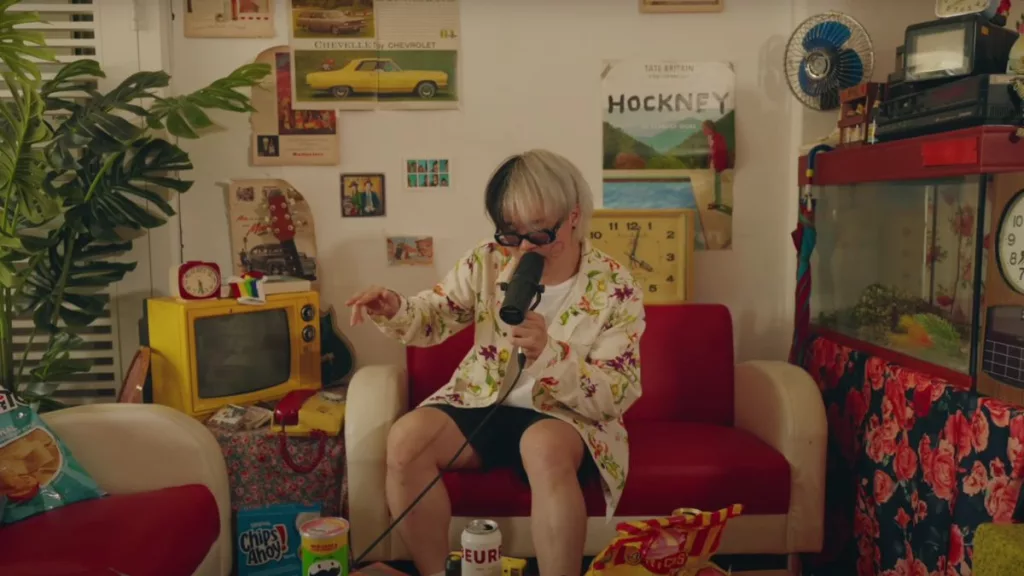 "I hope more listeners get consolation through my songs," Q the Trumpet, born Park Joonkyu told EnVi about his latest release, Mood Washing. The 14-track album introduces listeners to his three musical personas — the trumpeter, the rapper, and the producer. With these, Q the trumpet creates an eclectic mix of soulful and exciting tracks, which he described as "friendly songs."
To Q the trumpet, the album is a "masterpiece" that demonstrates his maturity. "I feel like I have grown with my age, senses, and experiences compared to my previous works." Following the release of his second full-length album at the end of 2022, EnVi caught up with the artist via email for a dive into the album's creative process.
Emotion Without Lyrics
"I usually create the melodies on impulse and make some development from them," Q the trumpet said about his process of composing. "I don't use any official routine; I just do whatever pops into my head full of inspiration." For him, making music that makes one sad, happy, smile, and dance without lyrics, has always been a goal. The versatile artist's wish was fulfilled with Mood Washing containing six instrumental solos. Delivering a range of emotions through instrumentals showcased Q the producer and the trumpeter.
The album opener, "the Ordinary Condition," kicks off on a mellow note before a mid-tempo bubbly melody takes over till the end of the song, giving off a relaxed and cheerful vibe. If it were the soundtrack of a movie, it would be a perfect fit for a scene which sees the main character juggle between dancing and taking a sip of wine as they recollect the happy incidents that took place hours ago. In the next instrumental, "Every complicated night," Q the trumpet offers more relaxation in collaboration with Lim Chae Sun and with the help of a keyboard. The trumpet then takes centre stage in "Mood Washing," a collaboration Q described as "a dream come true." "When it comes to 'Mood Washing,' my partner Kihoon Park, a.k.a. "Mangpogal," and my enviable YUNSEOKCHEOL TRIO co-produced the song. This is the exact combination that I have always dreamed about," Q the trumpet said.

Self-Inspired
In the songs where melodies meet lyrics, Q the rapper makes his introduction. These tracks which feature gentle raps from the artist were self-indulgent and created from the depths of his heart and mind. "The one who heavily inspired this album is ME! To be honest with you, the biggest inspiration came from my anxiety disorder," Q the trumpeter disclosed. Mood Washing heavily relies on the emotions and experiences of the South Korean rapper.
When asked which song captured the entire vibe of the album, Q mentioned "Complicated." "Of all the songs on this album, 'Complicated' is the one that best fits me and is most similar to my music style." The lyrics to "Complicated" portray a confused Q who believes he can do anything and everything in one second and finds himself not knowing what to do in the next. With lyrics which translates to "clumsy me's arrogance and reality fights" the song captures the battle within the artist. Q ends the Kim Mi Jeong and Olltii-assisted song with the lyrics, "let's go out to play," indicating his desire to wash his mood and move pass the complexities.
Q the trumpet takes a different approach to "Good Night." Before adding the lyrics, he named the file "the beat you should feel sorry" while creating the melody. Speaking on the creative process, he said, "Even though I make a beat full of inspiration, the song could be different from the beginning because of new inspiration that pops into my head while creating a melody and lyrics. That's why I have some beats that I've previously created, not the "song" itself." A certified favourite by most listeners according to the artist, Q described "Good Night" as a song that shows "delicate points of emotion." This time, the lyrics were not inspired by Q's experiences, but those of his co-producers. "The true story of my friends, who co-produced this song with me, impressed me a lot so that I feel sadness and consolation at the same time while listening to this song," he explained.
In addition to demonstrating his artistic versatility, Mood Washing is a note to Q the trumpet's fans and music lovers. By exploring his experiences and layering them into each of his three distinct personalities, Q crafted a vulnerable and powerful sound. As the title suggests, Mood Washing can be likened to a cleansing product which wipes away anxiety and hopelessness. It then replaces these negative emotions with a wave of freshness and happiness.
The Power of Collaboration
A major lesson Q the trumpet learned while working on Mood Washing is "[he] cannot do anything alone." Ten songs on the album feature other artists who also participated in the composition process. The most frequent collaborator on the album is South Korean rapper and three-time Show Me The Money contestant (2014, 2017, 2019) Olltii, who lent his vocals and songwriting skills to the songs "Complicated," "PAPER PLANE," and "Airplane Mode."
South Korean jazz pianist, composer, and record producer Yun Seokcheol also made a double appearance on the album. He appeared on the song "Walk to clear" as a soloist and on "Mood Washing" with his YUNSEOKCHEOL TRIO bandmates, bassist Kim Sang-yee and drummer Kim Yong-jin.
"A lot of people from various groups did their best for my album. I do appreciate all kinds of help, and I feel that THIS is how we live in this world," Q the trumpet said about his collaborators. Q also gave a special shoutout to others who helped with the project. "
"My friends who produced each track, VANS as the sponsor, [and] Daniel Project who helped me out with all the paperwork."
Happiness as a Driving Force
Mood Washing evoke two emotions, the happy and the sad. Aside from portraying these emotions with the songs on the album, Q the trumpet incorporates his artistry in his physical appearance. The singer who has had a dual-toned hair colour for some time explained that his hair colour was a reflection of the emotions in his album and described it as the "perfect match for the album." The half-black, half-white hairstyle symbolizes "two opposite concepts into one album, such as darkness versus brightness and sadness versus happiness."
Happiness is more than emotion Q the trumpet, but also a driving force. From the onset, happiness was what drove him to undertake music as a career. "I did not have any great ambition when I started my music and only started because I was happy and joyful while I was doing it," he claims. When asked to give a word of advice to fellow jazz musicians, the word "happiness" was a recurring phrase in his advice. He started by saying, "No matter what the reason you are creating your style of music, the most important point is how you feel happy about it." The instrumentalist believes in doing what one wants and being happy. He revealed that was a major lesson he learnt from his favorite "Infinite Challenge" co-host, Noh Hong Chul who is fond of telling people, "do what you want." "Like him, I want to tell you guys do what you want, and please be happy!" he added.
Q the trumpet can be described as a modest artist. When asked what he hoped to achieve with Mood Washing, he said, "I wish there would be reasonable compensation for my work, which could attract public attention. Describing his goals as "simple," Q reiterated, "that's why I'm a bit careful talking about an accomplishment that I want."
This belief and approach to music is however not an excuse to slack. Listing his goals for the year 2023, Q the trumpet said, "I want to do some more challenging and interesting work in 2023!" In addition, he looks to have more concerts and performances and more interactions with fans all over the world if he has the chance. Ending the interview with a note to his fans, he said, "Whenever, and wherever you bump into me, please say hello with a nice, comfortable smile."
Check out Q the trumpet's second full album, Mood Washing on Spotify, Apple Music and other streaming platforms.
Connect with Q the trumpet on Instagram for updates on his music and activities.
Want to discover more music content? Read all about our Artist Spotlight on Radha here.