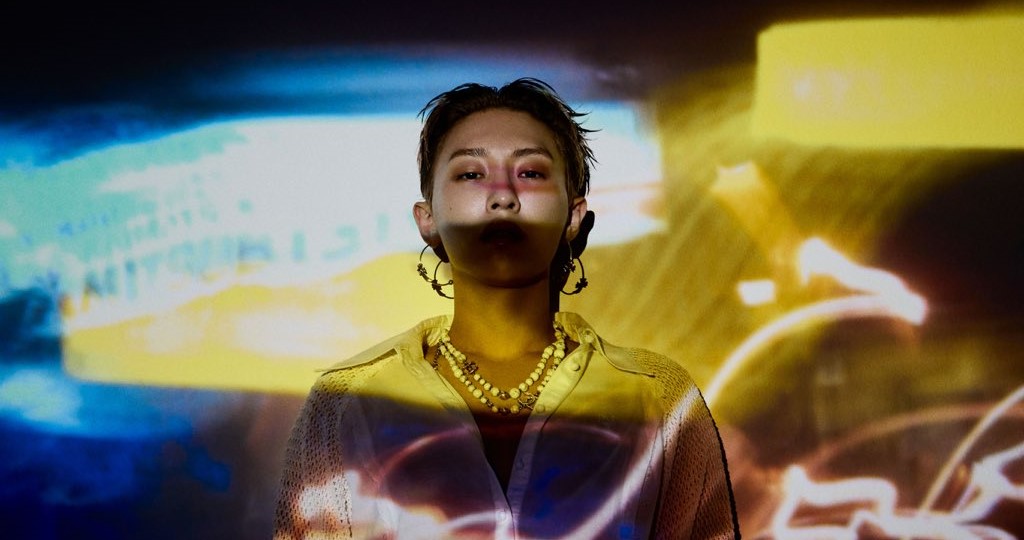 By Samruddhi Harve | @nctteaparty
On July 2nd, DPR LIVE charmed fans with a pre-release single "Yellow Cab" to his upcoming EP, IITE COOL. The title is one of his signature sayings and pays homage to his debut album titled Coming To You Live. 
Exploring beyond the realms of his previous releases, LIVE delivered a funky summer anthem encapsulated in an equally fun music video. "Yellow Cab" cemented LIVE's status as a multifaceted artist who is not afraid to venture out and experiment.
LIVE And Candy's Enigmatic Love Story
The beginning of the video is marked by DPR LIVE introducing Candy, his love interest played by Sim Sae Byeok, in a diner. The story dives into an unhealthy relationship, with one partner putting in more effort, oscillating back and forth in time. LIVE and Candy become separated during one of their travels. As LIVE sets out to find her, he ultimately meets his untimely demise in an accident. The mysterious ending makes the viewers ask questions that will likely be answered in the EP.
SWEET, SWEET JESUS! #YELLOWCAB pic.twitter.com/70VBDKPfTD

— dpr archive (@dprarchive) July 2, 2021
The Personification of DPR's Struggles
Along with an eerie love story, "Yellow Cab" is a vibrant song encasing a fierce and strong message. Kukka English on YouTube speculates that Candy is a metaphor for DPR's fans and the general public symbolizing the lack of recognition for DPR's high-quality production. It is reflected in the lines, "I've been proving since 2017/I've been stacking my authenticity/Can't understand Korea sometimes/Why is it that foreign fans are quicker to realize that?" This was later confirmed as DPR LIVE shared the video on Twitter. The song also dives into LIVE's hardships as an artist and DPR as a blueprint for an independent music collective. It is embodied in the lines "Representing the Korean music scene/Where's my pay?" Further, he then touches upon fans gatekeeping him, "Some kids hug my name/Wish I was the only one to know him/Chillout, I ain't your boyfriend."
Bright 80's Hues By +IAN
Produced entirely by the DPR crew —short for Dream Perfect Regime— the music video captivates the audience from the first scene. Characterized by the classic emblem "DPR VISUALS +IAN," the unique cinematic experience takes viewers back to the 80s with its nostalgic feel. Due to the location of the first scene, it is much reminiscent of LIVE's label mate, DPR IAN's song "No Blueberries" featuring LIVE and CL. A bicycle is often shown, most likely indicating it to be the mode of transport for LIVE and Candy's time travel. The time travel is denoted by the change in the color grading of frames. Kukka English also suggested that the bicycle is a representation of working hard and falling down the hill. 
? | @/hooooo.in: yellow cab art ? pic.twitter.com/MD3mgssKM2

— dpr archive (@dprarchive) July 3, 2021
the outfits in yellow cab mv ?#DPRLIVE #IITECOOL @_DPRLIVE pic.twitter.com/DwyZpCu5I2

— for dpr live ◡̈⃝ ? (@dabinpage) July 2, 2021
Like Idols, Like Fans
Much like the DPR members—who spoiled the song prior to its release—fans could hardly contain their excitement.
sweet Jesus ? yellow cab is an artistic masterpiece @_DPRLIVE @_DPRREM @DPRIAN_ @_DPRCREAM #YELLOWCAB #DPRLIVE_YELLOWCAB #DPRLIVE #DPR pic.twitter.com/YHICtOQKOm

— dpr live pics ? #YELLOWCAB (@dabinarchives) July 2, 2021
I'm blown away by #DPR's production level every time ? they put so much effort into the music and visuals and I love seeing what they come up with as a team ?? a summer bop for sure!!

— #DPRLIVE_YELLOWCAB?? (@DPRIANarchive) July 2, 2021
'Yellow Cab' mv was a mini cardio workout for Dabin with the running, biking and jumps ? pic.twitter.com/TpzFIKeUxr

— jay ? (@krnbhhours) July 2, 2021
Some knetz reaction and comments for #DPRLIVE_YELLOWCAB? pic.twitter.com/rr8lF2z5AF

— #DPRLIVE_YELLOWCAB?? (@DPRIANarchive) July 3, 2021
i just know this is christian yu's humor ? pic.twitter.com/aDqHlQPteB

— 잔아 (@SUPERGZB2) July 2, 2021
Fans of LIVE and the group explored their inner detective by analyzing the group's various videos and connecting the dots. 
dabin wearing mito's ring and using cream's car ??#DPRUNIVERSE #YELLOWCAB pic.twitter.com/dwZk3SmyTA

— 잔아 (@SUPERGZB2) July 2, 2021
ok my yellow cab theory based on the person that pointed out the mito/cream easter eggs is he travels to mito's universe in cream's car bc that's when the mv gets darker in both tone and saturation..that may have been obvious but i'm just thinking out loud ??

— lucy ? atlantis (@moongzng) July 2, 2021
this theory about dpr live's yellow cab makes me amaze and sad at the same time. pic.twitter.com/NxQXOsc3A1

— gly. ? (@dohsmenu) July 2, 2021
Through all of this, DPR shows no signs of slowing down. With their unique nature and dynamic content, the group continues to explore their full potential while expanding its cinematic universe. Look out for DPR LIVE's EP dropping in July! 
Enjoyed reading about DPR LIVE's Yellow Cab? To learn more about DPR, check out DPR Ian's inspirations behind MITO here!
Thumbnail courtesy of DPR.