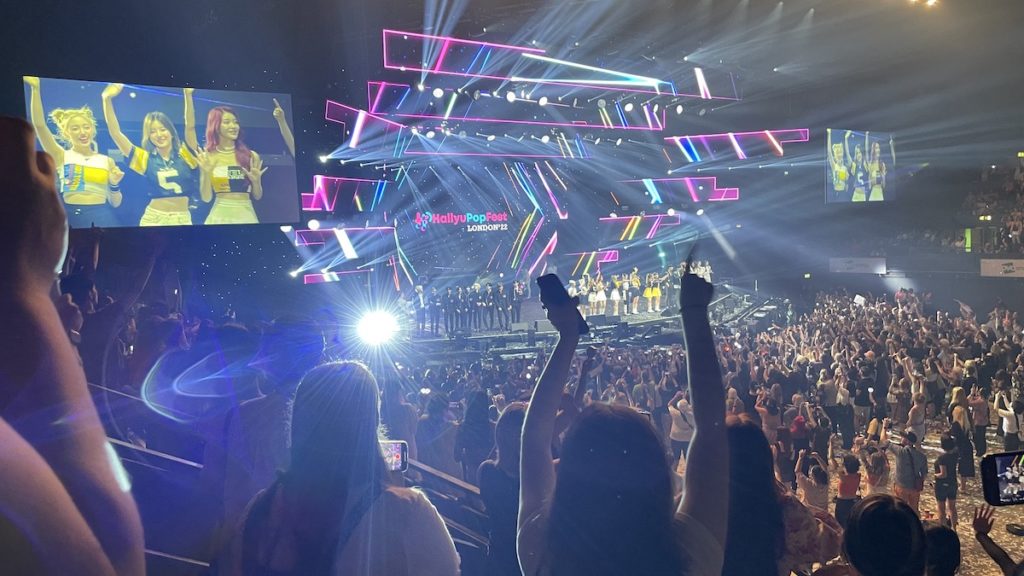 On July 9 and 10, HallyuPopFest took over London's OVO Arena Wembley. First launched in 2018 in Singapore, HallyuPopFest is a celebration of Korean pop culture and music. After another Singapore event in 2019, HallyuPopFest London marks the first time the event has gone global. For the two-day UK festival, events included the Hallyu Town marketplace selling Korean products, a Red Carpet for performers, Showcase performances, and the Evening Concert.
Various groups and soloists, including ASTRO, CIX, CRAVITY, EVERGLOW, Hwasa, Kep1er, ONEUS, P1Harmony, Sam Kim, SF9, Paul Kim, and Weeekly. The nights were brought to a close with unforgettable performances from EXO headliners Chen and Kai
Market Place
The Hallyu Town market place was a space for small to medium Korean businesses to showcase their wares, with products ranging from K-beauty and tech to artisan crafts and food. Hallyu Town was located outside the arena, allowing members of the public to take a look at the products and cuisine presented at the stalls. Combining K-pop, K-dramas, and Korean products, performers Weeekly and CIX visited the market to film content and play a game inspired by the international hit Korean drama Squid Game in front of the crowd of fans.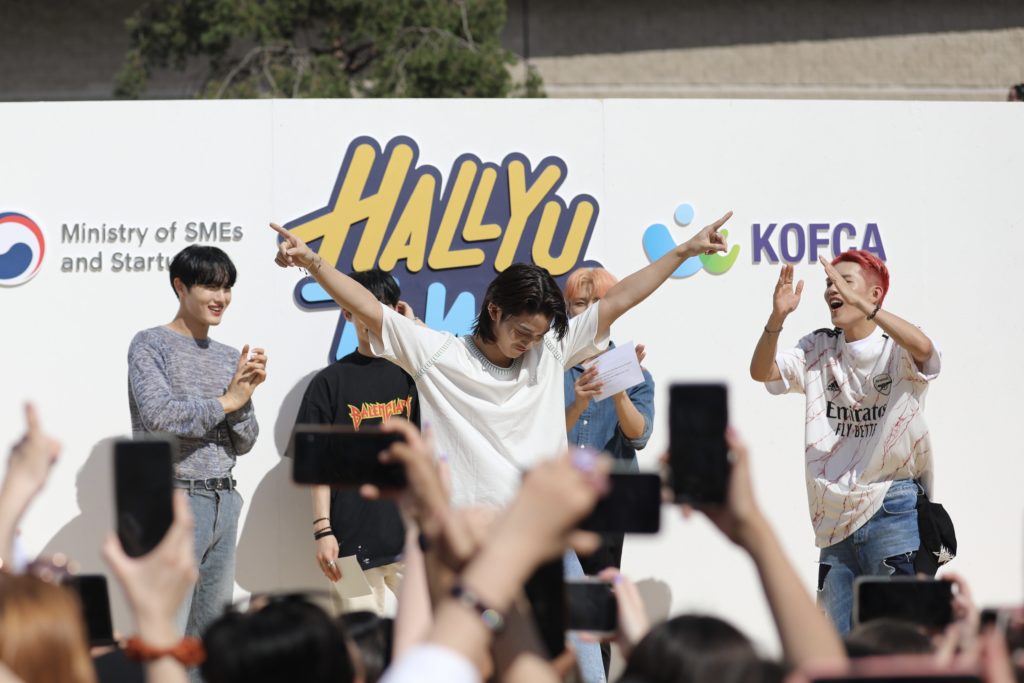 Red Carpet
Hosted by Nathan von Cho and Jiin Ryoo, the Red Carpet event was a moment for idols to show off their fashion to an audience of press photographers and VIP ticket holders. While only an exclusive audience experienced the Red Carpet event in person, Nathan proudly told the final day's crowd that Saturday's livestream had reached one million viewers from across the world.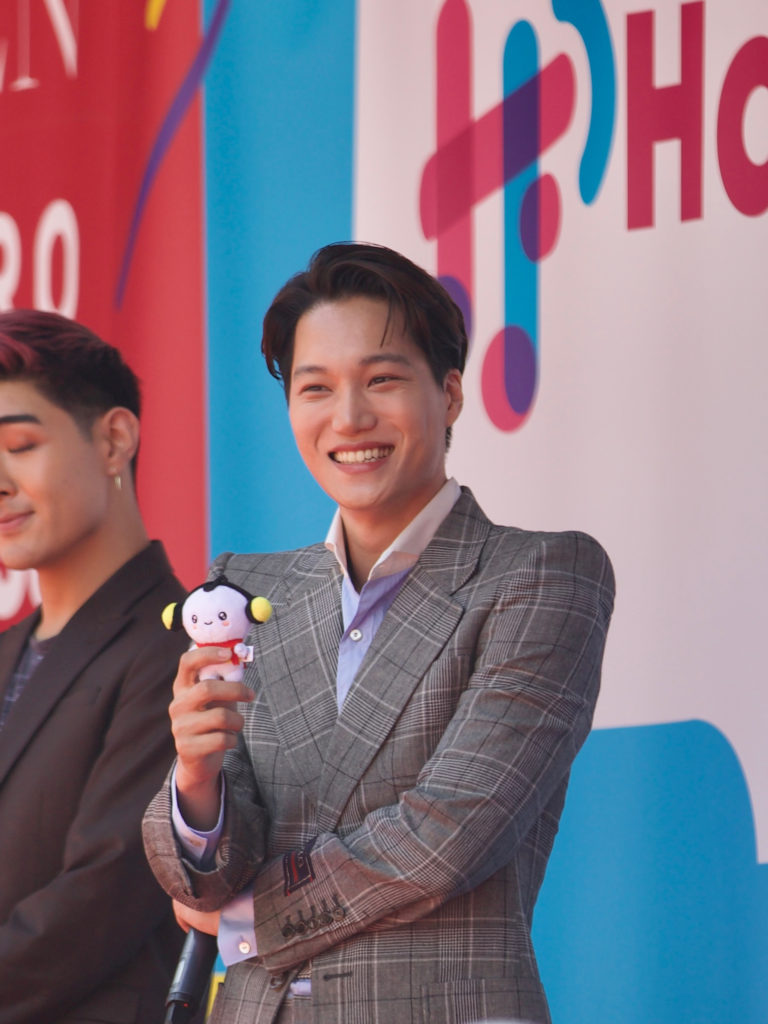 The hosts got the crowd hyped by asking who had traveled the farthest and which artists they were most excited to see. Before leaving the red carpet, every idol was gifted one of the event mascots, a HPF pal, by K-pop cover dancer Ashley.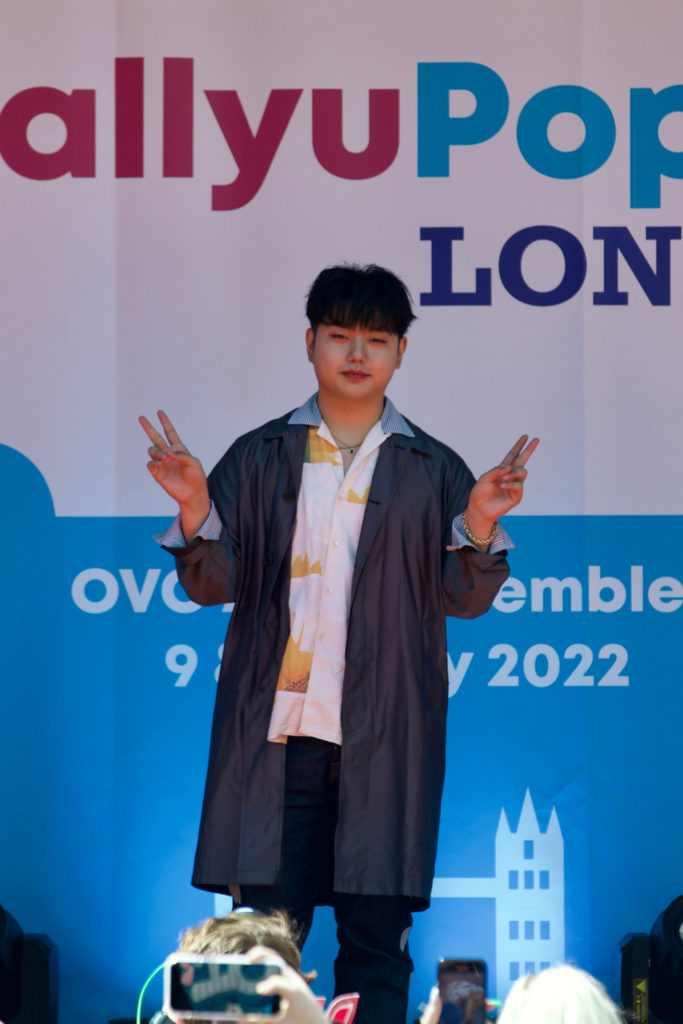 Singer-songwriter Sam Kim was the first to walk the carpet, where he described his outfit concept as sexy and sang two snippets of his OSTs.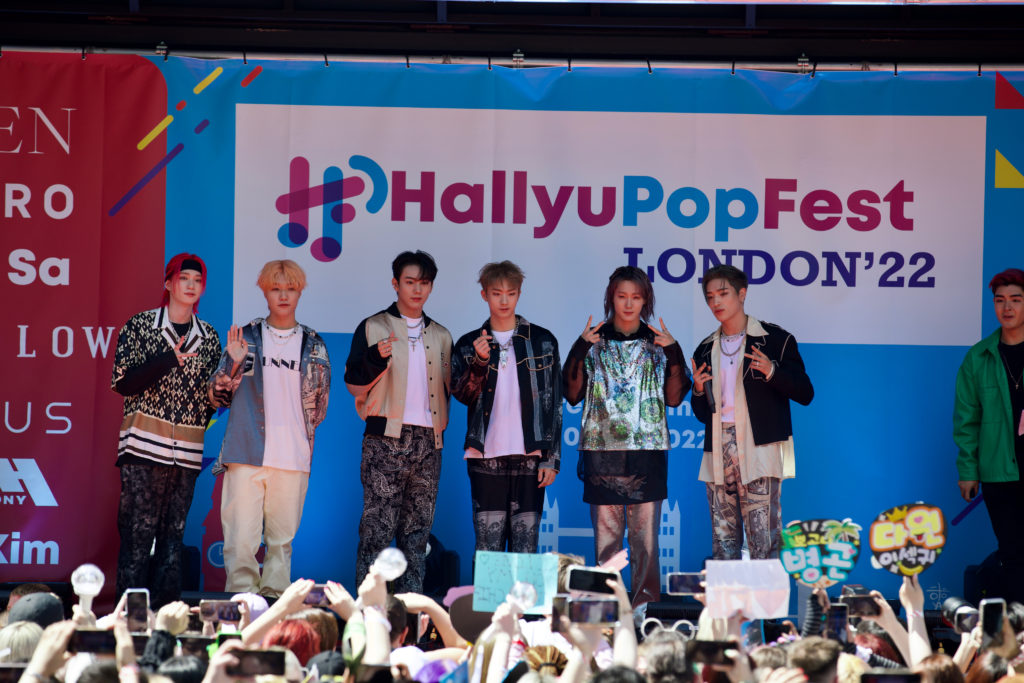 Next up were P1Harmony who demonstrated the point choreography from "Do It Like This" and the multinational members' language skills. They described their outfit concept as "chic."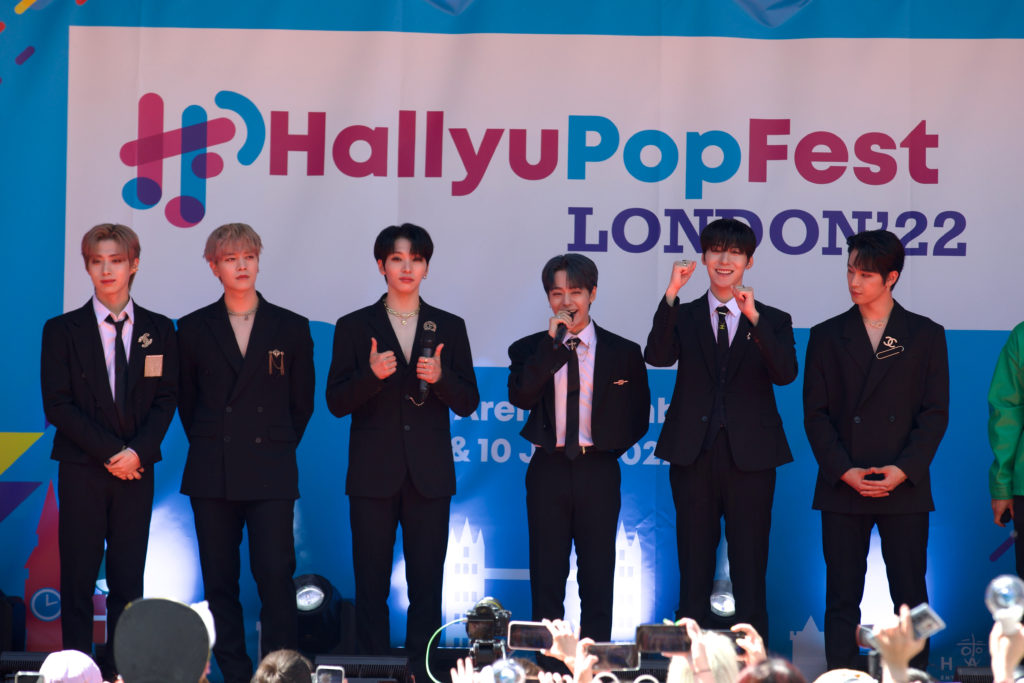 ONEUS arrived on the carpet in suits, which garnered a huge reaction from the crowd. Sharing their thoughts and feelings on their first European performance, they described their performance concept as colorful.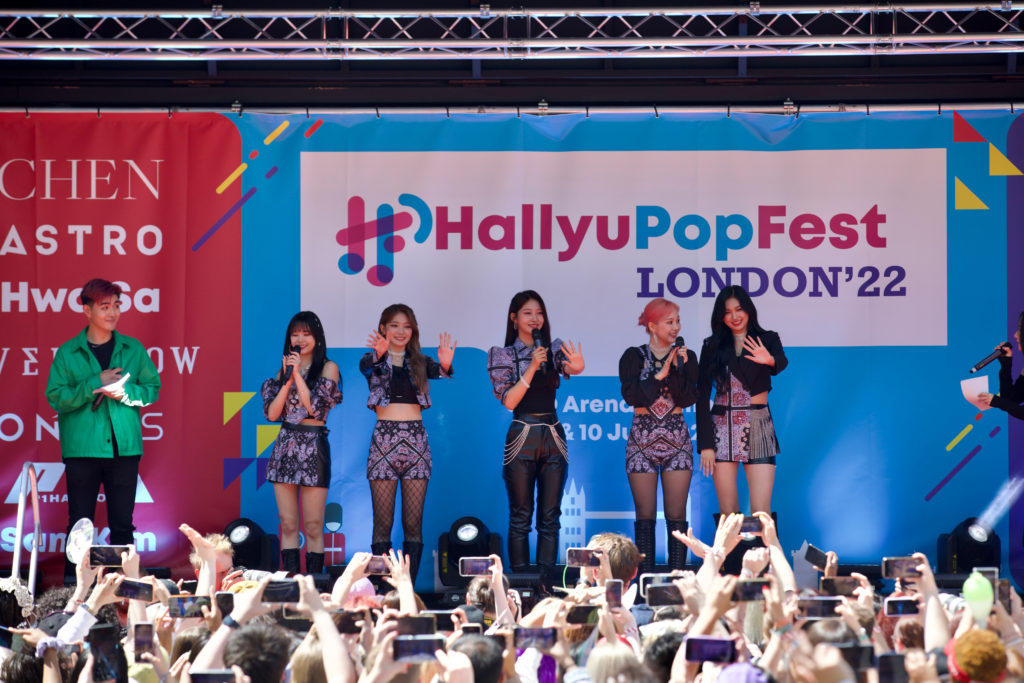 EVERGLOW were next, taking their time on the carpet to thoroughly greet all their fans. Once on stage, they were asked by the hosts to individually demonstrate an ending fairy pose. Each member dressed in matching but different black and silver patterned sets.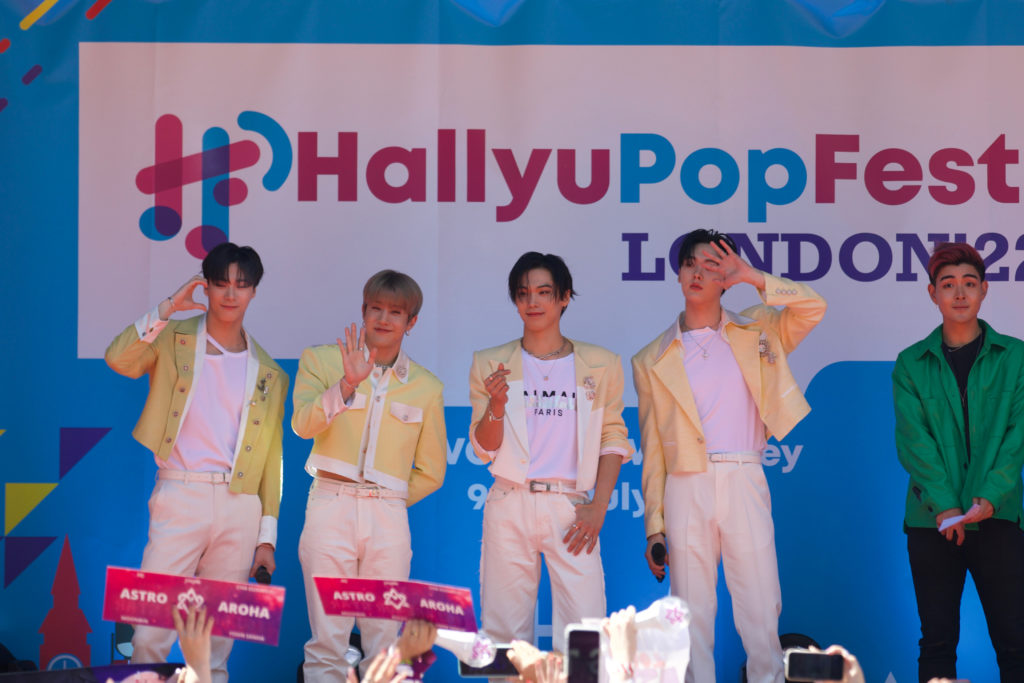 ASTRO arrived waving and giving hearts to their fans, asking the crowd to sing along and freestyle dance at the concert. The outfits adopted a lemon candy concept for their later "Candy Sugar Pop" performance.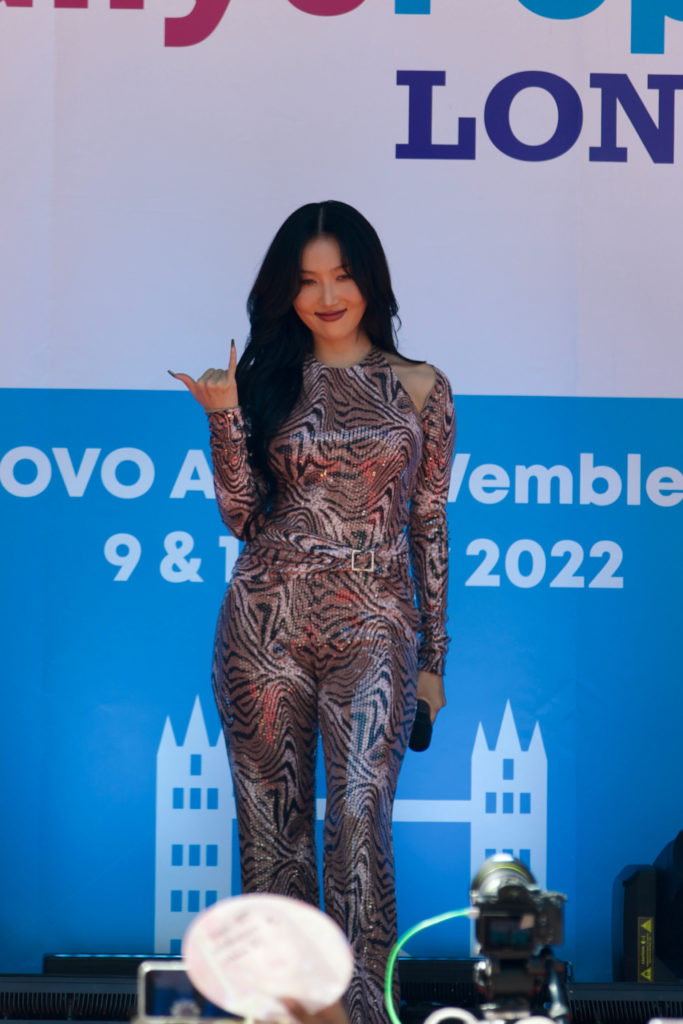 Arriving in a leopard outfit concept, MAMAMOO's Hwasa said she would eat fans up with her presence. The singer demonstrated her charismatic gaze as well as three different poses for fans to photograph.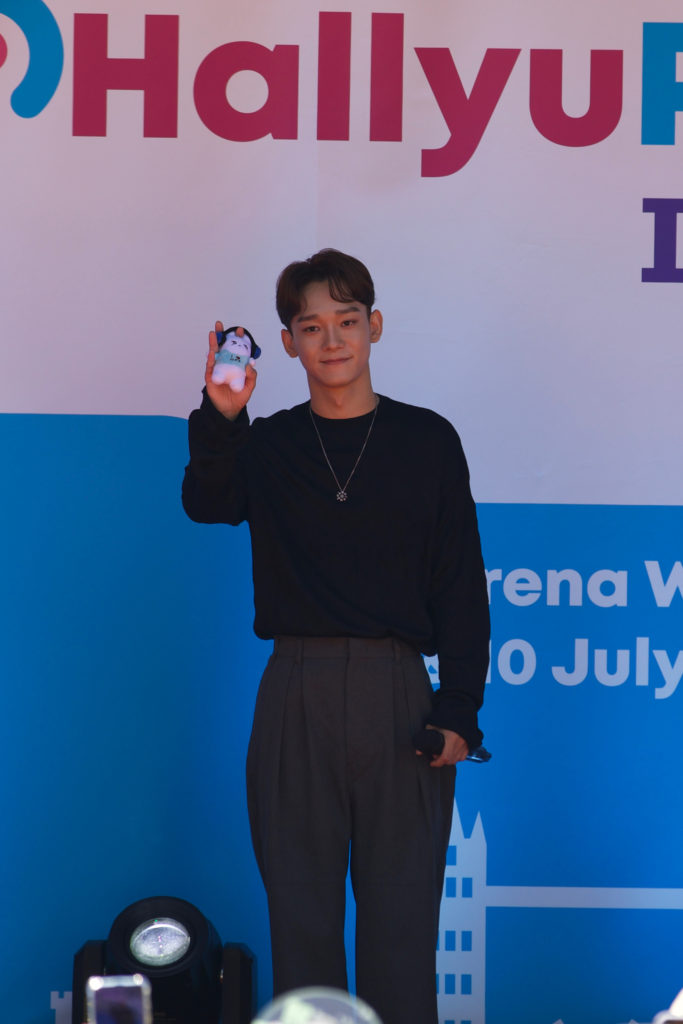 On top of this being headliner Chen's first performance in the UK, it was also his first since being discharged from the military in April this year. Dressed in a simple black sweater and gray slacks, he stated how nervous he was and told the livestream audience to enjoy the concert as if they were at the venue themselves.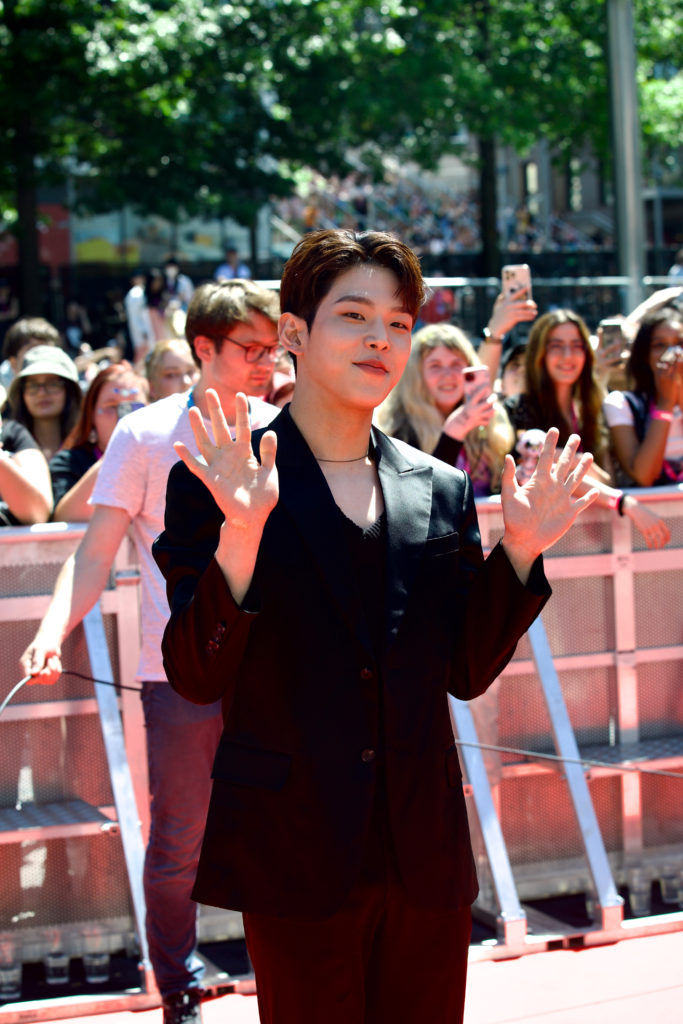 Dressed in a black suit and black boots, singer-songwriter and OST star Paul Kim greeted the cheering crowd with finger hearts and waves.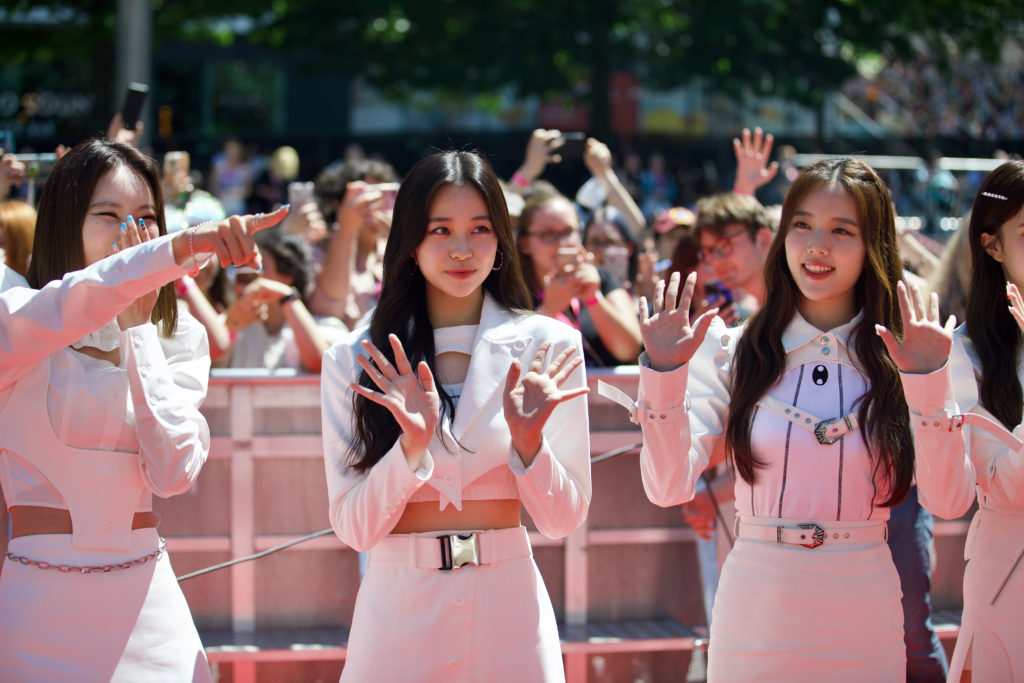 Weeekly members Soojin, Monday, Park Soeun, Jaehee, Jihan, and Zoa arrived in dazzling white outfits with mini skirts, boots, and a different shirt for each member.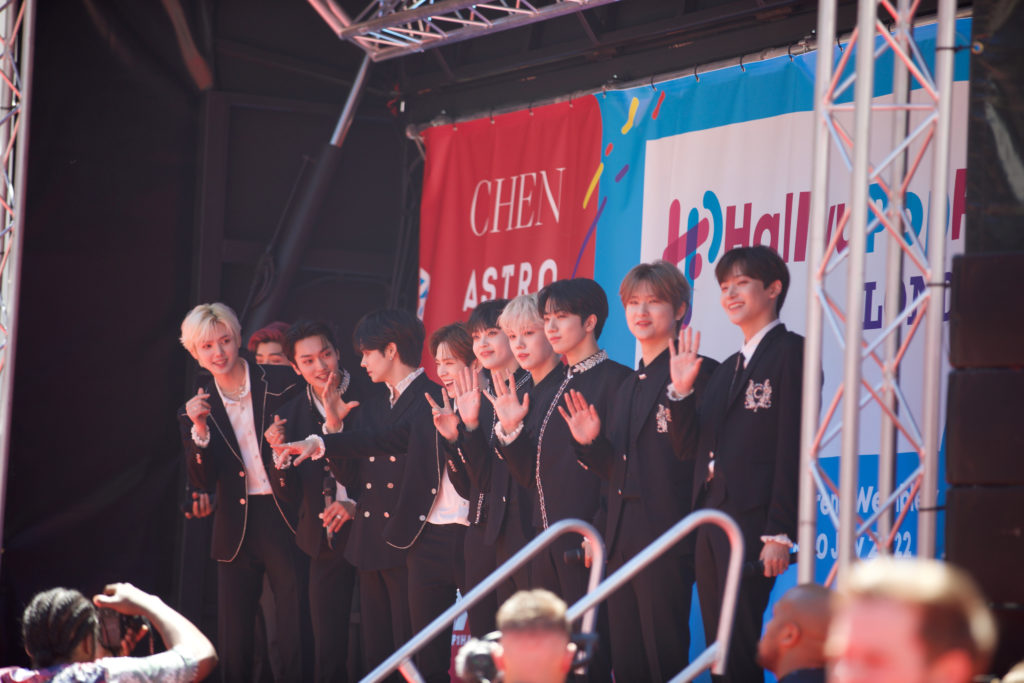 Describing their jewelry as the point of their outfits, boy band CRAVITY looked princely in black suits with silver details.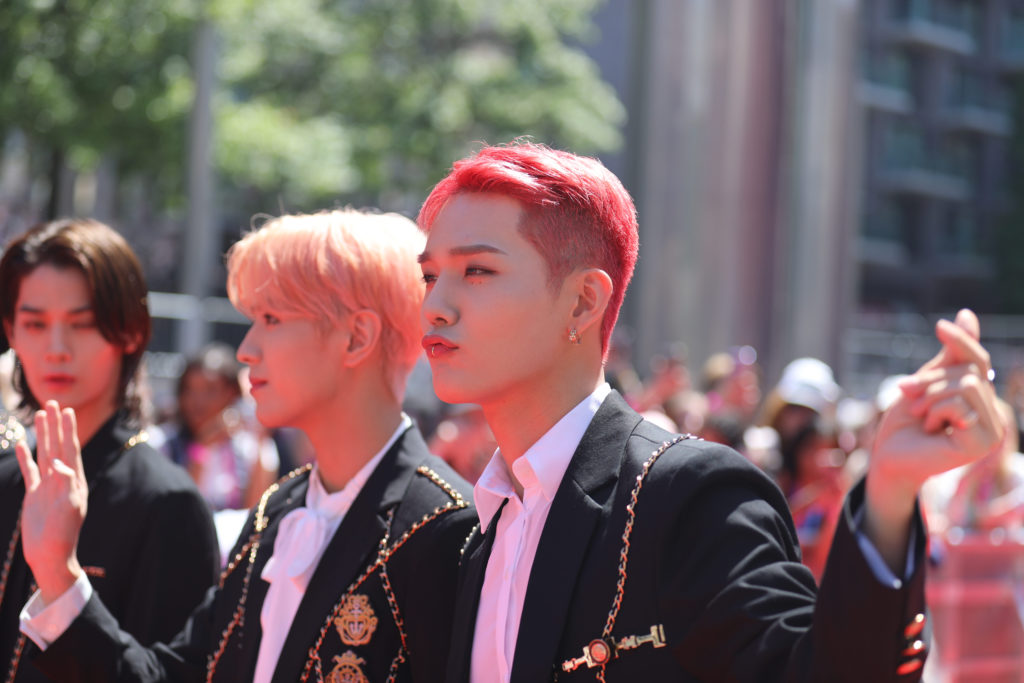 With a different twist to every member's suit, the gold chain details on CIX's suits provided an edge to the classic black suit and white shirt combination.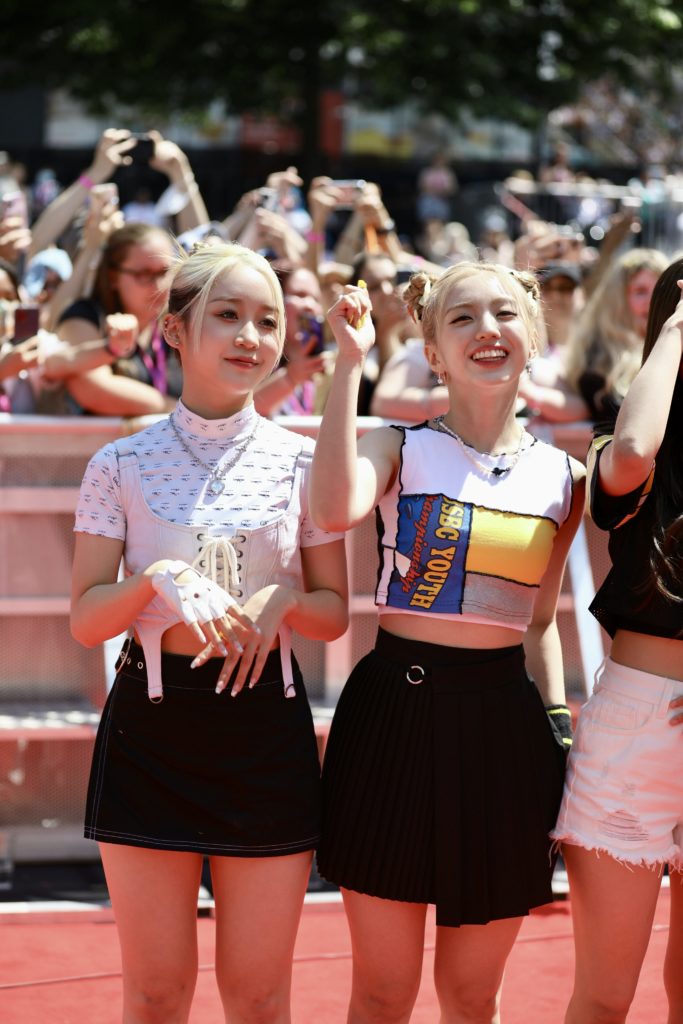 Girl group Kep1er brought a sporty summer feel to the red carpet with variations of black, white, and yellow skirts, shorts, and crop tops, all paired with white lace-up boots.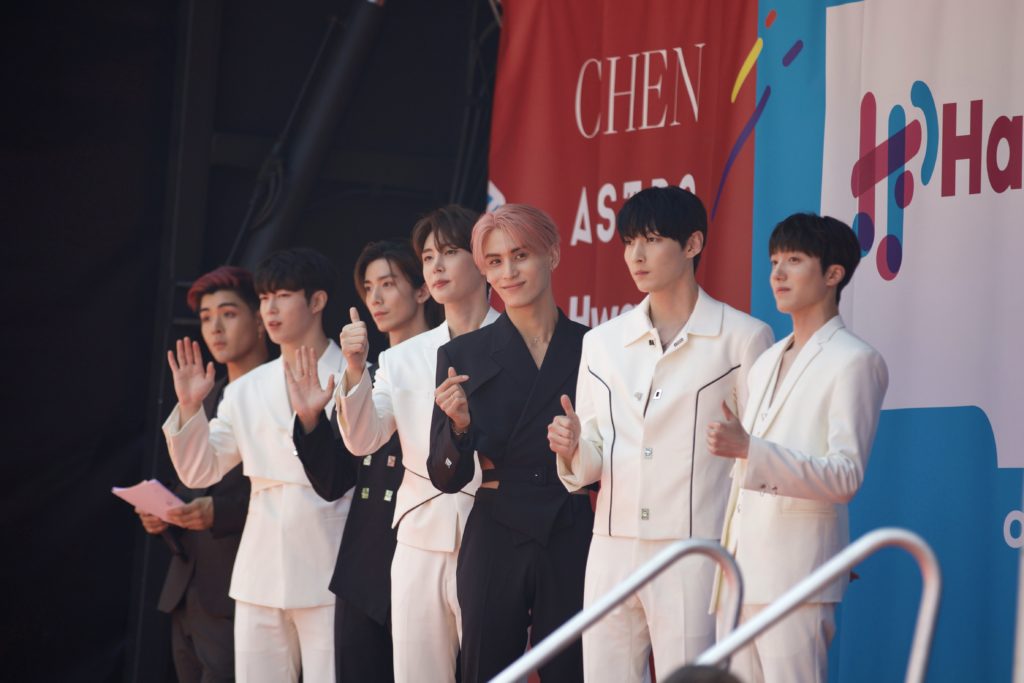 SF9 were "in charge of the physical" with five variations of monochrome black and white suits, including cut-outs, buckles, and straps across the waist.
A Showcase of Challenges
The showcase was an opportunity for performers to show off their skills and get the crowd energized through interactive activities. Both days had a combination of singer-songwriters and groups, with Sam Kim and P1Harmony on Saturday and Paul Kim and Weeekly on Sunday.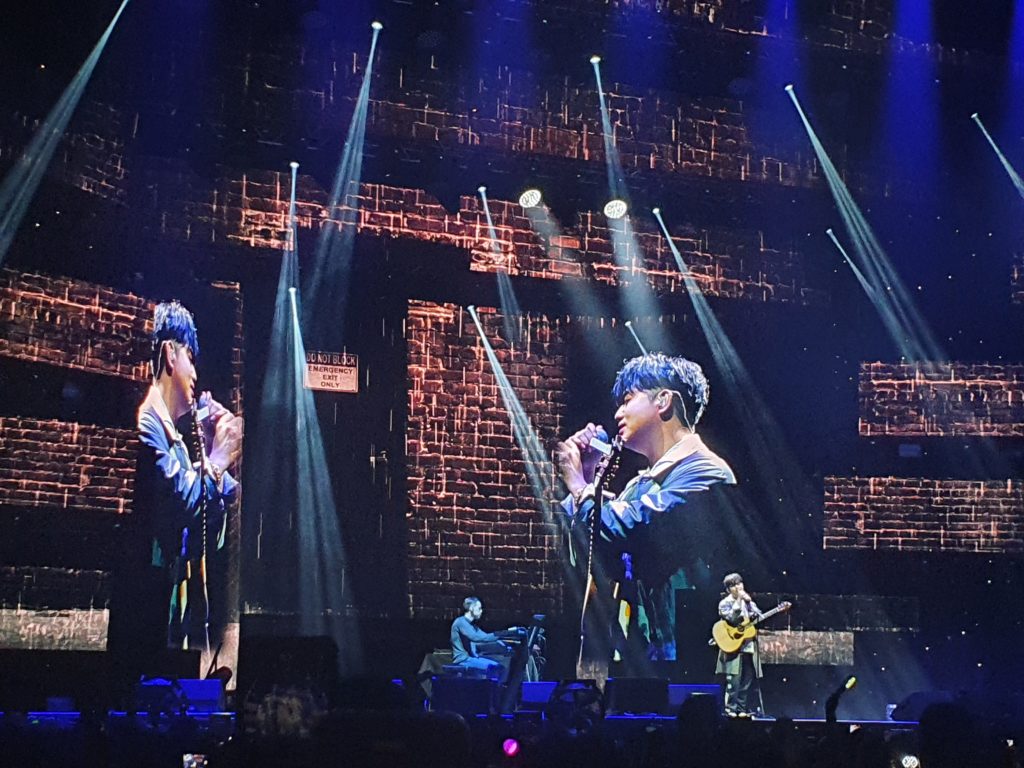 When Sam Kim arrived on stage, he went straight for his acoustic guitar and was accompanied throughout his performance by keyboardist Simon, a Swedish songwriter and producer. Sam spoke to the crowd between songs and took up the Logo Song Challenge. He was tasked with making a song up on the spot with the words "apples" and "London," and his creation was deemed a success. Fans used the HallyuPyo app for the next challenge, suggesting to Sam what type of song he should sing next; he sang "Regent's Park" by Bruno Major and his own song "Touch My Body."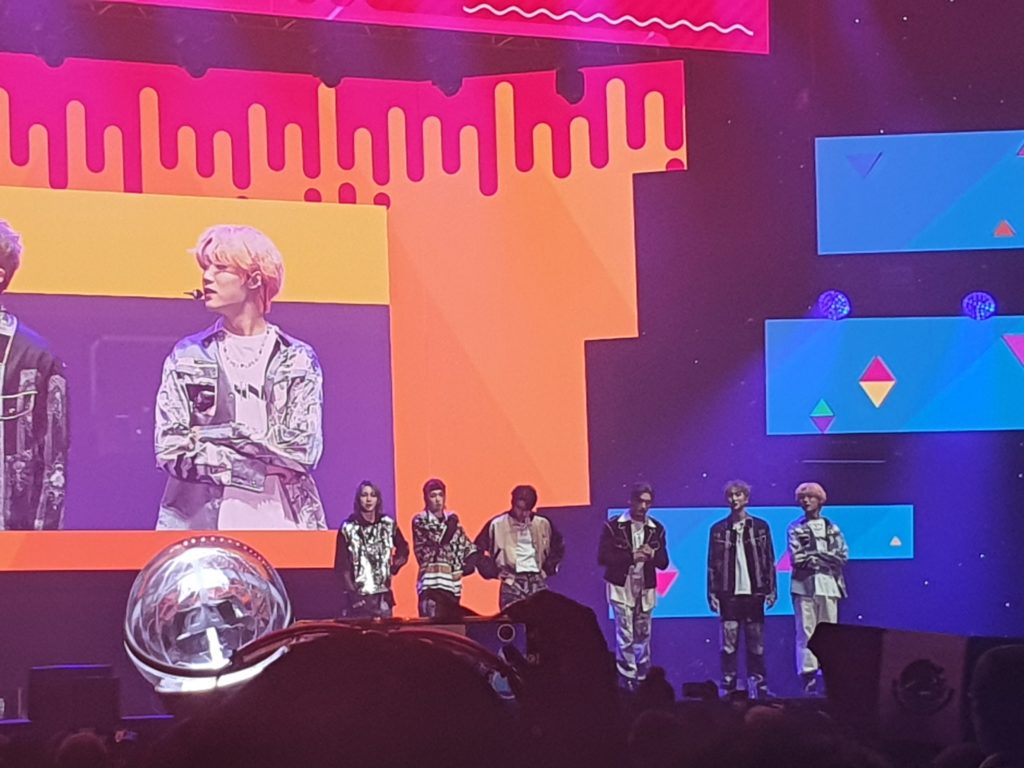 The other half of the showcase was filled by P1Harmony. Bursting on the stage with "Siren," the sextet began their set with lasers and fireworks. They were assigned the "Clap Challenge," where fans had to copy all the claps they did. Next, the group had a random cover dance challenge where staff brought out penalty props for them to wear and strike a cool pose. Songs included "Alcohol Free" by TWICE, "Mmmh" by Kai, and "Love Dive" by IVE. Sunday performers Weeekly also showed off their dance skills, covering songs like BLACKPINK's "How You Like That," TWICE's "Yes or Yes" and EXO's "Ko Ko Bop" in the Random Song Bingo challenge.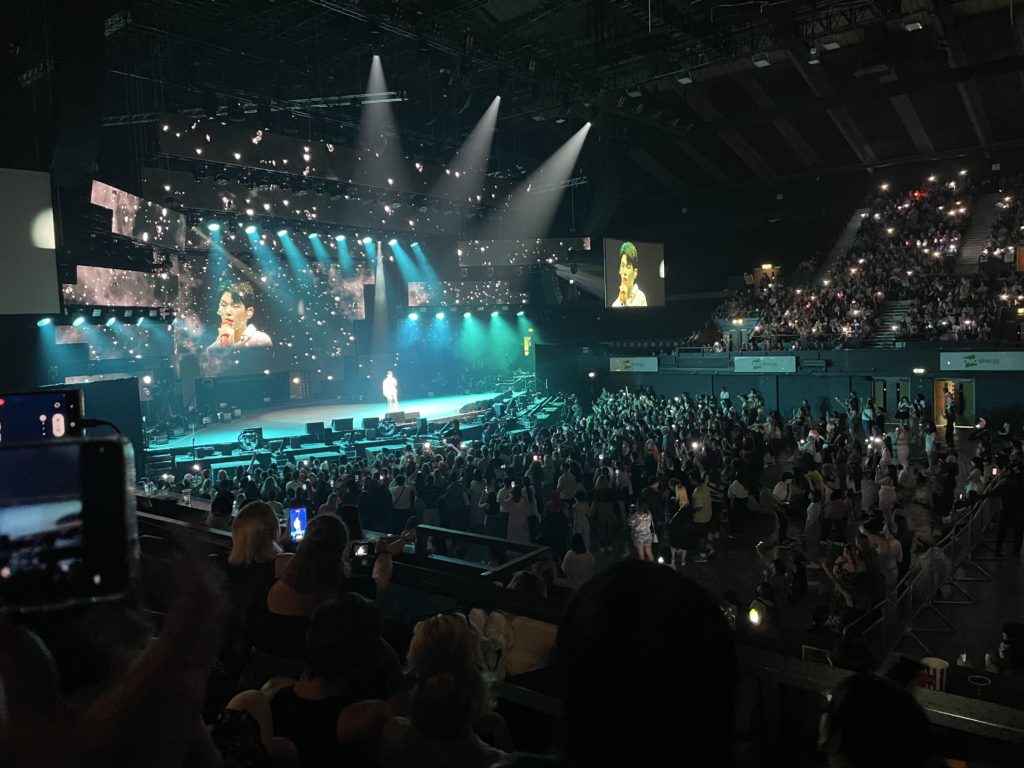 Performing in London for the first time, Paul Kim charmed the crowd with his sweet vocals and words. "I'm really surprised you know my songs," he confided. "I feel so chuffed. You are all peng (attractive, lush)," he said, using slang he had learned during his time in London. Beyond performing his most popular songs and OSTs, he showed off his vocals with singing challenges, serenading members of the crowd.
The Main Event
With the crowd warmed up by the showcase, the full line-up took to the stage for the main part of the concert. From fireworks to falsetto, the audience were blown away by the performers' stage presence, vocals, and rap.
Saturday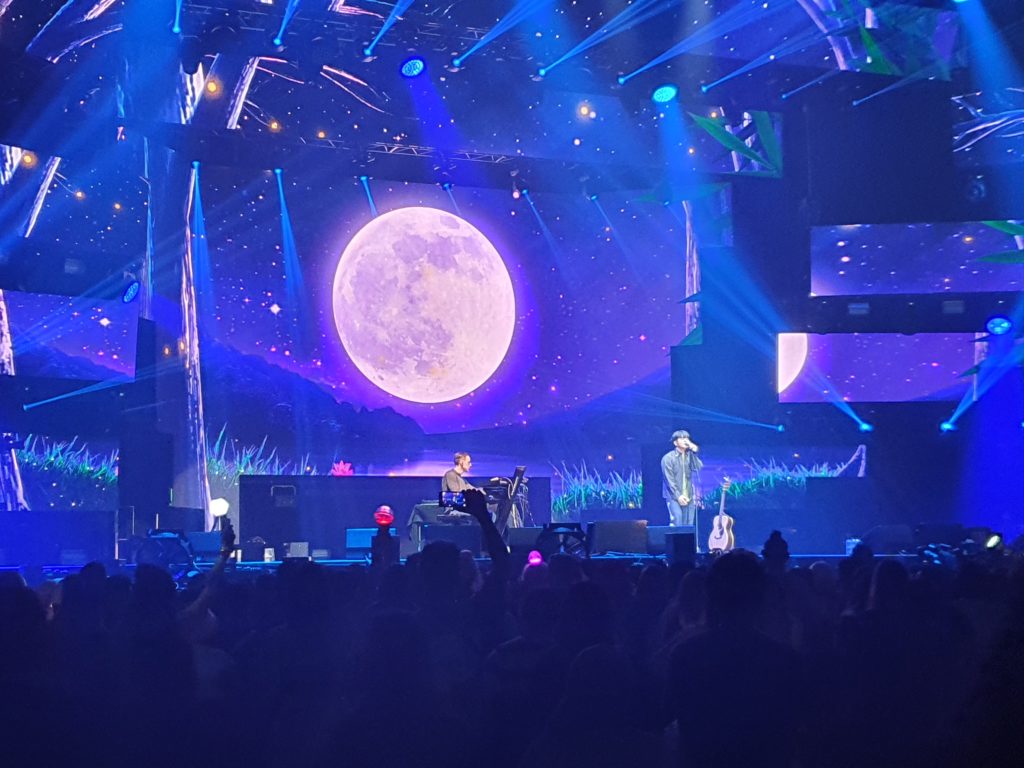 Sam Kim opened the show with "Make Up," joking about how long it had been since he last faced a crowd. He spoke about London and iconic British groups The Beatles and Queen, paying tribute to Freddie Mercury's iconic moment at Wembley Live Aid 1985. Sam finished off with "Love Me Like That," telling the audience he originally had found the song too personal, but grew to love it due to how much fans loved it.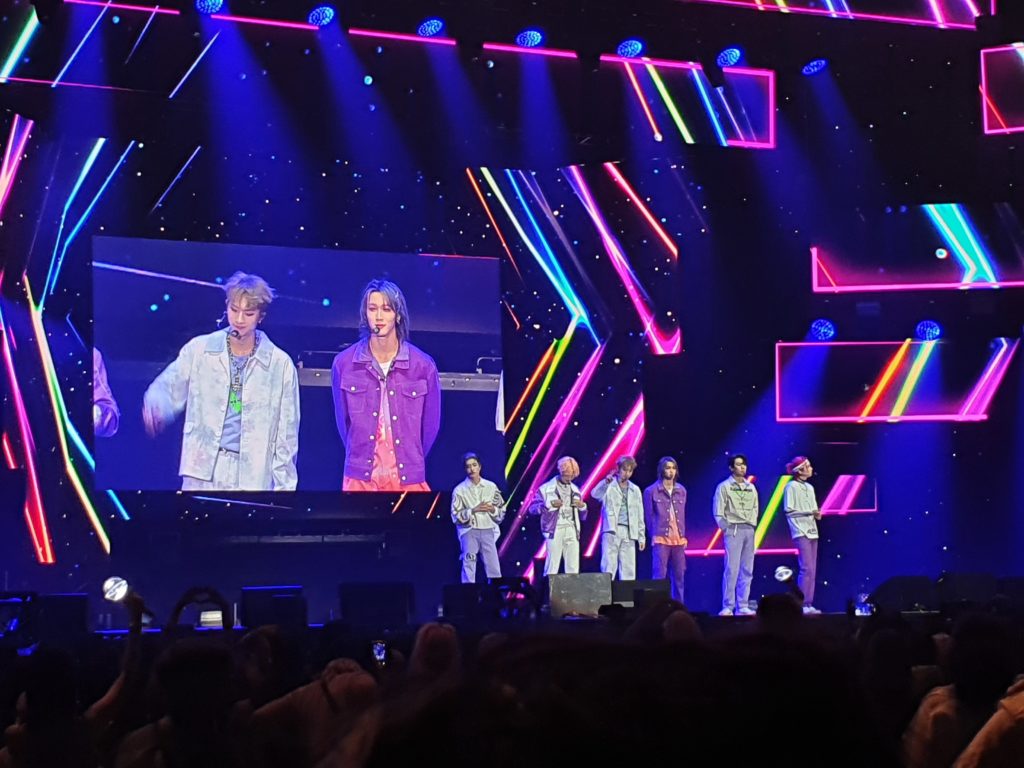 After an outfit change, P1Harmony returned to the stage with "Scared." The group introduced themselves one by one and spoke about wanting to visit Big Ben, Notting Hill, the London Eye, and museums. They finished off with "Reset" and "Do It Like This," promising to return with new music in their upcoming album Harmony: Zero In on July 20.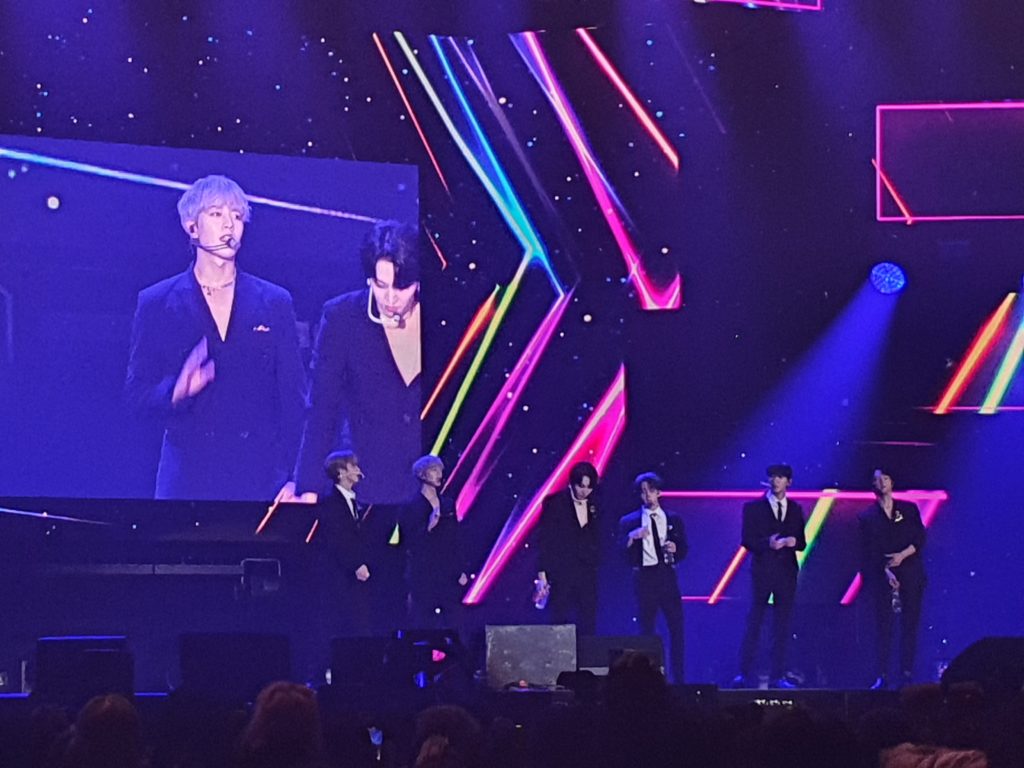 For their first Europe concert, ONEUS arrived on stage in suits and launched straight into "Intro: Who Got The Joker?" and "Bring It On." They then performed "Luna," which the group described as highlighting the beauty of Korea, and "Lit" using beautiful fan props. Before finishing their set, maknae Xion spoke about how much they had prepared for the show, and that they would continue to try their best for the future. Their last tracks were "Life is Beautiful," "Black Mirror," and "No diggity."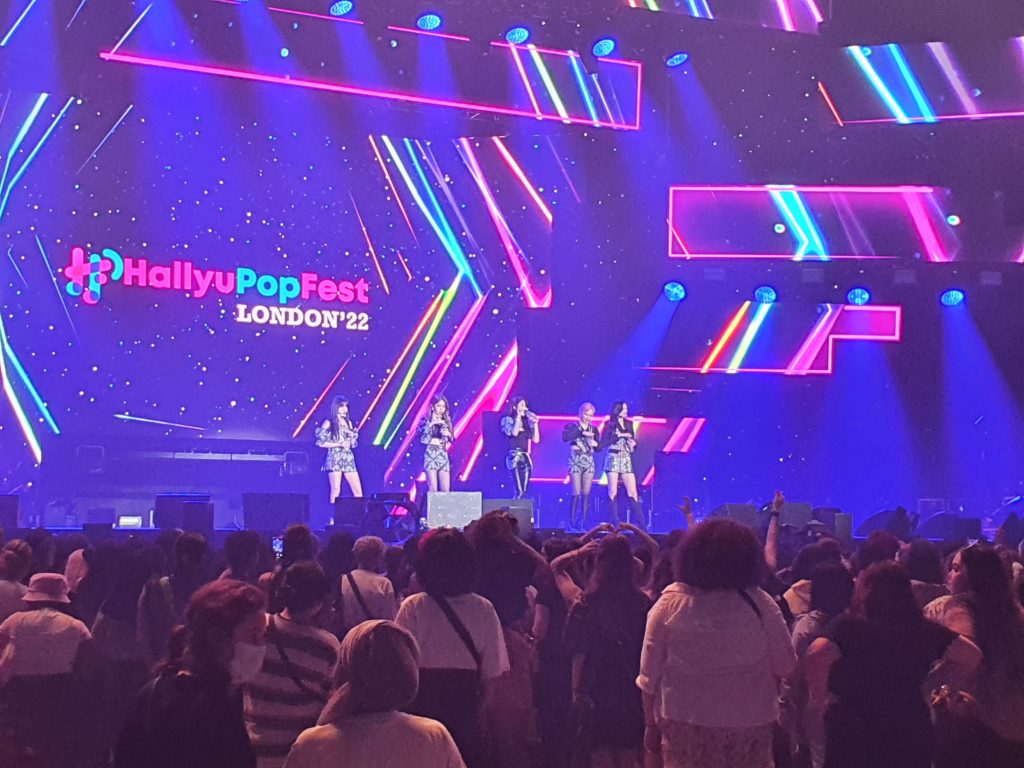 Starting off with "Adios," EVERGLOW caused noticeable increase in energy from the audience when they appeared on stage. The members introduced themselves before performing their debut song "Bon Bon Chocolat." Asking the crowd to wave their phone flashlights along to "Dun Dun," the members admitted that they "want time to glow together with you all."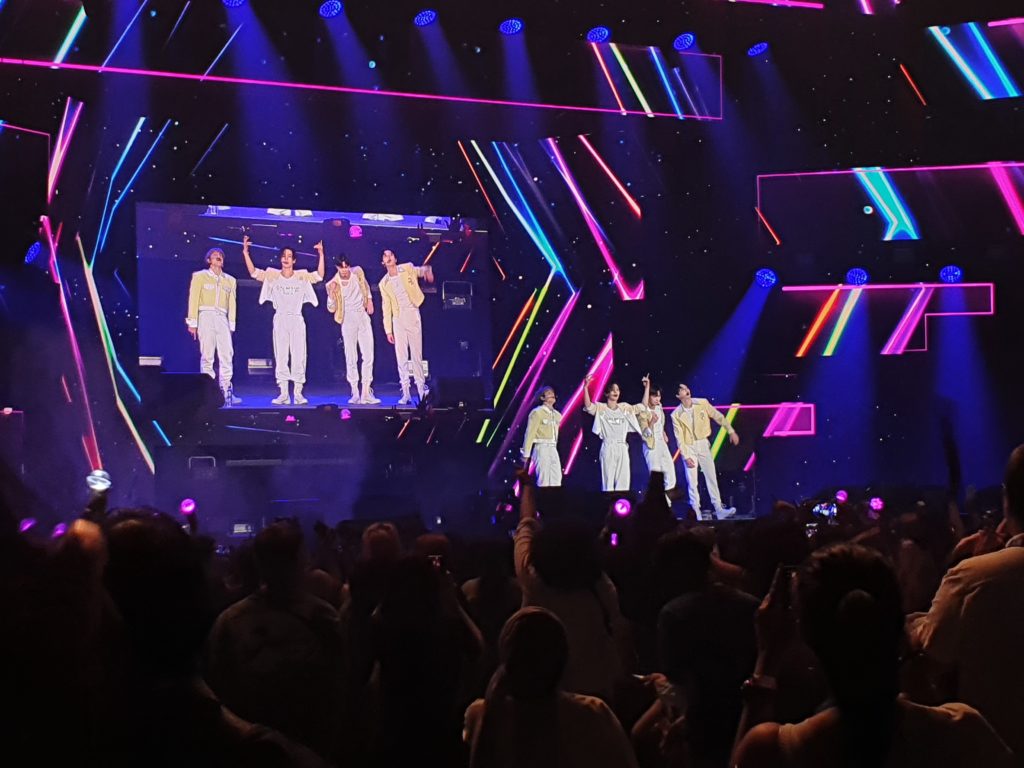 Six member ASTRO performed as a quartet, due to member Eunwoo having pre-scheduled acting arrangements and MJ's military enlistment. Starting off in units, Jinjin and Rocky performed "Lockdown," a song about how much they had missed their fans during the pandemic. Next up was "Just Breath," with new adlibs like "I love you London." Moonbin and Sanha then took over with "Bad Idea" before playing a game where Moonbin asked Sanha questions to guess who he was thinking of. The answer was of course Aroha, their fans. They then performed "Who" before being reunited with Jinjin and Rocky, and all four finished off with a performance of "Candy Sugar Pop."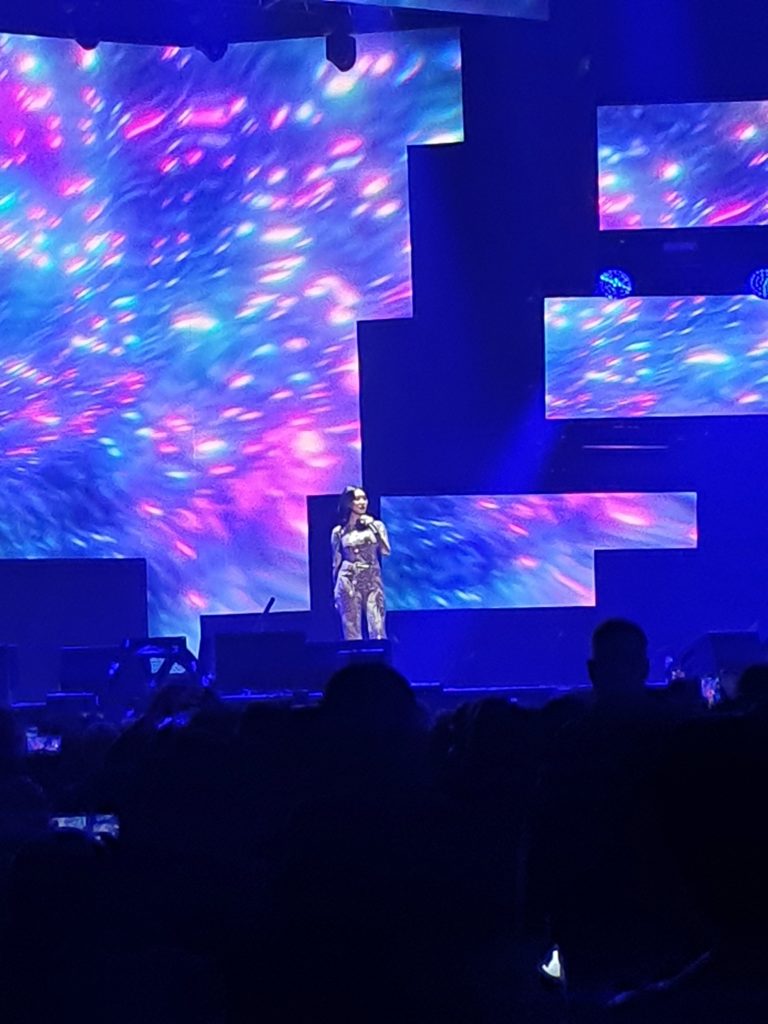 Soloist Hwasa of MAMAMOO started off her set with popular songs "Twit" and "I'm a B," accompanied on stage by her eight back-up dancers. Performing her favorite song, "Bless U," she confessed that the song was about someone whom you love and are grateful for. Whilst singing, she stepped down to a lower platform to get closer to the crowd. Next, Hwasa tested the crowd on how much they loved her, saying she would only sing the last song if they could get all the answers correct to her quiz. As the fans correctly answered, she finished off with "Intro: Nobody else" and "Maria."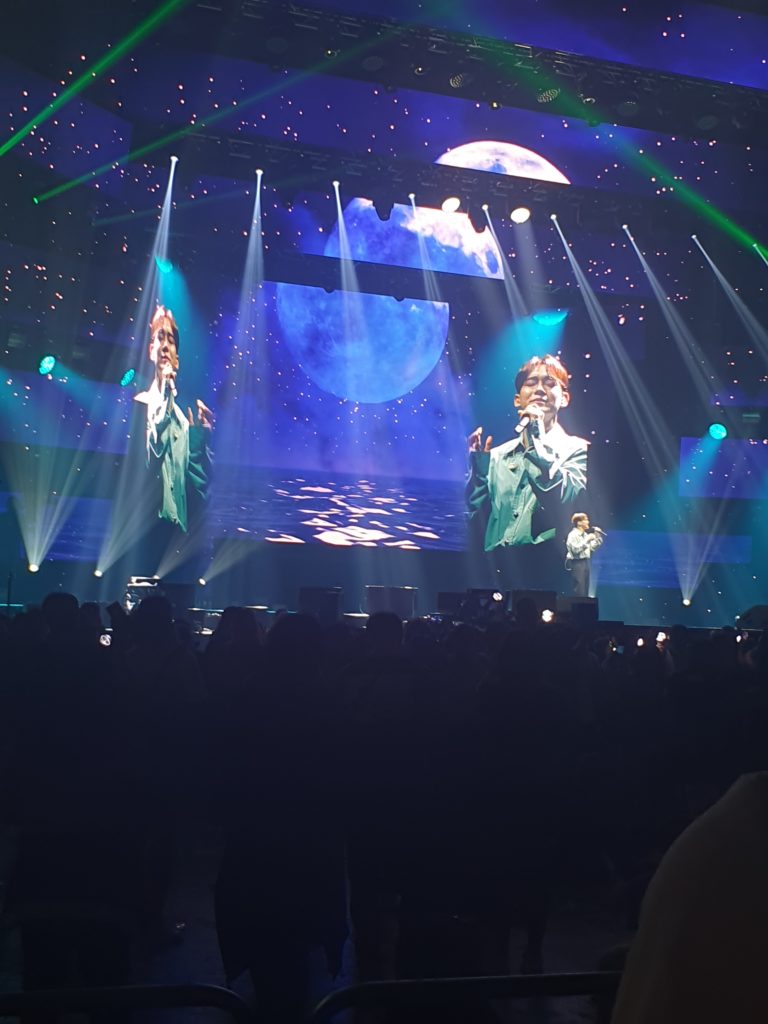 Before Chen came on stage, a special final act video was played for his introduction. To start off his set, he sang "Shall We?" and "My Dear" before addressing the audience. "This is my first time in London, and I'm so grateful that you're here with me, thank you," the singer started. "I was very touched by all the fans at the airport to greet me. I think the first step is very important, so greeting you all for the first time is very important." With a promise to be back soon, he finished off with popular K-drama OSTs "Best Luck" and "Everytime."
Sunday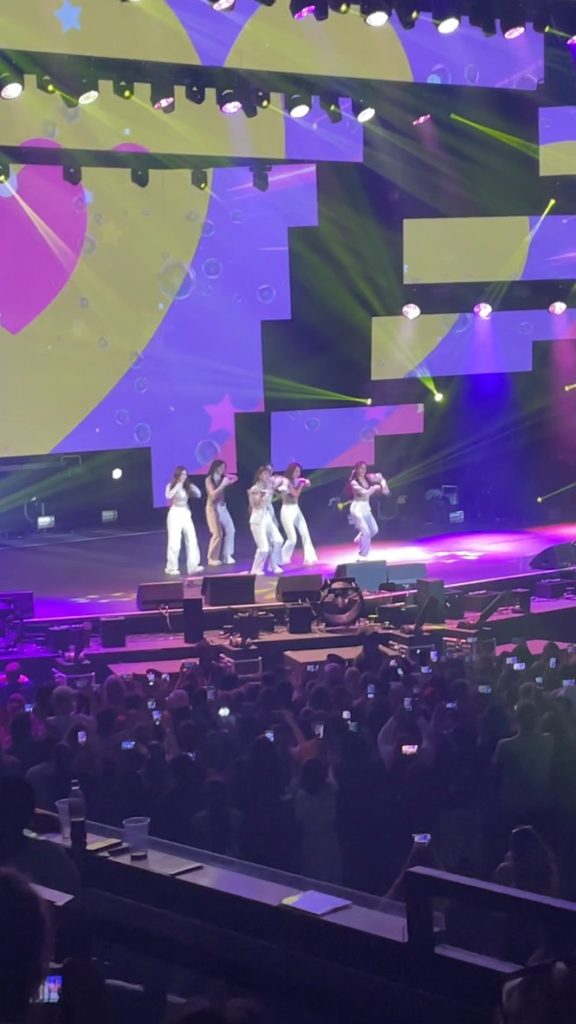 Paul Kim opened the evening concert with a song he described as "the perfect way to flirt with somebody," "Coffee With Me." He was followed by Weeekly, who returned with high energy, performing tracks such as "Ven Para" and their hit song "After School."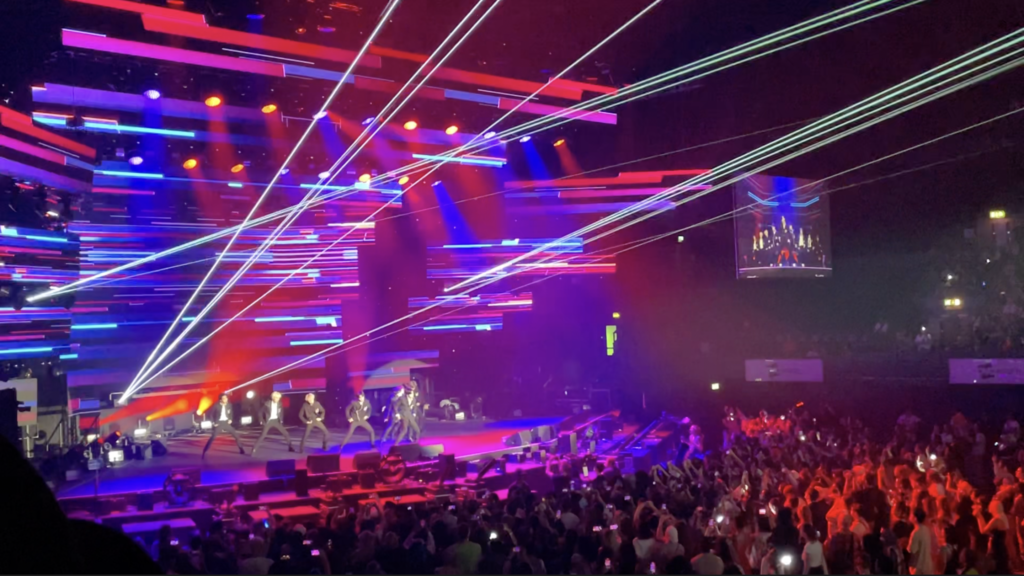 CRAVITY opened their set with an explosive dance performance, complete with fire and smoke effects, before breaking into "Adrenaline." Having debuted in 2020, they expressed their excitement at finally being able to meet UK LUVITY. They told the audience: "We debuted around Covid, so couldn't come to meet you. We are so happy to be here." The crowd's voices blended with theirs, as they asked fans to sing along to "Veni Vidi Vici."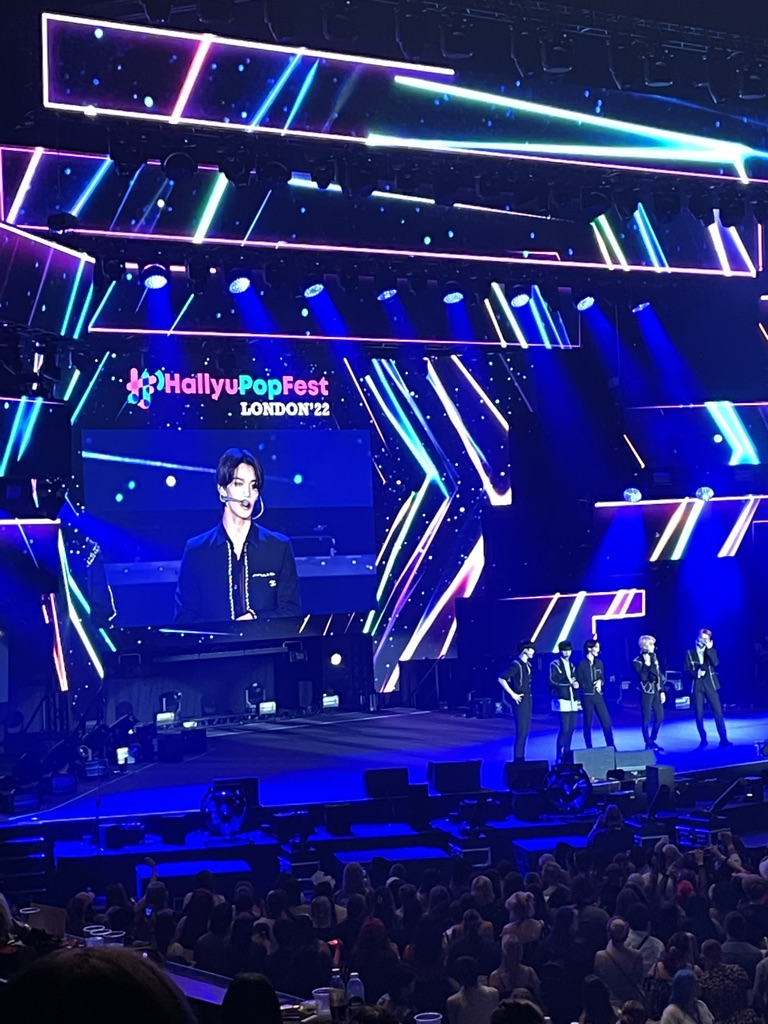 Performing popular tracks such as "Movie Star," "Jungle," and "Bad Dream," CIX hoped to make an impression in the crowd's memory. Referring to the lyrics "Cinema," they told the crowd: "Like the movies in "Cinema," we hope these moments stay with you forever."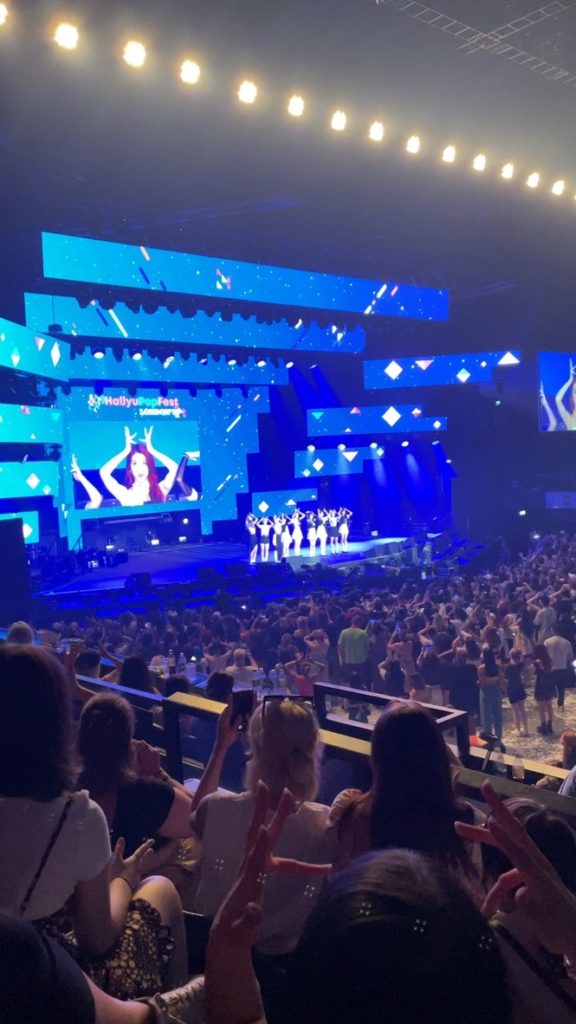 With their official debut earlier this year, the weekend marked Kep1er's first overseas performance. They addressed the crowd to celebrate this moment: "It's the first time ever meeting international fans, so we're super excited." Their excitement was matched with the audience's cheers, as they performed upbeat dance numbers like "WA DA DA," "LE VOYA9E," and "Up!" Previously showcased on the Queendom reality competition, they demonstrated the crown point move from "See the Light" before launching into performance.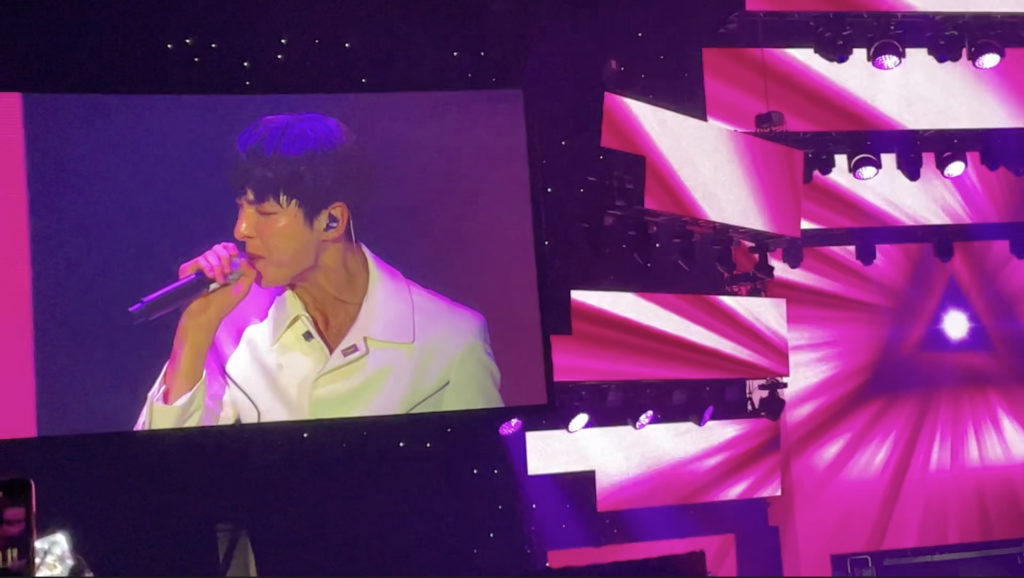 Returning to the UK for the first time in 3 years, SF9 brought their signature sensual style to the arena with their smooth "Good Guy" choreography. After performing sexy numbers, they delivered a romantic gift to fans with "Stop It Now." They also teased their upcoming world tour and new album, THE WAVE OF9. ""I'm telling you in advance, the song we're coming out with next week is going to be amazing!"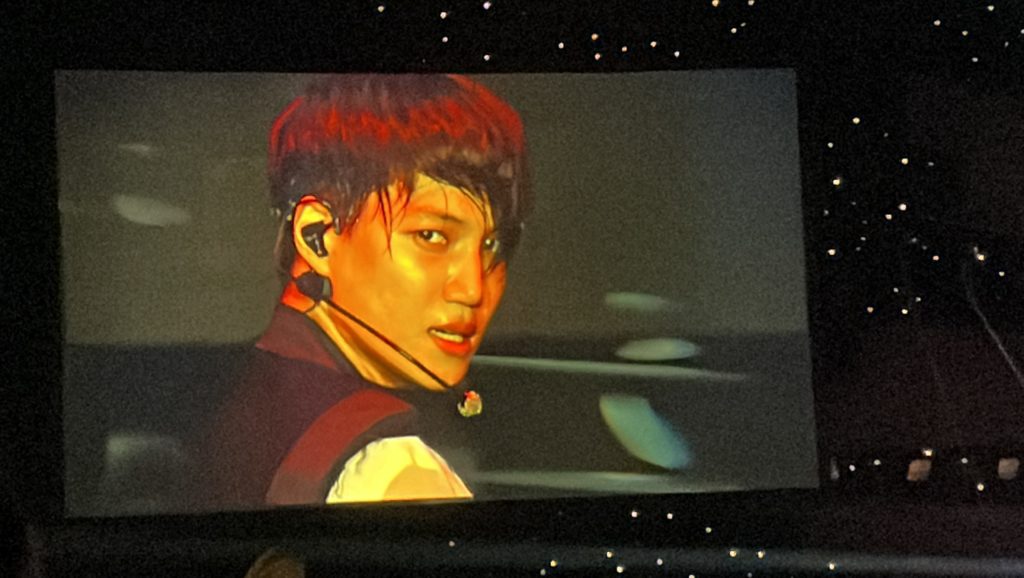 Anticipation built for EXO member and dance sensation, Kai, as a highlight reel showed moments from his solo career. The crowd went wild as he was joined by his crew dancers for "Peaches," traveling across the stage with fluid and sharp moves and slight smirk. The audience lit up with EXO light sticks, waving along to his RnB and Hip-hop infused tracks like "Vanilla" and "Reason." Closing the festival with his debut song "Mmmh," Kai set the stage on fire with the sensual lyrics and choreography. 
Both the memorable nights closed with a burst of confetti in the air as performers took to the stage to thank the fans and take their final bows.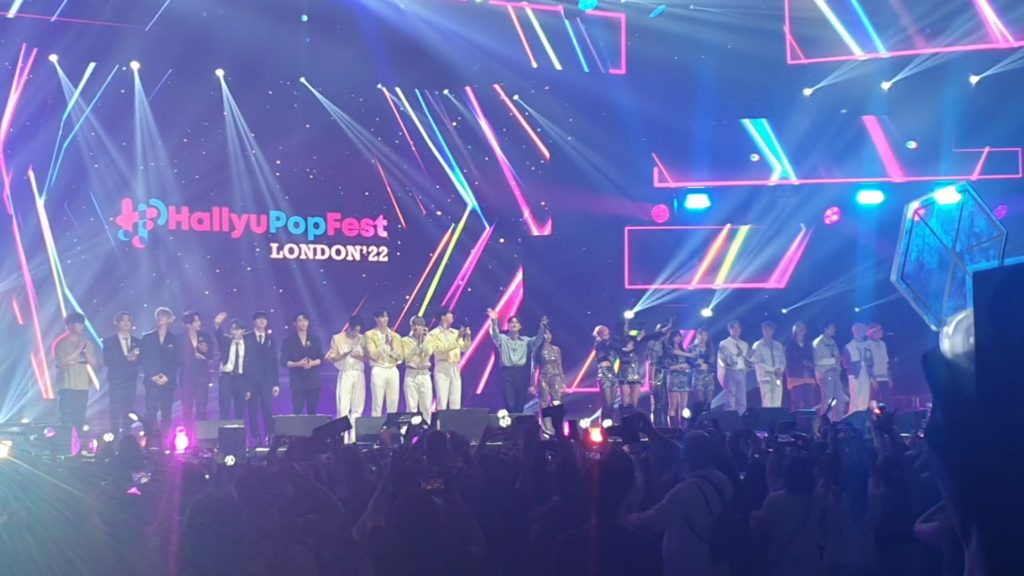 Australian K-pop fans can look forward to HallyuPopFest's next global stop, with an upcoming festival in Sydney this August.
Want more concert reviews? Check out EnVi's recap of Dreamcatcher in New York City here!