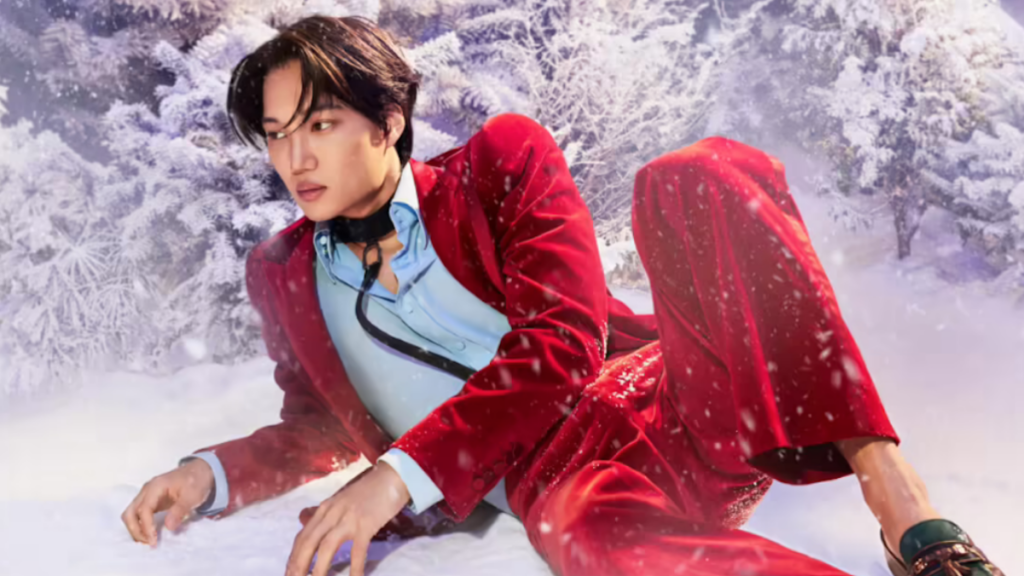 With the holiday season in full force, the luxury fashion brand Gucci is setting the mood with a new campaign. Starring Global Ambassador and muse, KAI, the Italian house offers a timely "Dreamy Escape" to a winter wonderland.
A Partnership Fitting Of The Season
Much has been said about the Korean superstar, KAI, and his fashion prowess. Considered the "perfect embodiment of Korean style," the member of EXO and SuperM is mostly recognized for his close ties to Gucci. In 2021, the alliance between the fashion brand and Kai reached new heights with a capsule collection inspired by the multi-hyphenate.
More recently, the long-standing partnership picked up with a special campaign unveiled on November 30. Set in a snow-capped forest, KAI transports us to a fairy tale to present Gucci Aria. Decked out in outfits from Alessandro Michele's acclaimed collection, the idol celebrates the joy of the season. The campaign was photographed by Jang Dukhwa and features key looks from Gucci's runway. Items like check wool jackets or sweaters with detachable sleeves pair up with brand staples like monogrammed bags, sneakers, and other accessories. Among the looks, a red velvet ensemble stands out as a nod to the iconic Gucci suit sported by Gwyneth Paltrow in 1996. KAI flawlessly recreates one of the most memorable moments in Gucci's history.
Dreamy Dance Moves
In addition to a few stills, KAI starred in a fashion film where he gracefully flaunts his dancing skills. White horses, snow and an enchanted forest serve as backdrop of Kai's elegant dance movements. The video clip, directed by Woogie Kim, features music by Nicolas Fleury and perfectly captures the spirit of the holidays.
2021, A Year To Remember
Gucci Aria is one of the most important Gucci collections to this day. Celebrating its centennial in 2021, the Italian fashion house paid homage to its lasting legacy. Through a runway inspired by rebirth, the collection quickly reached cult status. To prove a point, according to Lyst, — the search platform that analyses the performance of fashion labels — Gucci topped the brand reputation list in the first half of the year.
Likewise, with a mini-album fresh out of the oven, 2021 has been a terrific year for KAI. Well known in the fashion spheres, the idol became the muse of a capsule collection in commemoration of Gucci's 100th anniversary — a first among Korean stars. Additionally, he was appointed ambassador for the Spring 2022 Seoul Fashion Week and appeared in various TV shows. KAI closes the year on a high note starring the latest Gucci Aria campaign and proving his ever-growing influence in the fashion industry.
Looking for more idol fashion collaborations? Check out our coverage of NCT leader Taeyong's recent shoot for ELLE KOREA in CELINE.