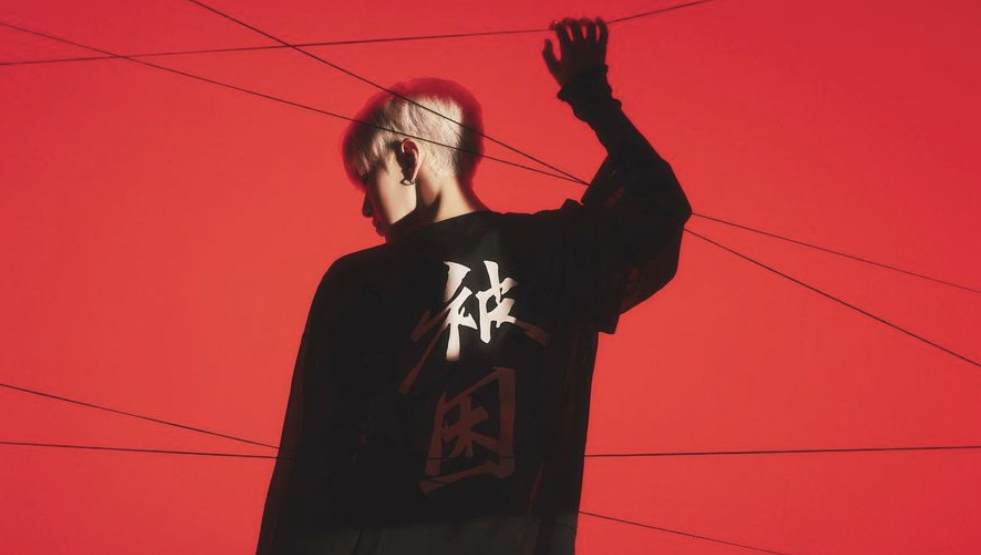 By Veronica Espinal | @minionyuta_
On April 2, 6PM KST, Seventeen's HOSHI, released his Solo Mixtape "Spider," on Soundcloud along with the music video on Youtube. The main dancer showcased his outstanding vocal range, switching from powerful belts and whispers to falsettos. "Spider" illustrates HOSHI's versatility as an artist. 
Pledis Entertainment first announced the mixtape on March 26 with the first teaser getting over 1.5 million views within 24 hours. CARATS were anticipating the release of the performance leader's new solo song– to say they were proud would be an understatement. 
So Proud 
finally had time to watch the spider mv and even though it's a sexy song i'm sitting here crying bc i cant put into words how proud i am of hoshi. i know he worked so hard on this and i hope he achieves everything he hoped for with this release. i love him so incredibly much ♡

— elin ? H?LO (@caramelkihyun) April 2, 2021
Astounding Production 
the mv for spider is so fascinating, i love the styling, the production design, the choreography is astounding, and it's all quite unique, hoshi and the team who worked on it deserve all the praise in the world

— lilac⁷ MINGYU DAY (@ceruleanjimin) April 2, 2021
Performance Team Leader
AND THAT'S PERFORMANCE TEAM LEADER, HOSHI ✊??️#HOSHI #Spider @pledis_17 pic.twitter.com/aRt8jICa92

— wincas ? • angst writer (@jihooniealways) April 2, 2021
Addicted 
I'm addicted with this part#HOSHI @pledis_17 #Hoshi_Spider_Mixtape pic.twitter.com/SJ8pWJP44h

— ❀M;zA❀ (@CarAthila) April 2, 2021
ALL ROUNDED ARTIST
"Spider," is the first solo mixtape for HOSHI, who directly participated in the lyrical composition together with fellow SEVENTEEN member WOOZI and producer BUMZI, along with developing the performances. The song is a synth-pop tune with a funky bass, featuring airy harmonies, plunking sounds and an unrestrained bass line. The sexy and deadly charm of the track illustrates the act of falling for someone's fatal charm, unable to escape it to being caught in a spider's web–deadly yet inescapable. 
With full creative control of his solo, the artist was able to bring his personal color to light, especially during the production of the music video where the main focal point was the performance. Through every performance, HOSHI pushed the boundaries of dance–whether he was working on group performances or his own solo work– he brought out the charm of the story every time. "Spider" illustrated his prowess as a performer. 
Charming and trapped, HOSHI is the prey to the fatal love he's fond of. With his smooth and alluring spider-like movements that visualized being trapped in a maze-like dynamic, his evocative vocals intensified the playful tension of the spider and prey relationship. Though he wasn't sad about it, "Like a spider I enjoy this puzzle, pretend to hate it baby I like it," aware of the consequences of the love, he still played the deadly game. The choreography was incredibly intricate, which portrayed the concept of the thrilling game so well, with his use of imagery he exhibited his role as the performance leader beautifully. 
Upon release of this article, "Spider" amassed 5M views on Youtube and 313,000 streams on Soundcloud. While the song debuted on the US iTunes Song Charts at No. 28, becoming SEVENTEEN's highest-charting song in the chart, in history. HOSHI is an outstanding performer. From the visualizations of his performance to his vocality, he's proven to the music world that he's an all-rounded artist ready for his full solo debut.  
In case you missed it, check out Wonho electrifying live concert for fans!
Thumbnail Courtesy of PLEDIS Entertainment