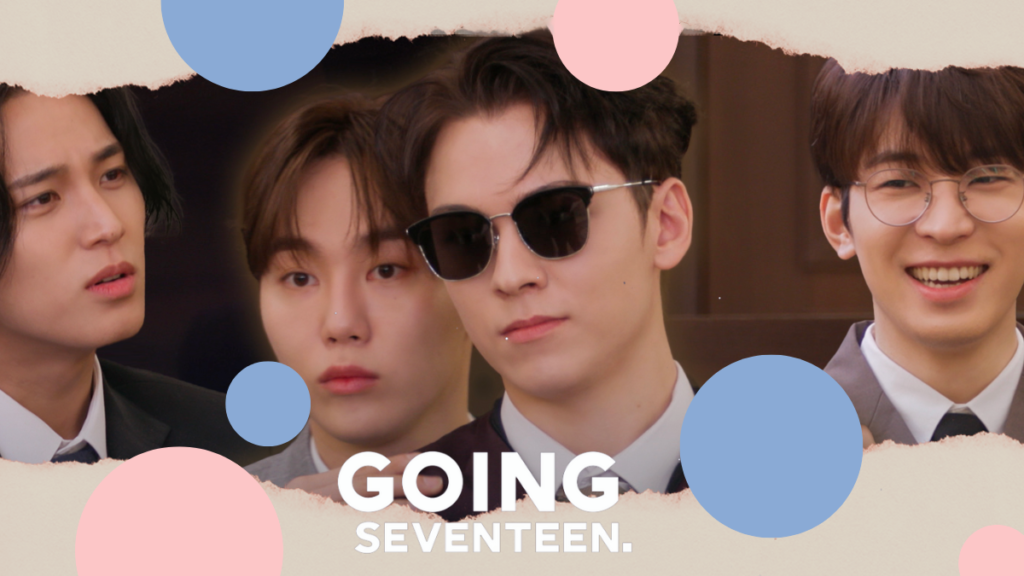 Say the name, SEVENTEEN! Maybe you're familiar with this cheer from the 13-member group—composed of S.Coups, Jeonghan, Joshua, Jun, Hoshi, Wonwoo, Woozi, DK, Mingyu, The8, Seungkwan, Vernon, and Dino—and its corresponding interlocked hand gesture. Maybe even more recognizable beyond the world of K-pop is the opening of the group's variety show, GOING SEVENTEEN.
However, with over 200 episodes released since 2017, even the carefully organized YouTube playlists are daunting to scroll through. But have no fear—EnVi's got your back. In part one of our guide to GOING SEVENTEEN, we highlight six fan-favorite episodes to get to know SEVENTEEN even better.
What is GOING SEVENTEEN?
GOING SEVENTEEN, commonly abbreviated as GOING or GoSe, is a variety web series produced by K-pop boy band SEVENTEEN. The first episode of the series was released on June 5, 2017, with the initial seasons focusing primarily on behind-the-scenes vlog content. Beginning from the second season, GOING SEVENTEEN SPIN-OFF, the series slowly transitioned to its current variety show format, with episodes featuring the SEVENTEEN members participating in various activities, skits, and games.
The series currently stands at an impressive five seasons with over 200 episodes total, and new episodes premiere weekly on Wednesdays at 9 p.m. KST. The fifth GOING SEVENTEEN season alone averaged approximately 3.9 million views per episode, a testament to the show's overwhelming success. GOING SEVENTEEN has also been recognized as a series that anyone, regardless of fandom, age, or nationality, can enjoy. Aside from SEVENTEEN's dedicated fans, Carats, the series has so many non-fan viewers that GOING SEVENTEEN's own unofficial fandom name "Cubic" was created.
If you want…to know the basics
GOING SEVENTEEN isn't just a YouTube series synonymous with chaos; it's also a way for fans and members alike to learn more about the 13 men of SEVENTEEN. Whether you're curious about SEVENTEEN's dynamic off-stage or want to know who really is an extravert in the group, here are a few episodes to dive right into.
"TTT" (2018, 2019, 2019 Compilation, 2020, 2021)
This beloved GOING SEVENTEEN segment began in 2018. Episode 21 of GOING SEVENTEEN SPIN-OFF (the second season's title) launched TTT with the concept of "SVT Reality." In this first episode, SEVENTEEN emphasized rest and spending much-needed casual time together after their "Ideal Cut" world tour. Over the next three years, the group made time for their annual TTTT trip, complete with driving shenanigans, grocery store adventures, and hilarious games where chaos is bound to ensue.
In the latest installment in 2021, SEVENTEEN upgraded to a water sports-themed getaway, a noticeable departure from their usual focus on a restful day. An inflatable obstacle course in the water, a surprising banana boat ride, wakeboarding, and a ride the members dubbed the "hotteok" after the sweet Korean treat—plus some gloriously timed captions from the GOING SEVENTEEN editors—make for entertaining episodes while learning more about SEVENTEEN and their personalities.
The MBTI segment of GOING SEVENTEEN was released in September 2019 and spanned three episodes. Although the MBTI personality test is popular now, it hadn't yet surged to the current height four years ago. Yet, the GOING SEVENTEEN production crew was on it, challenging SEVENTEEN to determine their MBTIs. After the members took the test, they discovered which person was which personality type. In the end, it was revealed SEVENTEEN have a couple of INFPs, ENFPs (including, surprisingly, rapper Vernon), INFJs, ENFJs, and a lone ISFJ ('95 liner Jeonghan). The 13 also got put to the test in the second part of this segment, where viewers—and SEVENTEEN—learn who the fearless ones are. As the members realized, you have to be careful about what you wish for; you never know what will become (wonderfully hilarious) content for GOING SEVENTEEN.
What happens when you put SEVENTEEN in a room with food and (fake) alcohol? "Talk Get-Together" from 2022 investigates just that. In these episodes, the 13 members pretend they are office coworkers going out for a drink after a long day and talk about whatever comes to mind. After some time talking as two bigger groups, SEVENTEEN break down into random groups of three or four, allowing for more intimate and/or more hilarious moments. There are interesting stand-up comedy attempts (the dimly lit practice room adds an extra dose of humor), the revelation that you know Hoshi isn't drunk until he cries, rappers S.Coups and Mingyu helping fellow Hip Hop Team member Wonwoo choose a song to cover—featuring a very impassioned karaoke-worthy performance—and an unexpected phone call to NCT's Jungwoo.
If you want…to watch fan-favorite episodes
Not sure what you're in the mood for? When in doubt, the certified fan-favorite GOING SEVENTEEN episodes are a great place to start. If the impressive view count and plethora of iconic moments are any indication, these episodes are beloved by Carats and Cubics alike.
"Don't Lie" Series (I, II, III, IV, V, VI,)
"Don't Lie" is one of the most popular recurring segments in GOING SEVENTEEN. An innovative combination of elements from the Mafia game, treasure hunts, Clue, tag, and more, the "Don't Lie" series is complex, fun, and full of mystery. Each episode follows SEVENTEEN as they try to weed out the hidden "mafia" members, all while working to find (and keep) money hidden by the "mafia." "Don't Lie" also never fails to bring out the most competitive, chaotic sides of SEVENTEEN, from mastermind Jeonghan's mischievous antics to the group's apparent commitment to targeting Mingyu (regardless of if he actually deserves it). With its unexpected twists and SEVENTEEN's hilarious dynamic, the "Don't Lie" series is a strong fan-favorite and a must-watch for anyone new to GOING SEVENTEEN.
The most viewed GOING SEVENTEEN episode at almost 15 million views, "The Tag" is another definite fan-favorite. In this two-part episode, SEVENTEEN take haunted houses to the next level as they try to escape a haunted building, all while running from "murderer" clowns, ghosts, and more. With the "murderers" seemingly appearing out of nowhere, and a few members possibly even spotting a real ghost inside, "The Tag" is a spooky, adrenaline-packed episode. The members' reactions—like member The8 turning the tables and scaring one of the "murderers"—add an element of fun, making the episode an entertaining fan-favorite for fans who love horror and mystery.
Ever imagine what kinds of stories your friends tell about you without your knowledge? Well, SEVENTEEN doesn't exactly have to imagine, as they lay it all out face-to-face in their "Insomnia-Zero" episodes. In this GOING SEVENTEEN segment, the SEVENTEEN members take turns trying to keep their cool, while the remaining members gleefully take on the task of telling stories and jokes to disturb each member's quest to stay calm. Some stories are true, while others are falsified purely for the sake of getting a rise out of each other, so take everything in these episodes with a grain of salt. From Wonwoo's iconic "tasty" meme to Seungkwan exposing Mingyu's not-so-subtle tricep flex, "Insomnia-Zero" is a source of many Carat inside jokes and a hilarious must-watch for new GOING SEVENTEEN viewers.
Keep up with SEVENTEEN and new GOING SEVENTEEN episodes through the group's Instagram, Twitter, TikTok, and YouTube!
Want to watch more GOING SEVENTEEN? Check out the rest of EnVi's episode recommendations here!