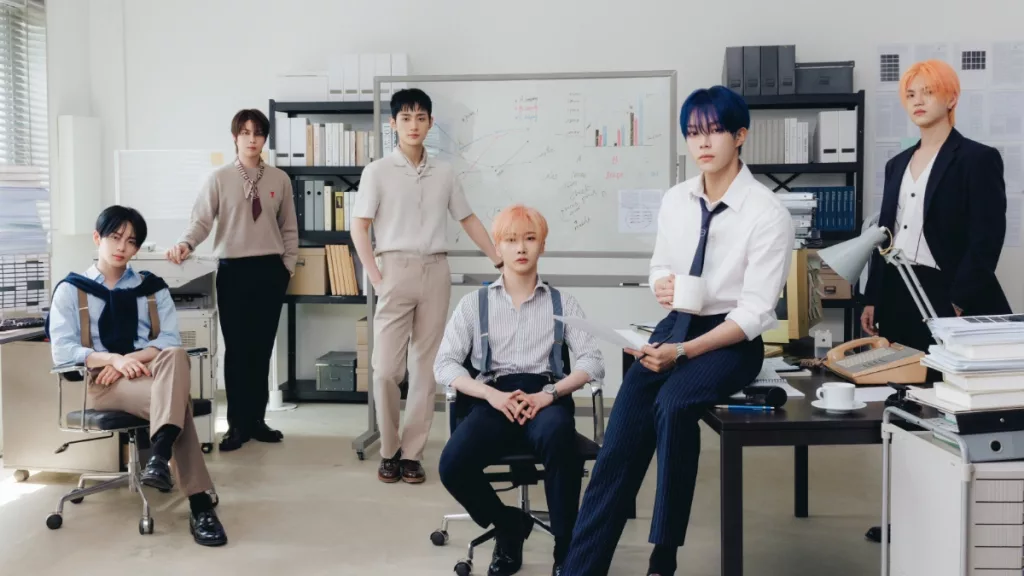 After their first music show win following the release of "Tap Tap," VERIVERY are back with passion towards their dream. On May 16, the seven-member group returned with their 7th mini album, Liminality – EP. DREAM. The mini album contains five new songs, including their title track, "Crazy Like That," and a special CD-exclusive track, "Thank You, Next." Turning the page to the second chapter of their Liminality era, VERIVERY explore the excitement and responsibility that comes with chasing one's dream.
Chapter 2: DREAM
VERIVERY began a new story when they released their single album Liminality – EP. LOVE on November 14, 2022. The EP included the title track, "Tap Tap," and the song "Motive." This Liminality series presents the concept of finding "elements of happiness," as the group finds themselves in a state of transition, known as liminality. Searching for the element of love in their first EP, the septet now set on individual journeys to make their dreams a reality in Liminality – EP. DREAM.
VERIVERY display the concept's duality through two ways to dream: "PLAY" and "PLAN." Two sets of photo teasers were posted prior to release, exhibiting the group's playful and sophisticated sides. The "PLAY" photo teasers featured the members in casual outfits surrounded by colorful graffiti with marks of paint on their skin. In a stark contrast, the "PLAN" teasers showed the members in sleek, clean looks as they posed in a bright office room. Through this contrast, VERIVERY chase their dreams by living in the present moment while still planning for the future.
Keep on Running
VERIVERY's title track, "Crazy Like That," fully embraces the two distinct concepts as the group pursues their dreams. The music video opens as the members appear to be in a state of limbo. The song begins to gradually fade in through radio static as if they are tuning into another channel. The tune suddenly turns crystal clear as the members join together, revealing a playful and dreamy beat. The song takes elements from industrial techno and UK garage genres originating in the 1990s, creating a retro feel.
The members showcase their smooth dancing skills as they perform the choreography in colorful scenes surrounded by lights and confetti. Contrastingly, the scenes cut to members drawing and organizing, representing the "PLAN" concept of their title track. Throughout the music video, "PLAY" and "PLAN" collide as the members sing and dance in an office space filled with party decorations. Paired with passionate lyrics, "Crazy Like That" highlights embracing the present full of possibilities while responsibly planning for the future.
B-side Breakdown
"JUICY JUICY" is an upbeat track with hip-hop and R&B elements as well as a cheerful sound. The song describes the addictive sweet feeling of being with someone they love. The members compare this feeling to a refreshing drink, singing, "This feels so good like an ade, overwhelmingly sweet feeling." Overcome by these exciting, unknown emotions, they wonder if this feeling might be love.
"Raincoat" is an uplifting hip-hop and R&B song with a heartwarming message. Written and composed by members DONGHEON, YEONHO, and YONGSEUNG, the song depicts leaning on others during difficult times. Containing a catchy drum beat and rich harmonies, VERIVERY sing of using a raincoat as a symbol of protection. They sing, "us together can weather any storm," finding power and strength in each other.
Closing out the digital mini album, "Smile With You ( )" is a medium-tempo ballad written and composed by members DONGHEON, GYEHYEON, YEONHO, and YONGSEUNG. With a sweet piano melody, the lyrics contain a comforting message of finding happiness together during times of loneliness. The song highlights the members' bright vocals as they sing, "The voice that sang along with me, I get to smile when I'm with you, the one that brightened this world.
Dare to Dream
Fans, known as VERRER, look forward to a fruitful promotional season with VERIVERY following last year's success. As the group sends an optimistic message to chase after one's biggest dreams, VERIVERY push to achieve their own with VERRER.
Liminality – EP. DREAM is now available to listen on Spotify and Apple Music! For the latest updates on VERIVERY's comeback, make sure to follow them on Instagram, Twitter, TikTok, and YouTube!
Want more VERIVERY? Check out our exclusive interview with the group here!