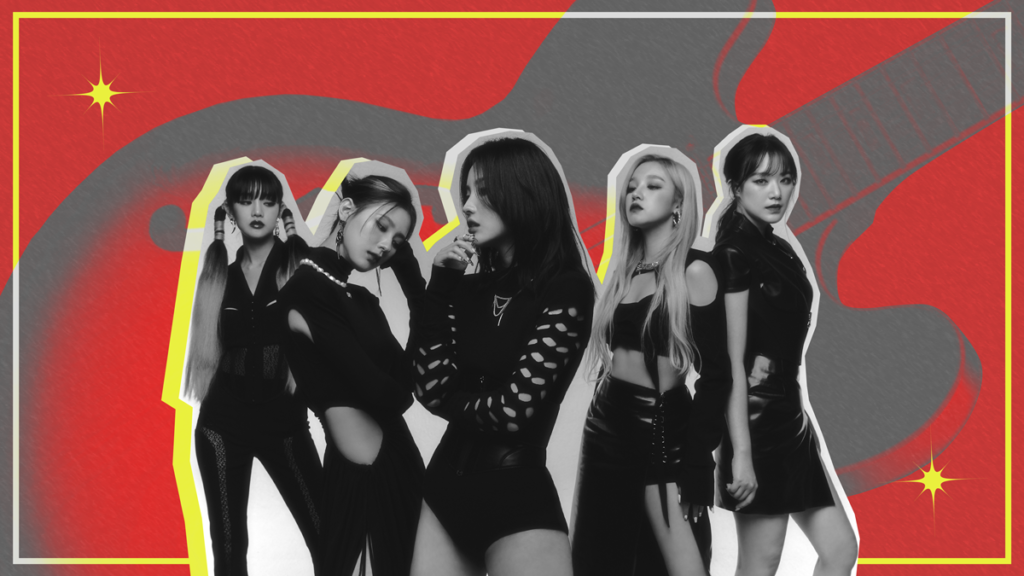 Ten years ago, Tom Delonge left blink-182 (again), My Chemical Romance broke up and it seemed like the mainstream rock juggernauts were all slipping away into the abyss as trap and heavily synthesized beats took center stage. Today, Travis Barker is in the eye of the storm— the resurgence of pop-punk in the mainstream. My Chemical Romance and Avril Lavigne are back with more music, and the future of popular music is looking more edgy thanks to newcomers like Olivia Rodrigo, WILLOW, and Kid LAROI. Likewise, the global music scene is shifting too. Global artists like the Scottish band, Wet Leg, and rising Japanese girl group, Atarashii Gakko!, are creating music inspired by rock as well.
Just as 2021 K-pop saw the rise of Y2K fashion and retro funk, 2022 K-pop is seeing the rise of rock, and at the forefront of the storm is none other than HYBE's boy rising global boy group, TOGETHER X TOMORROW, followed closely by acts such as WOODZ, G-Idle, and YENA.
Rock As A Cycle
Every other decade, it seems as though experts and music fans claim "rock is dead." The genre is out of the mainstream; however, the reality is that music is cyclical. Rock 'n roll, inspired heavily by blues, initially rose to fame in the 1950s. In the 70s punk rose to fame. In the 90s and early 00's pop-punk was The Genre. And in the early '10s both older acts like Fall Out Boy, Green Day, and newer acts like 3OH!3 and Hot Chelle Rae emerged on the scene with hits (You can't tell me you weren't singing "Tonight Tonight"— it's a lie.)
According to Elizabeth Dewit, "today's biggest stars find inspiration from rock 'n' roll and blend it with more modern kinds of music." The genre is being reinterpreted as it cannot be defined as a single sound— this is apparent as rock is a genre that encompasses many other subgenres within it including hard rock, alternative, punk, and so on.
While rock is an amalgamation of genres strung together by instruments and expressive songwriting, the reverse is true too. Other genres in recent years have also taken influence from rock music and culture, such as pop and hip-hop. In 2019, 24kGoldn's pop hit "Mood," which featured a distinctive, upbeat guitar rhythm, was all over the radio and charts. Similarly, pop icon and former One Direction member Harry Styles' second album Fine Line featured many soft rock and pop ballads, including "Watermelon Sugar" and "Falling," to name a few.
With rock re-emerging and weaving its way into the EDM and hip-hop scenes, it was only natural for more artists who focused on rock to gain popularity. But, not without the help of different influential factors— some of which are related to streaming platforms, social media, the COVID-19 pandemic, socio-political issues, and Travis Barker.
Travis Barker
Travis Barker is regarded as "Gen Z's Pop-punk Whisperer" by RollingStone author Brian Hiatt. Why, one might ask. It's a straightforward explanation. The blink-182 drummer is known for uplifting and collaborating with a number of artists across genres. One of his recent exploits includes the rapper-turned-rockstar Machine Gun Kelly who ventured into pop-punk with his 2021 album. Another famous apprentice of his is Willow Smith, now known as WILLOW.
Additionally, Barker has his own label: DTA Records, where he has signed both new and old artists, including TikTok star Jdxn, and pop-rock icon Avril Lavigne, who released her first album in three years in February. Thanks to their own merit and direction from the famous drummer, each act has received recognition for their recent releases in various ways not limited to charts, critical acclaim, social media, and radio airplay.
TikTok's Role
Not a day goes by in 2022 when people aren't talking about TikTok. Since 2020 the social media platform shot up in usage during the earlier days of the pandemic. It accelerated the careers of numerous artists and performers including dancer Addison Rae and famous rappers Megan Thee Stallion and Doja Cat, whose music brought about some of the most popular dance trends. Similarly, rock has found its way to people's "for you" pages (FYP) in the form of memes, sounds, and parody songs.
People have used the platform to reminisce about older acts through parodies. Videos like the infamous Fall Out Boy parody "Burger Queen" TikTok by user itslildevo or the "Fall For You" Secondhand Serenade parody by heyzmsc have acquired millions of engagements and thousands of videos in the platform's sounds. Even former Disney rockstars such as Demi Lovato have been parodied for their emo fashion and edgy "Disney knees" stance. A linguist has even gone on the platform to discuss the absurdity of the "pop-punk accent" which sounds like a nasally mix between midwestern and Oaklander— adopted by singers in California in bands like Green Day, Simple Plan, and blink-182.
In terms of newcomers, TikTok has been the perfect place to launch careers thanks to its sound function that works like hashtags. Thanks to this, WILLOW's "t r a n s p a r e n t s o u l s," "Meet Me At Our Spot," and "Wait A Minute!" have become viral on the platform. The Kid LAROI's collaboration with Justin Bieber, "Stay," also hit heights being the background noise of countless tutorials, travel vlogs, and other miscellaneous videos.
One might ask, how does this translate to airplay and public visibility? And artists who have gone viral on TikTok such as WILLOW and Olivia Rodrigo have had charting singles. Even with established artists like Nirvana and Bring Me The Horizon, their music has returned to the spotlight thanks to TikTok. Thanks to "Smells Like Teen Spirit" trending on the video platform, Nirvana experienced a "6 million Spotify listener increase due to social media's use of the song from December 2019 to February 2022."
A Shift In Representation
Interestingly, when you hear of rock, you think of a scrawny white man with messy hair and a gruff voice. This is quite ironic for various reasons. For starters, various subgenres of rock take inspiration from historically Black genres such as blues and funk. While many mainstream rock bands and performers fit this image, a lot of the artists currently thriving in the scene are not the white male stereotype. This resurgence is less about the white male perspective and more about hearing other voices. You can truly tell when acts like the punk Asian American band, The Linda Lindas, are tackling sexism through commentary in their music.
Indie female artists like Halsey, mitski, and Luna Li are also coming in strong in addition to the well-known alternative artists like Billie Eilish and the punk-inspired popstars Olivia Rodrigo and WILLOW.
On the global scale, Atarashii Gakko!, inspired by the Beastie Boys, and K-pop acts such as SUHO, KANG SEUNG YOON, and TOGETHER X TOMORROW are making waves in music.
How Is K-pop Picking Up?
Bands have existed in Korea just as bands have existed anywhere else in the world. Artists like The Rose, Day6, Rose Quartz, and DREAMCATCHER have always been considered rock. This is not new. However, it should be noted that more traditional K-pop groups are now leveraging this trend as it slips into the mainstream.
Ahead of the curve lies TOGETHER X TOMORROW, or TXT for short. Who has been releasing rock-inspired music since "9 and Three Quarters (Run Away)" from their 2019 mini-album, The Dream Chapter: MAGIC. The quintet has continued to show their love for rock through their latest releases and Huening Kai's recent cover (and interaction) of the 2002 pop-punk anthem, "Sk8r Boi" by Avril Lavigne. TXT has not been afraid to stray away from the "noise" music trend, embracing edgy wardrobes to fit their songs which combine rock elements and instruments with the typical K-pop EDM basses and mixed genre vocals. Their latest album, minisode 2: Thursday's Child, is a show of this. Their ambitious project saw commercial success with Billboard and record-breaking sales. They have been continuing to develop their own style of K-pop.
Another game-changer is the global 13-membered boy group SEVENTEEN, which has numerous rock-inspired tracks dating as far back as 2017 with "PRETTY U." More recently, their pop-rock anthem "Rock with you" became a hit.
EXO's leader and singer SUHO also has made rock music since his solo debut with Self Portrait in 2020. Each of his two solo albums is heavily inspired by soft rock. Similarly, WINNER's leader and soloist KANG SEUNGYOON has been releasing rock since 2011 as both a solo artist and member of WINNER. He has continued to do so even with his most recent releases.
More recently, acts such as NCT's TEN and YENA have released upbeat pop-rock hits "Paint Me Naked" and "SMILEY." YG Entertainment's latest boy group, TREASURE, released a rock remix of their TikTok-viral "DADARI" song, adorning edgier looks to suit the concept. In January, K-pop icon and solo artist Taeyeon also explored a more grungy sound and look in her pre-release single "Can't Control Myself"— the song's guitar and heavy drums expressing the sorrow of her lyrics. The list goes on. But why does it matter?
Storytelling Through Rock
Numerous K-pop acts have taken to the genre not only for the edgy music and instrumentation, but some to share stories, like TXT, or fight norms, like (G)-IDLE.
With their latest mini-album, TXT continues their lore and describes a trip into adulthood and understanding their own emotions— sorrow, anger, hopelessness. In an interview with Teen Vogue, Beomgyu shared that this narrative and album are signs that TXT's "color has become distinct." Similar to the character they portray in their meaningful music videos and songs, TXT is growing alongside their music and fans. According to Beomgyu in an interview with NME, they drew inspiration from pop-punk because it is "very intense and straightforward in terms of self-expression" and represents "a generation that is still going through a transitional stage of growth." This aspect of storytelling via music is not new for the boy group. TXT has always illustrated stories through their music and videos, including their 2021 hit "LO$ER=LO♡ER" where they share the heart-wrenching tale of a failed love. Due to their attention to detail and passion for storytelling, TXT's transition from traditional EDM-heavy K-pop sound to rock-influenced beats seems almost inevitable for the young K-pop rockstars.
On a similar note, (G)-IDLE came back as ()-IDLE (girls idol no more) with the punk-inspired track "Tomboy" as a bold statement against labels. After a brief group hiatus, it is only natural that the group returned with a bang, displaying what Yuqi shared with Allure as "immense growth" as a unit and their desire to "break prejudice."
As such, the lyrics describe (G)-IDLE's strength and qualities beyond the expectations that society has set for women. Unafraid to flaunt their edge, they sing "I'm a fucking tomboy" in each chorus to iterate that they aren't submissive "dolls" but rather are people with individual personalities and "attitudes." They are not here to be part of anyone's fantasy. The video reflects the bold message, with lots of action and rebellious imagery. The group's leader and songwriter-producer Soyeon told Teen Vogue that the mission was to convey that "Because I'm me is why I am, and why I act the way I do." In spirit, the girls echo punk through their meaningful commentary on gender and stereotypes. This is not the quintet's first venture into rock. Yuqi's 2021 solo debut singles "Bonnie & Clyde" and "Giant" were heavily influenced by pop-rock with edgy instrumentation and stories of love and perseverance.
What Can We Expect Next?
With an ever-changing music scene, there's no telling where music will head. What's certain is that "old trends" such as Y2K fashion, retro pop, and rock will resurface in new ways thanks to the innovative nature of K-pop and the cyclical patterns of music.