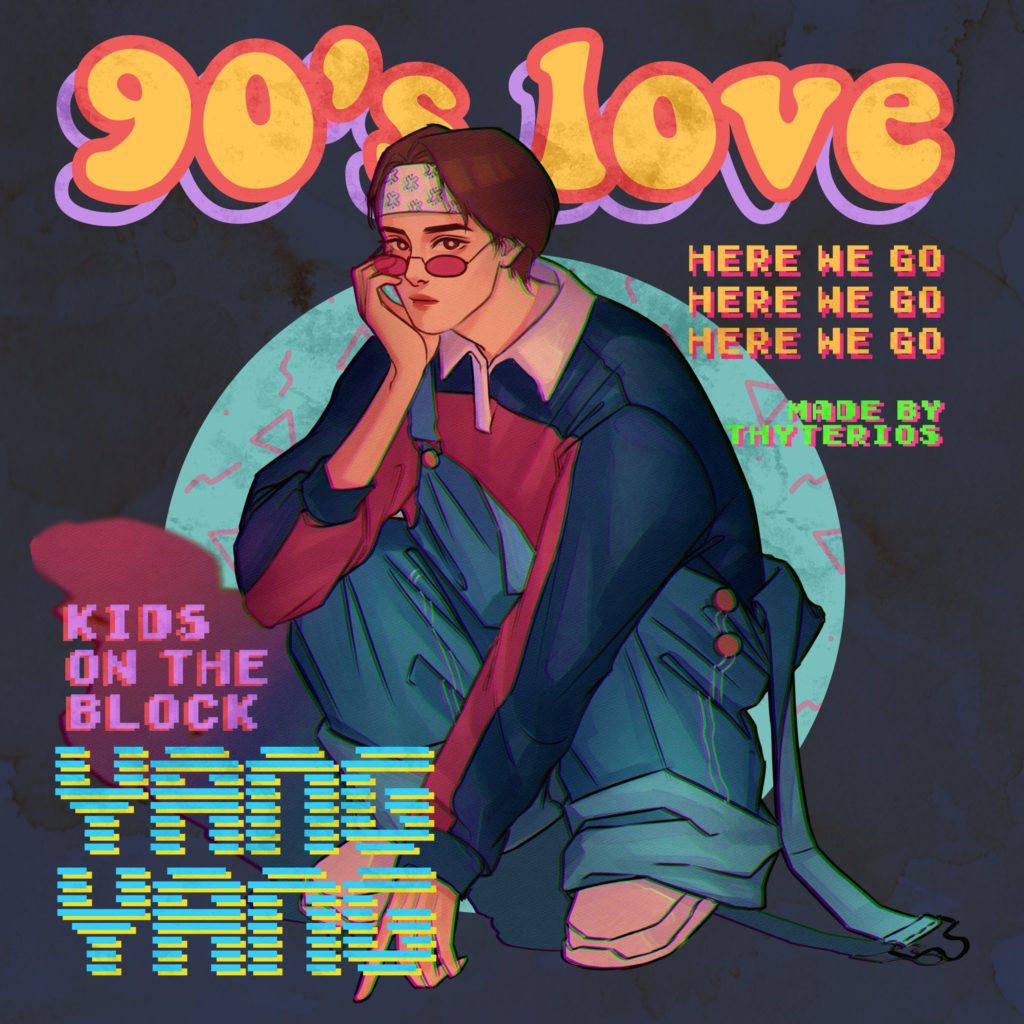 A little black dress, a crisp white button-up, and a denim jacket are all must-have wardrobe staples, but there's a unique piece that is often forgotten: your favorite band's merch. Luckily, in NCity, there are plenty of fashionistas who seamlessly incorporate NCT gear into their everyday style. Look no further for inspiration.
@02HYUCK
Pronouns: She/Her
Bias: Haechan, Mark, Jaehyun, and Taeyong 
Fashion inspiration: SZA, Teyana Taylor, and Emma Chamberlain
Personal style: Comfy, yet stylish
Tips for styling merch: Always have an accessory and have fun
Favorite place to shop: Target has jeans that you can DIY some cool things on there
How it's crafted: I haven't gotten the chance to DIY something yet, but I'm planning on making a cool pair of jeans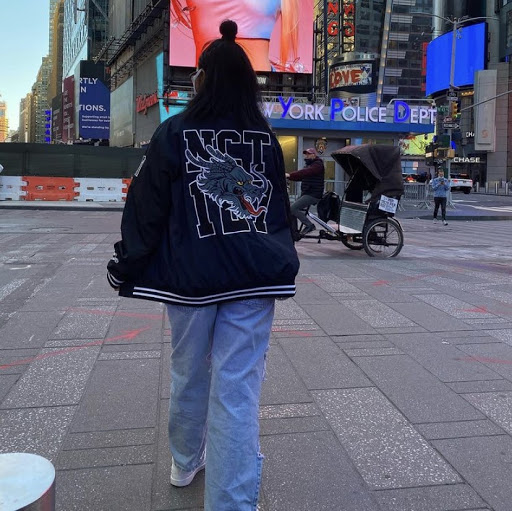 @bladeofgrass127
Pronouns: She/her
Bias: Mark
Fashion inspiration: I'm really inspired by various J-Fashion styles such as Fairy Kei and nanchatte seifuku (school girl inspired fashion).
Personal Style: If Kawaii fashion and 1950s fashion had a baby
Tips for styling merch: I like to go for subtle pieces that I know can match a lot of stuff. I like having accessories or small pieces that I can build into my regular outfits. 
Favorite place to shop: I buy a lot of fan-made merch and this beret is from @kbroideryco on Twitter. I also follow a lot of accounts on Instagram and buy from their Etsy pages.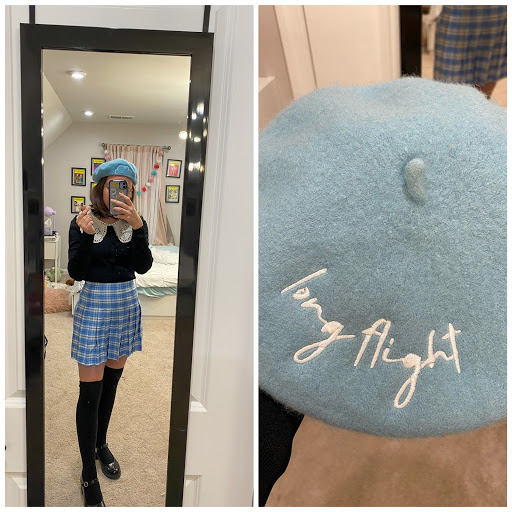 @twinkpassing
Pronouns: They/them
Bias: Jaehyun
Fashion inspiration: Myself
Personal style: Quirky and comfy
Tips for styling merch: Keep it subtle 
Favorite place to shop: Myself
How it's crafted: I sew and also have a vinyl cutter. I'm most proud of the red Kick It varsity jacket and Johnny'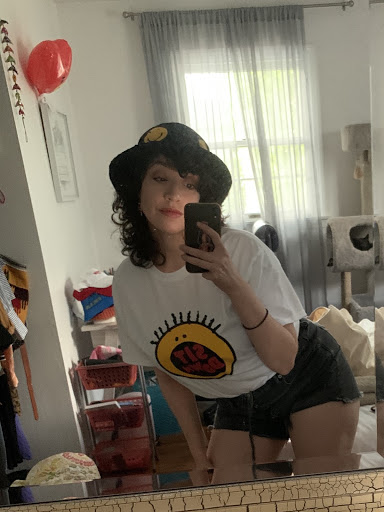 @chyandblack 
Pronouns: She/her
Bias: Johnny/Mark/Jaemin
Fashion inspiration: K-pop, 90's hip-hop and R&B, Y2K pop aesthetics
Personal style: Confident and bold, while still achieving a laid-back and effortless look.
Tips for styling merch: Incorporate merch into something you're already comfortable with first, before experimenting with new styles.
Favorite place to shop: I don't have a favorite spot, but I do own a lot of merch from my local K-pop store.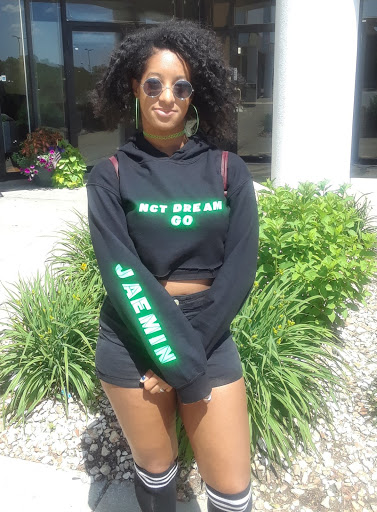 @chocomiheaven
Pronouns: She/her
Bias: Johnny
Fashion inspiration: J-fashion, K-fashion, alt fashion, and whatever is trending
Personal Style: My style is inconsistent, but that's what makes fashion fun for me! It's like putting on a new persona every time I put on an outfit. 
Tips for styling merch: My favorite kinds of merch are the ones that don't seem too obvious—the ones only fans can identify! My tips for incorporating merch into your wardrobe is to just wear it like you would any other item in your wardrobe. Accessories are pretty easy to incorporate, but as for graphic t-shirts and clothing items, it helps to incorporate some of the colors of the graphics in your outfit, whether it be through layering items, socks, accessories (belts, hats, etc.), and more. And of course, taking inspiration from your favorite idols' casual fashion is a great point to reference!
Favorite place to shop: I love shopping though YesStyle since they hold a lot of items that are trending amongst the Korean fashion scene, as well as through a site called "ThredUp"! It's an online thrift shop that has a lot of items that you can upcycle into anything you want it to be, all for a great price since most of the items are secondhand!
How it's crafted: My Cherry Bomb inspired jacket came from the beginning of my very late Cherry Bomb era phase! I have seen someone else that I know sporting a DIY Cherry Bomb jacket as well, so I wanted to make one of my own! First I sketched up a design and colored it digitally, taking a lot of color and design inspiration from the illustrations on the Cherry Bomb promo photos. Afterwards, I went to thredup.com and found an AMAZING cropped red jacket that was exactly what I envisioned in my sketch, and spent several days painting the design on the back with fabric paint. I incorporated other elements on the jacket, such as patches, hardware, and more that were tiny references to Cherry Bomb, some being the number "29" and a sunflower to represent my bias, Johnny. One day I hope to do a dance over of Cherry Bomb in this jacket!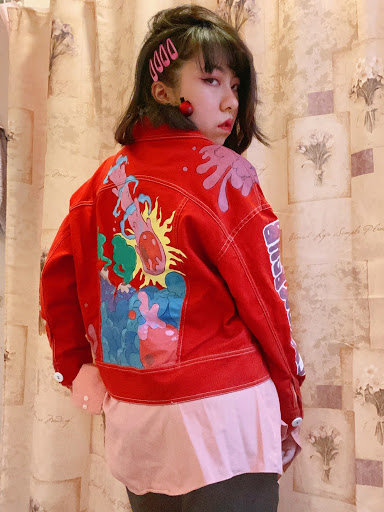 Check out more stylish NCity merch here!
Thumbnail: Yangyang, @rae_thyterios