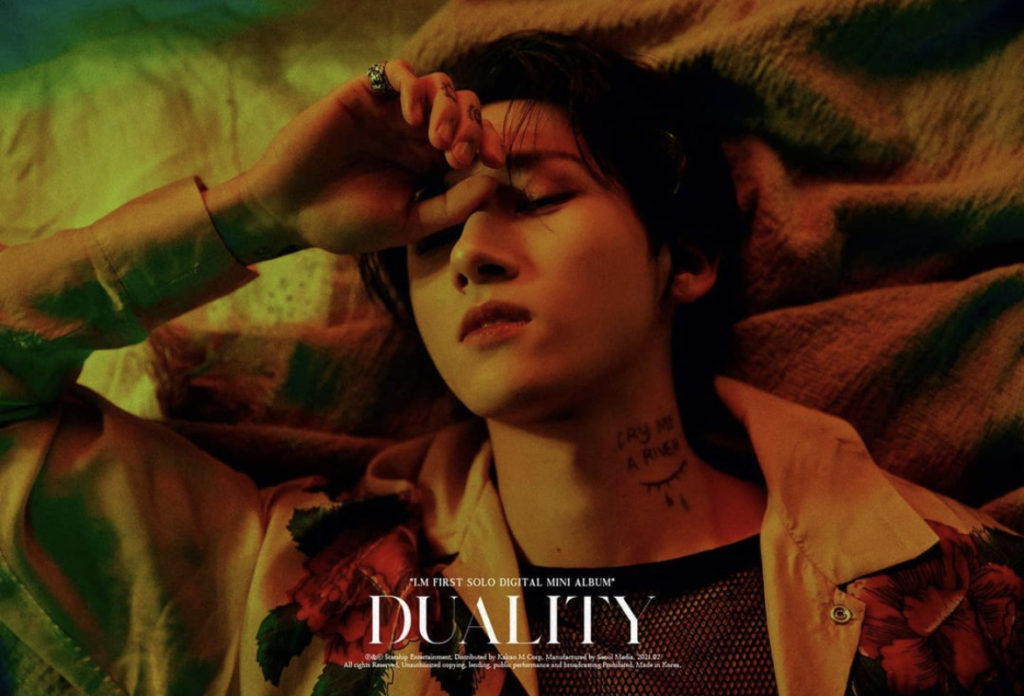 By Valerie Lopez | @valschwarie
MONSTA X rapper I.M released his first solo mini-album Duality with the title track and music video  "God Damn" on February 19th. Duality has reached number one on the Worldwide Albums Chart as well as number one in 18 different countries. The mini-album has also peaked at number six on the US iTunes Top Albums chart in less than 24 hours since its release.
? ? ALBUMS ON W?RLDWIDE ITUNES
1⃣DUALITY #IM #MONSTAX
2⃣Positions #ArianaGrande
3⃣As the Love Continues #Mogwai
4⃣Medicine At Midnight #FooFighters
5⃣25 #Adele
6⃣Terra Firma #TashSultana
7⃣Ghost Stories #Coldplay
8⃣Gold #ABBA
9⃣21 @Adele
?Random Access Memories #DaftPunk pic.twitter.com/OvKek9CRGy

— World Music Awards (@WORLDMUSICAWARD) February 20, 2021
The mini-album has five songs total, all of which I.M participated in the songwriting, composition, and arrangements. Each one is a trap track that establishes I.M's style of music. 
The title track "God Damn" is a suggestive yet emotional track expressing the push and feel one feels when they need someone, but need to get over their feelings. The title of the song plays on the idea that "god damn" can have both a positive and negative connotation. The video reflects the conflicting emotions through its red lighting and drunk-like party visuals. 
The second track on the album is the English song "Howlin'." As the title suggests, "Howlin'" is a cry for help. It is a relatable song describing the inner turmoil of finding one's identity.  
"Burn" is the next track. One of the most prominent lines is, "I don't want to waste my time on the past time" repeated twice each chorus. This song reflects a desire to burn lingering feelings and memories.
The song "Happy to Die" is about being so content with how life is right now, one wishes they could preserve their feelings at the moment. In his YouTube countdown live, I.M shared that the track is inspired by a scene in the movie Eternal Sunshine of the Spotless Mind (2004) where Jim Carrey says, "I could die right now." 
"Flower-ed" is the final track on the mini-album. I.M believes that a flower, even if withered, is still a flower. In this metaphor, He's still part of your past even if the relationship ended. The opening piano conveys the nostalgic feelings associated with loss. 
This album overall displays I.M's duality as a person who experiences a wide range of emotions. In an interview with RADIO.COM I.M describes duality as "me." He believes everyone has "a sad me, a happy me, a very excited me." In addition to giving fans a glimpse of who he is, I.M established his distinct style as a soloist with Duality. 
For more music coverage, check out our article "Baekhyun Shines in Self-titled Japanese Debut" here!
Photo Courtesy of Starship Entertainment