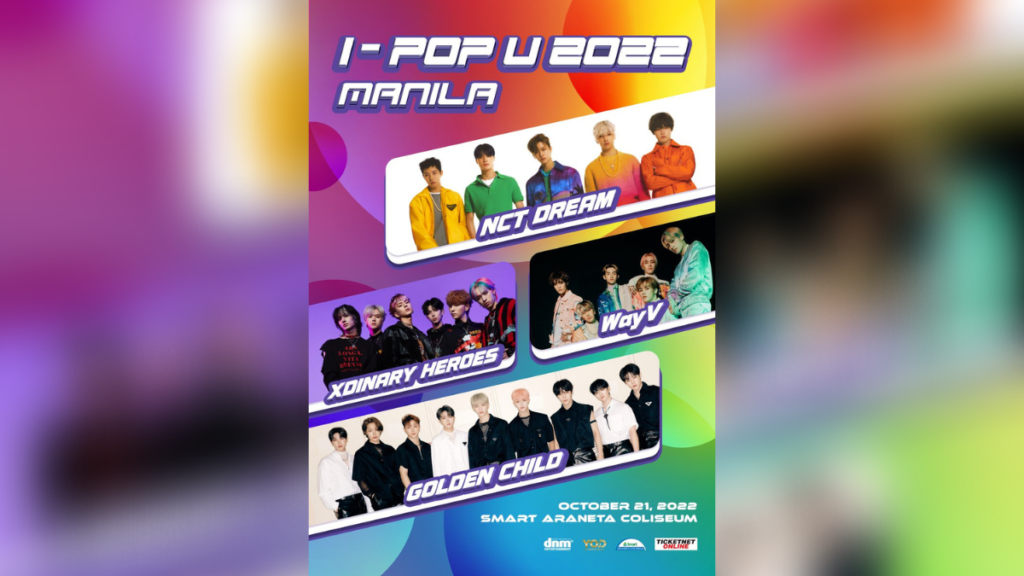 Last September 11, DNM Entertainment announced I-POP U 2022 Manila, which will happen this October 21 at the Smart Araneta Coliseum. The show will feature four groups, NCT DREAM, WayV, Xdinary Heroes, and Golden Child.
Meet The Line-up of I-POP U
First on the list is NCT DREAM who will be visiting the Philippines for the second time this year. Performing last May for the Begin Again: K-pop Edition — Renjun, Jeno, Jaemin, Chenle, and Jisung are known for their hit title track "Glitch Mode" from their second album.
Aside from NCT DREAM, another NCT sub-unit will join the line-up. Known for their title tracks "Kick Back," "Take Off," and hit single "Love Talk," WayV members, Yangyang, Ten, Winwin, Hendery, Kun, and Xiaojun, will be performing in Manila for the first time.
Rookie rock band who debuted last year, Xdinary Heroes, will also perform for this show. Band members Jungsu, Gaon, O.de, Jun Han, Jooyeon, and Gunil are also first-time performers in the Philippines. The band released their EP album Hello, world! last July of this year and is known for their debut single "Happy Death Day."
Last but not least on the line-up is the 10-member boy band from Woollim Entertainment, Golden Child (sans Daeyeol in military service). Debuting back in 2017 with their first mini album Gol-Cha!, members, Jangjun, Tag, Seungmin, Y, Jaehyun, Jibeom, Donghyun, Joochan, and Bomin, will also perform for the first time in the country. Last August of this year, the group released an EP titled AURA.
Ticketing Information
Tickets for the I-POP U 2022 Manila will go on sale starting October 1, 2022 at 12 PM (Manila Time). Tickets can be purchased through TicketNet online or TicketNet branches in the Philippines. Exclusive of ticketing charges, ticket prices are listed below.
For more information regarding the live concert, you may follow DNM Entertainment's Twitter and Facebook Page.
Interested to read more about K-pop concerts in Manila? Check out our recent concert recap for NCT 127's NEO CITY: Manila – The Link tour here.