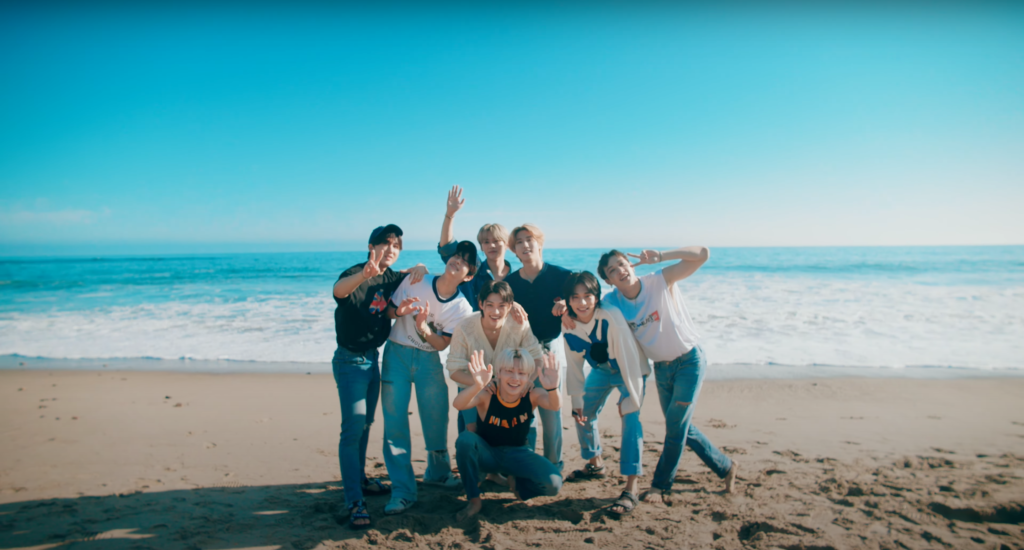 Happy birthday, STAY! August 1 marks the fourth anniversary since Stray Kids announced their official fandom name, STAY. To celebrate this occasion and the bond between STAY and Stray Kids, EnVi rounded up eight reasons why STAY stay by Stray Kids' side.
Their "noisy" and experimental music
No conversation about Stray Kids is complete without mentioning their self-described "noise" music. The group established a loud and unrestrained sound with their pre-debut song "Hellevator" and their debut title track "District 9." Crashing drops and the use of real life sounds, like the wailing siren in "District 9," have leveled off into a more sophisticated Stray Kids formula. Instead of always going loud, loud, the group has pulled back from overwhelming noisy to a stripped down kind of noisy—one that emphasizes sounds from life, including the whir of a drill and the creak of a door. Stray Kids' musical growth over the past four years and their drive to keep experimenting is something that makes them "Stray Kids" without a doubt.
Their outstanding performances and innovative choreographies
Stray Kids are mesmerizing when they perform. Innovative choreography weaves seamlessly into the stories of their tracks, such as the knocking on an invisible door for "Back Door." A contrast between fluid and powerful movements keeps each performance fresh, as the group never underestimates the strength of stillness. Their "Domino" dance practice, a B-side off of NOEASY, does this especially well, as the members stagger their kick-wave move, mimicking the fall of dominoes.
Their comforting presence
There is something comforting about the eight members' dynamic, and they also go out of their way to listen and connect with STAY. Their YouTube series 2 Kids Room is now on its third season, having started in November 2019. Throughout the 28 episodes, each member pairs up with another to discuss their friendship, get candid about their fights, and dive into their memories while the other six add their own commentary to the conversation.
Furthermore, Stray Kids are a comforting presence on VLIVE. Chan's Room, for example, is the hour/hour and a half leader Bang Chan dedicates to talking with STAY each week. Regardless of how busy his schedule is, he will always carve out this time (Chan's Room officially marked its 168th episode on July 31). Whether it is through their formal 2 Kids Room series or their casual VLIVEs, Stray Kids understand the value of transparency and honesty. It is something that makes them real human beings.
Their on-point TikTok
This one goes to Felix, the Stray Kids TikTok king. Over the past few years, the group has dramatically increased their presence on TikTok, accumulating over 13.3 million followers to date and over 241 million likes. Although there are your typical comeback dance challenges and promotional videos, Stray Kids' TikTok is fair game for everything else, like Felix throwing it back, Han fooling everyone, jumping on TikTok trends, and making hypnotizing outfit transitions.
Their limitless creativity
Stay Kids have a lethal combination of distinct vocalists, powerful dancers, and the one and only 3RACHA. The latter, Stray Kids' main producing and rap team, holds the title of the most credited fourth-gen idols with over 100 songs each, according to the Korean Music Copyright Association (KOMCA). Some of the tracks Bang Chan, Changbin, and Han released on Soundcloud during their pre-debut and early Stray Kids days are now available on music streaming platforms with all the members featured, including "Double Knot" and "Broken Compass."
The other five members also demonstrate their limitless creativity and artistry in projects like SKZ-Record and SKZ-Player on YouTube. Seungmin showed off his emotional pipes alongside Han in their cover of DAY6's "Zombie," while Bang Chan slowed down his usual pace in the heart wrenching ballad, "인정하기 싫어." Maknae I.N, meanwhile, added his signature humor to "Maknae on Top," which he wrote and composed with Changbin and Bang Chan.
SKZ Song Camp broke Stray Kids into three teams and challenged them to write a song together, further establishing the group's well-deserved title of "self-producing idols." "Gone Away," "Surfin'," and "Red Lights" were then released on their 2021 full-length album NOEASY with accompanying music videos. An all-member version of "Red Lights" even made it onto the Maniac world tour setlist, causing quite a few STAYs to lose their cool (ourselves included). From sentimental high school drama vibes to lively summer bops to sexy and alluring tracks, Stray Kids have proven they can do it all.
Their unforgettable concerts
Stray Kids put on unforgettable shows. Case-in-point: the recently completed US leg of their Maniac world tour. Although seeing their performances live on stage was special in its own right, the particularly memorable moments occured when Stray Kids were just being Stray Kids. Of course, that meant cheeky jokes, special performances, casual conversations with fans, and lots of laughter.
Their laughter and good-natured chaos
The group thrives on chaos, and STAY loves to see it. From their homemade "N/S" video, where Stray Kids danced in alleys unprompted, to their hilarious "Christmas EveL" music video, they truly know how to relax, to laugh, and to have fun. While not limited to SKZ Code, their reality show has culled its fair share of Stray Kids chaos, such as their Lotte World shenanigans (which proved just how loud Lee Know is), their flying yoga adventures, and their Game of Thrones spoof, "Winter is Coming." And Han running after Changbin's car after insulting the older rapper in "SKZful Days in Jeju" is the classic Stray Kids chaos we all needed.
Their unwavering love for STAY
If there is one thing to know about Stray Kids, they really love their STAY. As a gift for STAY Day, the group dropped "Time Out," a surprise mixtape, and its music video. Backed by a fervent guitar line, the pop-rock track encourages listeners to take a deep breath and pause for a moment to just do what makes you smile. As Felix and Lee Know sing, "Go, let the stress fly away / Don't worry 'bout tomorrow / So we'll just have some fun right now / With the sunset on the horizon as the backdrop, pose."
And STAY really loves them:
Thank you for being you, Stray Kids. You truly make STAY stay!
Find Stray Kids' music on Spotify, Apple Music, and YouTube. Connect with the members on Instagram, Twitter, Facebook, and TikTok.
Want more Stray Kids? Relive their Maniac world tour with EnVi's concert recap here!