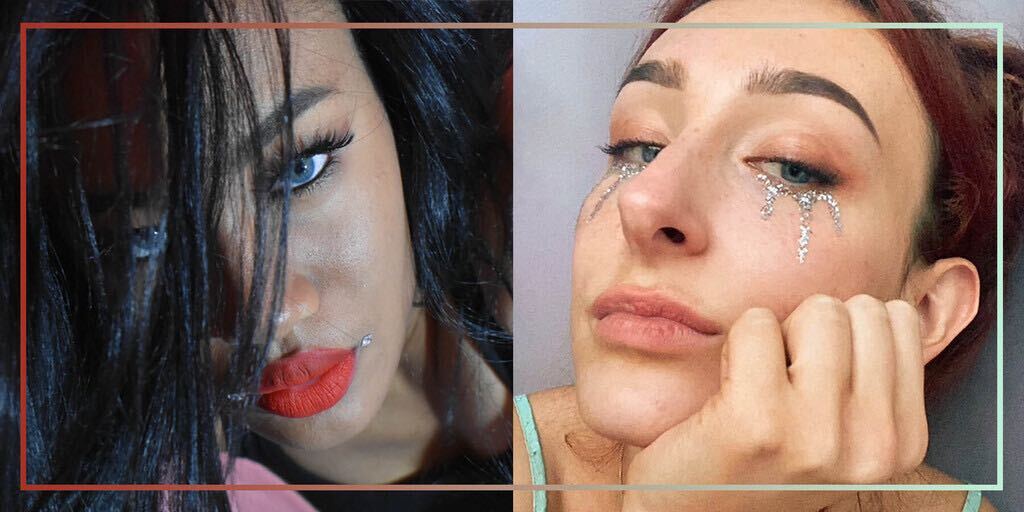 By EnVi's Beauty Team
During Women's History Month, EnVi's beauty team decided to recreate the beauty looks of women in K-pop. A number of women idols made bold statements through their makeup. Ellie (@filthydinosaurs) and Taylor (@taylor_louisem) from the beauty team show their favorite looks from some of your favorite idols!
Name: Ellie
Handle: @filthydinosaurs (Instagram/ Twitter) 
Look: Sunmi Tail Look
View this post on Instagram
Recreated Look: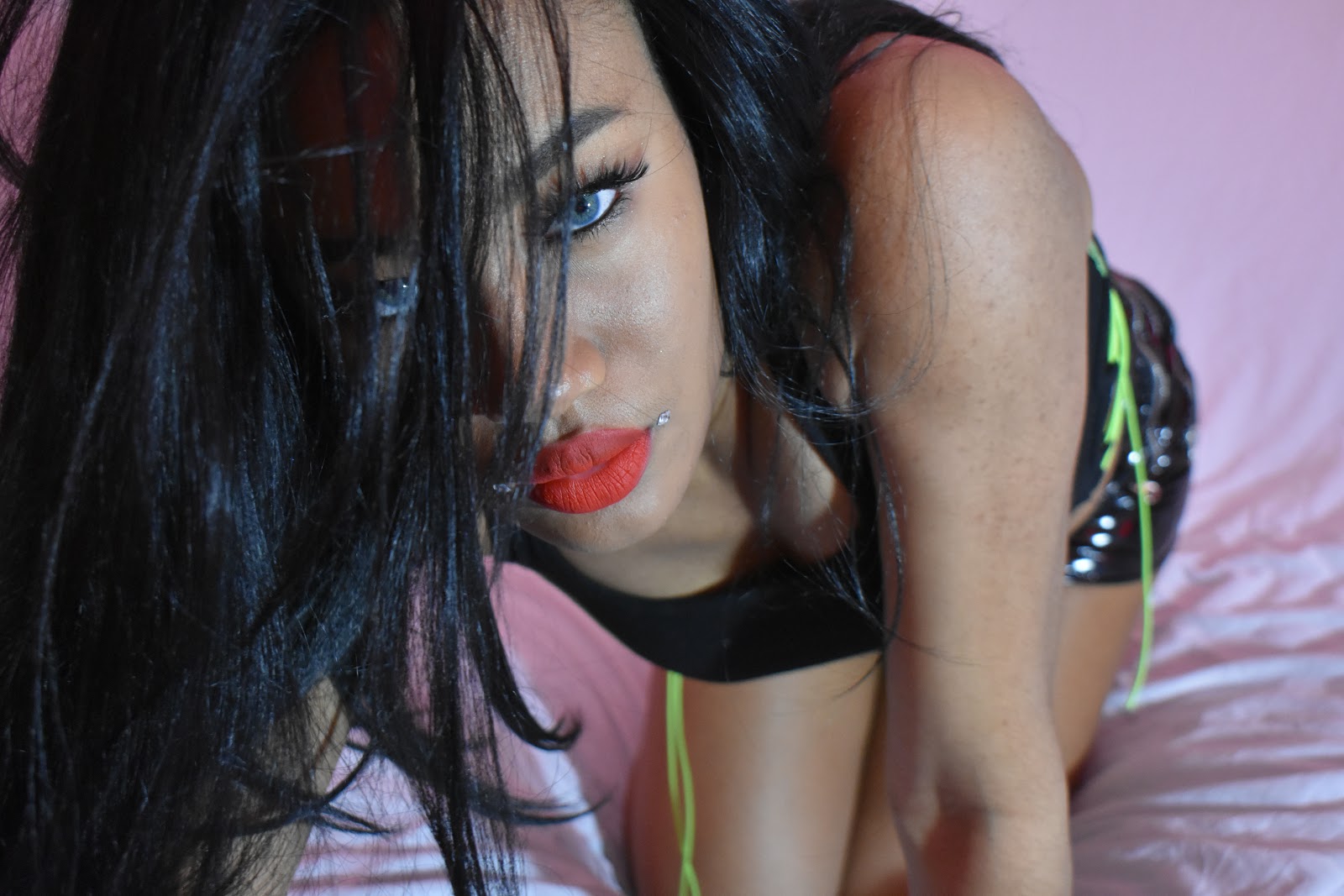 Summary
On February 23rd, Sunmi released her single "Tail." The song explores bold themes of women empowerment and rebirth. Using motifs from pop-culture icons like Catwoman, Sunmi shows a new side to herself in her music video. 
One of Sunmi's signature looks features bold red lips and two gems positioned at the corners of her lips. The styling is bold, yet very simple. Throughout the music video, Sunmi uses variations of the look—a staple piece to this era of her career. The two gems by Sunmi's lips add extra edge to her look. 
Sunmi's look can be easily recreated with gems from a local store and red lipstick. Whether you would like to wear the look without a full face of makeup on or use your favorite routine, Sunmi's "Tail" look has become one of my own personal favorites. 
Products Used 
Dior Backstage Face & Body Primer
Elf Lock on Liner and Brow Cream
Elf Waterproof Lengthening & Volumizing Mascara
NYX Always Keepin' It Tight Eyeliner 
Rhinestones Bead Landing Clear Rhinestone Crystal Sticky Gems
Name: Taylor 
Handle: @taylor_louisem
Look: Seulgi "Psycho" 
'The ReVe Festival Finale' album SCANS
'Psycho' – Photocard
Seulgi#GetWellSoonWendy #WeWillBeOkayWendy pic.twitter.com/MWF24HpQt4

— ᵃʳᵐʸ•ʳᵉᵛᵉˡᵘᵛ•ᵇˡⁱⁿᵏ•ᵐᵒᵒᵐᵒᵒ•ˢᵒᵐⁿⁱᵃ•ⁿᵉᵛᵉʳˡᵃⁿᵈ (@jwrwgs) January 3, 2020
Recreated Look: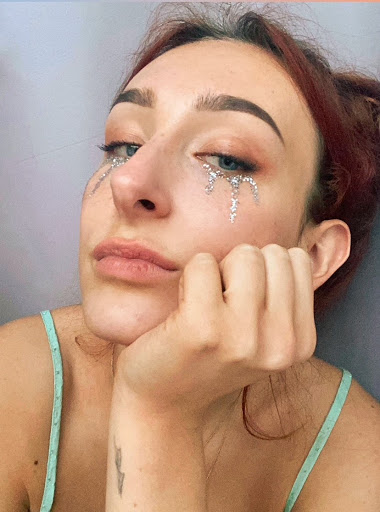 Summary
I totally resonated with this look. It's a comical nod at looking fabulous while feeling a little emotional, which to me, is pretty on-brand. Not only did the look fit cohesively within the theme of the entire music video, continuing the glamorous and decadent designs of the set and costume, but it has become a very iconic look too.
Red Velvet's stylists stepped out of just 'regular' face makeup and started to play around with textures and designs—something I LOVE! The glitter tears trickle down Seulgi's face, not only add sparkle, but also—less noticeably—highlight her sultry eyes. It's super playful, which complements the fun space-buns she wears, and also matches the almost mocking lyrics of "Psycho."
This look was incredibly fun to re-create and extremely easy for others to rock, no matter your makeup abilities! It could be worn on a zoom party, for "the gram" or, when it's safe, to festivals. If you choose to recreate this look, make sure to use glitter with caution, using makeup grade glitter. Also, make sure to tag us on social with the hashtag #EnVi and our tag @ncity_mag. 
Products used: 
Primer: Urban Decay Optical Illusions Primer 
Brows: Anastasia Beverly Hills Brow Pomade 
Concealer/foundation: Iconic London Cream Contour Palette
Setting Powder: Laura Mercier Translucent Loose Powder
Blush: Benefit Cosmetics Dandelion Finishing Powder 
Brozer: Benefit Cosmetics Hoola Matte Bronzer 
Highlight: Iconic London Illuminator 
Shadows: Morphe 3502 Second Nature Artistry Palette
Mascara: Clarins Supra Volume Mascara 
Lip liner: MAC Cosmetics Lip Pencil (Whirl) 
Lipstick: MAC Cosmetics Matte Lipstick (Velvet Teddy) 
Lash glue: Eyelure Lashfix Strip Lash Adhesive
Glitter: Barry M Cosmetics Glitter Rush (Onyx) 
Enjoyed these beautiful looks? Meet all of the EnVi Beauty team and their amazing creations!
Thumbnail by @karenmayc