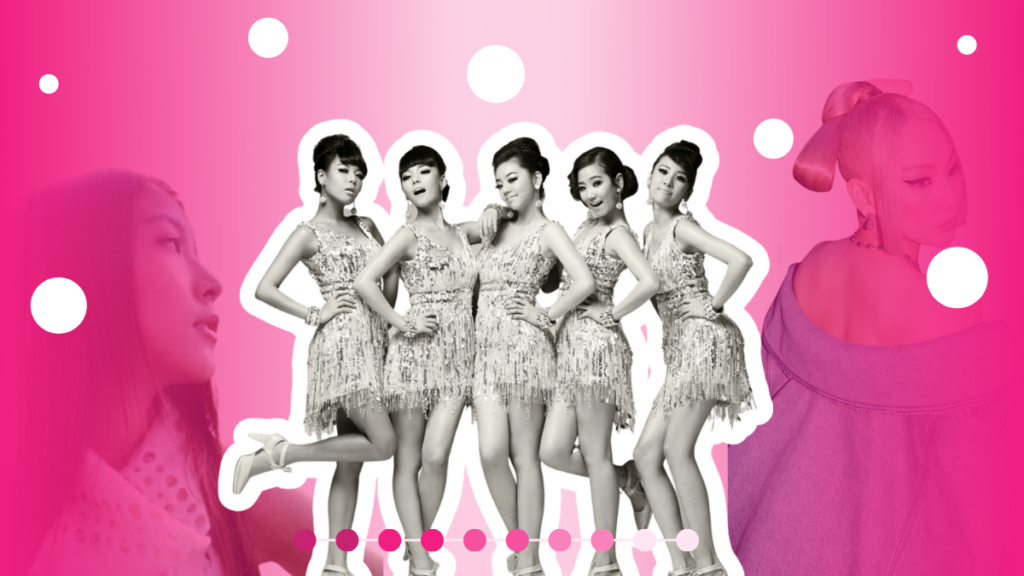 From the Kim Sisters to SNSD to BLACKPINK, the women of K-pop have had a massive impact on the industry. Follow along this timeline to dive into all their accomplishments and milestones for women's month!
Pre 1990s
1959: The Kim Sisters become the first Korean pop act to appear on a U.S. TV program, performing on the Dinah Shore Chevy Show. They later become a hit act on the Ed Sullivan Show, appearing an impressive 25 times. Their 1962 single "Charlie Brown" eventually reaches #7 on the Billboard singles chart. This also makes them the first Korean act to find commercial success in North America.
1986: Kim Wan Sun goes from Insooni's back-up dancer to 'Korea's Madonna,' debuting with the single "Tonight." Her performances incorporate a combination of singing and choreography. In 1990, Kim's single "Pierrot Smiles at Us" launches her into superstardom. The rise inspired the dance pop trend to later dominate Korean pop music.
1987: Lee Ji Yeon debuts with "The Reason It Was Pain For Me," becoming Korea's first 'High Teen' singer. The pure and youthful concept was created by her producer, Yoo Hyun Sang of heavy metal band Baekdoosan, after seeing the success of 'High Teen' idols while on tour in Japan. Today, she is often referred to as "the IU/Suzy of the '80s."
1990s
1993: Uhm Jung Hwa debuts as a singer, only to later be known as Korea's "dance queen" diva thanks to her 1998 hit single "Invitation," written by JYP. Popular among Korea's LGBTQ community, she famously holds a comeback showcase at an Itaewon gay bar in 2006. Her confident, seductive performance style paves the way for other sensual female K-pop acts like Brown Eyed Girls, AOA, SISTAR, and Chungha.
1997: S.E.S. becomes the first modern K-pop girl group. Debuted in 1997, this three-member girl group from SM Entertainment are the first of their kind. They set a precedent for what modern girl-groups would become.
1998: Fin.K.L continues forming the first K-pop generation. Debuted in 1998 by DSP Media, the four-member girl group found incredible success in the late '90s and early '00s. Their realistic yet sweet image shaped how girl groups would continue to be marketed.
1999: Actress Lee Jung Hyun crosses over to K-pop, earning nicknames like "Female Techno Warrior" and "Joseon's Lady Gaga." Lee is probably best known for her hit single "Wa," trademark EDM sound, and avant-garde concepts. She is regarded as one of K-pop's first acts to gain popularity in China. Fittingly, she opens the Seoul stop of Lady Gaga's 2009 The Fame tour.
2000s
2001: BoA breaks into Japan at the young age of 14 with her Japanese album Listen to My Heart. With this album, she debuts at the top of the Oricon album chart as the first Korean artist to ever do so. Her success opens the door to Japan for K-pop artists to, cementing herself as a legendary soloist.
2001: Harisu, who originally debuted through acting in the 1990s, becomes the first transgender idol in South Korea. She releases several albums and continues to find success in multiple avenues within entertainment. She continues to be a face and advocate for the LGBTQ+ community in South Korea.
2007: SNSD releases "Into the New World" as the single to their debut EP. The song would become a staple song amongst girl groups to perform for years to come. Later, it evolves into something of an anthem in political protests across Asia. They would go on to be known in South Korea as "The Nation's Girl Group."
2008: IU, also known as Lee Ji-eun, debuts as a soloist at the age of 15. Throughout her solo career, she dominates the South Korean market, becoming known as "the Nation's Sweetheart." Her dominance both in music and her acting career would set a precedent for idol-actors to come.
2009: YG Entertainment's four-member group 2NE1 debuts, singing about independence and individuality. Following a girl-crush concept from debut, they popularized the concept within the industry. Their lyrics, not as much about love, would set a precedent for other groups like BLACKPINK and ITZY. They would also be the first K-pop group to hold solo shows in the U.S.
2009: JYP Entertainment's Wonder Girls go on tour with the Jonas Brothers in the U.S. and debut their single "Nobody" at #76 on the Billboard Hot 100. This success further cements K-pop's prevalence in North America.
2010s
2013: SNSD's "Gee" becomes the first K-pop idol group music video to pass 100 million views, setting a precedent for the streaming culture of K-pop today.
2014: A fancam of EXID's Hani performing their song "Up & Down" goes viral across the internet, saving the group from disbandment. The explosion of fancams as a promotional tool for the third and fourth generations originates from this viral video.
2016: YG Entertainment's BLACKPINK debuts with immediate success. They would go on to be the first female K-pop group to perform at Coachella. They also become the first female K-pop group to sell over one million albums and the most subscribed-to artist on YouTube. Their international success and relevance creates a bigger bridge across continents and continues to push K-pop's relevance into the mainstream.
2016: I.O.I debuts through CJ E&M as the first group to come out of the Produce 101 series. With their debut, survival shows see a surge in popularity and support for both the shows and subsequent groups like Wanna One and IZ*ONE. This creates a new era of survival shows and groups created by them.
2018: K/DA debuts as the first completely virtual K-pop group. Formed in collaboration between Riot Games and several artists including (G)-IDLE, this animated girl group opens the door to the possibilities of technology and K-pop combining.
2020s
2020: aespa debuts from SM entertainment alongside their AI counterparts that "perform" with them. This crossover of real life and AR creates a new kind of group, one that crosses between reality and virtual spaces.
2021: CL of 2NE1 and Rosé of BLACKPINK attend the 2021 Met Gala under the theme "In America: A Lexicon of Fashion." Their attendance marks the first appearances of female K-pop idols at the Met Gala. Additionally, their attendance cements K-pop's influence and growing role in the fashion world.
Want more? Check out the full issue here!