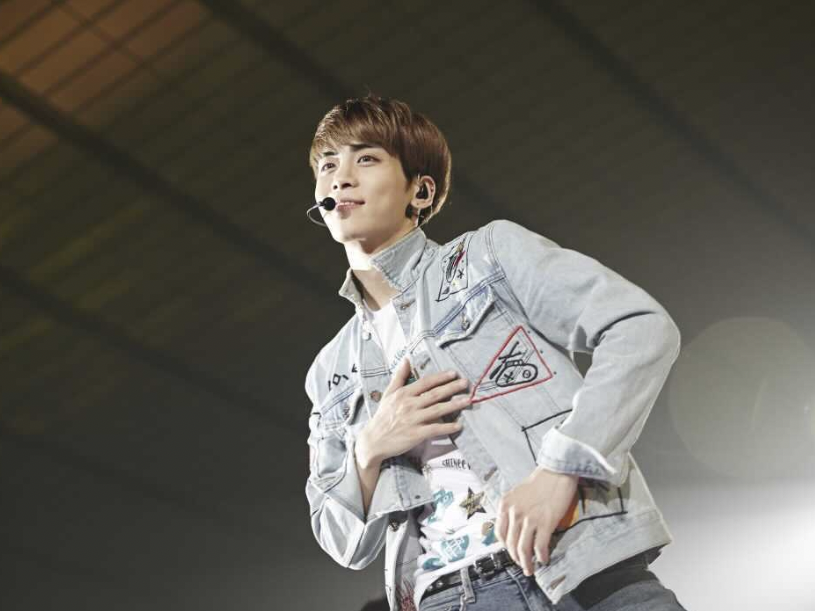 By Diana | @18kst
Kim Jonghyun: songwriter, radio show host, solo artist, and part of the five-member SM Entertainment group SHINee has accomplished a lot during his 13-year career. For Jonghyun Day, we're doing a deep dive into some of his most outstanding accomplishments, both based on numbers and awards, as well as personal achievements.
Awards as a SHINee Member
Jonghyun was cast by SM Entertainment in 2005 and debuted with SHINee on May 25, 2008, with the song "Noona You're So Pretty (Replay)". During their first year, SHINee received Rookie of the Month May, Newcomer Album of the Year, Best Newcomer, Best Male Rookie Group, New Icon Award, and Best New Asian Artist awards. SHINee was the first group to ever win the rookie award from every major awards show, popularizing what is now known as the Rookie Grand Slam. They became a popular group and won 62 out of the 96 awards for which they were nominated. In 2013, they had a major career highlight when they received the Artist of the Year Daesang at the MelOn Music Awards.
the way shinee accepted their artist of the year award in 2013…they were so grateful…they deserved it so much so so much

— ? (@Ieetm) October 22, 2020
SHINee has always experimented with their sound and choreography, and they received their due recognition for their work. They won the Best Dance Performance – Male Group at the Mnet Asian Music Awards three years in a row: in 2012 for "Sherlock," 2013 for "Dream Girl," and again in 2015 for "View." They have continuously been nominated and awarded for their more recent releases, both in Korea and Japan. They won Artist of the Year and Rookie of the Year at the Tower Records Awards in 2011 and 2018, they won an award for Best 3 Albums (Asia) at the Japan Gold Disc Awards.
OMG!! SHINee won ARTIST OF THE YEAR in japan's tower records kpop lovers awards 2011!! yayyy!! i'm soo proud of them..they deserved it ♥♥♥

— alejandra (@alexpoprocklove) December 28, 2011
Congrats to SHINee for their win with "Five" @ Japan Gold Disc Awards??I co-wrote "Gentleman" with @NinosHanna @TheEuroz? pic.twitter.com/VT7lEbojae

— Andreas Oberg (@THE__ANDREAS) February 26, 2018
Achievements as a Solo Artist
Jonghyun is a proficient songwriter in addition to being a talented singer and dancer. He participated heavily in the creation process of his work. He was able to write, compose, and arrange the music for his first album, which was unusual for many K-pop acts at the time. He had written songs for SHINee and other artists before, such as "Playboy" for EXO, "A Gloomy Clock" for IU, and "Breathe" for Lee Hi, but that was the first time he was able to put out music he had a major role in creating from start to finish.
Jonghyun has his own music colour already…u can listen to a song and say that it's a Jonghyun composition easily ~

— HAPPY JONGHYUN DAY ??? (@RealUnkle1932) July 8, 2015
LOVE IT. So thankful to SM Ent for giving Jonghyun the opportunities to produce his own music :') ❤️ https://t.co/Vk0X5JrMJr

— 최다정~ㅍ.ㅍ? (@MINHOLE) October 24, 2015
Jonghyun is considered one of the best idol vocalists in Korea to this day. His debut EP Base was released in early 2015 and it topped both the Gaon Album Chart and the World Albums chart on Billboard. He embarked on his first solo concert tour in 2015 and had three more following. He released his first studio album She Is in 2016, and his second studio album, Poet | Artist, followed in 2018. 
Jack of All Trades – Excellence in Other Fields
One of Jonghyun's best-known solo ventures in addition to his music is his MBC radio show Blue Night. Blue Night was a nightly broadcast where Jonghyun would talk about his music, things going on in the world, and his views on life. His biggest goal for the show was to bring comfort to people. Through the broadcast, he was able to meet and talk to one of his biggest musical inspirations, singer Maxwell. Maxwell made sure to visit Jonghyun at Blue Night after hearing that he was a big fan.
Blue Night first premiered in 2015, and Jonghyun won the Excellence Award – Radio at the MBC Entertainment Awards for the program.
Why is Blue Night named Blue Night?

Jonghyun: "Actually I don't know why but I think that the term 'blue'… it feels warm yet it feels cool as well. In English being 'blue' also means to be gloomy so it gives off a warm feeling… People come here to be comforted." pic.twitter.com/jD6AXzdf5w

— Jonghyun's Blue Space? (@temps_de_rever) February 25, 2021
He also released music on the radio show. His compilation albums Story Op. 1 and Story Op. 2 were first released through Blue Night in 2015 and 2017 respectively. Both were written based on the stories of the listeners who called into the show to talk with Jonghyun. 
Happy annniversary, Story Op. 1, Jonghyun's first compilation album of the songs that he released on Blue Night radio to give comfort.

Thank you Jonghyun, for being the end of our days and our pride.#종현첫번째소품집5주년#EndOfADayIsJONGHYUN#JONGHYUN #종현 #ジョンヒョン pic.twitter.com/D6YeoIK2pm

— MY DEAR MOON (@mydearmoonkjh) September 16, 2020
jonghyun wrote two albums dedicated to the stories of people who phoned in to his award-winning mbc radio show "blue night," as well as his own experiences and feelings. he also penned view after an experience with a fan who had synesthesia on blue night. pic.twitter.com/zEPy5eZ9NE

— JJONG BIRTHDAY BASH (@kjhrunway) March 24, 2021
In 2015, Jonghyun wrote his first book, Skeleton Flower: Things That Have Been Set Free, expanding his resume to include 'author.' The book is a collection of short stories with chapters named after songs he wrote for his solo and group albums. The 162-page collection also included personal notes and photos chosen by Jonghyun himself. Due to its popularity, the book has been reprinted several times since its release, each time selling out within days. 
Lasting Impact
Jonghyun is a beloved artist and SHINee member whose impact reaches people around the globe. From group releases to his solo art and radio show, he has been able to connect with people from a wide range of backgrounds for over a decade. He is loved for his humor and kind, bright personality in addition to his outstanding musical works. Today (and every) Jonghyun Day, the world remembers him and continues to have his discography on replay.
04.08 #JONGHYUN #종현 #SHINee #샤이니 pic.twitter.com/Xo2t2SAfGe

— SHINee (@SHINee) April 7, 2021
Looking for more SHINee? Make sure to read our review of their latest album here!
Thumbnail Courtesy of SM Entertainment