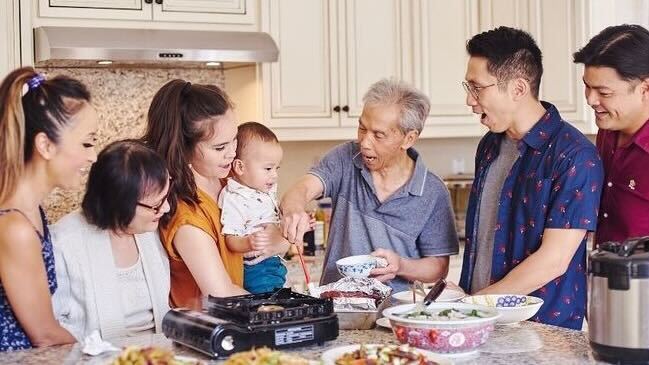 "Made With Lau" is a fast-growing Chinese-American cooking YouTube channel and blog run by Randy Lau. Each week, 550,000+ subscribers are nurtured by a new video demonstrating a Chinese recipe of Lau's father, nicknamed "Daddy Lau." He has over 1,000 recipes from his 50 years of experience as a Chinese chef.
For a channel that was launched in late 2020, "Made With Lau" already speaks to the great lessons and outcomes that come from the special blend of culinary art and identity, and what it means to work with your family to preserve all that one has been nurtured by.
EnVi spoke to Randy Lau about the channel, where it all started, and where they will continue to go. Get your apron on, and let's step into the kitchen!
Let's Get Cooking!
"Made With Lau" shows that Chinese food is accessible, easy, and is more than just what is available on restaurant menus. For first timers especially, Lau said that the channel features many beginner-friendly recipes, so new viewers need not be intimidated.
If you're worried about where to start, Lau specifically recommended trying the silky but savory steamed egg (蒸蛋 zing1 dan2), a delicious recipe for being just water and eggs. Another good starter Lau brought up was congee (粥 zuk1), a rice porridge that is the go-to meal from when one is a baby to when one is sick.
These recipes only require two or three ingredients, but are sure to warm your belly with its comforting flavors. They also perfectly demonstrate how food is so tied to culture and language. From Randy's English introduction and guide, to Daddy Lau's Cantonese demonstration, to the Chinese subtitles, the video shows that it is meant to be consumed by a large audience.
Table Talk
Randy grew up in an area with few Asian Americans and felt straddled between the two cultures. However, by leaning into this discomfort, he has come away with more personal and creative gains than losses.
"I think that hyphenated experience has really helped me actually, because, in the process, I get to explore what that means and become more solidified in that identity," Lau discussed. Leaning into the insecurity has actually helped him connect with a lot more people, including his parents.
"From a creative perspective, I think leaning into insecurity has helped a lot. I think that's typical across a lot of music or arts, just exploring parts of yourself that you're not as comfortable with."
Whether you are just starting out with cooking Chinese food or another project, Lau stresses that perfection is not always the goal–or even what performs best. It simply matters that you are trying, and for Lau, he has personally been overcoming his nerves about speaking Cantonese through the videos.
"I think getting to connect more with my roots and show that on camera has been really interesting because we teach Cantonese culture and Chinese cultural cuisine. And sometimes I'll explain certain vocabulary words, but for me, it's kind of scary. My Cantonese isn't perfect, so to put it out online is kind of scary. But I think leaning into the cultural part makes you unique, and not needing to be perfect is something people want to see as well," Lau encouraged.
For many of the Asian diaspora, language is often a fraught topic, but Lau shows how it all starts with a simple word, then a sentence. Before we know it, we will surely have a recipe, whether it is for food, or to better connect with our families and who we are.
Lau also added, "I think with the rise of short form content and TikTok, you'll notice a lot of those platforms and the short form videos are a lot less polished. I think people are more drawn to the process and imperfection and seeing what your real life is. Being able to share more of that online and not being pressured that you're putting out something perfect is actually to your advantage."
With that said, make that recipe! Even if it fails, who knows, it could be the next viral food challenge.
What Made "Made With Lau"?
The idea for "Made With Lau" came quickly but slowly, like the act of boiling water. It was always a bucket list item for Lau to somehow document and preserve his family and his recipes, but he had never thought to make it into a YouTube channel until the pandemic hit in March 2020.
"I think a lot of people have this desire to document their parents' or grandparents' recipes, so I just wanted to do that with a few of their recipes. I never really thought to act on it as an actual career, but the pandemic happened, and it knocked out our main source of income," Lau recalled.
Especially with a baby on the way, it became all the more important for him and his wife to figure out what to do next. What pushed him to finally pursue "Made With Lau" was when he utilized a self-help book exercise, which asked him to consider what he would really do if money was not a worry. Before "Made With Lau," Lau had worked as a digital marketer but he had always been interested in video, and there, he found his answer.
The idea of "Made With Lau" was viable because it could be both personally fulfilling for Lau while being a business to support their family. He was excited to start, but there was only one issue. "I had no idea if my parents would want to do it," Lau said. He sat down with his parents to have a two-hour long discussion about how YouTube worked. By the end, his mom, nicknamed "Mommy Lau," was in. On the other hand, Lau's father was quiet and Lau was unsure of what was to be of the channel.
Soon after, his dad called him up. "My dad–I had no idea–but two days later he was like, 'Hey, I need to process some pork, why don't you come over and film?' I was like, 'I'm not ready yet. I need to do a lot of planning,'" Lau chuckled.
Over the course of six months, the Lau's were understandably occupied between the arrival of their baby and the filming of eight recipes. They finally launched in September 2020, and released five videos, "because the first three… I wasn't happy with how they were filmed," Lau admitted.
Lau expected them to take a few years to start gaining financial traction, but success came quicker than he expected. Clearly, Lau was not alone in realizing just how special "Made With Lau" was. "I think we just hit on something that a lot of people resonated with and it just grew way more quickly than I ever thought it would. It's just been a series of really exciting surprises," Lau said.
Notably, he shared that, "We became eligible for monetization on YouTube on my birthday, on October 15, which was a really nice surprise." And, it didn't end there. This past December, the channel hit half a million subscribers!
Next Order?
Lau has many goals for the future. Many are long reaching, like his desire to leave a legacy for his family and future generation through preserving such traditions online. On this note, Lau also brought up the possibility of creating other kitchen aids, like a cookbook or Daddy Lau approved cookware. However, beyond the tangible, the Laus have already been reaching new interpersonal depths through the channel.
A few months ago, YouTube's crew filmed the Laus at work to highlight their story. It was a "mini Hollywood" moment for them and showed them how much they had accomplished, but it most importantly solidified how much they had grown together.
The channel, at its root, has always been more about just cooking. For Lau's parents, "Made With Lau' gave them an outlet, and it shows what is possible when support and visibility is given to those traditionally without.
"I think it's brought us so much closer as a family, and it's been really heartwarming to see because my parents are in their sixties and seventies, and typically at this stage of life, they'd be, I don't want to say bored, but like, kind of going through the motions, but I think this has given them a lot of excitement. For me, it's just really cool because they've worked so hard their entire lives and I think they're just incredible people, so it's great to give them more outside recognition and seeing them really get excited about it, like checking on it. My mom writes down our analytics stats every day," Lau revealed.
For audiences, "Made With Lau" has also affirmed the love, history, and hope that food carries. In November 2020, two months after the channel's launch, a viewer reached out because their grandpa was not in good health and they wanted to see a recipe on 粽 zung2, Chinese sticky rice dumpling, so that they could make it together.
This resonated with Lau's family, and likely does for many Chinese people as well. Zung2 is such a traditional food with a taste just as precious as its arduous process.
"It actually made my mom cry because it was just so beyond the recipes that we're sharing, that we get to share, we get to help guide people to create their own experiences and favorite dishes at home," Lau said.
From the process of soaking bamboo leaves, using the leaves to wrap rice and fillings, and finally steaming the many bundles for nourishment throughout the year, Zung2 is a physical testament of love and community. At its heart, this is what it means for a food to be "Made With Lau."
"I think above all of the growth and views and metrics, that's the most special part of it, just getting to connect with people and also getting to have a small influence on what they might eat at home, sharing these dishes with their loved ones. Because that's what I got to experience all the time growing up, so being able to spread that in the physical world, that's really special," said Lau.
You can get more "Made with Lau" content on their YouTube, TikTok, and Instagram.
Want more? Read about some holiday recipes here.