Over the last couple of years, Filipino boy band SB19 has made its headway into global stardom. With hit songs like "What?," "MAPA," and "Bazinga," the group accrued momentum in their home country and shot to international fame. As trailblazers whose popularity earned them a nomination for Top Social Artist at the 2021 Billboard Music Awards, the five-piece act has reached highs unknown for Southeast Asian artists. When we speak, Pablo, Josh, Stell, Ken, and Justin are in the midst of a new chapter of their career, visiting New York as part of their first-ever global tour, WYAT.
Talking to SB19 is undoubtedly a one-of-a-kind experience. Dressed in matching black suits, the members of the music sensation look like a well-put-together group of twenty-somethings catching up with a friend. From their playful smiles and candid reactions alone, it's almost impossible to tell that they're fresh off a historic first live performance on American television. In our conversation, however, the young men are articulate and well-spoken, gushing about A'TIN — as their fans are nicknamed — and offering a glimpse at the inspiration behind their music.
SB19, A'TIN, and the Power of Reconnection
"When we started creating the song, the beat itself just screamed English, so I started to write it in English," says SB19's leader, Pablo, about "WYAT (Where You At)," the group's first English single. Released in September 2022, the song — booming with energy and the quintet's melodic vocals — has quickly become a fan favorite. Initially conceived during the pandemic, "WYAT" is a funky and groovy track that reflects on the "yearning for connection." As the saying goes, chaos breeds creativity, so Pablo found inspiration in the global situation for the self-penned single. "Everybody wanted to go out, watch movies, and do fun things together, so we tried to make a song that would hype everything up, and [we] tried to reconnect everyone with a song that they could enjoy and groove to. That's what really commenced the writing of 'Where You At'," the multi-talented singer shares.
The song undoubtedly achieved its purpose. On social media, fans from around the world have been introducing "WYAT" as the ultimate reconnection anthem. The members of SB19 smile and nod, pleased to hear about this support. The appreciation is reciprocated if we go by the way their faces light up when talking about their fans. To further prove the point, when we discuss the adventure of embarking on their first world tour, Justin eagerly takes the mic, "It's been really great to see our fans all over the world and all over the Philippines in the tour. Actually, we're quite surprised because of the energy they're giving us after these years we've been through a pandemic. They're excited to see us, and we can feel their love and support, so we are giving the best of our performance for them."
So far, SB19 has traveled around the Philippines and visited Dubai in a tour that kicked off on September 17 in Manila. Though the well-deserved milestone was long overdue, the group dived into this new experience not without reservations. The tour kickoff concert, however, served as a reassurance of sorts. A surprise video featuring fans from around the globe and the deafening screams of attendants did the part, making it abundantly clear that — quoting A'TIN — the world was ready for SB19.
What were the members' thoughts upon watching the video and fan projects? "Well, firstly, we're really, really thankful, and we do feel the love," Pablo emphasizes the last word placing both hands over his chest. "Because you know, before we started this world tour we were really anxious and we were really worried, [wondering] if people were going to watch our concerts. But with that video, with all the preparations that the fans have been doing, all the fear, all the anxiousness, and all the worries we had, suddenly disappeared."
Along with their own talents and efforts — all five members actively participate in the production of their music — fandom support has been essential for SB19's success. Perhaps that's why there's nothing like a favorite moment with A'TIN for them. Josh explains, "Honestly everything is memorable for us. Whatever they do, we really try to cherish every moment with the fans, with A'TIN. Even the littlest things they do for us fill our hearts. They take care of us really well and they are very supportive of whatever we do. We're very thankful for every A'TIN around the world." Echoing the sentiment, Justin adds, "They surprise us in every concert and every place that we go. They have these projects and [we're always] really surprised."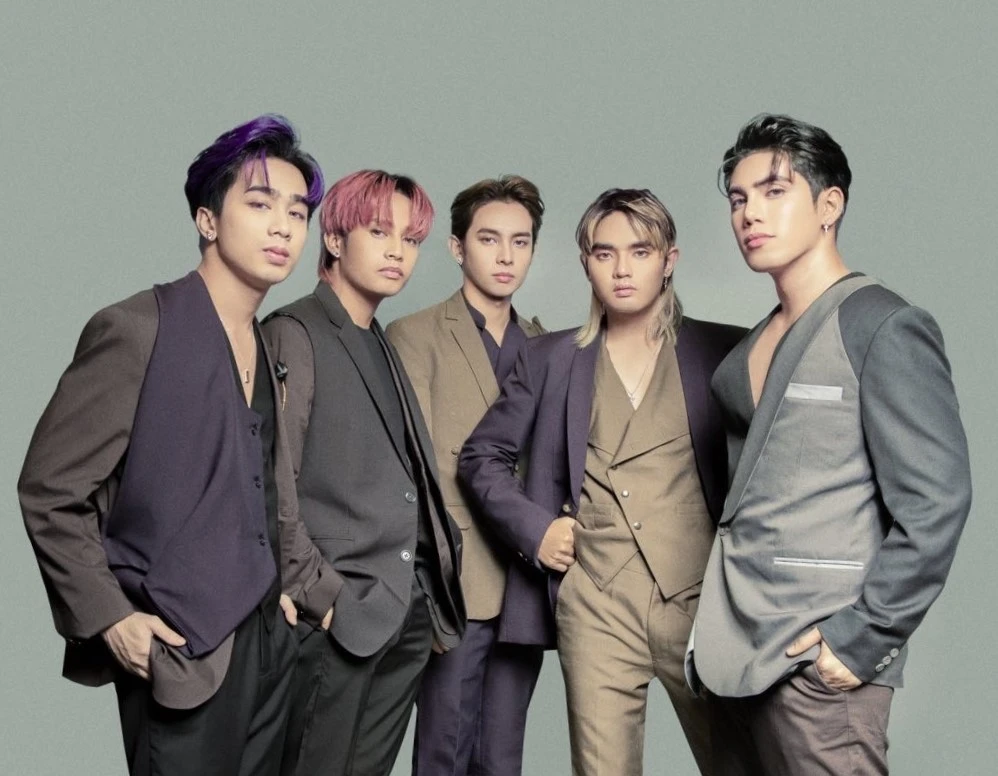 Philippines Represent
Though SB19 is achieving a longtime goal by performing in the United States for the first time, the accomplishment has come along with a greater duty. As frontrunners of Original Pilipino Music (OPM) — a term coined to refer to music composed and performed by Filipino artists — the group is also taking their country to the global stage. Back in 2021, SB19's multitude of local and international accolades earned Pablo, Josh, Stell, Ken, and Justin a brand new title: Youth Ambassadors of the Philippines' National Commission for Culture and the Arts (NCCA).
While in New York, the quintet fulfilled the role and paid a visit to the Philippine Consulate General. The experience, as Ken describes — picking the microphone automatically — was a meaningful one and reminded them of "where they came from" and the "sacrifice" of previous generations. It's the first time Ken answers a question since the start of the interview, but he does it confidently, knowing exactly what to do when he's running out of things to say, "We feel proud, very proud, and we're very thankful. Stell, what about you?"
In between the laughs of his bandmates, a smiling Stell takes the mic. "Same as Ken, of course, being an ambassador of Sentro Rizal in the Philippines it's very surreal that we had the chance to meet the General Consulate here and visit the office. It's very refreshing to meet fellow Filipino [people] also in New York. I think we're all very happy we had the chance to visit the office, meet them, and sit together," he says. Sitting next to Stell, Josh nods in agreement, "It's actually a big honor that SB19 is letting the world know about Filipinos as part of our tour, so we're very happy that everything has been going as smoothly as well for us. We're really enjoying our stay here, and we're very honored that we've been part of the NCCA here in New York."
Of Movies, Covers, and Dream Collaboration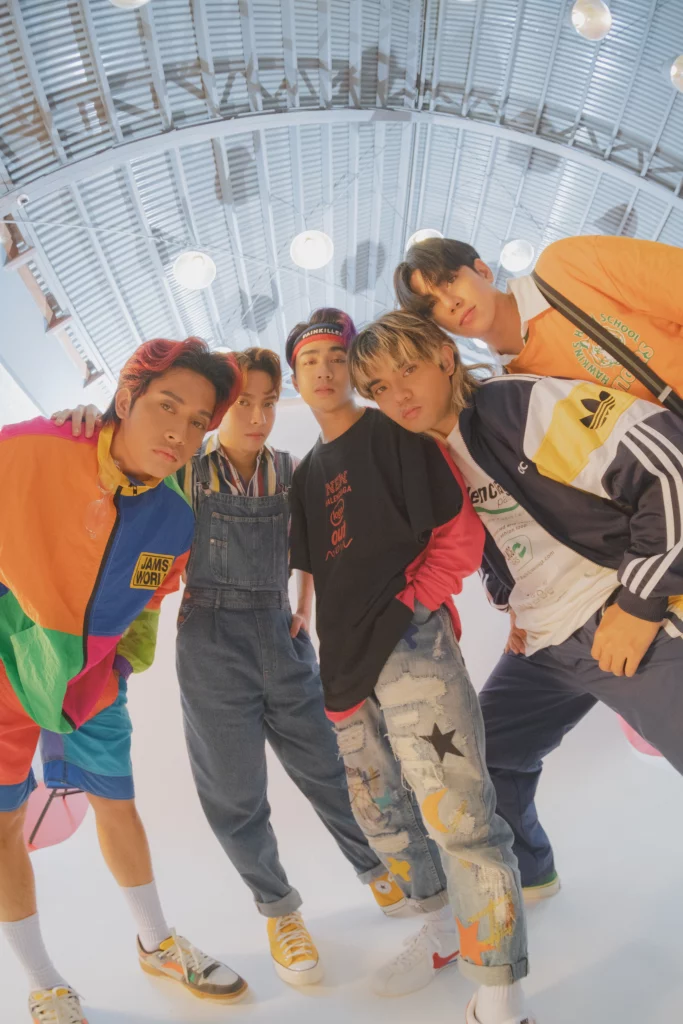 Part of SB19's charm is how easily they make people forget one is in presence of P-pop royalty. Once we trade questions about their craft, fans, and representing the Phillippines with lighthearted 'what ifs,' the members laugh, clap, and tease each other. When asked about what famous movie or characters they would've liked to play if they were full-time actors, the answers are unexpected and come with the group's own set of reactions. Pablo, for example, admits to enjoying Kevin Hart's movies. "He's really funny, and I think it would be really great if I acted in a movie that's funny and, at the same time, very romantic." Josh offers a similar answer picking Adam Sandler's character in 50 First Dates (2004), and Justin makes his bandmates burst into laughter going for Rowan Atkinson's iconic Mr. Bean.
When the fivesome discusses the songs they'd like to cover during their shows — if hypothetically they had the chance — the answers are equally varied and telling of their personalities. Fans of hip-hop, both Pablo and Josh share they'd like to try out rap songs, while Ken confesses he'd prefer to test the waters with a trap, R&B song. On the other hand, Stell and Justin have more specific choices in mind. "I think I'd do a Celine Dion cover since she's famous here in the US. I think I'd go with a ballad song." Stell says, beaming. Meanwhile, Justin shares his most recent music discoveries. "For me, I think I'd be singing some intimate song. Actually, I was listening recently to a singer I just found on Spotify. I don't even know how to pronounce his name; it's Anson Seabra," Justin carefully pronounces the name twice, "I'd like to sing a few [similar] songs."
In reality, at their New York show—just like in every show of their tour—the setlist included a cover of Charlie Puth's "Attention." With the experience of the years and several viral covers under their belt, SB19 nails the song every time. Though the group has its own impressive discography, talking about covers naturally sparks another question: whose songs would SB19 like to have in their discography? The members briefly discuss the answer in Tagalog, and when they come to an agreement, Stell shares, "Bruno Mars because he can sing and he can dance. We've already covered some of his songs before and we also made a choreography, so yes, Bruno Mars' songs." Before moving on, Josh makes sure to add, "And he is one of our dream collabs."
SB19 and A'TIN's Shared Dream
Speaking of dreams, SB19 are living one of them with their world tour. Despite the jam-packed schedule and responsibilities that come along, they are enjoying their time stateside. "To be honest, we haven't been able to go around the city," Pablo says while in New York "[But] just looking around, it's really nice. It's a nice place, nice weather. We're really excited to go around; we just have to do what we have to do first. We can have fun later."
After their show in New York at the Palladium Times Square, SB19 performed in Los Angeles on November 12 and then headed to San Francisco. They've already delighted A'TIN during their stops in the Phillippines and Dubai, but as Josh puts it, every concert has its own singularities and moments that fans should look forward to. "Well, every concert we'll make sure we'll surprise them as well. We give every concert new energy and…" When he stops to think about how to articulate his thoughts, Pablo helps out by whispering some words. "Yeah, a new feel to it, a different flavor for every country and city where we're going to perform."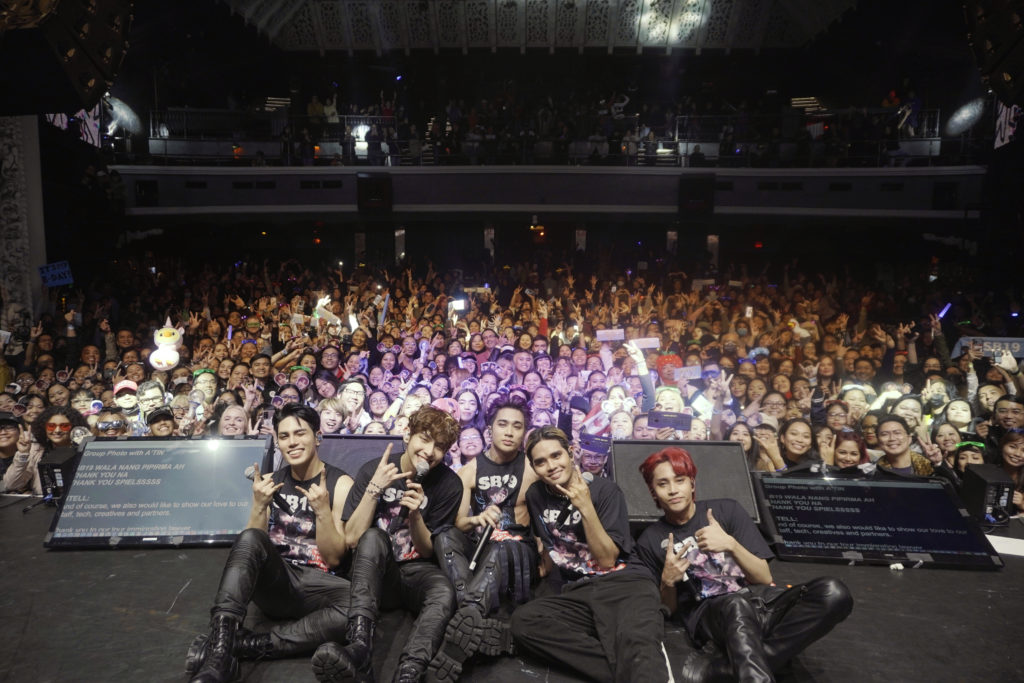 But the anticipation is not exclusive to SB19's fandom, which has been waiting a long time to see their idols. As far as Pablo is concerned, the sentiment is mutual. "Since this is our first time visiting the United States, I think [the shows] will be special for both of us, our foreign fans and us since it's going to be the first — for them the first time to see us perform live and also first [time] for us to perform live in front of them. It will be a very, very special moment, and I hope everyone enjoys it."
Over the past few years, SB19 has received an outpouring of love from fans. The dedication and adoration are best displayed through the band's accolades: most decorated Filipino pop group, the first Filipino and Southeast Asian act nominated Top Social Artist at the Billboard Music Awards, longest-running number one hit in the history of Billboard's Hot Trending Songs Chart, and so on. Despite the present time's great heights, the gratitude and acknowledgment toward fans are not lost on SB19.
"To our global A'TIN, of course, we are very thankful and we are very blessed to have you guys," says Stell as the interview comes to an end. "Our first tour is not only for us; this is not only a dream, this is our dream, so we're very happy that it's finally happening and turning into reality. This tour might give us not only the opportunity to show our talent but also Filipino culture as well, so thank you so much for supporting us. We're hoping to see you guys again, and let's party!"