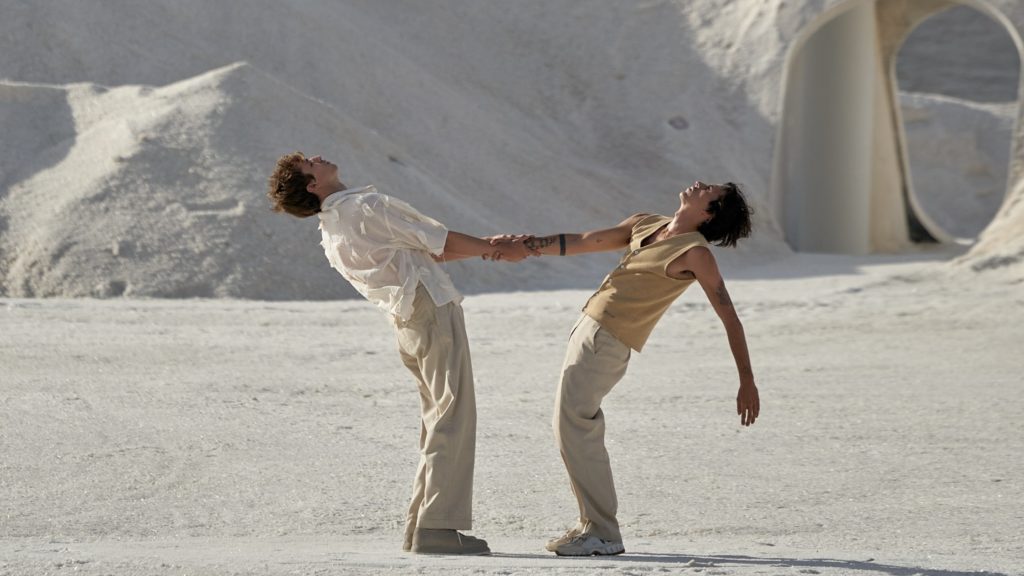 After announcing their collaboration with Nike, French fashion brand Jacquemus presented its Fall 2022 collection "Le Papier," on June 28. In the weeks leading up to the launch, founder and designer Simon Porte Jacquemus teased items from the collection on the brand's Instagram account. Posts showcased Jacquemus' first Nike sneakers and a swoosh garter belt, both of which were featured on the show.
Back to Basics
Known for its vibrant, bold clothing and signature handbags, Jacquemus has presented flamboyant colors and innovative geometric shapes in recent collections. "Le Splash", and "La Montagne," for example, attracted more worldwide recognition on top of the brand's existing social media empire. For the Fall 2022 runway, Jacquemus returned to Arles in the south of France, where the designer himself is from.
Jacquemus, now 32, started his eponymous label when he was only 19 years old. Throughout his career, the brand's aesthetic has become feminine, elegant, and, perhaps most importantly for its recent growth, viral. And Jacquemus knows this — in an interview with W Magazine, he shared that he always asks himself if his work will look good on social media, because "if it's cute on Instagram, it will sell."
His newest collection, however, intentionally breaks this developing pattern. Turning away from the "pop" look of his recent collections, Jacquemus opted to "go back to something more poetic." This means a return to neutral colors and minimalist detailing as he reimagines women's sportswear.
"Le Papier"
Set against nothing but the barren terrain of Arles, "Le Papier" seems to mark a new era for Jacquemus. As its French name suggests — "Le Papier" is translated as "The Paper" — Jacquemus stepped away from its signature bright colors in favor of neutral and muted tones. With this shift from social media-driven marketing through the brand's color palettes, Jacquemus proves itself as more than an Instagram-famous brand through the collection's focus on the artisanship and clothing itself.
Featuring both womenswear and menswear, "Le Papier" included everything from mini dresses to puffer jackets. There was a combination of athleisure-inspired pieces and mature, bridal items. The show's opening — two models engaging in a choreographed embrace — complements the latter, likely reflecting the designer's own engagement.
Though he is taking a new direction, Jacquemus still incorporated his signature into this collection. Asymmetric shapes, cut-outs, and the spaghetti-strap, loose-fitting dresses so loved by fans of the brand returned to the runway in Arles. In addition, the collection notably had a lot of tulle components, mimicking wedding dress skirts or veils, protruding from otherwise already cohesive outfits. Raw hemlines, in contrast with delicate strap and cord detailing, show Jacquemus' range in texture and design.
Star-Studded Guest List
Jacquemus is no stranger to the world of A-list celebrities, and both the brand's official Instagram and their show guest lists are constantly composed of major celebrity names. In fact, the designer regularly shares snaps of himself posting with influential stars like Dua Lipa, A$AP Rocky, and HoYeon Jung.
The March 2022 showing of "Le Splash," staged on a beach in Hawaii, garnered global attention thanks to its joyous colors, paradise setting, and elite guests. Singers SZA and Jhené Aiko, Euphoria's (2019) Sydney Sweeney, and K-pop superstar Jennie Kim, among many others, stunned in colorful ensembles.
The unveiling of "Le Papier" was no different. Joining Jacquemus in Arles were the likes of influencer and makeup artist Bretman Rock, choreographer Parris Goebel, Bridgerton's (2020) Simone Ashley, and ex-Spice Girl and designer Victoria Beckham. Attendees of the show opted for mostly monochrome, neutral outfits, matching Jacquemus' new vibe.
As Jacquemus continues to explore designs less dependent on social media success, we look forward to seeing where the French label takes us in its next high-fashion ventures.
Want more fashion content? Read our recap of Blumarine's Resort 2023 collection here.