Since becoming creative director of Blumarine in late 2019, Italian designer Nicola Brognano has revived the brand with his nostalgic vision. Drawing on his experience growing up in 1990s Italy, Brognano thrust the iconic brand back into the mainstream fashion sphere amidst the current retro revival. With Resort season unfolding, Blumarine revealed its Y2K-inspired Resort 2023 collection, to which Brognano added a utilitarian twist to his classic 2000s aesthetics.
Y2K Inspirations
Nicola Brognano made his Blumarine debut in September 2020 with the Spring-Summer 2021 collection, "Bloom." The then-new creative director modernized the feminine aesthetic with Y2K staple materials such as rhinestones, satin, and statement belts. Brognano's first collection was a hit, giving Blumarine the spotlight amidst the hype around 00s trends.
A year after Brognano's debut, one of Blumarine's greatest viral hits was born: the Butterfly Halter Top from their Spring-Summer 2022 collection, which resembled the iconic top worn by Mariah Carey in 2000. According to Hypebae, Brognano fittingly considers the butterfly one of the brand's unofficial symbols. Thus, it makes sense that the butterfly motif appears throughout every collection. To create unique, fashion-forward collections, the creative combines Blumarine's classic themes with his own tastes.
Last year, the Resort 2022 collection maintained Brognano's classic aesthetic, focusing on bright colors and bold patterns. And, of course, the return of the butterfly iconography in subtle ways: on belt buckles, minidresses, and cardigans.
Blumarine's viral pieces have reached beyond mass crowds into the fashion elite. Thanks to its trendy, creative pieces, the luxury Italian brand has become a celebrity favorite. Most notably, pop superstar Dua Lipa has been spotted wearing head-to-toe Blumarine outfits. The singer—now also a face of Versace—is often considered a style maven for her iconic vacation fits and concert costumes.
Likewise, Blumarine has made its rounds in the K-pop sphere, with fashion icons like HyunA and Red Velvet's JOY wearing the brand's pieces as part of their stage and music video outfits. Other South Korean stars that have been spotted wearing the brand include IVE's WONYOUNG, Red Velvet's SEULGI and WENDY, BLACKPINK's ROSÉ, and soloists CHUNG HA and Lee Hi.
Blumarine Resort 2023
Blumarine's Resort 2023 collection adds to the brand's 2000s-inspired catalog. This time around, however, what's new is the slight shift towards more utilitarian visuals. It's no surprise that luxury designers are finding inspiration in techwear and brands such as Arc'teryx, which have gone viral on TikTok. Whereas previous collections presented a girly, feminine image, Resort 2023 takes a tougher, more badass turn.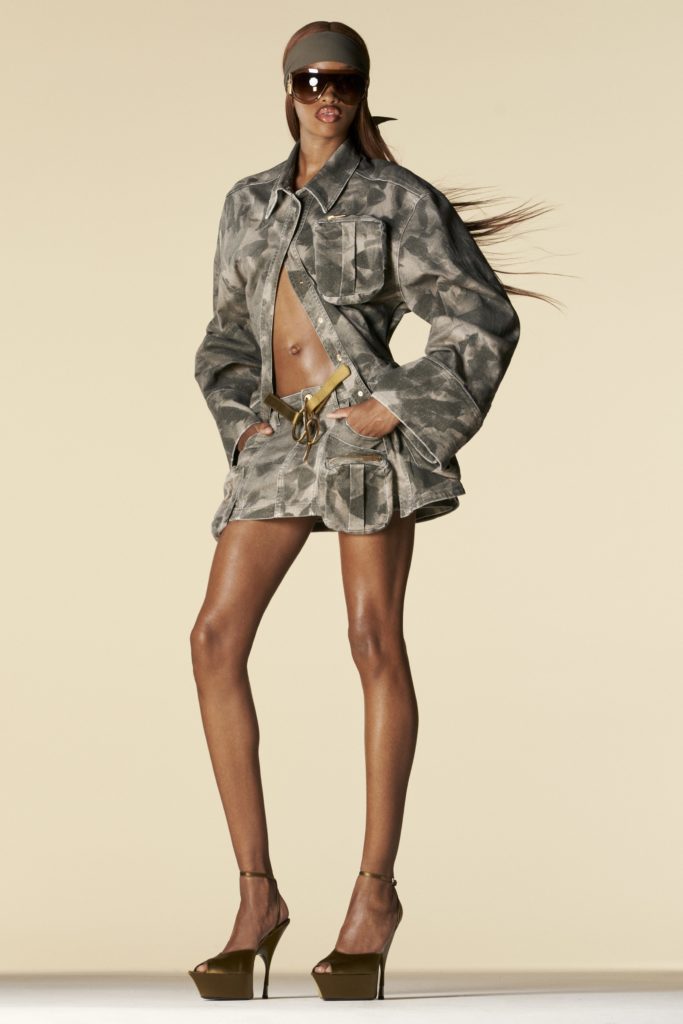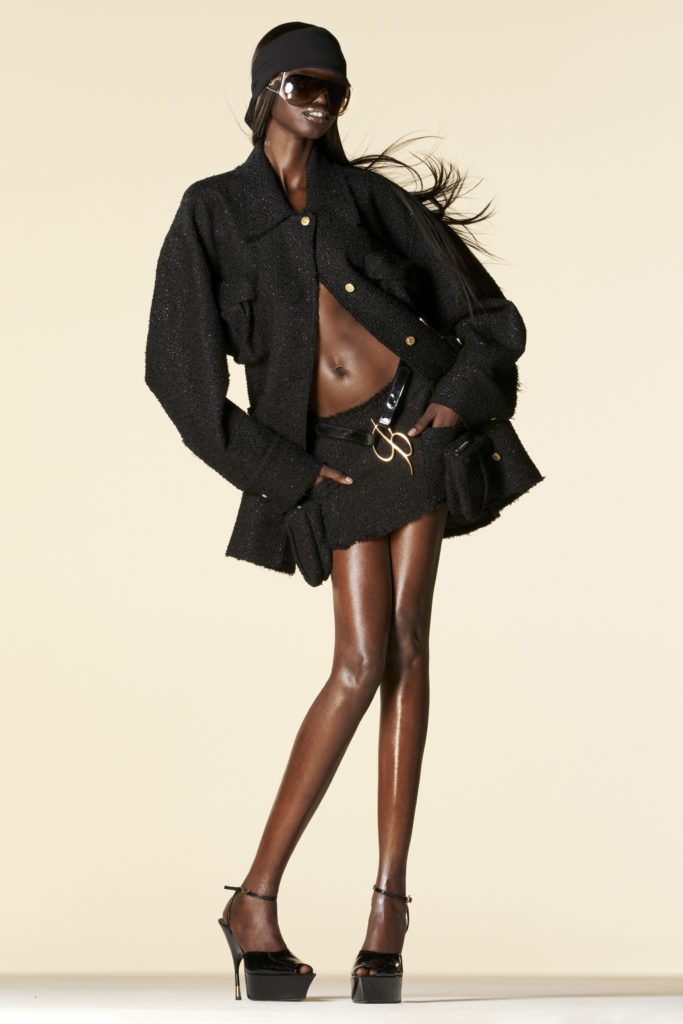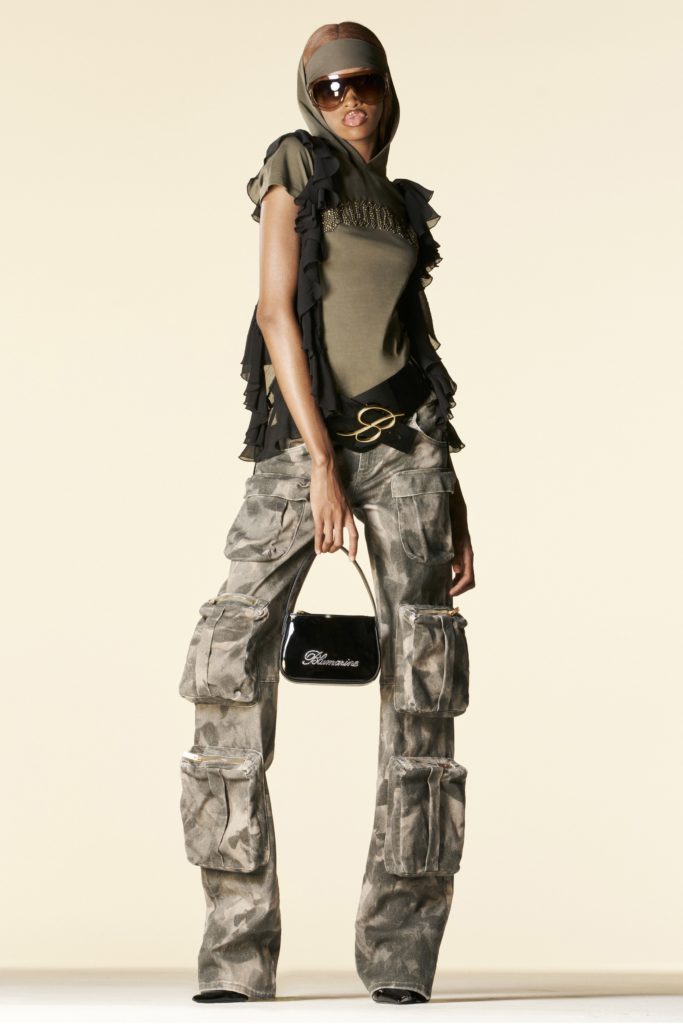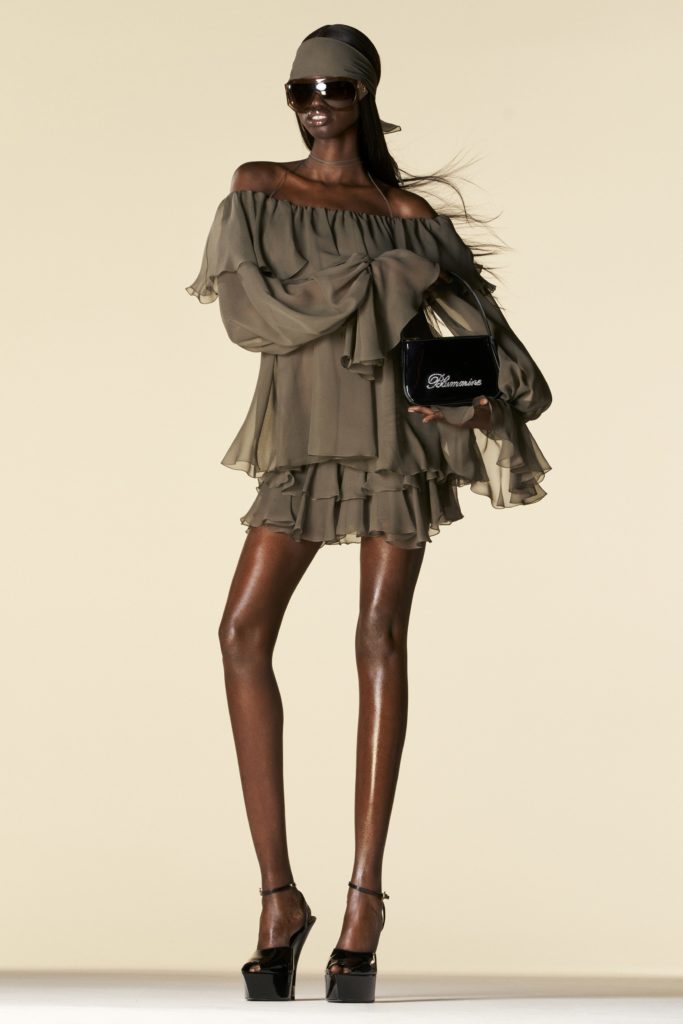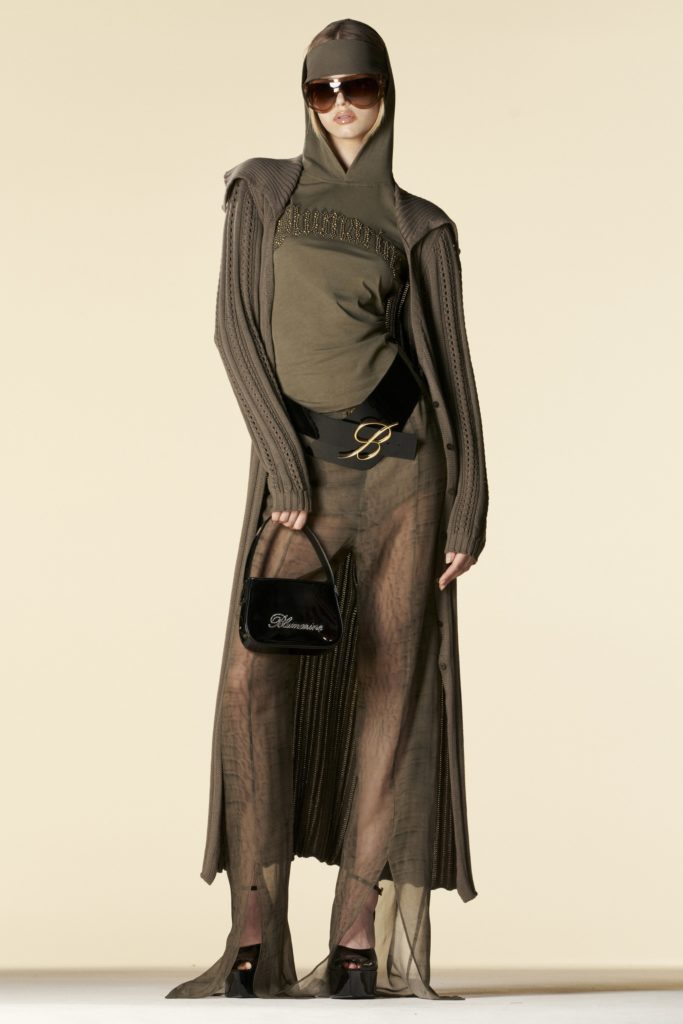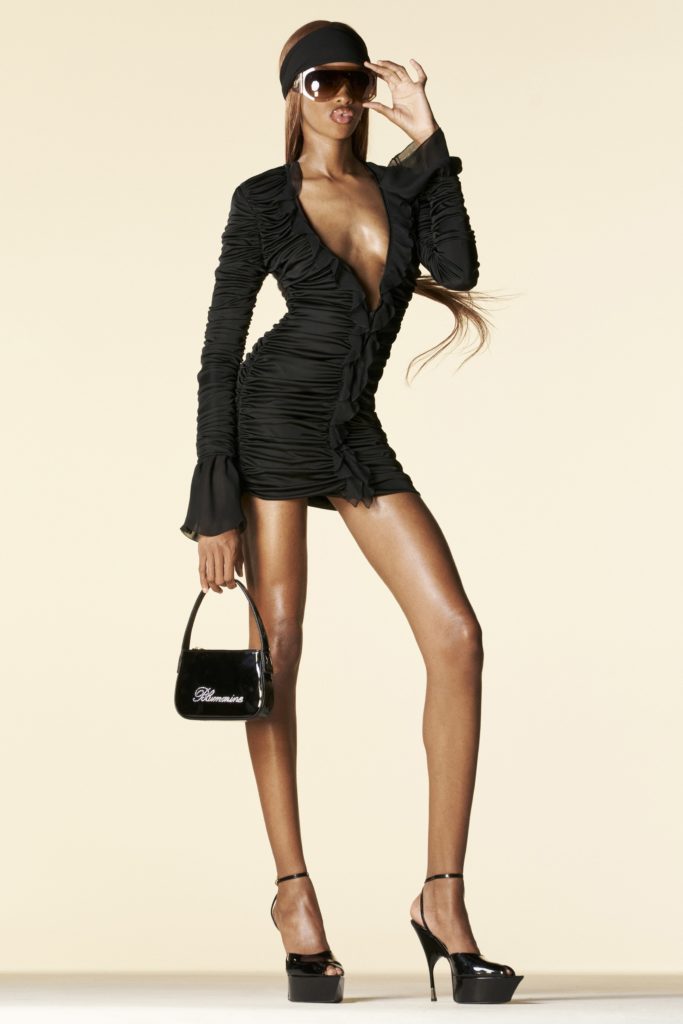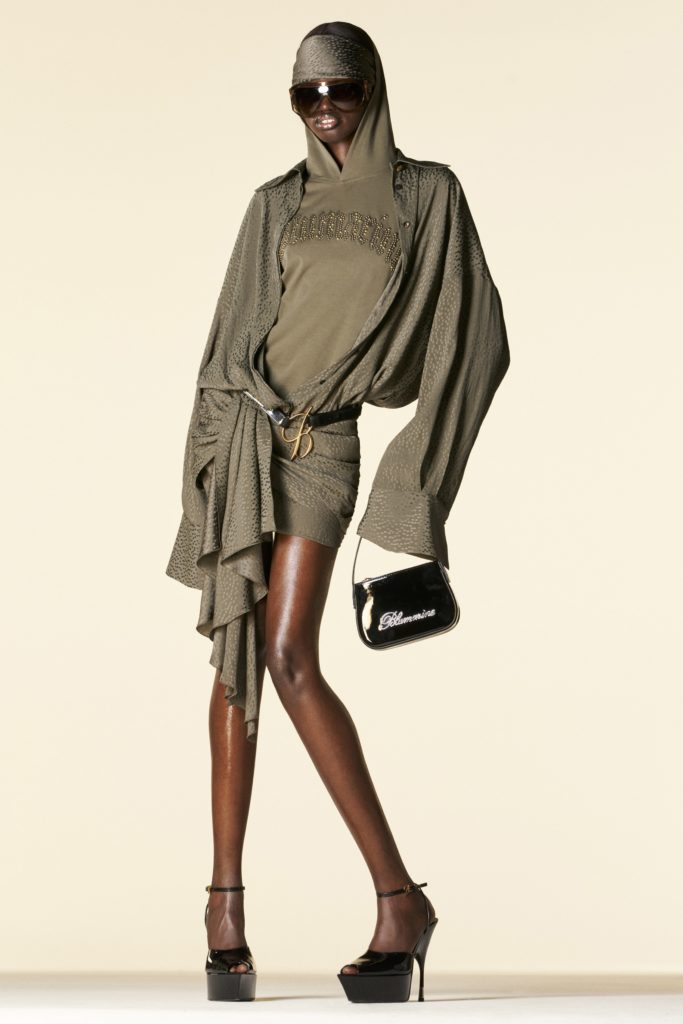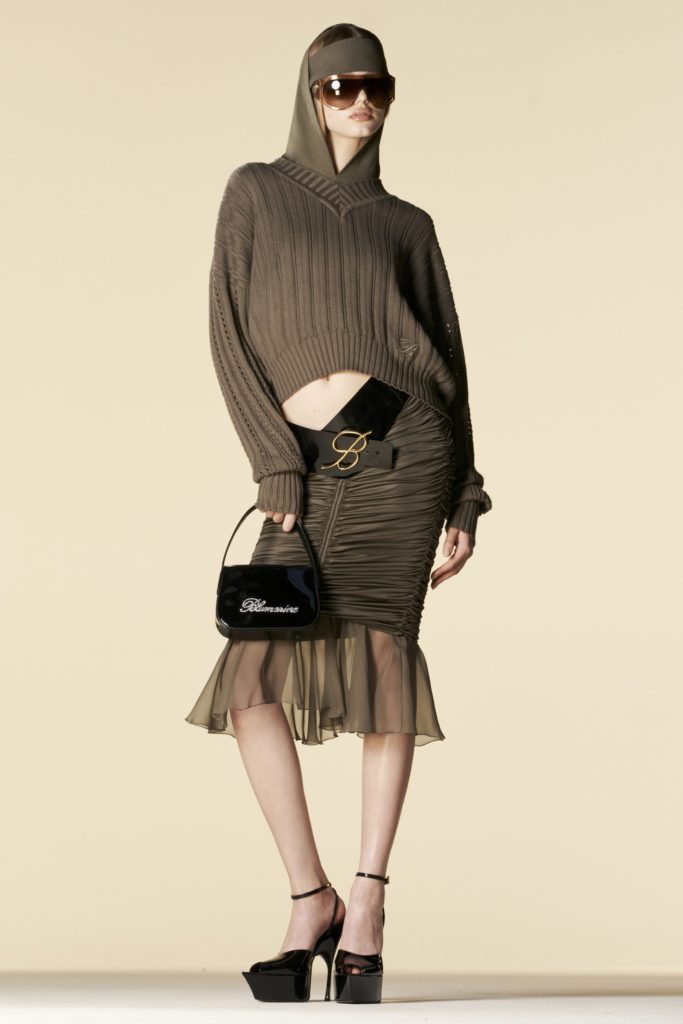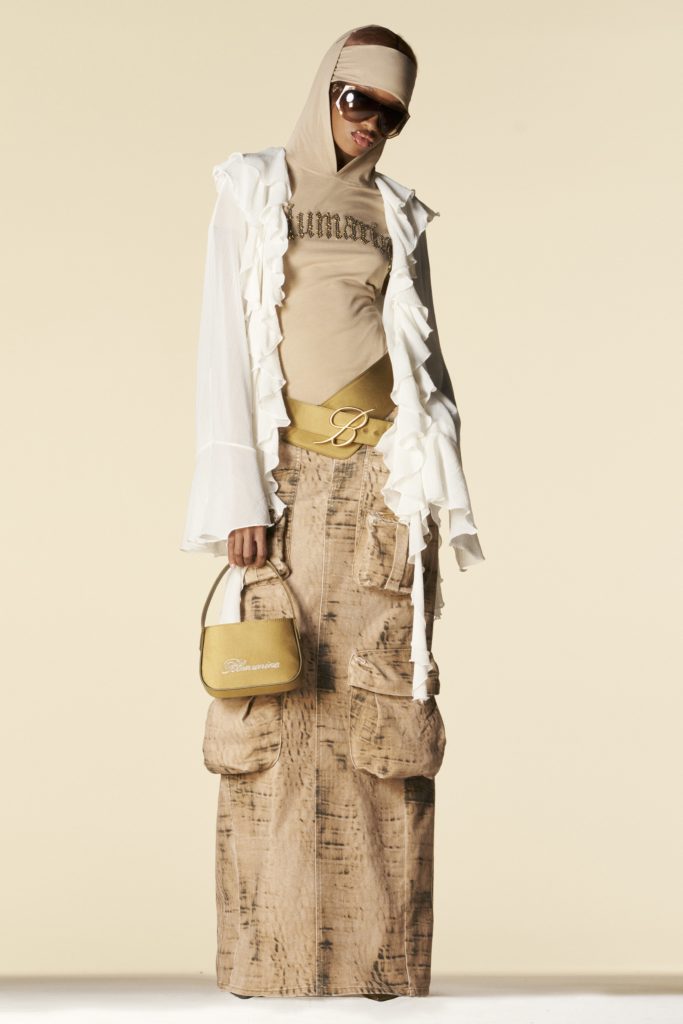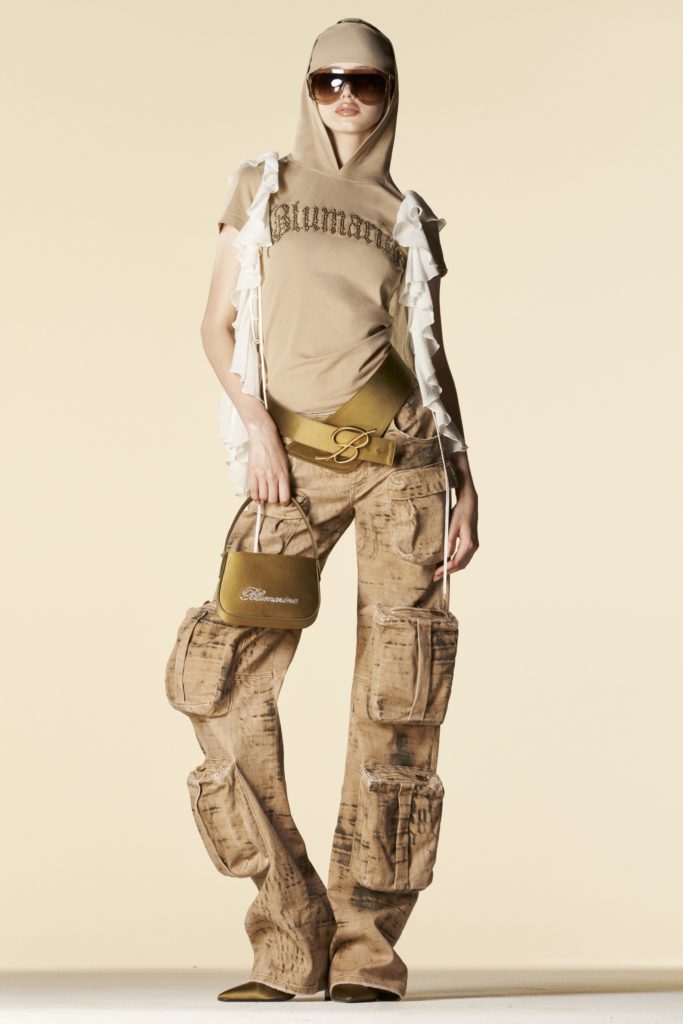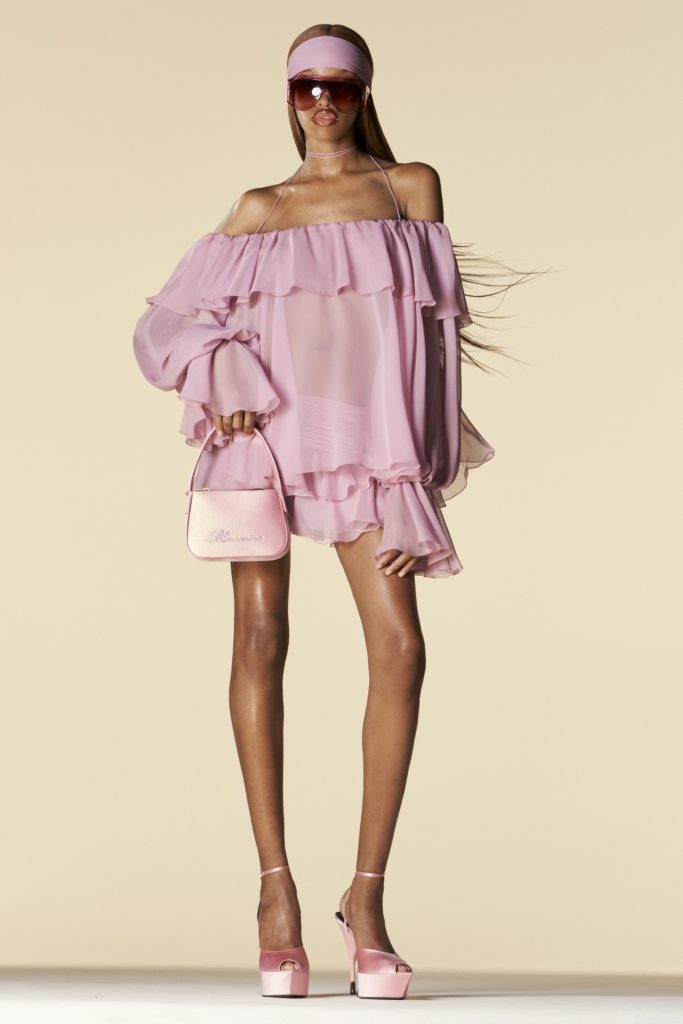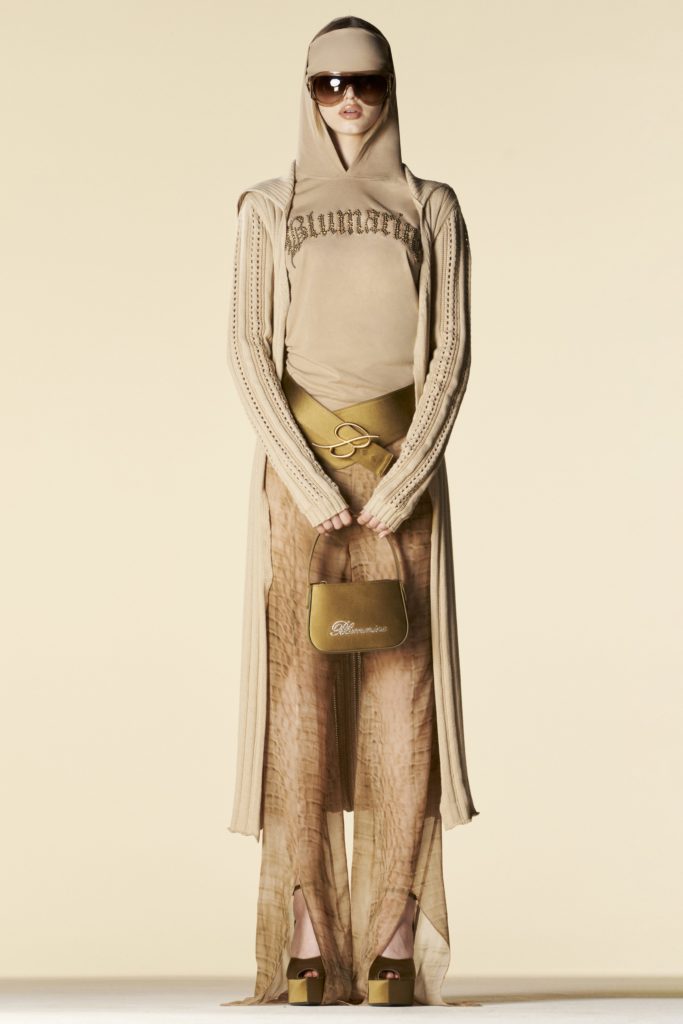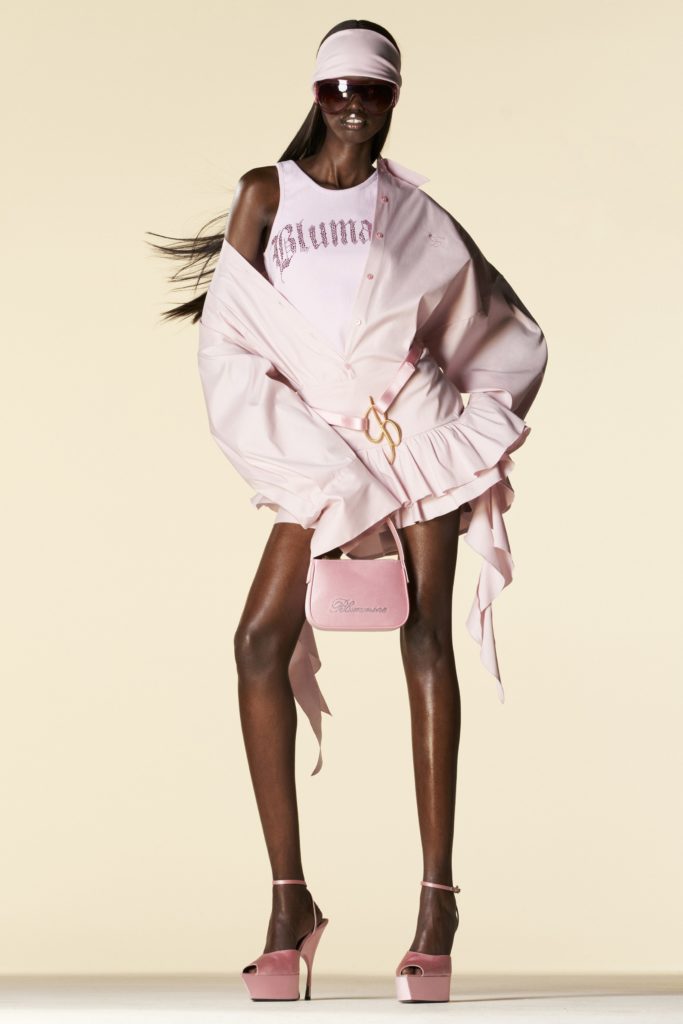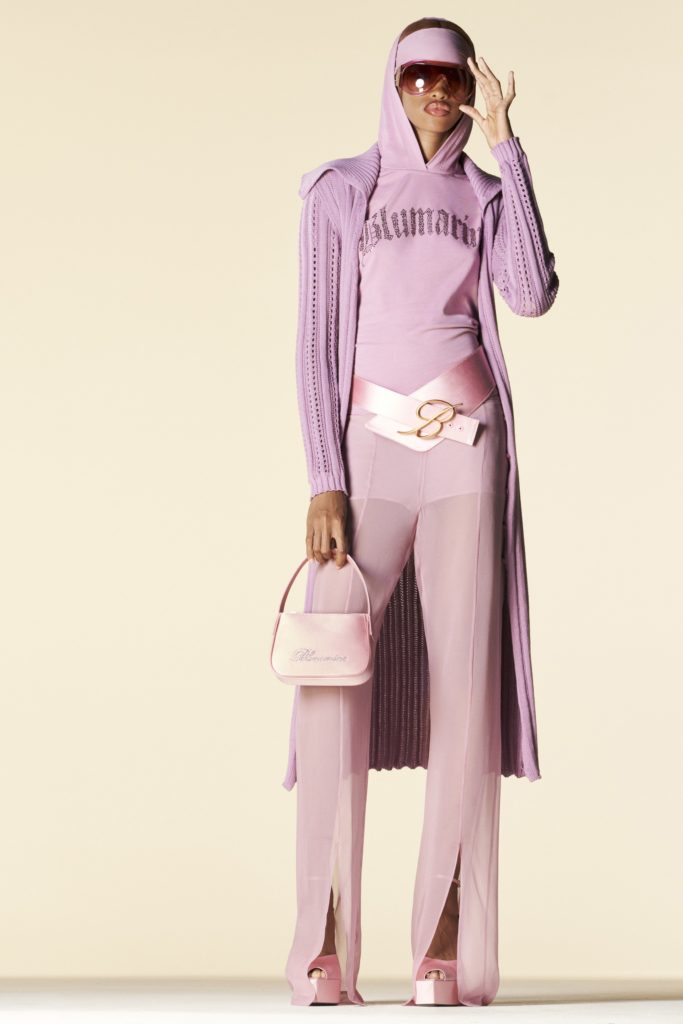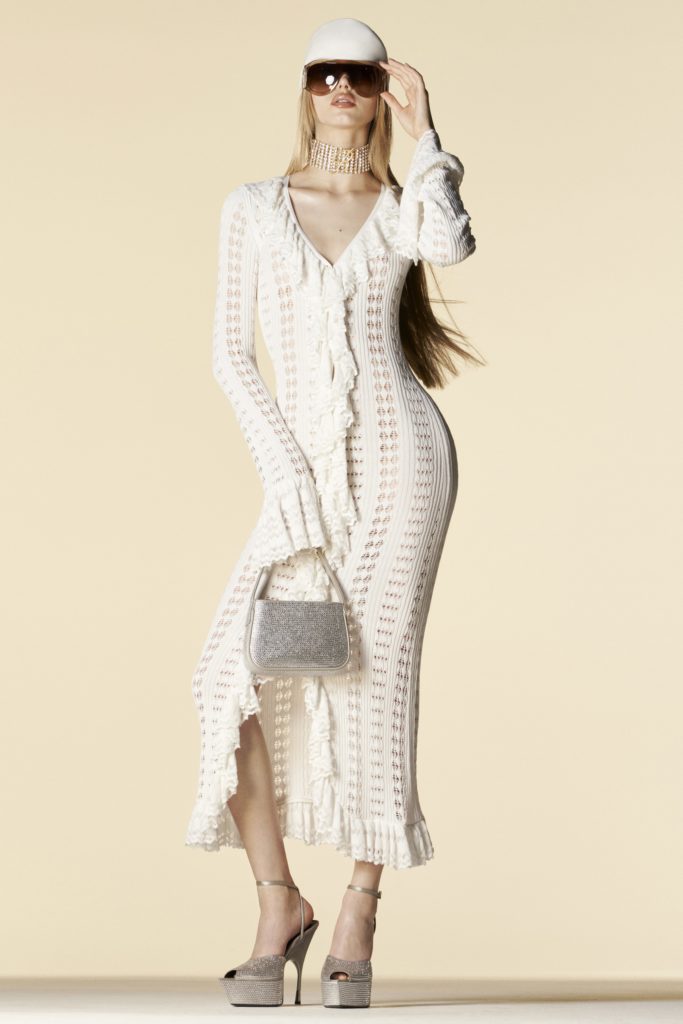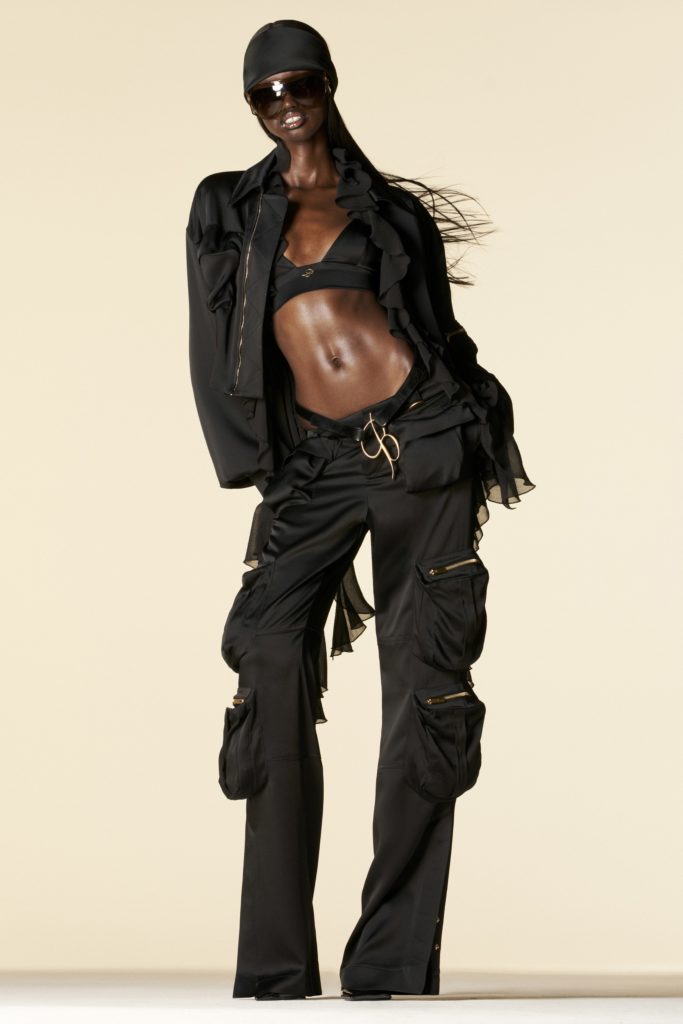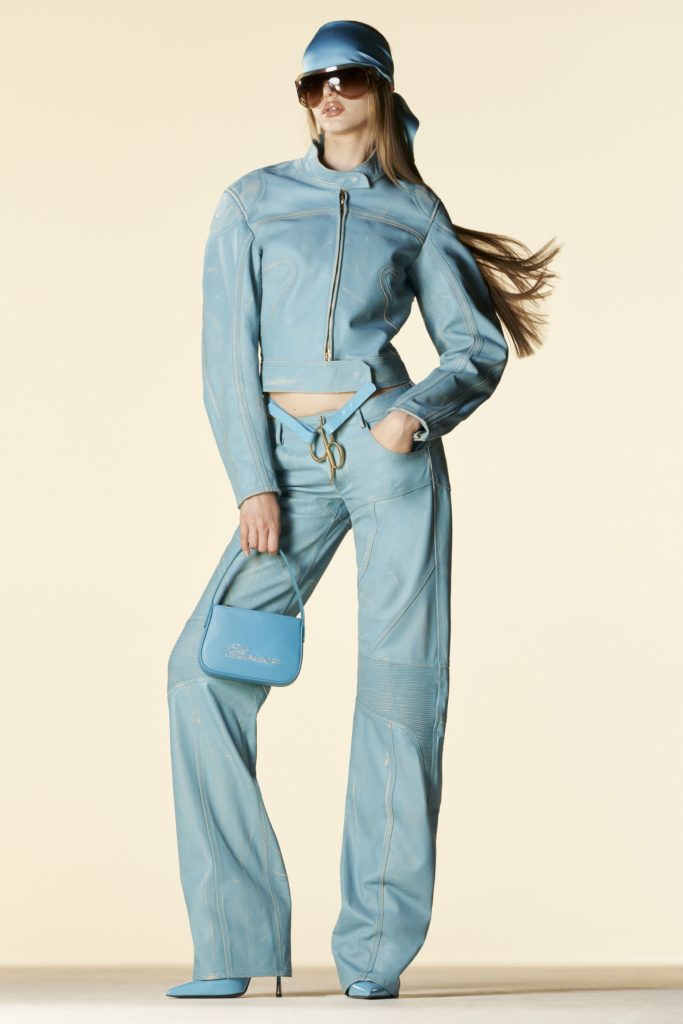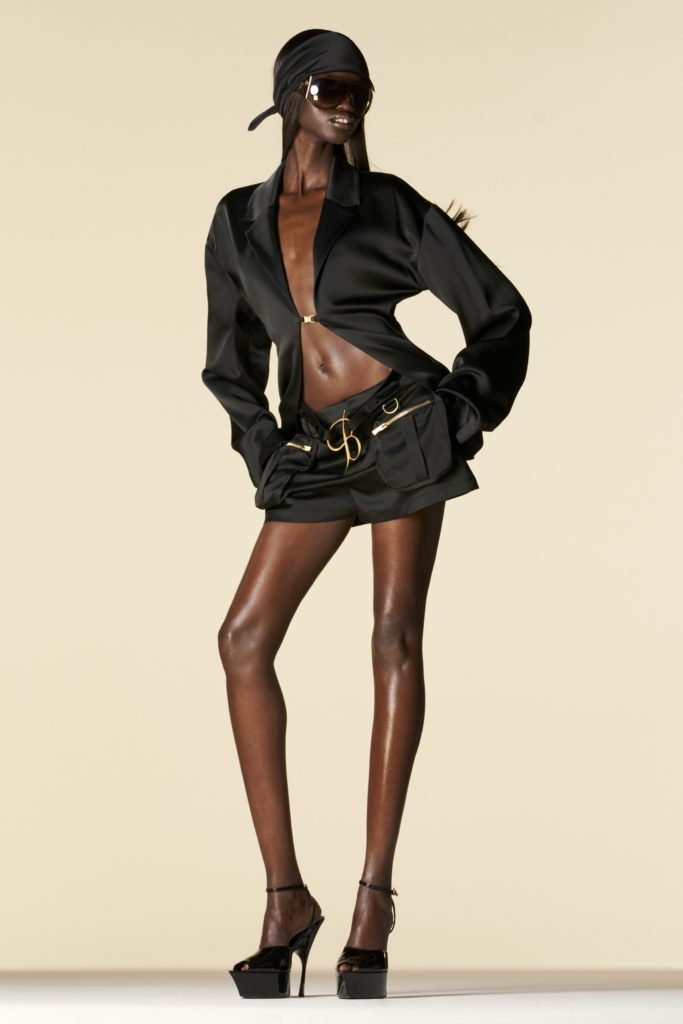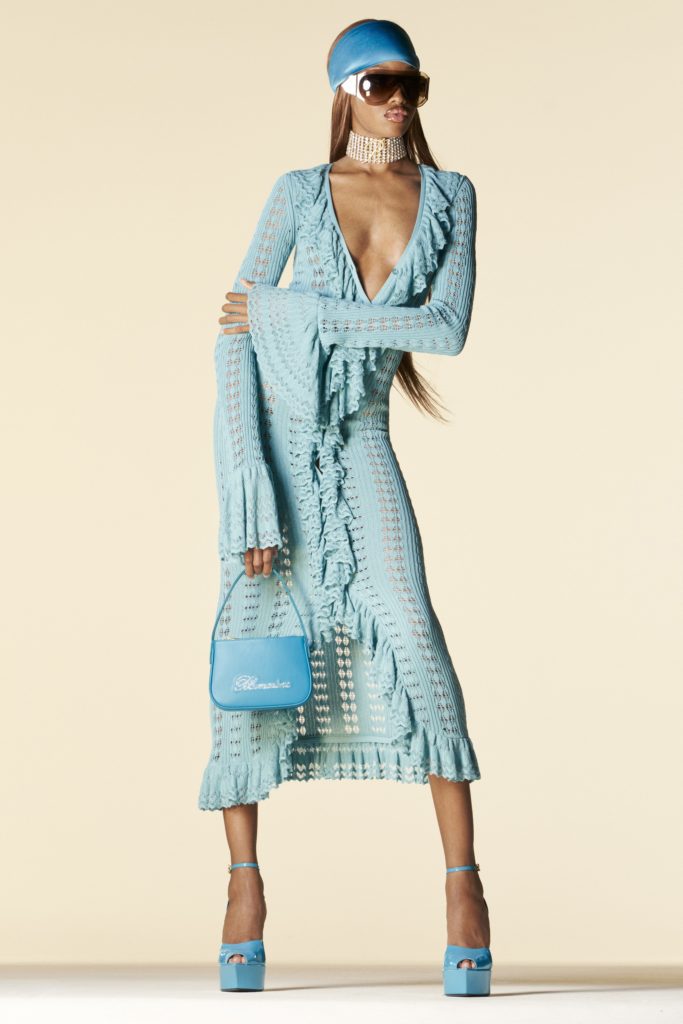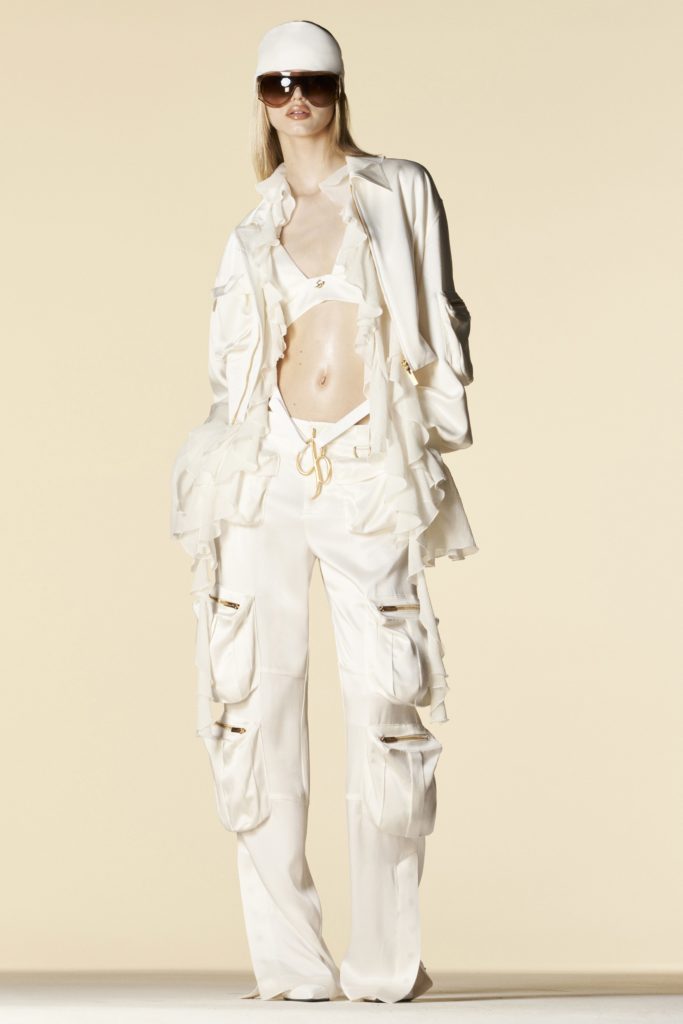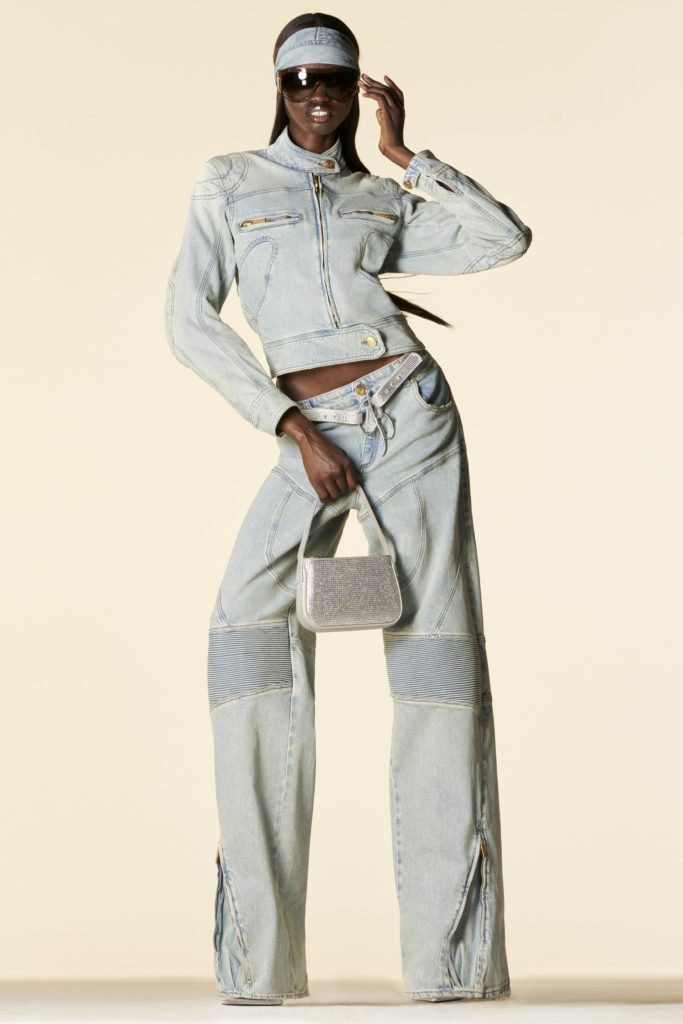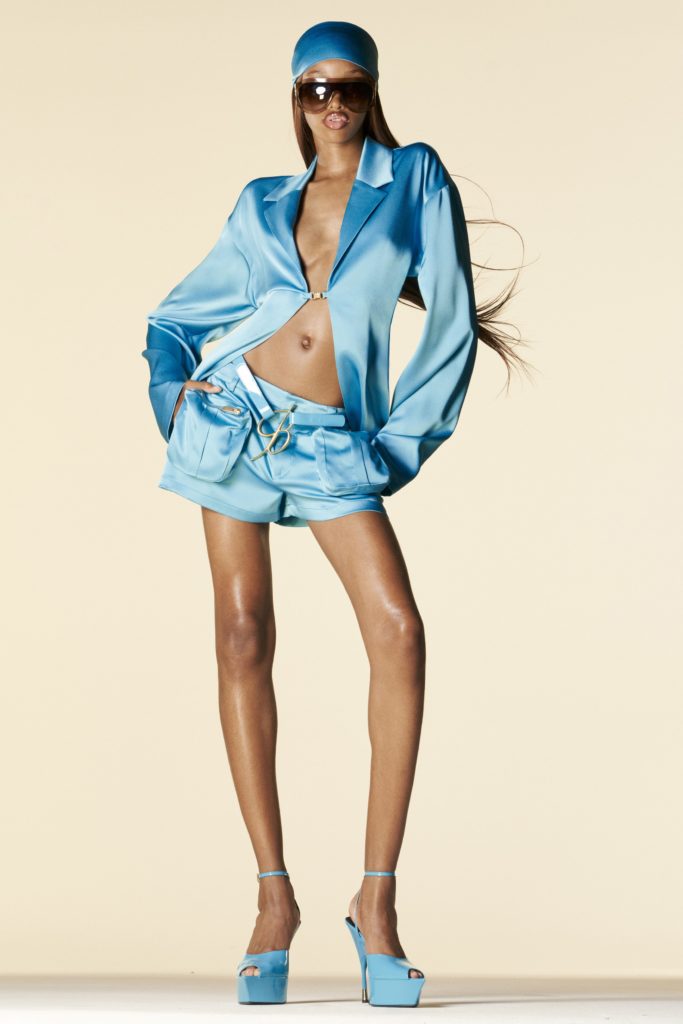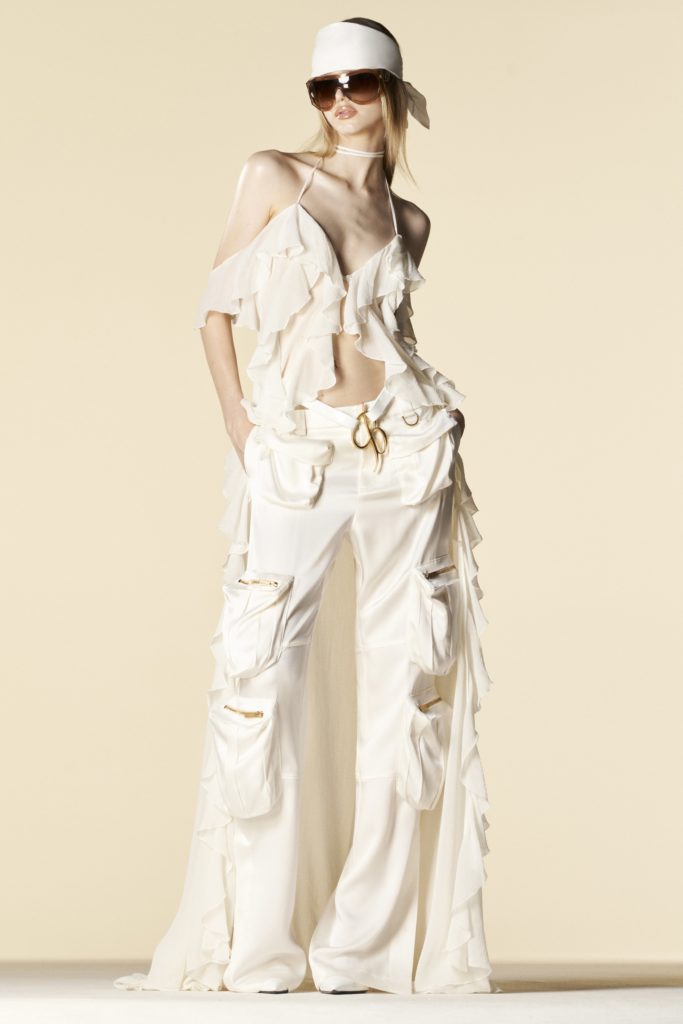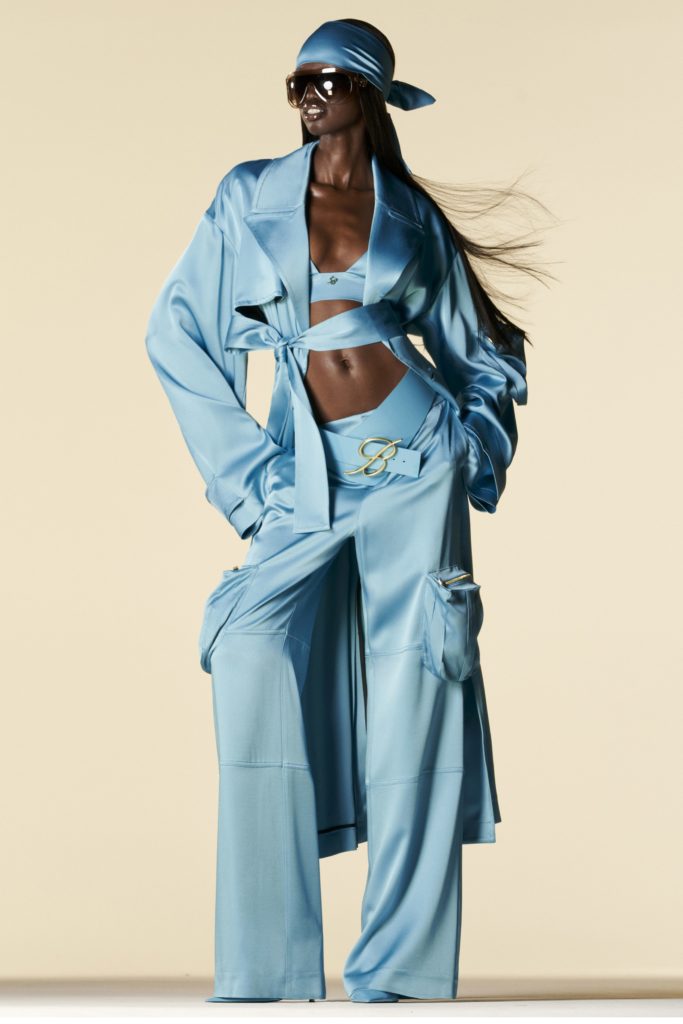 Key elements from the collection include new textures, colors, and items. First, camo print, knit, and ruched items take center stage. In contrast to Brognano's previous lines, Resort 2023 shifts from mainly lighter shades to highlight olive green, camel, and black color schemes. The collection's color palette lends itself to the darker aesthetic Brogano is starting to explore. Pastel pinks and blues get their chance to shine, but in a move that goes against the traditional expectation of summer colors, the real focus is on broodier, less colorful hues. Lastly, pieces like cargo pants, leather jackets, and hooded tops compliment this aesthetic transition.
As styles from the start of the millennium continue to trend, we're excitedly waiting to see what direction Brognano will take Blumarine in moving forward.
Enjoyed this recap of Blumarine's Resort 2023 collection? Read about Dior's Cruise 2023 line here.