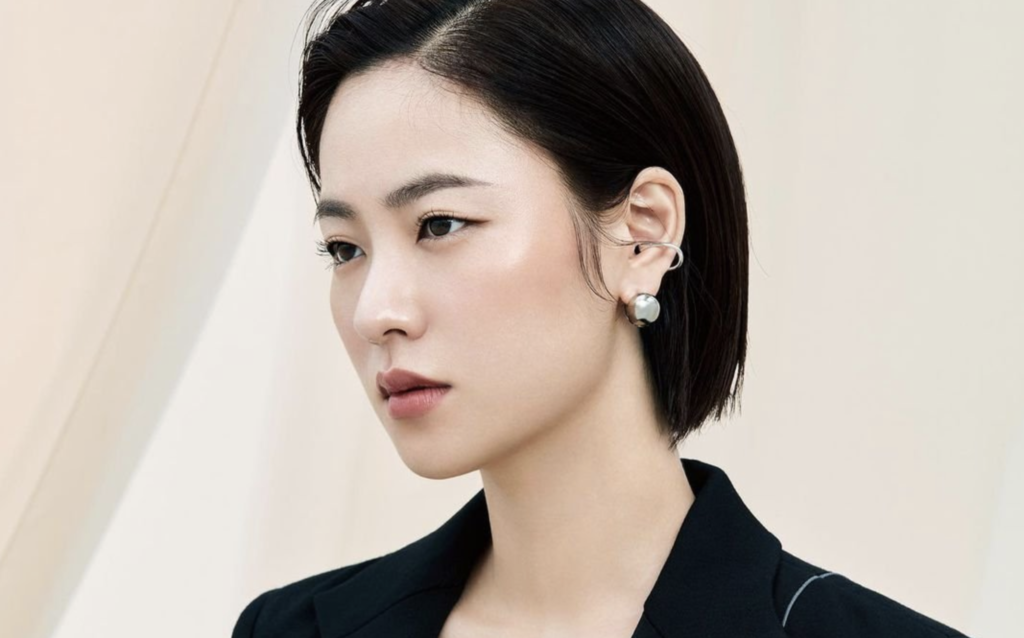 On Friday, September 3, actress Jeon Yeo-Been was announced as a new model for the global cosmetic brand, Giorgio Armani Beauty.
View this post on Instagram
After gaining traction for her role as Hong Cha-Young in the tvN drama "Vincenzo," more opportunities are opening up for the actress in the year of 2021. Known for her sincere acting skills and elegant, sophisticated image, Jeon Yeo-Been is able to show new sides to her in various advertising opportunities, expanding her career influence even more!
Sophisticated and Elegant 
Jeon Yeo-Been attracts attention with her sophisticated and elegant appearance. The luxurious atmosphere enhances how charming the actress' looks are. As she shows off her bright and clear skin in her first pictorial with the Armani Beauty brand for the "Designer Lift" foundation. 
Yeobeen for Marie Claire Korea as Armani Beauty's new model. #JeonYeoBeen #전여빈 pic.twitter.com/lhx2vIgz5Z

— yeobeen files 📁 (@yeobeenfiles) September 3, 2021
Invisible Face Lift
Nicknamed the "invisible face lift," the foundation is known for its anti-aging components that leave the skin with a more youthful-looking glow. "Designer Lift" leaves a luxurious weightless feeling on the skin and also delivers daily sun protection with SPF 20 sunscreen. Formulated with Armani's unique Microfil technology, the foundation claims to restore up to 10 years of luminosity, firm lines up to 87%, and firm skin by 73%.
Designer Lift Foundation – $70
Charismatic Charms
Jeon Yeo-Been expressed her happiness at being selected as a beauty model, "I am very happy and excited to be a model for Giorgio Armany Beauty, a brand that I have always used. I will do my best to show the image of a woman with elegance while possessing the powerful inner strength that Giorgio Armani Beauty pursues."
Giorgio Armani Beauty introduces #JeonYeoBeen as their new Korean model.

The brand says the actress is chosen for her classic image & charisma, powerful potential, and luxurious beauty that can aspire women in their 20-30's https://t.co/tyVmkz7xiq #KoreanUpdates RZ pic.twitter.com/fxg2DUu1HC

— KoreanUpdates! (@KoreanUpdates) September 3, 2021
"Jeon Yeo-been is an actress recognized for her excellent acting skills through various filmography. The charisma inherent with her classic image has powerful potential, while she also has the luxurious beauty coveted by women in their 20s and 30s. These perfectly match the image Giorgio Armani Beauty wishes to achieve," an official from Giorgio Armani shared. "I am very happy to work with Jeon Yeo-been, who is such a beautiful and passionate actress, and I look forward to providing inspiration to more consumers, especially young women in their 20s and 30s as a new model for Giorgio Armani Beauty."
Fan Reactions 
Fans cannot hold back their love and admiration for the actress when the news came out Friday afternoon.
Armani Beauty indeed choose the right model!! this jeon yeobeen screams gf vibe, literally the prettiest 😩💯 pic.twitter.com/C9D92BXhEH

— SUSIE + CHANNEL⁷🐰🦊 (@beenieforsjk) September 3, 2021
"I believe that beauty comes from within" -Giorgio Armani

and queen yeo been passed the standard as the new Korean model for Armani Beauty ✨ pic.twitter.com/Xj4cuUrNn6

— Excellent & Best Actress Jeon Yeo Been (@pluviofeelin) September 3, 2021
so these beautiful four shots of Jeon Yeobeen x Marie Claire Korea x Armani Beauty.

hello, i am not okay. this person breathe love in me yet takes my breathe away at the same time! 💗✨ pic.twitter.com/pBbXVg9jym

— 🄳♡ (@yeobeenflowers) September 3, 2021
This is only the beginning for actress Jeon Yeo-Been, as she is set to star in Netflix original series "Glitch." As her career influence continues to grow beyond acting, we will be graced with more of her unique charms and beauty.
Looking for more beauty news from EnVi? Check out our coverage on æspa's recent ambassadorship with CLIO!
Thumbnail courtesy of Marie Claire Korea & Armani Beauty.