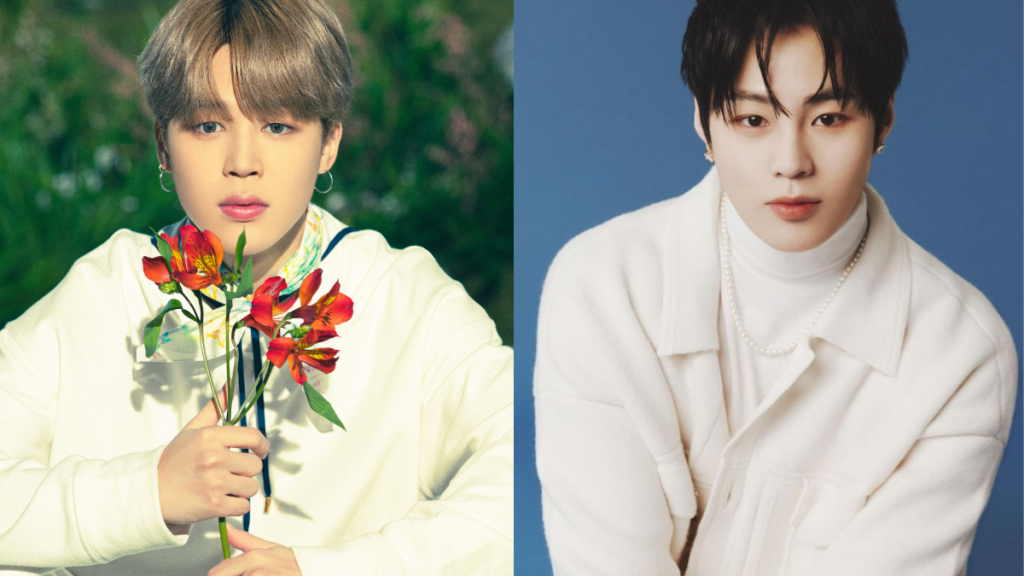 On April 24 at 11 PM KST, BTS' Jimin and soloist Ha Sungwoon released their long-awaited original soundtrack "With You" for tvN's ongoing drama Our Blues. In the track, the two artists open up about wanting to stay close with their loved ones.
Our Blues
Our Blues is tvN's newest romantic drama, airing on Saturdays and Sundays. The series follows the stories of a group of people who live on South Korea's largest island Jeju. Each character's storyline explores the joyful aspects of life as well as discusses its hardships, such as mental health and the complicated side of relationships and family.
The show's outstanding cast includes Lee Byung-hun (Mr. Sunshine), Shin Min-ah (Hometown Cha-Cha), Cha Seung-won (A Night in Paradise), Lee Jung-eun (Parasite), Kim Woo-bin (Master), Uhm Jung-hwa (You Are Too Much), and Han Ji-min (Miss Baek).
A Charming Love Song
"With You" is a pop ballad with a soft acoustic guitar sound and piano harmony about wishing to remain close to the person you love the most. In the lyrics, both Jimin and Sungwoon explore the intense emotions of being in love and wanting to walk next to that person for a long time. "Just take it all / I'm nothing without your love / I promise I'll never leave your love / My heart is beating 'cause of you / Forever and ever and ever," the pair sings.
Accompanied by a relaxing instrumental, the duo's unique vocal colors blend beautifully while highlighting each other's strengths. In contrast to Jimin's delicate and sweet vocals, Sungwoon's voice has a more breezy tone. When combined, the two create an atmosphere that makes listeners feel as if they were slow dancing in the dark.
With its calm melody and romantic lyrics, along with Jimin and Sungwoon's skillful performance, the song is an excellent fit for the series.
A Long-awaited Duo
Despite Jimin and Sungwoon's long-time friendship, and Sungwoon previously mentioning wanting to work together, this is their first time collaborating on a single. "With You" became the perfect opportunity for the duo to show their chemistry and synergy, adding their unique sound to the OST.
Although some people might recognize Ha Sungwoon as a member of the K-pop group Wanna One, he first debuted in 2014 as a member of the boy group HOTSHOT. Following his participation in the survival show Produce 101, he later debuted again with Wanna One in 2017.
As a solo artist, Ha Sungwoon started his career in 2019 with the album My Moment. Since then, he has shown his artistry with the release of several albums including BXXX, Twilight Zone, Select Shop, and You. Ha Sungwoon has also participated in various OSTs for popular Korean dramas such as The King: Eternal Monarch, True Beauty, and Our Beloved Summer. His latest addition to his wide-musical range is the retro pop single "LA LA POP!."
BTS' vocalist and main dancer Jimin is well-known for his remarkable dance performances and unique vocal tone. While "With You" is Jimin's first OST outside of the group, he is not one to shy away from taking on projects by himself. In 2017, he ventured into solo performances for the first time with "Lie" from BTS' album Wings, which marked a turning point for him. Since then, he has shown new sides of himself with each solo number in BTS' albums, such as "Intro: Serendipity" for LOVE YOURSELF 承 'Her' and "Filter" for MAP OF THE SOUL 7.
Aside from his solo songs on BTS' albums, Jimin has proven his versatility as a musician with tracks outside group projects. In 2018, he dropped the self-composed pop ballad "Promise" as a gift to his fans ARMY. Later in 2020, he and fellow BTS member Jungkook were featured on the single "Who" from Lauv's album ~how i'm feeling~. Jimin then closed the year with "Christmas Love," which was released on Soundcloud as a Christmas present for fans.
ARMY Takes Over Social Media
Upon the release, BTS' fans, ARMY, took to Twitter to show their love and support for the collaboration.
Some ARMY even made artwork inspired by the track.
Although it remains unknown whether another collaboration between Sungwoon and Jimin is coming soon, it is safe to say that the duo showed their diverse skills and distinct vocals in "With You."
You can listen to "With You" on Youtube, Spotify, and Apple Music.
Want to read more about music and film-related news? Read up on aespa's first Coachella performance here!