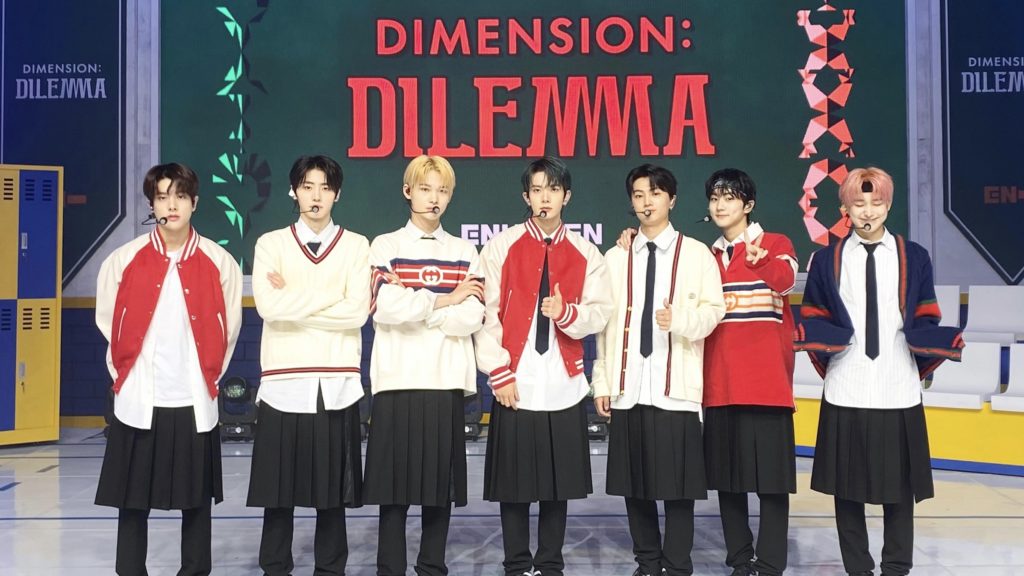 Following the release of their successful "BORDER" mini-album series, fourth-generation K-pop boy group ENHYPEN dropped their first studio album, DIMENSION : DILEMMA. A music video for the title track, "Tamed-Dashed," accompanied the eight-track album, on October 12. The comeback was first announced on September 17 through a video titled "Intro: Whiteout" and fans have been eagerly waiting ever since. 
#ENHYPEN <Tamed-Dashed> Official MV
(https://t.co/lhY1tKhOTY)#DIMENSION_DILEMMA #Tamed_Dashed

— BELIFT LAB (@BELIFTLAB) October 12, 2021
DIMENSION : DILEMMA opens up a new chapter for the group, after crossing the border from being trainees to idols. The boys start questioning their values, desires, and identity and begin to convey the complex emotions they have felt over the past year. 
BETWEEN "TAMED" OR " DASHED"
The title track, "Tamed-Dashed," is a new wave 1980s genre song with guitar and synthesizer sounds featuring garage bass melody and powerful EDM style. Produced by Bang Si-hyuk ("Hitman" Bang) and Wonderkid, the song delivers a cheerful and refreshing vibe while giving a sense of joy. 
The lyrics describe the feelings of being in a dilemma and conflicted with desire, it expresses whether to be "tamed with desire" or "dashed from desire." "Should I be tamed/  Flash of desire enchanting me / Dreams beautiful and grotesque / Keep changing shape," ENHYPEN sings. 
The song also embodies the sentiments of seven boys trying to discover their personalities in this new era, while having fun, growing up, and learning about each other's desires. "The message of 'Tamed-Dashed' is about young boys trying to find themselves, having fun, and growing up together." Said Sunghoon, at the press conference of the album. 
The music video maintains the track's bright energy while setting the viewers in a coming-of-age movie-style theme, "Tamed-Dashed" takes place between a school and a beach location as it shows the septet having fun, playing football and rugby, and enjoying their youth while also facing hardships along with overcoming struggles together. 
ENHYPEN performed the track live for the first time at the comeback showcase. 
DIVING INTO DIVERSE GENRES 
DIMENSION : DILEMMA presents itself with eight diverse tracks switching from genres like EDM, R&B, and hip-hop to pop-rock, alternative rock, and electro-funk, solidifying ENHYPEN as a promising, multifaceted group among the fourth-generation K-pop groups. 
ENHYPEN's versatility stands out in "Blockbuster" featuring senior and labelmate, Yeonjun from the group TXT. The track has a hip-hop genre with pop-rock and metal sounds. The song's heaviness gives a sense of being the main character in an action movie. Yeonjun's strong rap opens up the B-side and perfectly blends with the ENHYPEN members' vocals and harmonies, making the track a dynamic and confident anthem for the listener.
The lyrics convey the hopes of a boy who wants to live like an action movie character. In the press conference, the members expressed how exciting it was to work with Yeonjun and how thankful they felt for the collaboration.
"We thought the song, with its fierce energy, should include rap verses, and thankfully Yeonjun's featuring really upped the vibe. It was exciting to work with an artist from outside the group for the first time, and that being a senior member from HYBE Labels was a big honor for us," said Heesung. 
FAN REACTIONS
With the teasers, music video, and full album release, fans didn't hesitate to show their support to the group and took to Twitter to express their excitement for the comeback.
another no skip album by enhypen pic.twitter.com/Id7me81fv1

— ☻ (@pshzen) October 12, 2021
#ENHYPEN being the only rookie group to join bigger artists/idols with over 500,000 sold copies for an album in the first day of sales on HANTEO. this is a biggest flex for both enhypen and engene. they aren't called the 4TH GEN HOT ICON for no reason.

— ً 🐾 (@INT0HEESEUNG) October 12, 2021
I'M SO PROUD OF #ENHYPEN THEY'VE BEEN THROUGH A LOT THIS PAST FEW MONTHS BUT THEY WERE ABLE TO GIVE US AN AMAZING COMEBACK. PLEASE SHOW MORE LOVE AND SUPPORT FOR OUR BEST BOYS. ENHA IS TRULY THE FUTURE OF KPOP.

NA NA NA#TAMED_DASHED #DIMENSION_DILEMMA pic.twitter.com/zSCPXQAOq9

— KJ🦋 (@AndLoveYouKJ) October 12, 2021
— mafe (@outrofilmout) October 12, 2021
Love for ENHYPEN crossed borders with international Engenes, the group's fandom, also declaring their love and gratitude for the artists. 
EL ÁLBUM DE ENHYPEN DIMENSION: DILEMMA PASÓ DE RESTOCK A SOULD OUT EN 40 MINUTOS, J-ENGENES#$%×*

— val (@myjkepretty) October 11, 2021
LOS OÍDOS DE ENGENE ESCUCHANDO DIMENSION : DILEMA <33

#TAMED_DASHED #DIMENSION_DILEMMA pic.twitter.com/r5MvzOz1Rq

— ali (@alittdjk) October 12, 2021
Tout les engene actuellement #ENHYPEN #DIMENSION_DILEMMA pic.twitter.com/cevFcTC8NP

— ftm💜 | EN-| Dimension : DILEMMA (@ftm916) October 12, 2021
fever perdendo a coroa de melhor música do enhypen para attention, please! pic.twitter.com/PROejQSDvI

— maya ☁︎ (@jktearv) October 12, 2021
ONLY THE BEGINNING
With less than a year since their debut, it is not a secret that ENHYPEN has improved as artists since their debut single "Given-Taken." The group continues to cement itself as a powerful team with a growing and solid fanbase, so we cannot wait to see what the future holds in store for them. 
Want to read more about K-pop? Read our coverage on aespa's comeback EP!
Thumbnail courtesy of BELIFT Lab.