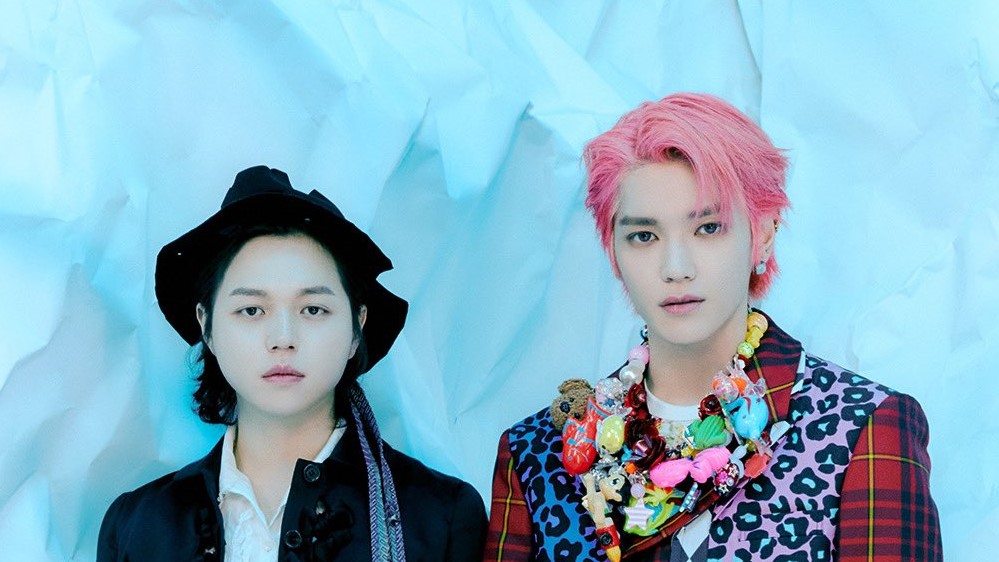 Love is not easy— and NCT's Taeyong and rising rapper Wonstein know it best. The two artists address the wonders of love and pining in their latest SM STATION single, "Love Theory." Released on April 14, the playful hip-hop single is produced and composed by Taeyong, Wonstein, and Zayson.
A Playful Love Song
"Love Theory" is an upbeat single about developing romantic feelings for someone. In the lyrics, the pair describes how a crush can render one speechless and in need of a "love dictionary" and "love theory." Both Taeyong and Wonstein sing and rap about Taeyong's love-related dilemma. In a comical verse, Wonstein directly gives advice to Taeyong. He raps that Taeyong is rich and bilingual but needs to be more "confident." Additionally, he urges the NCT rapper to embrace his nerdy side.
To suit the humorous and tongue-tied atmosphere, the instrumental has a cheerful rhythm. It is brought to life by intricate percussion sounds ranging from a funky guitar, drums, saxophones, and maracas. Light snaps and synths highlight the overall instrumental and the duo's individual voices.
Both Wonstein and Taeyong give their fair share of singing and rapping— each highlighting their individual strengths. While Wonstein has more of an airy lilt to his voice, Taeyong's naturally raspy tone shines. At the climax of the song, Taeyong bursts into gritty vocals to express his passionate feelings for his love interest. Their distinct styles compliment each other and create a cohesive song.
A Vibrant Music Video
The vibrant mood of "Love Theory" is enhanced with an equally bright music video starring Wonstein, Taeyong, and Taeyong's Sun-masked love interest. Throughout the video, Taeyong records himself and gushes about his crush. Wonstein serves as his right-hand man and love guru, who helps him through his dorky confidence issues.
Taeyong's distressed and distracted nature shows through various scenes of him daydreaming. At one point, the NCT rapper zones out on a white exercise bike surrounded by clouds as he thinks about the Sun—a visual representation of cloud nine.
The imagery in the video remains playful and colorful throughout. From Taeyong's Taeyong-themed clothing and bedroom accessories to his endless stacks of pizza and social media-obsessed antics, his character is lighthearted and goofy. Wonstein's cupid-esque personality matches the humorous energy.
A Musical Match Made in Heaven
Although this is Taeyong's and Wonstein's first collaboration single, they have a lot of chemistry as a duo. Their distinctive styles match each other well.
Even if you don't know Wonstein, you know Wonstein. In 2021 alone, the rapper featured on countless albums, including D.O's Empathy, Kang Seung Yoon's PAGE, and LeeHi's 4 ONLY. The former Show Me The Money contestant stands out for his light vocals and clear rapping. He has gradually gained traction for his unique tone and articulation. His latest project was "Your Existence" for the Twenty-Five Twenty-One original television soundtrack.
Taeyong is NCT's leader and main rapper. He is known for his sharp dancing and husky raps. This collaboration comes just after Taeyong launched his own YouTube channel and released his first performance video, "Lonely," featuring singer-songwriter SURAN. Last month, he also featured on SURAN's latest title track single, "Diamonds." Although these are his latest solo endeavors, they are not his only projects. In 2019, he released his first SM STATION single "Long Flight." Then, in 2021, the rapper launched his own SoundCloud where he released numerous songs, including collaborations with labelmates Baekhyun and Seulgi. The sky-blue imagery in "Love Theory" is a fun take on his signature blue-themed aesthetic.
Wonstein and Taeyong boasted their diverse skillsets as artists, songwriters, and performers in their "Love Theory" music video and single. The duo's individual styles blend well, creating a fun and imaginative atmosphere.

Want more new music? Check out our review of ONEW's latest mini-album here.