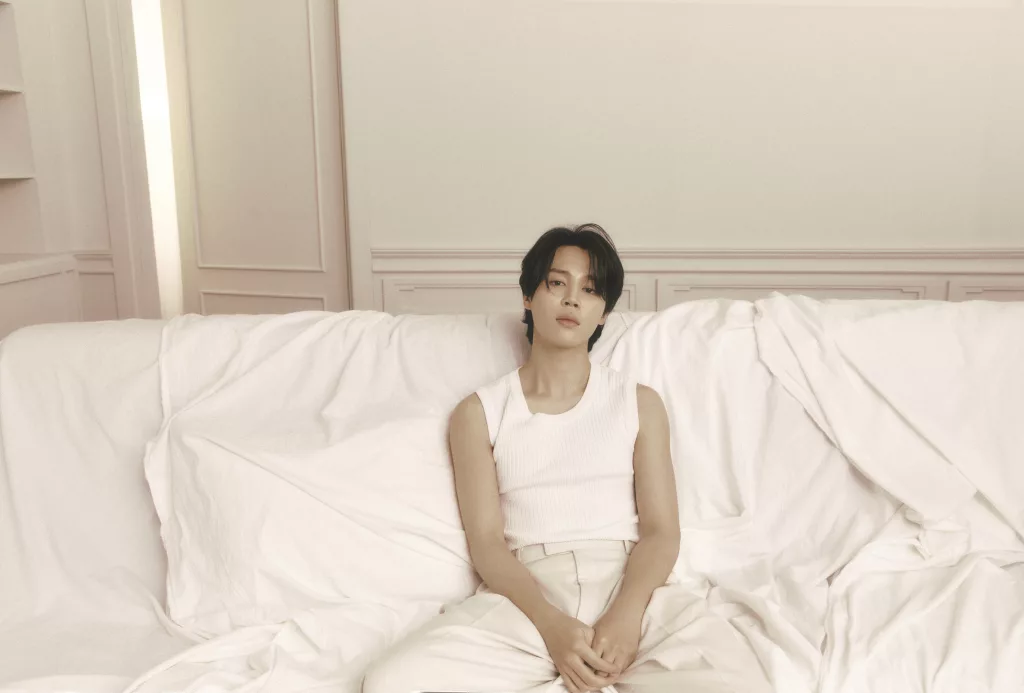 From his debut in 2013 to now, Jimin of BTS has filled the stage with his sharp and elegant character through his performances. On March 24, 2023, the member of the world-renowned group released his first solo album, FACE, showing a new side of himself. With six tracks, FACE shines a light on Jimin's introspective side. The record explores the singer's inner battles and touches on subjects such as losing direction, loneliness, and self-image.
The Other Side of Jimin
FACE opens up with gentle trumpets and horns, laying the groundwork for the album's first track, "Face-off." In the trap-soul genre record, Jimin bares himself and his intense emotions of disappointment and anger, lashing out at those who have hurt him. From the melody to the lyrics, the song exhibits strength, rawness, and rebellion as he fiercely tells the listener that he needs to leave those bitter feelings behind. "Pour it out / Pour it down / Until this night is over / Get it out / These traces of you," he sings. With "Face-off," Jimin starts his debut album by confronting himself, in order to overcome these negative feelings and find freedom.
Following "Face-off" comes "Interlude : Dive," an instrumental record with a dreamy melody. The track includes several sounds from Jimin's daily life, such as ocean waves, whispers of a conversation, and breathing sounds that seem to imply he is running around, which gives off the idea that he is lost and looking for a direction. "Interlude : Dive" serves as a bridge between the first and third tracks of the album, acting as the middle ground of two contrasting songs.
The song also features a recording of Jimin's introduction speech at BTS' 'Yet To Come' concert in Busan in 2022.
"Lost in the Lights"
Loneliness and losing oneself are recurrent themes throughout the album. In "Like Crazy," Jimin is hesitant and unsure of whether he wants to stay in a dream or break free. The synth-pop track dives into Jimin's introspective mindset, expressing that he prefers to remain in a dream-like state, "lost in the lights," rather than confront the idea of losing himself and the one he loves.
"Like Crazy" depicts wanting to run away from pain and reality. The track is inspired by the movie of the same name, Like Crazy (2011), and just like the film, explores the pain of a breakup and the feelings of longing for something you can no longer grasp. "This is gonna break me / No, don't you wake me / I wanna stay in this dream," Jimin sings.
The music video has Jimin reminiscing about a happy and cheerful time. In the video, he goes back to the moments when he thought he was enjoying himself, such as partying with his friends. As the story progresses, he discovers that although those moments made him happy, he also used them to forget about his inner struggles.
The album also features the English version of "Like Crazy," in juxtaposition to the Korean version; this track presents the emotions of loneliness in a different tone, exploring the idea of only losing yourself instead of your lover, too.
Setting Himself Free
The fourth track on the album, "Alone," explores Jimin's mixed emotions during the Covid-19 pandemic, touching on the fear and worry of experiencing loneliness. The pop-ballad song reveals the uncertainty and dread of monotony, as the singer admits that he feels like he's losing himself and wonders if these emotions will last. "How long do I have to endure it? / Can I go back to where I am from?" he confesses.
With a calm and soft tone, Jimin opens up to the listener about thinking that he's not good enough and wonders if he is the only one feeling that way; "Why is it only me? No, everyone's like that / I'm pretending to be okay every time."
If "Alone" talks about feeling hopeless and lost, the final track on the album, "Set me free Pt. 2," overcomes those concerns. With an intense beat and raspy vocals, the hip-hop song is a cry for freedom. The lyrics are raw, agitated and commanding as Jimin declares to the audience that he no longer wishes to remain in the dark, but instead wants to set himself free. "Look at me now / I won't stop, even if they mock me," he sings.
In contrast to the rest of the album, where Jimin appears to be running away from unpleasant emotions, he has defeated them in "Set me free Pt.2," telling the world that what has kept him trapped inside a box is now gone, and he has set himself free.
Pre-released on YouTube alongside the single on March 17, the music video of "Set me free Pt.2" is a statement on its own. Living up to its title, the video captures the message of searching for freedom through compelling and fierce choreography. In true Jimin fashion, the clip showcases his remarkable dance skills, evocative of trying to escape the chaos that keeps him trapped. As the video unfolds, he ends up facing the deeper parts of himself and comes out, "finally free."
Facing Yourself
FACE encapsulates the complexity of Jimin's thoughts on loneliness and self-liberation. It's a tribute to himself and, ultimately, an album about overcoming your inner troubles with self-criticism, winning a battle against yourself, and finding new beginnings. About Jimin, who recently told Nikkei Asia that he wanted to show himself overcoming the feelings deep inside him, it is refreshing to see the artist admit that once you confront your mind, the new side you will discover can be a better version of yourself.
You can listen to FACE on Spotify or Apple Music!