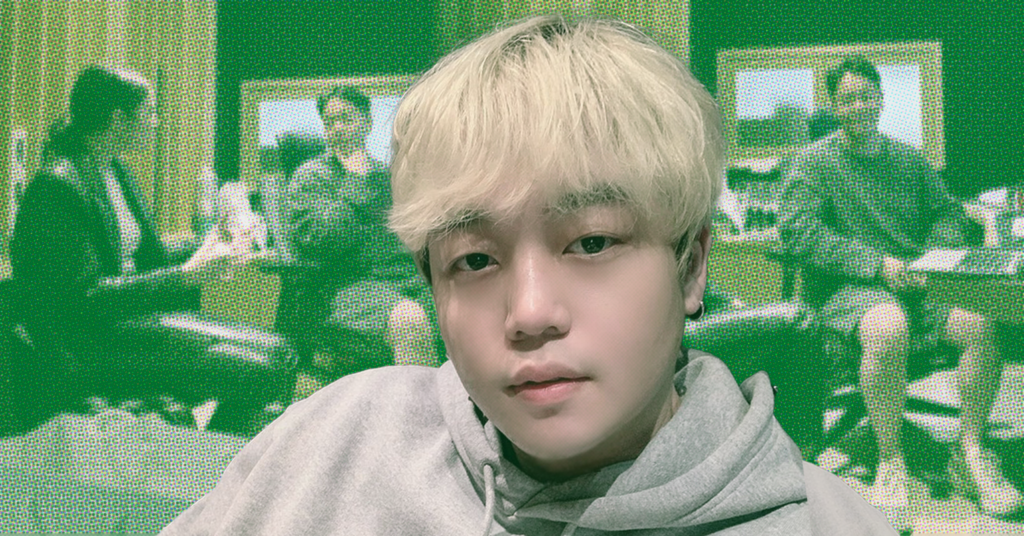 It takes a village to craft a hit song, from the artists themselves to the producers, composers, lyricists, and more. For Young Chance, he's been topliner, vocal director, and part of the songwriting team for the top names in K-pop. He has created songs for Super Junior, TWICE, NCT 127, Stray Kids, ITZY, LE SSERAFIM, and many more. In an exclusive interview, EnVi had the chance to connect with the songwriter via email where he shared with us his journey, artistry, and experiences in the industry.
How It All Started
The Korean songwriter shared that his passion for music started early. He recalled how singing in his middle school singing class was what sparked his fire. "Believe it or not, I still remember the first song I ever sang! It was Stevie Wonder's 'Isn't She Lovely.' I just liked the feeling of singing, and the attention I received through that, and then I started to grow my dream as a singer!" As performing gave him a thrill, he knew that music was what he wanted to do in life.
With hit after hit under his belt, you'd be surprised to find out that the songwriter is a self-taught artist. He started his journey with no formal education in music. With big dreams and a bigger drive, Young Chance took the bold move of deciding not to pursue college education. This decision was one that left his parents feeling wary of his future, as the music industry is a field full of uncertainties.
Refining His Artistry
"Well, first of all it was really confusing with professional industry languages that were used while sending back and forth data files!" shared the topliner about the early days of his career. Being self-taught will present you with a different set of challenges compared to those with formal training. For Young Chance, having a great support circle was a key point in learning and figuring things out. "With some good help and guidance from friends and through experience, I got a hang of it!"
Another thing that helps a self-taught artist hone their craft is experience. "I could confidently say that I got to learn and develop my skills in songwriting, through experience! The more releases you have, you'll be more likely to understand the musical taste, or the process of each label. Also, communicating with other songwriters and producers across the world, sharing info really helped improve my vision in music."
This vision is then usually refined into a signature style or sound. For Young Chance, they are RnB and hip hop. This preference doesn't mean that the topliner will only create music within that comfort zone. Instead, he prefers to not work on songs that sound too similar with his previous demos to continue creating distinct pieces. "I wish to hear that my music is unique and fresh when the audience has a listen to my songs."
The quality of not being stuck with personal idealism is a trait important for those in his field. Writing for different artists requires songwriters to adjust their work accordingly in order to make these artists shine brighter. "I think it's always necessary for us to understand the artist's style, and have the ability to catch and see whether new styles would fit well with the artist," Young Chance advised.
Stories from the Studio
Recently, Young Chance collaborated with NCT and SuperM member Ten as a co-writer and vocal producer for "Birthday." To him, the song was equal parts abstract as it was addictive. "Throughout recording, Ten and I discussed ways to make the song more sexy and mature, to match the chores and the lyrical concept of the song." Another artist Young Chance has worked with were NCT 127 on their latest album, 2 Baddies. In the album, he co-wrote "Time Lapse" and vocal directed "Designer," "Gold Dust," "Black Clouds," and "Vitamin." NCT 127 is a group that has their own unique styles, so directing the nine voices must've been a feat. But with a great synergy from both parties, they were able to come together and created a cohesive sound.
"Oh I could for sure say that it was sooooo much fun recording with NCT 127! Not saying that other artists weren't fun, but recording with the NCT 127 members, just felt more like discussing musically, figuring out how we could make the song sound much better," Young Chance said. "The members also seemed to really understand each song they were recording, and came up with their own ways to bring out the own characters they had."
The songwriter has also worked with LE SSERAFIM on their attitude-filled B-side "No Celestial." With their latest title track being the Latin-inspired "ANTIFRAGILE," a heavily different sound from the pop-rock "No Celestial," we asked him whether rookie groups tend to be more open to experimenting with new sounds. His answer? "I don't think it's because they're a rookie group, but because they're LE SSERAFIM, they were really open with new sound, and ready to lead the trend!"
In contrast, Young Chance talked about what it was like working with established groups like TWICE and Super Junior. "Well, one thing I could surely say is that senior groups definitely have more experience, and therefore know what are their strengths and weaknesses!" he said, adding that these artists also had more style.
The Story So Far
With the many achievements in his career, Young Chance continues to confidently face new challenges. "I don't see any challenging part of being a songwriter, but one thing I'm sure of is that the good part of being a songwriter is that you get to challenge yourself to all kinds of genres, and there's no limit in what you can write!" he confessed.
Looking back at his days as a teenager teaching himself the ropes of the music industry, the songwriter has come a long way. If he was to give advice to fellow young dreamers looking to pursue a career in songwriting, he'd tell them, "Don't mind others. Do what you think is right! Never be afraid to experiment with new sounds. Communicate with others, and share intel! […] I would say, never go the safe way! Be more brave to experiment with new sounds! And don't follow the trend, but try to go ahead of it!"
As for 2023, the songwriter has teased about his upcoming works for NCT 127's upcoming repackage album, Ay-Yo. We can't wait to see what other songs are up his sleeve this coming year!
Interested in learning more about the creatives behind your favorite earworms? Check out our interview with Dem Jointz here.