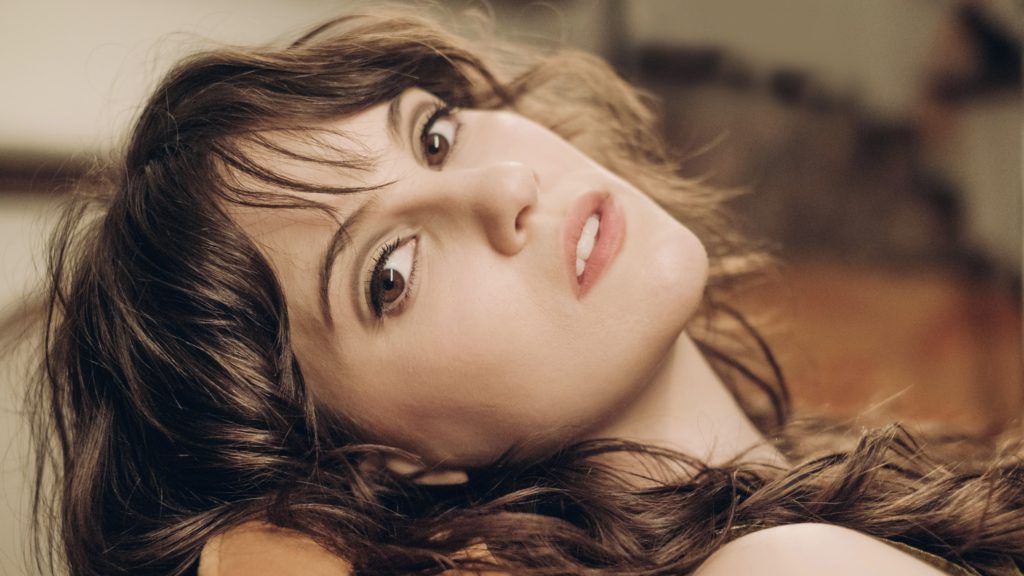 Julianne Glass is a rising star who strikes a chord of raw honesty in her music and her style. In addition, Glass's strong sense of self and charming personality, combined with her deep lyrics, make her a star in the making. EnVi spoke with Glass via a Zoom call about mental health, the influence of family, and the importance of music in her life.
From Classical Singer to Sentimental Rock Star
Glass learned to find comfort in music at a young age. Growing up in a musically influenced family, she began classical piano training at the age of five, and by the age of seven, she had begun classical singing training. Glass even performed with the classical chorus at Carnegie Hall, home to the most outstanding musical performances in New York.
Glass sat in front of a window with a glow around her, not just because of the light from the window reflected onto her, but because her style made her stand out. Like a rockstar out of a '70s movie, Glass sat with her characteristic wolf cut, a patterned suit jacket, and a scarf around her neck, paying homage to her glam girl status. She appeared cool and sharp at first, but when she started talking about music, her eyes lit up, and you could tell music was her true love.
At the age of 11, Glass's interest in music expanded to include contemporary music, where she drew inspiration from artists like Ben Folds and Sara Bareilles. Her music teacher at the time helped her with changing her music style from classical to contemporary. Not only did she assist her in the transition, but she also introduced Glass to songwriting. "She was like, 'Why don't you write songs?'" Glass said, with a big laugh. "She just kind of taught me how to write songs. She was my songwriting teacher for a long time, and I've always loved music; I always loved expressing myself through music," she explained.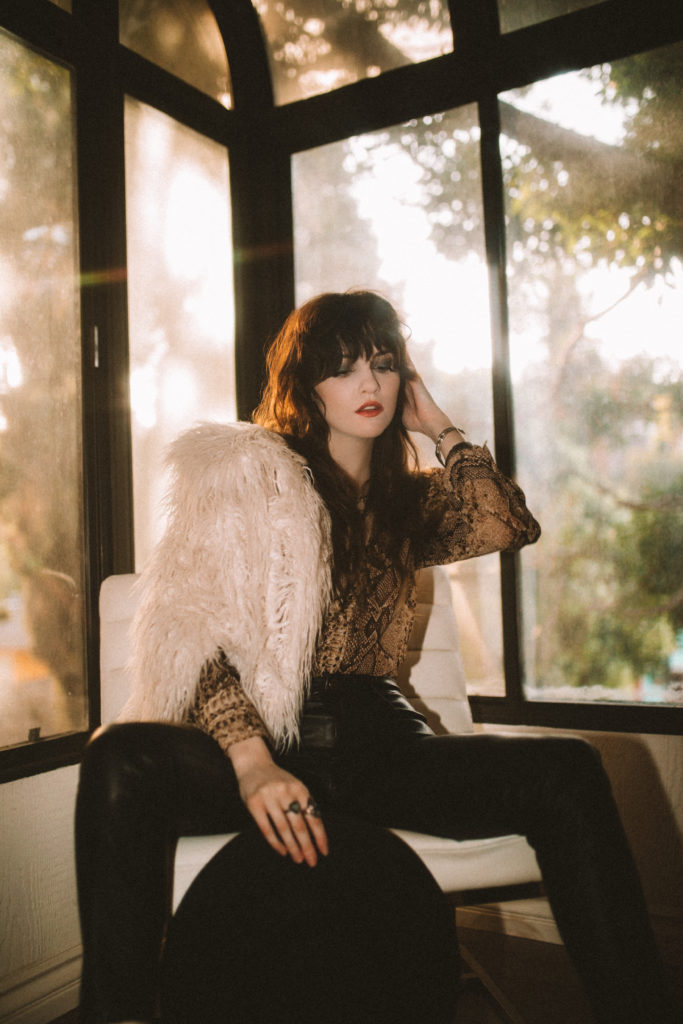 The Transparent Songwriter
However, when Glass was 14-years-old, songwriting became an outlet for her troubles. "Music definitely changed from being something that I liked and appreciated," she said. During this "hardest year of [her] life," music "changed into something that I really needed in my life. It changed into a necessity when I turned 14," the songwriter recalled. "When I was 14-years-old, my dad passed away, and a month and two days afterward, my sister passed away. So, going through all that loss and that grief, songwriting became a way for me to express myself and to really help myself with the grieving process," she explained.
However, it wasn't until a year after her sister's passing that her story took another big turn. It was one of those life-changing experiences. It happened at the end of the 2013 Coachella weekend, a year and two days after her sister's passing—an exact count because Glass keeps in mind significant dates, and this one is no exception. "At the time I was 15-year-old, I went to Coachella, and that whole weekend changed my perception of what music could be," she explained. "When I was there, I really forgot about my problems for a while. I was able to be immersed in the music."
Glass described leaving the festival and looking back at the stages with clarity. As she dove into the memory, she remembered thinking, "This is what I want to do for the rest of my life." Despite the fact that this was a bittersweet moment for her, she remembered the details with a smile on her face.
From that moment on, Glass set herself a new goal. Before this moment, she hadn't even considered a career in music. But after what she felt that day, it all changed. The crowd, the connection between the audience and the artist, and the energy surrounding the stage showed her a new path that helped her come out of the dark times. Music helped her forget, even if it was just for a bit, and since then, she's wanted to do the same for others.
When asked if she would like to perform at the festival one day, she said, "I would love that. I think that would be a full-circle moment for me for sure." Glass laughed as she continued, "The last time I went to Coachella was actually in 2018, and through a string of good luck, I was able to get an artist pass, and it was really cool, but I remember thinking to myself: the next time I come to Coachella, I'm not gonna come to Coachella until I'm playing." She now focuses her attention on that goal. Hopefully, in the future, Coachella will get the chance to hold a homecoming for her.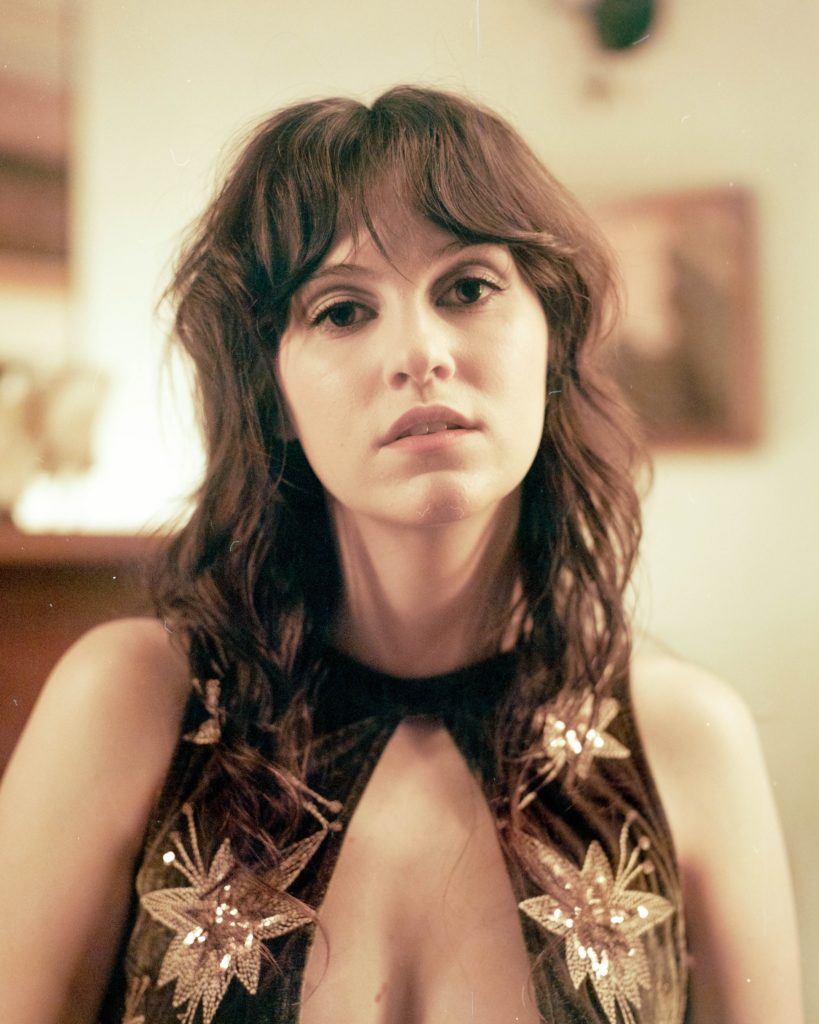 The Rock Star: '70s Glam Girl
Although her style may appear out of character to some, Glass's eye-catching outer appearance blends perfectly with her music, and that is who she is. The glam girl who catches your attention, but also the openly sentimental songwriter.
Despite the fact that these two characters appear to be at odds, Glass explained that this dichotomy is "more common than initially perceived." Her distinct fashion sense is influenced by icons such as David Bowie, Elton John, and Freddie Mercury. She mentioned David Bowie's work on "Life On Mars" and Elton John's work on "Candle in the Wind" as clear examples of artists matching their out-of-word exterior with deep lyrics. "You don't always expect someone who is dressed up like a rockstar to then just sit on a piano and play like the saddest song you've ever heard," she laughed. "But it makes you pay a little more attention right because they are dressed so wild."
Staying true to herself, Glass has found a way to combine the two things she loves the most: "I love clothing [from] the '70s. It genuinely feels very much me, and the sad songs are also very much me. I think that people can really sniff bullshit from a mile away," she said while laughing. "So I think just being those two things together is like my most authentic genuine self."
It is easy to put yourself in boxes and try to fit what you should be in the entertainment industry, and it takes courage to escape from the status quo, as she stated, "People think that If I make this kind of music, I have to look this way. I was like 'fuck that' like I'm gonna do what feels good to me."
The Road to "Help Me Help Myself"
Inspiration doesn't come easily, and sometimes a song will take months to be completed and ready to be shared with the public. With "Help Me Help Myself," it took over a year for the track to be perfected. Glass describes this song as her baby, the one that came from a moment of turbulence, during a time where things only seemed to get worse.
"Help Me Help Myself" is a song about the struggles of depression, the mental fog and not being able to move on and develop anything. The song talks about the exhaustion experienced because of depression and what it feels like to go through it—the hopelessness and the times when you act like everything is okay. "Help Me Help Myself" is raw and transparent, written out ofGlass' experience with these situations.
"I knew when I started writing the song that this song was really special and I wanted to get it exact, the message needed to be perfect. When I finished writing it, I was really proud of myself," she explained after opening up about meeting low points where the creativity just didn't come to her. "I was feeling really emotional because I listened back to it kind of in an objective stance, and I started crying because, like, damn I've really been through it," she said while letting out an air of laughter. "Like, damn, I've really been through some shit."
Despite the fact that there were times when Glass felt helpless and exhausted, she was proud of the finished product and maintained a new mindset for the future. "I was also so proud of myself, so I think that whenever anyone creates anything, it's so important to be proud of ourselves for creating it. So I'm really glad I live in that mindset where I'm able to take pride in my creations, but yeah, it felt like such a relief because it was finally done," she explained.
As the acoustic version of "Help Me Help Myself" is open to the world to hear, Glass is waiting for the right time and moment to release the official version of the track. For now, the acoustic version serves as a way to meet Glass as her most genuine self, sitting in front of a piano, wearing her heart on her sleeve, and opening up about this topic that is often left in the shadows.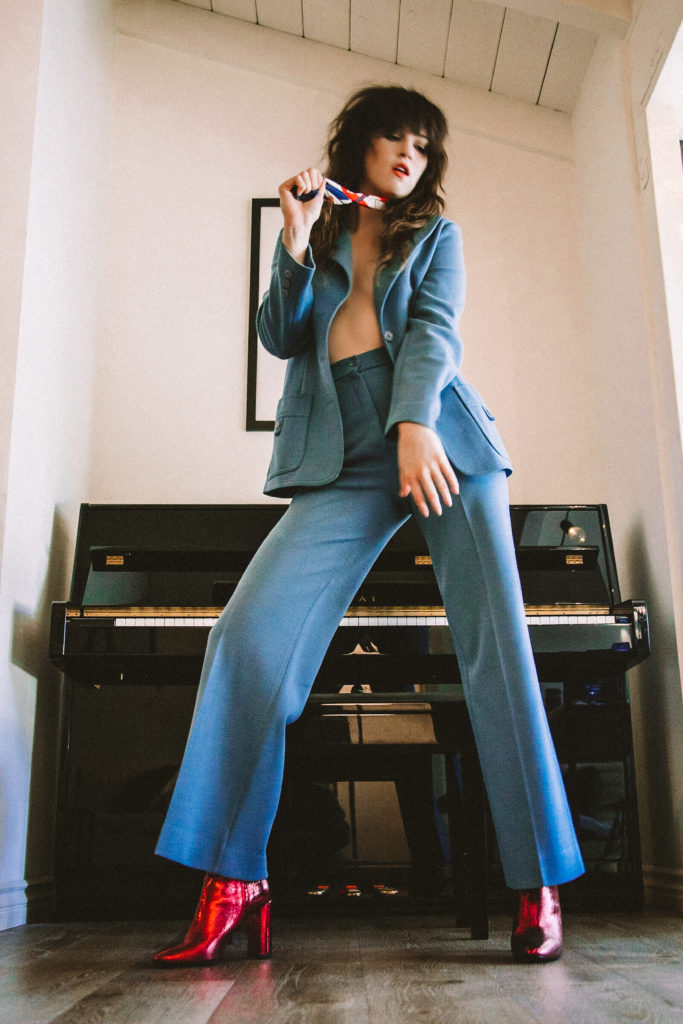 To Heal with Music
It's not an easy job to write songs that people can relate to and feel on a similar level as the songwriter or composer. However, for Glass to be this open and transparent with her music makes the listener feel comforted and validated. "I chose to release the song ["Help Me Help Myself"] because I realized that we all go through different experiences in life," she said.
"We've all felt love; we've all felt pain; we've all felt loss, just to different degrees, so I know that it's necessary for me to release this music because I know it will make other people feel less alone, especially in their struggles or dealing with their mental health," she continued. It takes a lot of empathy to be able to feel for those you don't know. But as far as healing music goes, Glass is more than happy to help.
A big part of her journey is her participation as volunteer at the American Foundation for Suicide Prevention (AFSP) were she found a safe place as well as a way of giving back to people.
If it weren't for music, Glass would have chosen a path of healing. "I make music because I don't want people to feel so alone; I want them to know that they are not alone in their experiences and music has done that for me, the group at ASFP did that for me," she said. "I'm so grateful for them; they are an amazing and incredible foundation. They do so much, and I'm grateful that a foundation like that exists," she said with a smile.
For Glass, music is a way of healing people, of feeling comforted and validated. It's, as she puts it, a way for "people to know that they are truly not alone in their emotions in their mental health struggles in their battles and fights with depression."
For Glass, the situations and traumas she experienced made growing up difficult. Depression and loss made her give up the carefree teen years to become more mature, but looking back at it now, with a different mindset, she wouldn't change a thing and welcomes it with a smile. "I think that when you are forced to grow up so fast, ultimately it just puts you in a place where it just gives you a lot of perspective, and I'm grateful that I have that perspective. I try to view it now like there is nothing I can do about it now, so I'm just gonna try and do it as a good thing," she stated.
What's Next
Glass's perfectionist personality is molding the project for the official release of "Help Me Help Myself." The producer is a secret for now, but the release is in the works. "I don't know exactly when it will be released, but hopefully in 2023. In the meantime, before 2023, I think the next thing I'm going to release is another song of mine as an acoustic live version," she concluded with a hopeful sparkle in her eyes.
To keep up with her music and upcoming projects, you can follow Julianne Glass on Instagram and listen to "Help Me Help Myself – Live Acoustic version" on Spotify.
Want more? Check out the Artist Spotlight on David Stalter Jr here!