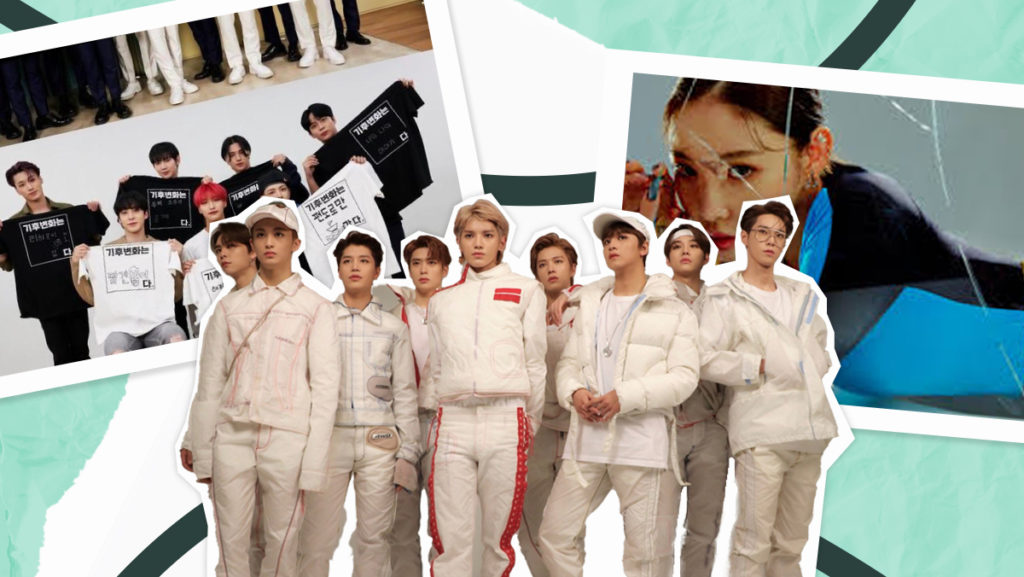 In recent years, many K-pop idols have used their platforms to raise awareness for climate change. Some of them advocate climate actions while others support environmentally-friendly production and consumerism. Idols are doing what they can to send out the message that climate change is very real and requires immediate action.
From the deadly floods in China and Europe to the hellish wildfires around the world, climate crises are rapidly raging across the globe. Floods and heatwaves can be natural disasters, but the recent events are nowhere near 'natural' anymore—they are the consequences of human activity. The burning of fossil fuels, deforestation, farming, and manufacturing are all major contributors to climate change. These activities emit greenhouse gases which trap heat in the atmosphere. As climate change becomes more severe, extreme weather is expected to return more often than ever.
Kstars 4 Climate
In conjunction with Earth Day, the star-studded Kstars 4 Climate campaign, sponsored by the British Embassy Seoul, was launched. K-pop idols including THE BOYZ, ATEEZ, Weeekly, AB6IX, BTOB Eun Kwang, OH MY GIRL Hyojung and Day6 Wonpil, all came together to express their thoughts on climate change in a not-so-conventional way. The idols created thought-provoking taglines with a climate change theme on T-shirts for giveaways.
As Younghoon from THE BOYZ cleverly summarized: climate change is a live show. The idols encouraged fans to curb climate change together starting from now before the otherwise unpausable live show turns into a tragedy that unfolds before everyone.
BLACKPINK
BLACKPINK also came in full force, bringing climate action in(to) your area. The group has been appointed as the official ambassador for the 26th United Nations Climate Change Conference (COP26) taking place in November 2021. As advocates, BLACKPINK took it upon themselves to learn about climate change through the documentary A Life on our Planet by David Attenborough and other resources. They also urged all fans to join them on this challenge to make a change for tomorrow.
BTS
As one of the largest contributors of carbon emission, the automotive industry is constantly on a quest for cleaner forms of fuel to power vehicles. BTS has partnered with ABB FIA Formula E World Championship and Hyundai to promote a greener future for transportations. The globally influential boy group advocated the use of electrical vehicles and green hydrogen-powered vehicles to reduce carbon emissions and prevent air pollution. "Like countless stars lighting up the universe, our future lights up when we come together." Just like this nature-inspired message from SUGA, BTS hoped to unite fans and conserve beautiful nature together.
SHINee
With the release of their seventh studio album, Don't Call Me, SHINee took over the cover of Allure Korea's special issue on the environment in April 2021. SHINee called on their fans to join the Allure Green Campaign for a cleaner and healthier Earth. The group shared their personal green practices in the issue, such as separating trash for recycling, saying no to plastic, walking or cycling, and bringing their own tumbler for a refill. Though having different approaches in being eco-friendly, the members all agreed that these seemingly simple efforts are significant to the environment, and encouraged fans to do the same.
CHUNG HA
While some idols lent their voices to bring awareness to climate change, CHUNG HA started the conversation with a revamp on the conventional album cover. For her latest album Querencia, CHUNG HA opted for a paper envelope cover rather than the usual plastic CD jewel case. Her effort to minimize plastic usage (plastic = fossil fuels + greenhouse gases emission!) in album production might inspire the music industry to move towards a more environmentally conscious production.
NCT
Known for their cutting-edge fashion and music, NCT has embodied sustainable fashion into their concept of culture technology. KANGHYUK, a Korean fashion powerhouse that upcycles defective airbags into futuristic apparel, has made several appearances in NCT's wardrobe. Whether it's the boy-next-door airbag denim that Mark pulled off, the well-coordinated airport outfit that Taeyong strutted in, or the all-white space suit-inspired look rocked by NCT 127, the innovative fashion brand satisfies personal taste while reducing greenhouse gases emission by repurposing nylon from airbags.
Climate change is a dire global problem that will affect you and I. As Ji Yoon from Weeekly had described, climate change is like a broken brake, the danger that comes with it is often not noticed until much too late. The consequences of human activity might not have an immediate impact, but the damage done to our Mother Earth will one day become the acute repercussions we have to face.
Take a trip with DJ ViVi to the future and learn more about climate change and environmental awareness in the comic here.
Thumbnail created by Mal