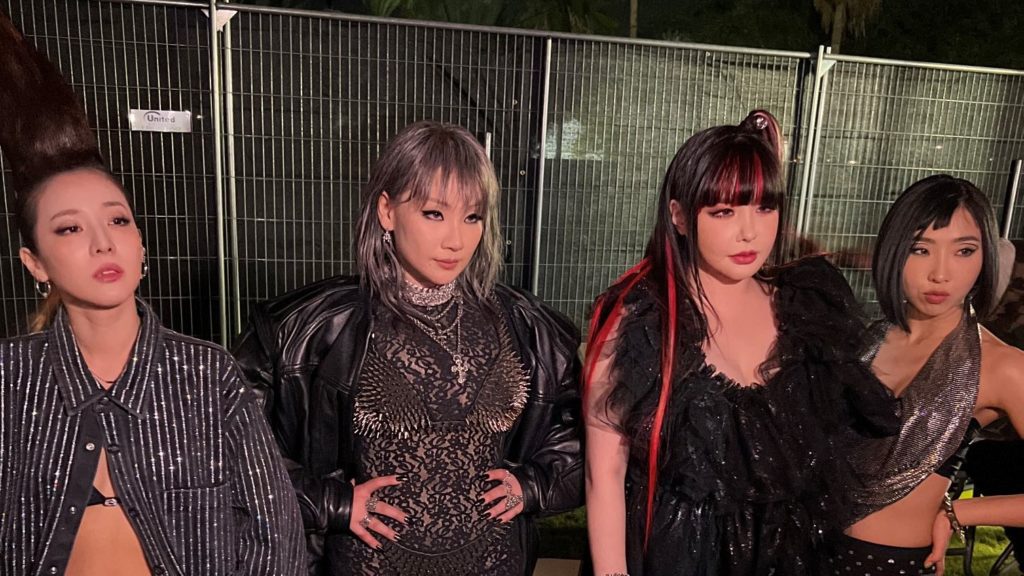 Legendary K-pop girl group 2NE1 made a surprising return to the stage on April 16. As part of 88rising's Head in the Clouds Forever performance, the foursome reunited at Coachella, nonetheless.
Earlier this week, 88rising announced CL's Coachella debut as part of their set. The solo artist and 2NE1 rapper closed her set with 2NE1's first group performance in six years — a new stage for "I AM THE BEST."
CL Spices Up The Coachella Stage
CL came in hot following the 88rising "T" debut stage. The "alpha" singer opened her mini set with her September single, "Spicy," starting with John Malkovich's signature narration. Clad in a spiked and black lace bodysuit and a leather jacket with choppy ash-blond hair, CL brought her energy to the Coachella stage in true CL fashion. Engaging her audience with a mix of choreography and hype adlibs, CL showed Coachella why she is "The Baddest Female."
Following her "Spicy" stage, the rapper also sang her 2021 Alpha song, "Chuck," and her 2015 hit, "Hello Bitches." In a standout moment, CL sat as though she was a queen on a throne while her backup dancers spelled out her name with their bodies. During "Hello Bitches," she displayed more of her charisma and power through her calls to the crowd. CL was not afraid to get dirty as she performed sensual floorwork after she sang, "bad bitches get down on the floor."
For the faux finale of her solo set, she left the stage in a sort of "mic drop" moment while her dance crew continued to show their "Hello Bitches" moves. However, a true veteran of the stage, CL kept the audience on edge and did not end her powerful set alone.
2NE1's Shocking Reunion
Inching toward the end of her performance, CL walked out off the stage. On her return, she was joined by 2NE1 members Park Bom, Minzy, and Sandara Park. Together, the four ladies brought their A-game with 2NE1's 2011's hit, "I AM THE BEST." Dressed to the nines and flaunting the signature fashion-forward style that accompanied them throughout their career, the group set the stage on fire. 
The South Korean quartet — often credited for pioneering the "K-pop Movement" internationally — has not stood on stage together since their split in 2016. However, 2NE1's impressive legacy lives on.  Received with deafening screams at one of the biggest music festivals in the world, the group proved its unfading popularity. It couldn't be otherwise. The foursome has several records and achievements under their belts. Since its debut in 2009, 2NE1 reaped success after success. From coveted awards in their homeland to international recognitions, CL, Minzy, Bom, and Dara own an awe-inspiring history. 
Blackjacks Step Up Once Again
Better known as Blackjacks, 2NE1 fans quickly took their reactions to Twitter following the surprise performance. From reaction videos to ReTweets of the performance, fans expressed their shock at the reunion. Although there was fan speculation about a potential reunion, many remained uncertain about the chances of it occurring. Currently trending at number one, the hashtag #2NE1 is receiving hundreds of tweets praising both the performance and members. Similarly, on Korea's search engine and music streaming site, Melon, 2NE1 is the number one most searched item in real-time.
Since it was 2NE1's first performance as a group in six years, K-pop fans showed their love for 2NE1 as if no time passed. Tweets from fan accounts such as @hanseegirl went viral accumulating a total of 64.8K likes and continue to gain more traction as time goes on.
Audience members also appeared shocked at the quartet standing on the Coachella stage. As the camera panned over the audience throughout the performance, various individuals seemed taken aback. Regardless of location, Blackjacks are outpouring their support for 2NE1 through all platforms.
There is no doubt that 2NE1's surprise reunion at Coachella is steeped in history. The quartet not only became the second K-pop girl group to perform at the festival, but they also gave fans a throwback to their last performance at the Mnet Asian Music Awards in 2015. Undoubtedly, a history-making moment that leaves fans craving for more of the legendary 2NE1!
Want more on CL? Check out our piece on her Coachella announcement here.