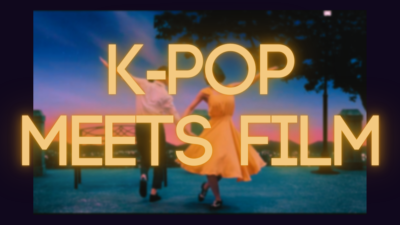 K-pop music videos are known for being artistic, full of symbolism, and captivating visuals. The teams behind those pieces of art are creative when putting their knowledge into them, and it's not surprising that the people creating amazing productions are fans of the seventh art — filmmaking.
Literature, philosophy, history, cinema and culture, in general, play a referential role when developing concepts and absorbing storylines to be told within minutes. All that while cohesively showcasing the song and performance of the artist. It's easy to be fascinated by music videos if you are a fan of film and it's especially fun when you see references to films in them. 
So, here are a few of our favorite K-pop x cinema reference moments:
"
What is Love" – TWICE
(By Naive Creative)
When thinking about films in music videos, it's very likely that one might remember "What is Love" by TWICE immediately. The music video shows the members watching a variety of films and, just like many, imagining themselves in them. You can watch the girls reenact scenes from films like The Princess Diaries (2001), La La Land (2016), Romeo + Juliet (1996), Pulp Fiction (1994), Ghost (1990), etc. You can also find the members dressed as iconic film characters. Honestly, "What is Love" is a fun music video, whether you like films or not.
"KILL BILL" – Brown Eyed Girls
(By Hwang Soo-ah)
A classic. The film or the music video? Both. You don't even need to watch it to get the reference, due to the name. But even if you didn't know it, anyone who has ever watched Kill Bill (2003) will definitely see it (or even hear it) the moment the music video by Brown Eyed Girls starts. The iconic hospital scene, among others, is reenacted and even the split screen used in the film is seen here. But the team behind the music video also put a bit of their own sauce in it which makes it even more enjoyable.
"Ex" – Stray Kids
(By novvkim)
This Stray Kids song is about the sorrow and longing that comes with a breakup and each member is dealing differently with the pain. Taking the common denominator they share, someone's absence, this music video references A Ghost Story (2017) — a deep film that talks about time, humanity, and life itself. In both, you can see the "ghost" of the other person standing there, when they're already gone. Stray Kids is creative, have a variety of sounds and themes to their music and music videos, and "Ex" is an example of it.
"Nap of a Star" – TXT
(By Digipedi)
This TXT music video might touch the hearts of the Cinema of Attractions enthusiasts, given the visual references for George Mèlies' films, such as La Voyage Dans La Lune (1902). The music video tells a sad story about a boy who sees himself turning into a monster and, in despair, goes to hide in the forest. It holds a chilling, grim atmosphere, and the set design and coloring as a whole are beautifully done. It even simulates the effect of the FPS that films had at the time which adds to the feeling we may get when watching films from that era.
"Moonshot" – N.flying
(By Dee Shin)
Since we're talking about it, we should mention N.flying's "Moonshot" music video. It's common to find references to more recent and popularly known films. So it's exciting when you recognize some from, once again, Le Voyage Dans La Lune (1902) and also The Cabinet of Dr. Caligari (1920). It can be fun to see, especially for fans of those eras and art movements. The notorious scene of the moon being hit in the eye plus the illustrious expressionist scenario where Cesare carries Jane are both seen here. 
"What Do I Call You" – Taeyeon
(By Lee Hye-in)
Queen Taeyeon could not stay out of this list, not when she has this one. The Eternal Sunshine of the Spotless Mind (2004) is all over this music video. It takes the separation theme they both share and recreates the scenes in which the main character, Joel, goes to an organization looking to erase all memories he has of Clementine. It's nice to see how the concept was used during the music video while still having its own personality and vibe. 
"L.I.E" – EXID
(By August Frogs)
The Grand Budapest Hotel (2014) is known for its amazingly executed art direction. The notable colorful scheme can also be found here in the scenarios and even clothing, both designed to evoke the ones from the film. In this case, the visual concept was used to tell a story that is very different from the one in the film. The vibrant colors fit perfectly with EXID's energy in this song and made the music video enticing.
"We Young" – NCT DREAM
(By VIDEOKID)
Before NCT DREAM branched out to more mature concepts, we got cute ones like "Chewing Gum," "My First and Last" and, the one we're talking about today, "We Young." The little girl in London, their outfits, flying around out of windows, shadows running off, the big alligator — this music video is filled with Peter Pan (1953) references, and we love it. The song itself talks about being young, so it only makes sense to use some Peter Pan, since that's what he's known for.
Many K-pop music videos may seem like films themselves even without referencing them, just by the high quality cinematography they display. But when they do reference films, it adds a nice and fun flavor to it. 
Enjoyed reading K-pop Meets Film? Check out this list of Upcoming Films Starring Idols!
Graphic designed by Tanya.